Hi please I searched on net for help I was having a bath when I came to my phone I found a notice about a data null something warning me, and that I have to pay a fine about pornography when I did not do any of what was mentioned. And now it's questioning my mind who would've touched my phone and plus I'm scared. I haven't done anything wrong and I'm afraid and said have to pay a fine. Would you please help me get rid of it from my Phone?
Data:// null Warning Virus Block Safari on iPhone/iPad – How to Remove?
Data:// null Warning Virus is classified as a risky browser hijacker which hijacks Internet browsers Chrome and Safari. It can install in the Safari automatically and launch as a startup process. The target browser will be taken over by this hijacker infection whenever it is launched. This virus come to Safari screen, and accuses user of watch or viewing illegal porn material and demands users to pay a penalty amount to $500 with an iTunes Prepaid Card.. Great chaos will occur to computer users during their web browsing tasks. This message is not a real thing that coming from the police. It is an evil product made by cyber hackers to attack iPhone and iPad products all over the world. Also, Android devices can be attacked by this scam virus as well.
Published on April 9, 2017
Search Web Know Brief Introduction
Search Web Know is recognized as a malicious malware program focuses on attacking web browsers and gaining a profit. Search Web Know malware is one of the Adware.BrowseFox big family, which is able to compromise web browsers and modify all defaults to make some serious troubles to disturb targeting computer users. Once web browsers become controlled by such Search Web Know web hijack malware, the Search Web Know malware will infect a series of fake advertisements in web pages and search results to lure targeting users into be trapped. Search Web Know malware also call be said as malicious adware due to all its pop-ups are fake and designed to trick money from unsuspecting online users. All defaults will be replaced as SearchNewWindow page and related pop-ups. Victimized users can't get defaults like search engine, default homepage, new tabs, search results as usual. All things shown on your infectious web browser are related with a virus or malicious activities.
Published on May 6, 2016
What Is Booyah Ransomware
Booyah Ransomware is a new ransomware focused on blocking users' computers and encrypting all files on the infectious machine to blackmail money from unsuspecting victims. Booyah Ransomware spreads to a target machine like a program installation, it uses Booyah.exe executable file to start blocking and encrypting process. As researches by IT experts, the Booyah Ransomware can take advantage of the well-known Nullsoft Scriptable Install System installer to help itself complete a virus distribution. Just when users click to install Booyah.exe containing DLL file, the Booyah Ransomware will self install on user's machine without any consent. For this Booyah Ransomware, there is another name called booyah.exe Ransomware according to the virus executable file. Once users become attacked, the Booyah Ransomware would block out the infectious computers and then pop-up a warning page named "WHATHAPPENDTOYOURFILES.TXT" to prompt victims what happened. The pop-up message may inform victims their files are now encrypted and they have to purchase the key to decrypt these files back.
Published on April 26, 2016
More About PowerSniff Ransomware
PowerSniff Ransomware is recognized as a new version ransomware that is able to block out PCs and mobile devices for stealing money. PowerSniff Ransomware is able to compromise the infectious devices completely to gain administrator rights for malicous online activities, allowing attacker collecting log-in credentials, online transaction data, banking data, and a lot of other sensitive information on a compromised machine. Additionally, the PowerSniff Ransomware can take advantage of the Windows PowerShell to operates some commands on the infectious machine for file encryption. All files stored on the infectious PCs or android devices can be completely encrypted and victimized hardly reach anything. Just from this point, there is a conclusion that the PowerSniff Ransomware is quite evil and should be paid attentions once your device become infectious.
Published on April 11, 2016
Maktub Locker Ransomware Description
A new malicious ransomware is rolling out called Maktub Locker Ransomware that will performs warnings with high ransom price and seemingly good-look artwork. It is a new version of crypto-ransomware family referring to the so called Maktub Locker, which may harm your computer with incredible damage. The update tends to blackmail money from those unsuspecting computer users with beautiful artwork. In this case, the Maktub Locker ransomware can be distributed by attackers just through zipped word documents. Once those suspecting users downloaded and extracted and opened the zipped word document on their computers, the Maktub Locker ransomware bundled within them can automatically entice in the targeting machine without any need consent. So this is the reason why the Maktub Locker ransomware can bypass some security scanning and slip into system without admin privilege.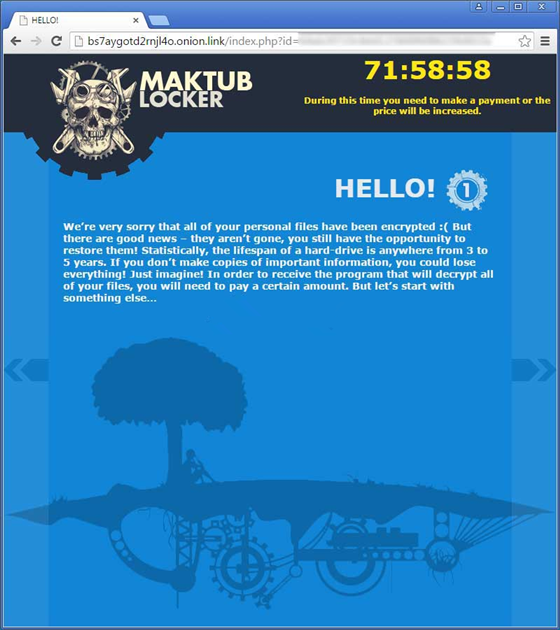 Published on March 25, 2016
What Is Win32-pc-fix.com Pop-up Ads
Win32-pc-fix.com pop-up is categorized as the sort of malicious adware that is able to compromise web settings for malicious benefit-making. Once Internet users become infectious with such Win32-pc-fix.com virus, the infectious machine would have to suffer from a series of troublesome. In this case, the Win32-pc-fix.com pop-up ads will display warnings and other potentially unwanted content to inform victimized users their systems have critical problems, like virus. And Win32-pc-fix.com pop-up ads also reminds victimized users should remove the virus immdediately as the recommended ways, otherwise possible damage to the data on this device may occur. In most time, some victimized users may feel loss at what to do while seeing such alerts. But if you have completed a payment as the recommended on the Win32-pc-fix.com pop-ups, you would have been tricked. The true nature of the Win32-pc-fix.com pop-up is a malicious adware.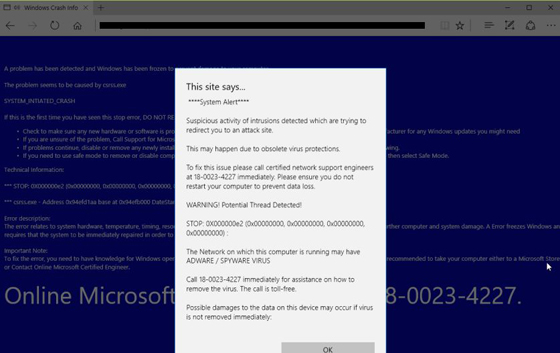 Published on March 14, 2016
Gunpoder Virus Introduction
Gunpoder virus is regarded as a malicious malware that focus on hitting the headlines to sneak on users' android phone or tablets. It can self install on the device without any consent through those drive-by downloads and seemingly useful dodgy pop-ups. Drive by downloads refers to those free apps, games, share apps, plugins, extensions from those third-party stores, as opposed the apps from the Google Play app stores. In this case, Gunpoder virus takes advantage of the Nintendo game emulators installed from third-party stores to complete its distribution. Attackers can hide the Gunpoder within an app to bypass security scanning. Just need once-click install, the Gunpoder virus also can simultaneously sneak on targets without any need of admin privilege. Whether you are on android phone or tablet, the Gunpoder virus is able to arrive on them just via a link in text message that recommends downloads.
Published on March 4, 2016
All.donkeycom.eu popup, in nowadays, troubles mobile devices a lot, no matter Android phone or iphone. It has been mentioned as one of the most annoying malwares, as All.donkeycom.eu popup will continuously announce users about fake winning information. In reality, those information leads to malicious websites or contains malicious downloads. At the moment users click that risky announcement, it is to start install some suspicious applications to their Android phone or tablet. What's worse, those installations are malicious, as there is not any authorization and permission. Then, the targeted mobile phone has something wrong in operation or even has been locked suddenly. Most of people cannot make out what happen to their phone in such a short time. In a word, all these side effects are mainly because of All.donkeycom.eu popup. Originally, it has been designed and spread by cyber criminals who aim at stealing people money online and causing troubles to the general public. Anyway, if the device is attacked by All.donkeycom.eu popup, people should take actions at once to remove All.donkeycom.eu popup on Android phone or tablet as soon as possible.
Published on February 24, 2016
Android.Fakemrat, nowadays, is frequently mentioned by many Android users. It is reported that the Android phone or tablet would be locked suddenly when it is used to download apps or update the software. In addition, users are asked for paying an amount of fine if there is a will to unlock the Android device. Therefore, people may think that the phone or tablet is attacked by Android.Fakemrat or other similar ransomware. They are all cyber malware, which are designed by online criminals to cause troubles and make illegal profits from innocent mobile phone users. If there is an emergency like this, victims should not think much about it. Or you cannot pay any money for unlocking. What you must do is to search for technical instructions or ask for professional advice to remove Android.Fakemrat on attacked Android phone or tablet as soon as possible.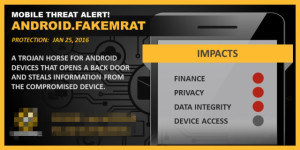 Published on February 19, 2016
Ad-type.google.com is an annoying redirect virus which now causes no matter Android users or IOS users plenty of troubles. What's worse, from some victims, there seems is not any anti virus programs that have successfully removed it. The ad-type.google.com virus seems to attack targeted mobile phone or tablet when their users click on some search results that they have been inserted into the virus already. Then, it will bring a series of issues, most obviously, a lots of advertisement popping up at websites. Although ad-type.google.com is different from other viruses which is to block the device, the continuous pop ups and redirection to other websites may lead the mobile to be infected by other malware. It is pretty dangerous. Most people ask for Google to take the responsibility, as all the pop ups are related to Google page. However, it is advisable to remove ad-type.google.com as soon as possible if you find that the mobile device is infected by it, because of the unknown following effect.
Published on February 5, 2016