Sticky Password Review 2019 – Absolutely Secure Password Manager
Sticky Password, founded in 2001, is a cross-platform, flexible and easy to use password manager software that helps people store their encrypted passwords online and keep their information private, secure, and hidden. The software creates and organizes passwords to simplify your life without compromising security. Sticky Password does everything you'd expect from a password manager and makes you feel safer online. What does Sticky Password exactly do? How secure is Sticky Password? Check out Sticky Password Review 2019 here and get Sticky Password from now on! You will never forget a password again!
Learn More about Sticky Password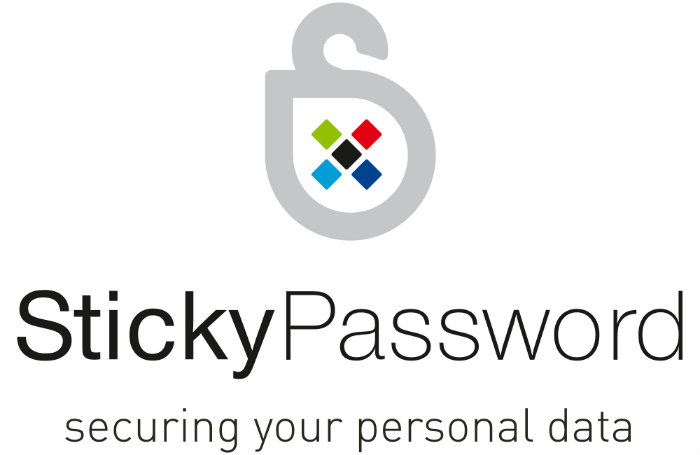 Sticky Password is a robust and reliable password management option used by 2 million users worldwide. It may not as familiar as LastPass or 1Password, but it covers all you need from a password manager. This secure password manager offers rich features for storing passwords to online accounts, applications and identity information in a single place. It saves you a lot of time and trouble logging into various accounts and web pages and relieves the burden of thinking up and memorizing unique and complex logins. Without it you're putting your online accounts at risk.
Sticky Password lives in your browser and acts a digital gatekeeper, filling in your login info when you need to get on a certain site. You just have to remember one master password for the manager itself, and everything else is taken care of for you. Sticky Password automatically captures your login credentials when you visit a secure website for the first time and then autofills your credentials when you return. With Sticky Password, you can create as many "identities," or unique form-fill profiles, as you want. Sticky Password never saves your master password on their servers or send it over the Internet. It only exists in your head. The Sticky Password extension works with all kinds of browsers — not only Google Chrome, Mozilla Firefox, Microsoft Internet Explorer and Apple Safari, but also those less-used browsers such as Comodo Dragon, Opera and Pale Moon. For smartphones and tablets, the Sticky Password app is available in the Apple Store and Google Play app stores, and Sticky Password offers a side-loading Android installer for Amazon Kindle Fire, BlackBerry OS10 and Nokia X devices. Sticky Password is absolutely secure. It offers two-factor authentication using the Google Authenticator app, which sends you a verification code to enter along with your master password. Besides, it supports fingerprint authentication on iOS and Android phones and tablets that are equipped with fingerprint scanners. This includes Touch ID on iPhones and iPads, and the Samsung Galaxy and other Android devices. It is worth mentioning that the data encryption used in Sticky Password is based on the world's leading encryption standard AES‑256 – the same data encryption used by military and government organizations.
Sticky Password is developed by Lamantine Software, a team made up of former executives from AVG Antivirus so it does a great job of offering secure solution for online users. It has some unique features that you seldom find from other password managers. For example, password managers usually store your data in cloud storage and use that to sync all your devices, however, you can opt to only use local WiFi sync instead at Sticky Password, which will send the data between each device on the network. Syncing this way, or manually, helps protect your data from interception. Another highlighted feature is USB export. You can load your entire vault on a USB drive that's readable by any instance of Sticky Password. All the data is encrypted, of course, and you'll need your master password to view it, so you're not at much risk if you lose the drive. While using Sticky Password, there's an encrypted password database backup available for you in the cloud in case you lose your device or data stored on it.
Good passwords are annoyingly hard to remember but Sticky Password solves this problem for you. With Sticky Password, you do not have to use the same password for multiple websites, or frequently reset your password. Sticky Password manages all your passwords and generates extra-strong new passwords, whenever you need them. It is a very useful for password protection and provides all the privacy you are looking for. Now it's the best time to get Sticky Password. Try it now!
How Much Does Sticky Password Cost?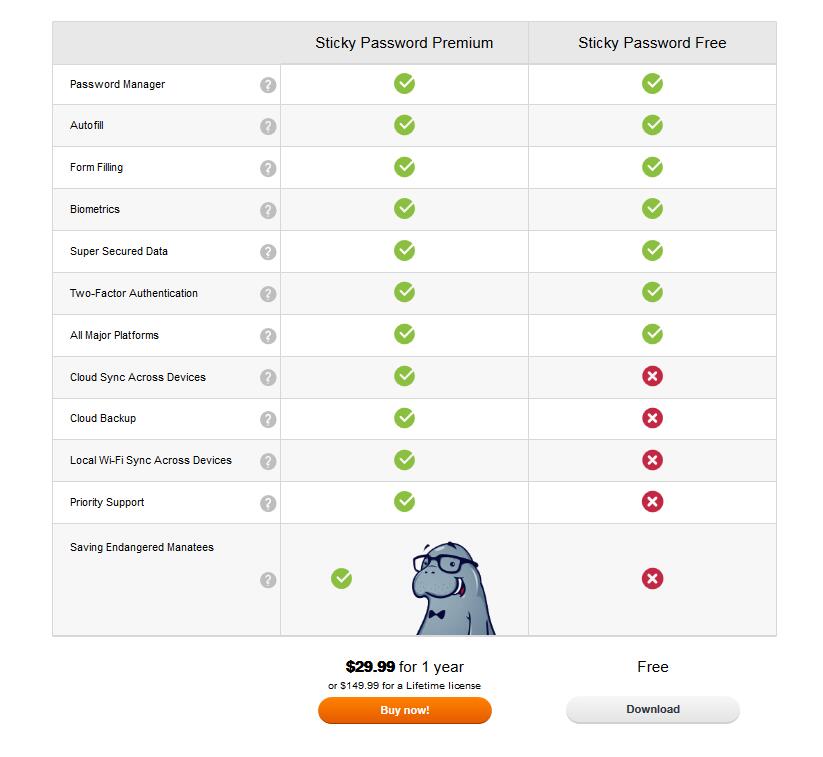 Sticky Password only offers its application to individual users, so it doesn't offer an enterprise or small business option. It's easy to choose Sticky Password plans. You can either download the free application or upgrade to Premium which costs $29.99 for a year.
The free plan is the best place to start with password manager, as it covers most of the benefits of Sticky Password. You will have complete access to the manager with auto-fill for passwords and forms and get the same security and two-factor authentication options as the Premium plan, but without priority support and cloud backup across multiple devices. In short, if you only wish to use a password manager on one device only, then Sticky Password Free is a perfectly good choice.
The Premium plan is available as 1-year as well as lifetime license. It is $29.99 for a year or $149.99 for a lifetime license. Compared to the Free plan, Premium offers more, for example, Cloud Sync and backup, Local Wi-Fi Sync, Priority Support and Saving Endangered Manatees. With Sticky Password's Premium Plan, synchronization can be done over local Wi-Fi, and optionally through their cloud storage and via manual syncing. Back-up of your passwords can be done through the cloud upon you permission, so you won't lose your data should you lose your device. Get the Premium version to sync & backup via the cloud or your local Wi‑Fi!
Why You Should Use a Password Manager?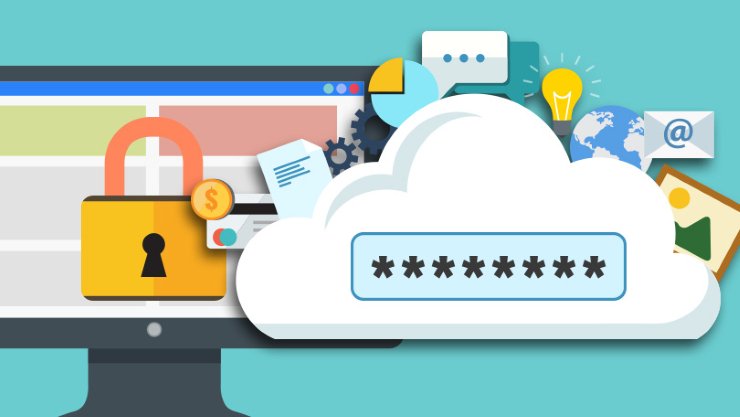 Do you always use the same password for all of your online accounts? Is this password your date of birth, your pet's name, street addresses or some other easily guessed from your life? The vast majority of us either use weak passwords or reuse passwords on multiple accounts – this is dangerous. Once one password is exposed, and other accounts could be compromised as well. Using strong and unique passwords for different websites is the key to online security and privacy. Strong passwords are always made of random characters, uppercase letters, numbers, and symbols, but it is hard for people to remember. So how to create an invincible password for different websites and you can remember all without effort? A Password Manager is what you need.
A password manager not only eliminates the need to remember multiple passwords, it also ensures that your passwords are stored safely with using encryption. This means that no one can access the passwords unless they know the master password for the password manager software. With a Password Manager, you don't need to remember a unique, long, complex password for every online account can create reliable and strong passwords in seconds and autofill your login credentials on websites with just a single password called Master Password. if you use a password manager, you won't need to remember a unique, long, complex password for every online account. Instead, the password manager will remember each password for you, strengthening your security and minimizing your risk. Using password manager is safe and secure. There is two-step authentication for added security and some password managers allow you to use fingerprint scanner to access your passwords which eliminates the need for entering the master password each time. Hence, everyone should have a password manager as it help to protect and manage all your logins and passwords, credit cards, identities, bank accounts, passports and more.
Sticky Password Pros & Cons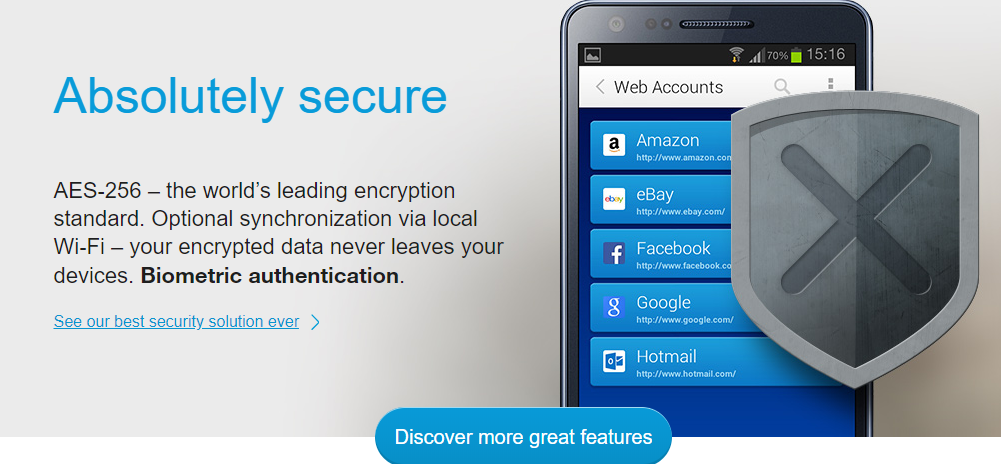 Pros:
Support All Browsers – Sticky Password has excellent browser support, with extensions available for 16 applications across Windows, Mac, iOS and Android.
256-Bit Encryption – It uses the world's leading encryption – standard AES‑256 encryption to protect your data. This is the same data encryption used by military and government organizations.
Import and Export Feature – You can Export all credentials from Sticky Password to any other password managers. You are also allowed to import all details from other password managers.
Auto-Fill – With Sticky Password, you do not need to search for your password as it will be automatically provided for you when you log in via your computer or mobile devices.
Multiple Synchronous Options – It has automatic cloud sync option and manual sync via local WiFi option. If you check automatic sync option in mobile, it will automatically synchronous your data from cloud to your mobile when you start your app.
Support Fingerprint Authentication– Sticky Password supports fingerprint authentication via mobile device, meaning you can unlock the database using your fingerprint, which guarantees that you and only you can have access to your saved passwords.
USB Portable Version – Sticky Password comes in a USB portable version. Instead of installing Sticky Password on your desktop, you can put it on a USB key and run it on any PC you want.
Two-Factor Authentication – Sticky Password offers two-factor authentication via Google Authenticator to increase the security of your data. When activated, you'll be prompted to enter an additional unique security Code after entering your Master Password each time you unlock your database.
Cons:
Lack of Plans for Businesses and Families
Not Compatible for Microsoft Edge
Interface is Not Very Aesthetically Pleasing
How to Choose the Best Password Manager?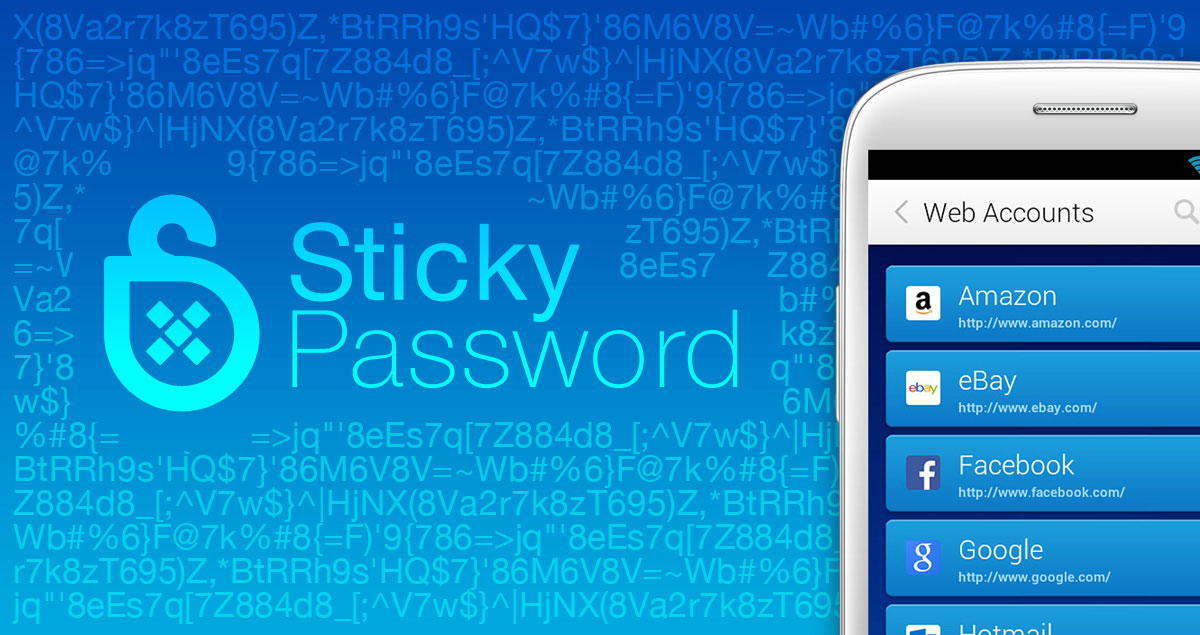 A password manager is software that allows you to create and store very complex and strong passwords, among other things, so you won't have to memorize them. All you need to do is memorize one password to get access to all the other ones. However, there are quite a lot of password managers in existence today, so which one is right for you? When it comes to choosing a password manager, you have to take many factors into consideration. A good password manager should be powered by a wide range of features and services. Sticky Password is one of the most powerful password managers with affordable price and used by millions of users from all around the world. Here we will give some tips about how to choose the best password manager:
Secure and easy-to-use interface: It goes without saying that the password manager's user interface should be easy to understand and simple to use. Less well known is that the interface itself needs to be secure. A good password manager will make use of secure resources to protect against decrypted login credentials from being swapped or paged out to disk space during the course of routine use.
Autofill and Auto-login: Most password managers can autofill your login credentials whenever you visit a site and even log you in automatically. Thus, the master password is the only one you ever have to enter. This is controversial, though, as browser autofill has long been a security concern, so the best managers will also let you toggle off this feature if you feel the risk outweighs the convenience.
Two-factor authentication: To an enterprising cybercriminal, your password manager's master password is as hackable as any other password. Increasingly, password managers support multi-factor authentication—using a second method such as a PIN, a fingerprint, or another "trusted device" for additional verification—to mitigate this risk. Choose one that does.
Backup / Restore – The ability to backup your password database and restore it are very important.
Import / Export – If you switch from one password manager to another one, Import / Export helps take your password database with you.
Password generator – Since the password manager will be remembering all the passwords for you anyway, you might as well make them long, complex and strong. A password generator will do this for you very quickly.
Video Guides on Sticky Password Review – Absolutely Secure Password Manager
Top 5 Best Password Managers
| Product | Features | Support Platforms | Offers | Price (USD) | Official WebSite |
| --- | --- | --- | --- | --- | --- |
| | Dashlane Review | Windows, Mac, iOS, Android, Linux, Chrome OS, watchOS | Offers Free Version | $3.33/Month | Best Deals |
| | RoboForm Review | iOS, Android, Windows, Mac, Linux, Chromebook | Offers Free Version | $1.99/Month | View Deals |
| | Lastpass Review | Windows, Mac, iOS, Android, Linux, Chrome OS, Windows Phone, watchOS | Offers Free Version | $2.00/Month | View Deals |
| | Sticky Password Review | iOS, Android, Safari (Mac), Chrome and Firefox (Mac and Windows) | Offers Trial Version | $1.25/Month | View Deals |
| | LogMeOnce Review | Windows, Mac, iOS, Android, Linux, Chrome OS, Windows Phone, Kindle, BlackBerry | Offers Free Version | $1.00/Month | View Deals |
Conclusion:
If you haven't gotten around to using a password manager yet, it's time to get started. Sticky Password is an excellent password manager that helps people in generating and retrieving complex passwords, potentially storing such passwords in an encrypted database or calculating them on demand. It secures digital vault for your phones and tablets as well as other desktop and mobile devices. With a password manager like this, you do not need to crack your brains to remember all kinds of passwords as this unique product is fully automated when you log into websites. Sticky Password uses AES-256 encryption – the world's leading encryption standard, so you'll never have to worry about any prying hands trying to get your password- and ultimately your accounts. With over two million users, you can rest assured that it is credible and trust worthy. You may download and use the Sticky Password system for free if you wish, and there are no limits on how many passwords you store. However, the paid premium version of Sticky Password will be much better if you don't mind paying $29.99/year. It allows you to sync across your devices using the cloud. You also get cloud backup when you pay for the Sticky Password service. You may locally sync your devices with your local Wi-Fi, which may help sync the Sticky Password accounts on all the devices in your house. Free account users get access to the customer service department, but paid users get priority support. Sticky Password is so much more than a password vault and form filler. Download & Receive the Premium version for 30 days now!
Get this Deal Now