LogMeOnce Review 2018: Best Free Password Manager?
Published on August 13, 2018
LogMeOnce is a high-quality password manager. You can use LogMeOnce to manage all your passwords. The random generator feature can help you generate complex and stronger security credentials. LogMeOnce is easy-to-use and user-friendly password manager compatible with Windows, Mac, Android and iOS. With a single click, securely login to your apps and LogMeOnce dashboard from anywhere and via any device you have authorized. You can keep track of your online safety with Security Scorecard, and see how they are performing or holding up.
LogMeOnce has top security features, and its superior technology has been raved about by the press. LogMeOnce Drive encrypts your data locally in your system with your own password (AES key), before uploading scrambled image/text onto cloud storage service. LogMeOnce has such advanced features as PasswordLess Login, Fingerprint Biometrics, Security Scorecard, strong password generator, Two-Factor Authentication, secure sharing and Zero-Knowledge technology. Passwords are yester years' technology. Eliminate passwords, reduce friction, and increase user confidence with Single Sign-On (SSO Login) and Identity Management (IdM). Whether you use Firefox, IE, Chrome, Opera or Safari you can easily access your accounts at work, school, and home or on the move. LogmeOnce security Cloud is about virtualization and optimization, by simplifying security architecture for both consumers and corporate end users.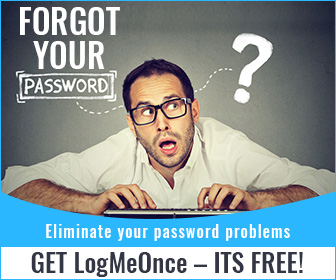 LogMeOnce Pricing and Plans
$2/User/Month: Unlimited Apps, Minimum 3 Users
$4/User/Month: Unlimited Apps, Minimum 10 Users

What Makes LogMeOnce Excellent and Popular?
LogMeOnce is an excellent password manager and used by millions of users all around the world due to its multiple powerful technologies and remarkable features. All these advanced and powerful technologies and features attracts all customers globally.
1. Anti-Theft
You know how frustrating it is when you cannot find your cherished phone, iPad, or notebook. You vow that you will never, ever misplace your phone in some strange place. But it happens.
LogMeOnce offers a full set of anti-theft features for the next time this happens to you. Whether you left your mobile device in a jacket hanging in the closet, let it slip between the seats of your couch or—worse—in the backseat of a cab, you can trace its whereabouts.
Thankfully, LogMeOnce offers plenty of ways to get a hold of your missing phone with the following Anti-Theft features:
Wipe: Delete all LogMeOnce data, if you know the device is stolen
Lock: Remotely lock your device by forcing a password
Ring: Get the phone to ring at top volume, for an easy find
Log out: Remotely log out of your device, and instantly protect your data.
Remote locate: Get its GPS location on a city map.
Direction: Plot your device's location and get direction on a map.
Display message: On your phone, display a message and help finder to get your device back to you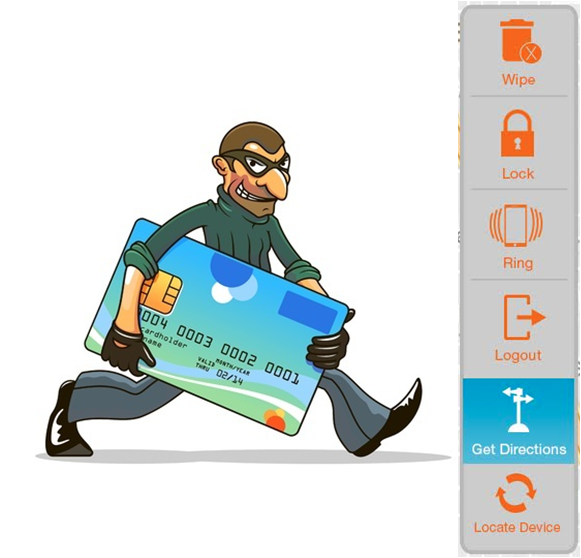 2. Anti-Lock: Avoid getting locked out!
Don't fear getting shut out of your own account. LogMeOnce Anti-Lock is our account safety system for users' proper and secure access. Enforcing account security is critical, but avoiding lock-outs is equally important.
PasswordLess Access: Great benefits come with this feature. By pairing a mobile phone, you get PasswordLess access, which is far more secure than entering a lone password.
Duplicate Key: Once paired, your trusted mobile device will also grant access back to your account in case you get locked out of your PC for any reason.
Additional Benefits:
Anti-Lock is a preventive measure
Your mobile device works as an account recovery tool
Login to desktop accounts is approved via mobile device
You can pair/add as many mobile devices as you would like to your account. The more, the merrier.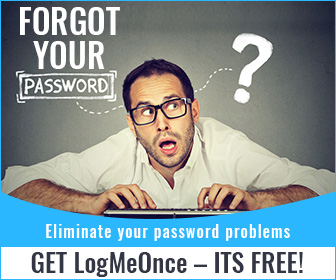 3. LogmeOnce Mugshot
Snap your hacker's photo! Find out who may be trying to break into your LogmeOnce account through your various devices. And detect break-ins to your Android. LogmeOnce Mugshot detects unauthorized and fake entries for fingerprints, Touch ID, passcodes, and passwords! When a wrong password is submitted to LogmeOnce, we immediately snap a photo of the intruder via your front-facing camera. We take photos via laptop login or webcams too. Hackers don't know your password! But we know how to catch them in the act. Mugshot is seamlessly integrated with LogmeOnce Password Manager.
Mugshot snaps your hacker's photo, video, audio, GPS location, map, and IP address. LogMeOnce provides you with a dedicated and secure web portal account. Log in to see a wealth of information collected any time a wrong password is submitted by a hacker, intruder, or a disgruntled colleague. The hacker's photo and pertinent information, such as the IP address where the attempt was made, GPS location, and time stamps, are put in one place for your reference. And the data is also emailed to you in the background!
Mugshot expands your protection by taking more pictures of your intruders' surroundings with the phone's rear-facing camera. You can also set it up to record their voice audio and video while they try to break in to your account. Listen to them fumble and get frustrated as they type in the wrong passwords and get denied. And be satisfied that you have caught them in the act — and stopped them from taking your data and identity.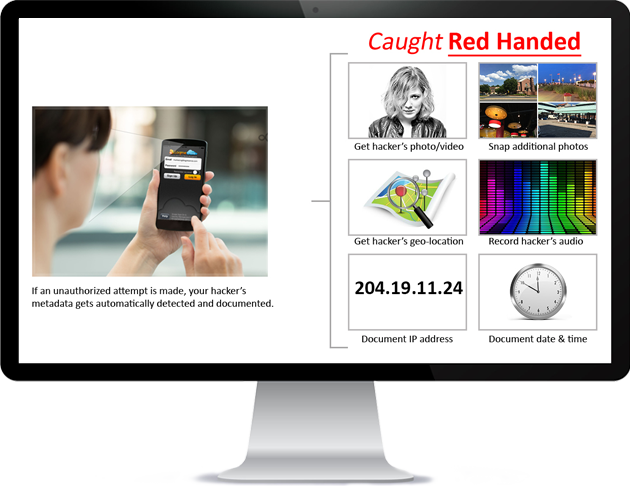 4. Selfie-2FA (Two-Factor Authentication)
Selfie-2FA is one of LogMeOnce newest Two-Factor Authentication methodologies.
The patent pending Selfie-2FA is superbly unique as an actual image, photo, or picture of an object is delivered for the 2nd factor of authentication. Unlike traditional 2FA products that use a "One Time Token" and string of digit for a 2nd factor, Selfie-2FA use of an authentic image greatly adds to processing of secure credentials.
Selfie-2FA also avoids disadvantage of traditional 2FA products which require user to carry a hardware token (dongle), which have the inconvenience of establishing token's secure communication.
Another unique advantage of Selfie-2FA is that a user's mobile device is tied to the authentication process. This greatly reduces the risk of bad elements gaining access to multiple credentials on computer (PC), user's mobile device, authentication imagery, credentials for the mobile device itself.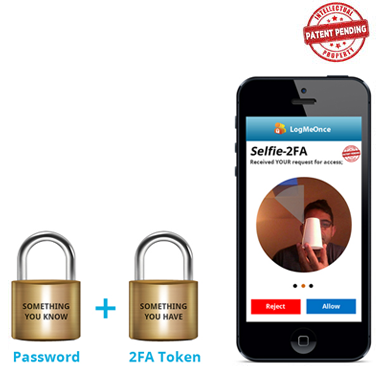 5. Productivity Dock
LogMeOnce popular User Interface (UI) has been a great welcome from inception. We now add "Productivity Dock" based on your requests. It's fun and easy to use. Productivity dock is engineered to take full advantage of feature-rich LogMeOnce, provides you quick access, and lets you launch your favorite apps with a click.
Scroll over with your mouse and each App and its label will magnify quickly for easier recognition. Click on your desired App (such as Mugshot, Scorecard, Beneficiary, etc.), and launch it!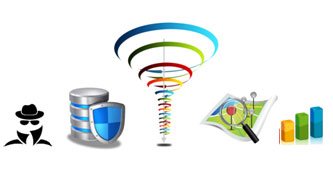 6. Secure Wallet
Do you enjoy an express checkout? LogMeOnce Secure Wallet enables you to store credit card(s) information and auto payments online.
Carrying your physical wallet with you? Well, with LogMeOnce Digital wallet your credit cards and payment information stay secure and encrypted – no matter where you go!
LogMeOnce Digital wallet is password protected requiring double-authentication to gain access to credit cards and other payment methods. You may store and use your debit card, credit card, passport, driver's license or ID, insurance card and even member or loyalty cards. It's safe, secure, effective and easy to use.
Additionally, you can securely backup your personal information, and also includes a note-taking feature to help you keep track of any information you may need to refer to in the future.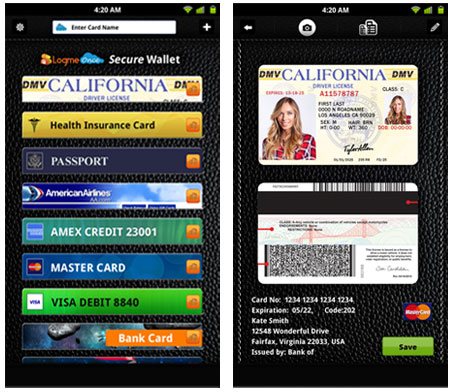 7. Emergency Access with Photo
Stuck in a bind? If you get caught in an emergency situation while away from your computer, you can ask a trusted friend to help you — and grant them immediate access.
With LogMeOnce's unrivaled Emergency Access feature, you can see and verify the person's photo, GPS location, and metadata before granting access. It's easy for both of you — and safe. Since your access code is concealed, the trusted friend never has to know your master password.
How it works: You will receive the trusted party's request on your mobile device along with their photo and where they're located. If no webcam is available, you get a Visual OTP to validate the request. Click to approve, and they have access for up to 24 hours. You can revoke access at any time. LogMeOnce's patented technology is intelligent and offers multiple ways to protect your credentials.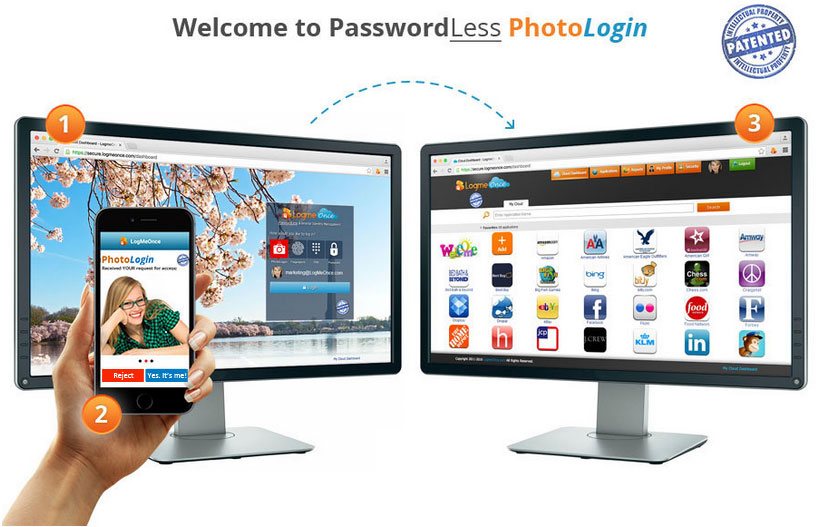 8. Visual OTP
Visual OTP is part of LogMeOnce's multi-factor methodology. Visual OTP is a One Time Password (OTP) and is independently generated and promptly displayed on both your PC and mobile device so that you can visually compare both OTP codes. Visual OTP is an extra layer of protection and an additional authentication factor.
Every image is attested with a unique Visual OTP code. The seal is generated in your local computer when you make your login request, and is then displayed both on your computer monitor and the image you receive on your phone.
No Webcam? No Worries! If your computer doesn't have a webcam or it's not working, you can still benefit from PhotoLogin and authenticate yourself with a genuine image right from your own desktop. Visual OTP is an unrivaled new feature of LogMeOnce.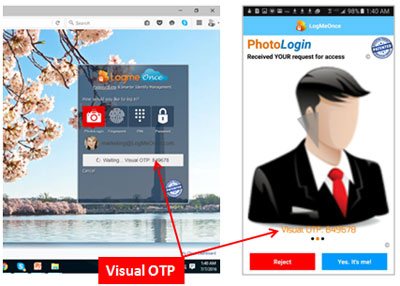 9. LogMeOnce PhotoLogin
LogMeOnce PhotoLogin patented and patent-pending technology gives you the power by taking an instant photo of one moment in time. Your authentication factor can change in a millisecond, whether you're showing off your cufflinks or holding a stapler. How could hackers possibly know how you will pose or what you will be wearing to log in? They do not even know your photo's scene, background, color, wall, windows, or room's ambiance! PhotoLogin patented technology enables you to log in to any website without typing a password, or use facial recognition tools.
Facial recognition tools can only focus on one small area of the face, they're clunky to use, and they rely on historical images. Such products can only compare your facial biometrics to a pre-saved image either in your own device or on a centralized server.
By capturing an entire image in an instant, the patented and patent-pending technology of PhotoLogin enables users to quickly and easily authenticate themselves and gain access to their own accounts. PhotoLogin provides millisecond intelligence and accuracy that surpass the potential of facial recognition. PhotoLogin captures an entire unique image, enabling us humans to confirm that a unique image, its surroundings, and background are real.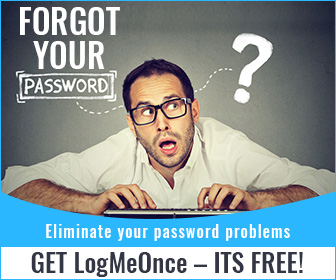 10. Kill-Pill
Got a report of a lost or stolen device? No worries. Simply send a Kill-Pill, and you can instantly wipe off any LogMeOnce data stored on it. Access to the LogMeOnce account on the remote device will be denied.
Kill-Pill or Remote Device Wipe is LogMeOnce's latest security offering for consumers, businesses and enterprise end-users who need to locate a mobile device. You can first remotely command the device to chime so you can find it. Then, if confirmed the device is truly lost (and perhaps even stolen), you can send a Kill-Pill to wipe out the user's LogMeOnce security credentials and associated data on the device.
11. Mobile Device Management (MDM)
Do you wish to remotely find, lock, unlock, pair and unpair your device? Do you know, what is the state of security and password on your devices?
LogMeOnce provides a unified dashboard that displays a user's entire device. Enforcing devices security for you or your family is critical to build a real security perimeter. You are able to detect compromised devices which is another practical security enabler. With simplified passcode reset you can lock from anywhere, and manage your devices at every stage.
LogMeOnce "Device Management" collects pertinent information that will be used to establish security posture and includes; CPU, Device Identifiers, Display, General Information, Network, and Software. One simple dashboard view to see all of your devices of different OS in one screen.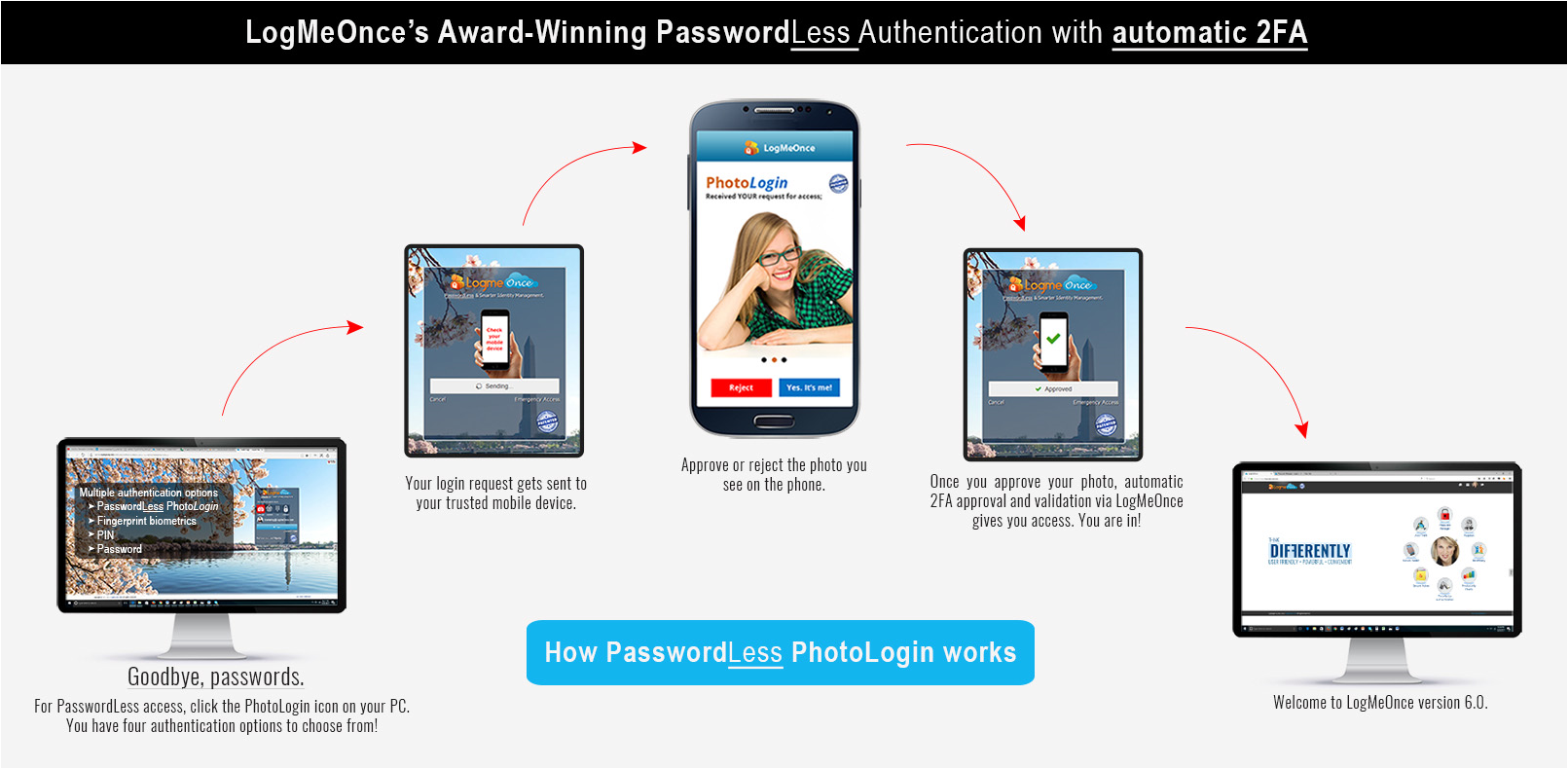 How Secure is Your Password with LogMeOnce?
Convenience + Security:
Protect your Credentials. Enjoy secure computing while protecting your passwords and IDs with Military-Grade encryption technology. It's that simple. Get out-of-the-box integration with popular applications, including Google Apps, Salesforce.com and many more. Simply pick your App from our catalog and you are ready to go. Greater security and speedy implementation means a better return on your investment and a faster time to value.
Encryption that Military Kills for:
Get out-of-the-box security with LogmeOnce, and protect your passwords. LogmeOnce employs Advanced security encryption technologies such as AES and SHA-512. It is preconfigured and run in the background. You don't have to do anything!
Only You know your Password:
Nobody has access to a user's password not even LogmeOnce. Your information is kept private because your password and associated information are all encrypted with a unique key. Each user has his or her own access and encryption key, and no one else knows what that key is. LogmeOnce's employees and servers do not have access to your credentials. With multi-factor authentication, users can build multiple layers of security in order to enhance and secure any access to their data.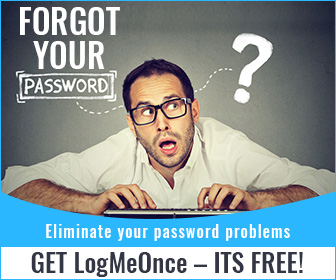 Stop Key Loggers:
Yes. LogmeOnce suite provides protection against Key loggers. Passwords could be hijacked in many different ways. The reason a password is stolen by keyloggers, is because the password is communicated in clear text. LogmeOnce prevents such problems by facilitating
1st: Passwords are encrypted
2nd: Passwords are hashed, and then sent as a secured package with SALT
Key loggers only get hashed and encrypted package which is worthless for them, as they have to spend year to decrypt it.
Stop Shoulder Surfing:
Yes. LogmeOnce suite protects against Shoulder Surfing.
Shoulder Surfing while typing user names and passwords is mildly terrifying and a serious concern. End-users are mostly concerned with malicious observers who may be able to acquire their password credentials by simply watching over their shoulder. With LogmeOnce there is no need to type in passwords to access applications any more. A Simple click on an application icon and you are logged in automatically through LogmeOnce secure and encrypted access management process.
Multifactor Authentication Security:
LogmeOnce Multifactor Authentication Security (MFA) serves a vital function within any household, consumer or business organization -securing access to assets, protecting the identities of users, and ensuring that a user is who he claims to be. With the recent surge in high-profile security breaches, as well as evolving business environments that require entirely new considerations for access control – like SaaS applications and mobile device management – represents a shift in how trust and control is established and maintained.
Cloud Identity Management:
Yes. LogmeOnce suite includes Cloud Identity Management and relieves the pain that end users face or have by managing multiple passwords for their cloud applications. Withy LogmeOnce Cloud Identity Management you can enforce own security policy or corporate standards for cloud application access and improves productivity for IT and end users by relieving password reset requests.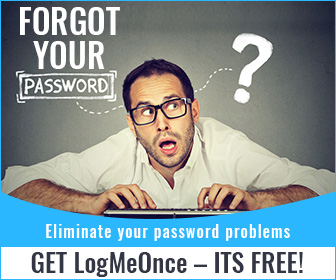 Video Guides LogMeOnce Review: Best Free Password Manager
Summary
LogMeOnce is a powerful password manager due to its multiple strong and advanced features and technologies. It uses LogMeOnce Mugshot, PasswordLess PhotoLogin, Selfie-2FA, Password SHOCK, Account Freeze, Scheduled Login, Anti-Lock, Mobile Device Management, Kill-Pill, Smart Menu, Personal USB, 2FA Token, Password Dialer, Comprehensive 1FA, 2FA, and MFA offerings, Emergency Access with Photo, Visual OTP, Anti-Theft, Productivity Dock and more to power itself and add more layers of security for customers. And also users can enjoy complete privacy by using LogMeOnce Password manager. LogMeOnce adopts the military-grade AES-256 bit encryption to safeguard all your passwords and personal data. no one can access your password manager to steal any sensitive data. Whether you use Firefox, IE, Chrome,Opera or Safari you can easily access your accounts at work, school, and home or on the move. LogMeOnce protects you against fraud and identity theft. LogMeOnce create and manage strong passwords.

Get this Deal Now