Antivirus Security Pro Virus Removal Instructions
Antivirus Security Pro is an illegal antivirus program and should be removed from Windows users' computer as an emergency issue. As a member of Rogue.WinWebSec family, Antivirus Security Pro is highly infectious computer threat which also can be categorized as scareware program. It is engineered and published by advanced software programmers who we named cybercriminals to scam users' money. Antivirus Security Pro virus pretends to be legitimate PC security software and perform a virtual and meaningless scan for the Windows PC. A few of minutes later, this rogue antivirus program displays bogus scan results which is full of PC threat issues to make users believe that their computer has been infected by variety of malware, viruses, and Trojan. Fear manifestation will come out on the people's face in the most of cases when they received such long list of PC threats generated by Antivirus Security Pro. However, they would be forced to purchase a license key for activating the full version of Antivirus Security Pro if they want to remove the nonexistent security problems. Antivirus Security Pro virus is designed to attack all Windows operating system and recently VilmaTech Research Lab has already found some cases occurred under Windows 8 system. Antivirus Security Pro virus spreads rapidly over the network and should be eliminated very soon in order to decrease the number of victims.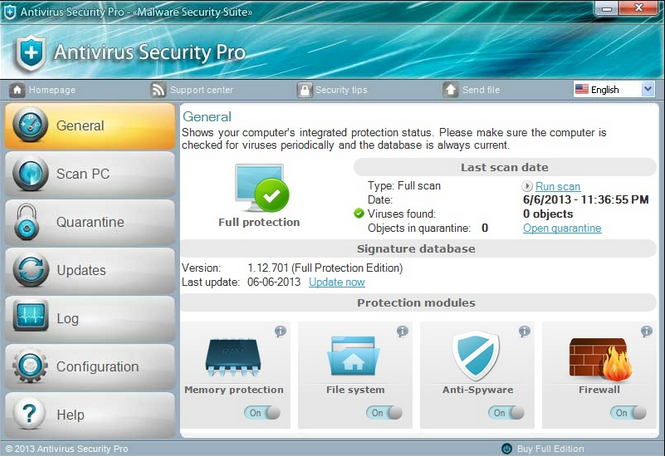 Once Antivirus Security Pro virus has been injected on a Windows computer it would be configured to launch automatically from the second the operating system starts up. Without any permission of the PC administrator, Antivirus Security Pro will scan the whole PC disks and forbid users from stopping the scan process. PC users can not do anything until the Antivirus Security Pro finishes the scanning. This is typical rogue behavior of fake antivirus software. Antivirus Security Pro virus will not only show the fake threat notifications but also will terminate other legitimate applications running on the PC and report them as high risky programs. What's more, Antivirus Security Pro virus will disable the Windows system services, including the Windows Task Manager and Registry Editor, and will block victims from running certain programs that could lead to its removal. Worst of all, this virus will add malicious registry entries to the registry list and modify the system registry keys viciously. This may provide hijackers with access and vulnerabilities to the computer. Once victims decided to pay the money to the Antivirus Security Pro publishers, they would get high rate of losing their financial information.
Antivirus Security Pro will automatically install on your computer when you click on the malicious links from un-trusted website, download freeware from unknown resource, open attachments from infected email, visit high risky website or proceed other illegal online activities. You will never realize that Antivirus Security Pro virus has been installed successfully on your computer. It would not ask whether you want to install it or not. It can infect your machine through exploit kits that use vulnerabilities on your computer.


The following fake error message(s) appears for Antivirus Security Pro:
"Warning! Infected file detectedLocation: File SystemSuspicious activity detected in the application notepad.exe to the behavior of the virus Win32/Conficker.X. For your security and to avoid loss of data, the operation of application cmd.exe has been temporarily restricted.
Warning! Infected file detected.We strongly recommend activating full edition of your antivirus software for repairing threats.
Warning! Network attack attempt detected.To keep the computer safe, the threat must be blocked."
Note: Antivirus Security Pro is a scam, and you should ignore any alerts that this malicious software might generate.

Troubles Caused by Antivirus Security Pro
As a matter of fact, vicious deeds can be happening under the cover of Antivirus Security Pro. More troubles will be seen on the target machine with loose security. If restrictions on terminals and gateway are never imposed on an infected computer by Antivirus Security Pro, additional infections can be caught compromising the target machine secretly. According to TCP/IP protocol, there are 256*256 ports mounted on each computer. While in fact, few of them are used to accomplish common task. It is the rest of available ports that give Antivirus Security Pro chances to alleviate installations of additional infections for large amount of money which is the ultimate goal of the fake anti-virus program. Due to the loopholes coupled with modifications in database as depicted in the preceding section, a target computer becomes vulnerable to the extent to be susceptible to various infections. Troubles will then be seen one after another:
More junks as well as strange files/ folders are mounted onto the target machine.
Pop-up advertisements might increase in frequency to ruin surfing experience.
More threats notifications will be given out by another genuine anti-virus program.
Search results may very well be redirected to vicious sites.
What's worthy of further attention is that Antivirus Security Pro might give rise to inaccessibility to Safe Mode or even BSOD (blue screen of death), though the chance can be slim. At all events, it is rather to remove Antivirus Security Pro before it implements more harms to the target computer than removing it when the PC condition has gone severe.

Best Way to Remove Antivirus Security Pro
As mentioned above that Antivirus Security Pro is one of the variations of Rogue.WinWebSec which is a Trojan. Such Trojan features itself with the capability of binding its malicious codes to systematic items that load payloads and information about build-in services. As a consequence, Antivirus Security Pro cannot be removed by other anti-virus programs. To think it in another way, Antivirus Security Pro successfully affects the target computer protected by installed anti-virus programs, which indicates that anti-virus programs are not able to remove it.
Therefore, manual method is recommended to be employed in the removal of Antivirus Security Pro to prevent from its re-emergence after the accomplishment of the steps given above. One thing to which attention should be paid is that computer technology is in need to perform the removal. But nothing to be worried for the shortage of PC technology since professional help is always put on standby from VilmaTech Online Support.

How to Remove Antivirus Security Pro Virus
Step One: Reboot Your Computer. Press"F8" on the keyboard before the Windows system has been launched.

If you are using Windows 8, please read here:
1. Hold the Shift button and mash the F8 key. Choose the "See advanced repair options."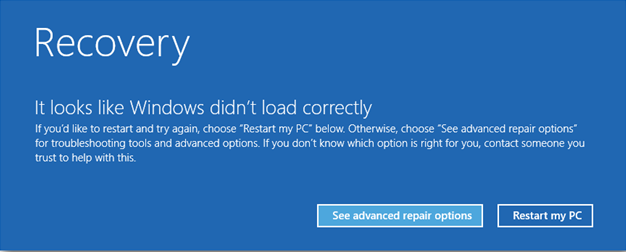 2. Click on the Troubleshoot option.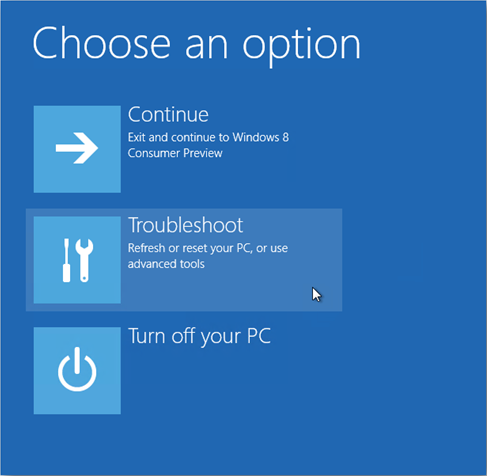 3. Select Advanced Options.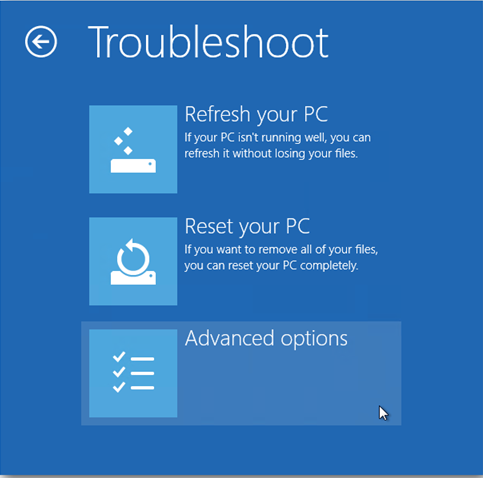 4. Now choose the Windows Startup Settings option, by the looks of things we were never meant to find Safe Mode.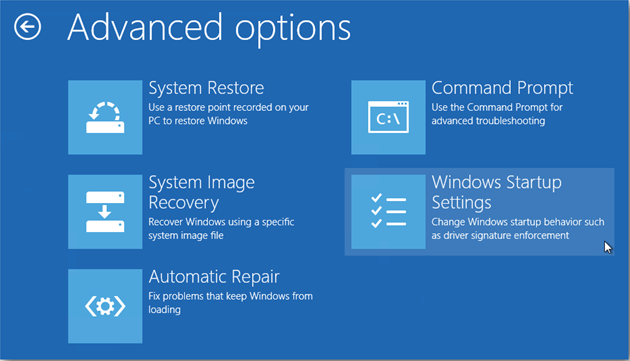 5. Finally hit the Restart button to reboot your PC.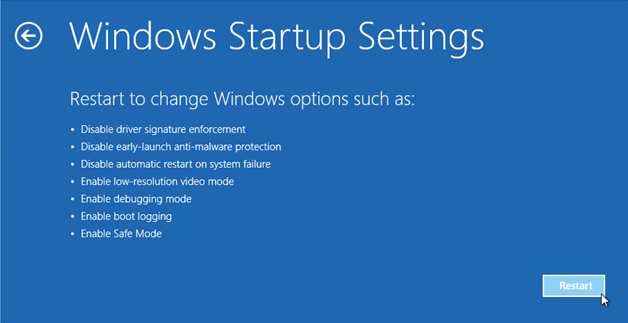 6. When your PC reboots you will be able to boot into Safe Mode from the familiar looking Advanced Boot Options screen.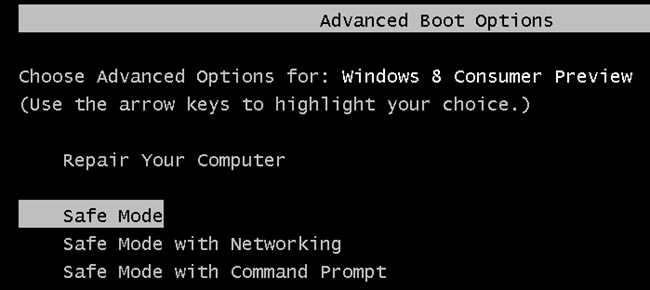 Step Two: Select the "Safe Mode with Networking"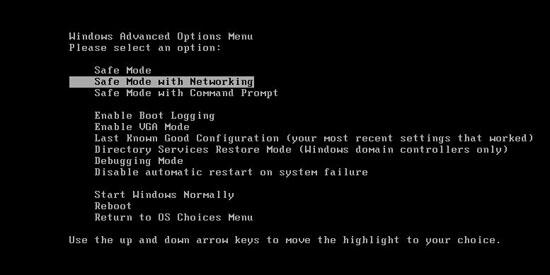 If you are using Windows XP, Vista or 7 in the Advanced Boot Options screen, use the arrow keys to highlight Safe Mode with Networking , and then press ENTER.
If you are using Windows 8, press 5 on your keyboard to Enable Safe Mode with Networking.Windows will start in Safe Mode with Networking.

Step Three: Press CTRL+ALT+DEL or CTRL+SHIFT+ESC (this operation varies by different operating systems). Open the Windows Task Manager.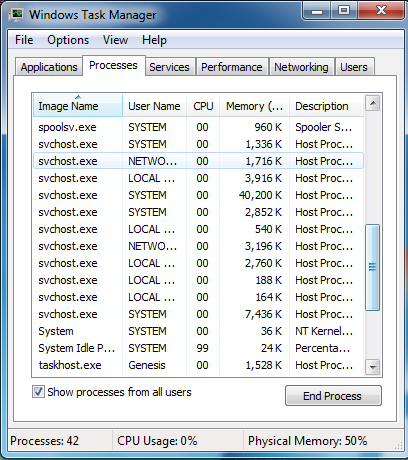 If it didn't work, try another way by pressing the Start button and click on the Run option. This will start the Run tool. Type taskmgr in the blank and press OK. This can help you open the Task Manager.
If you are using Windows 8, you also can open the Task Manager with the traditional ways.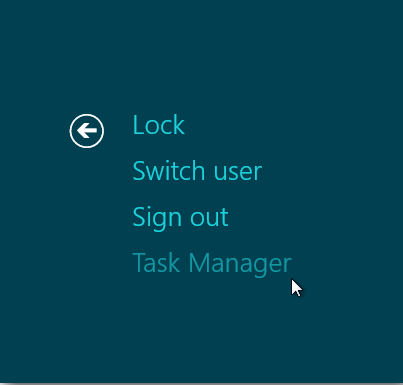 Here you will see the background processes of Windows 8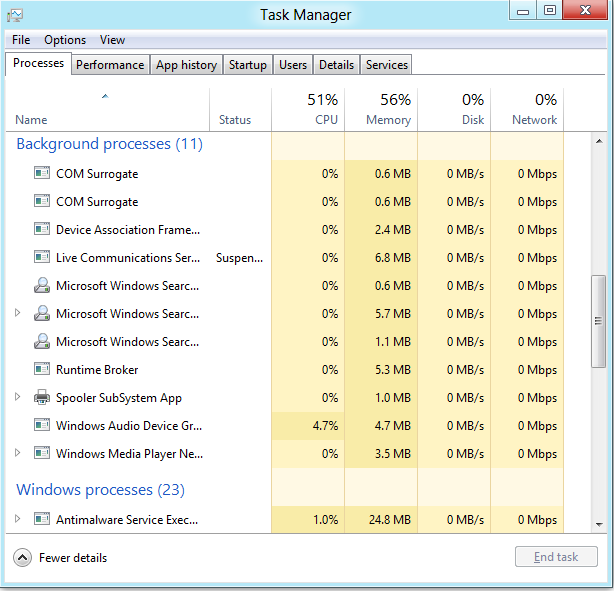 Step Four: Click on Processes tab. Find the process by the name of random.exe. Then scroll the list to find required processes. Select it with your mouse or arrow keys on the keyboard and click on End Process button.

Step Five: Click "Start" menu — "Control Panel". Search out the "Folder Options" and show hidden files in this area.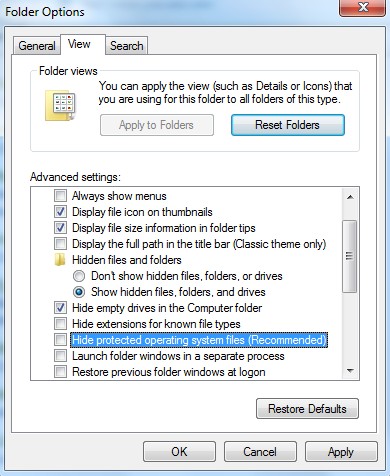 Follow the steps to see hidden files on Windows 8:
1.Open Windows Explorer:
*From Desktop Mode: Open My Computer or any folder or
*From Windows 8 Start Screen: Click on Windows Explorer app.
2.From Windows Explorer winow, click on the View tab. A ribbon with numerous options will appear.
3.Check mark the "File name extensions" and "Hidden items" options.



4.Now you can see the hidden files on Windows 8.

Step Six: Press Windows+R keys and then type regedit in Run box to open Registry Editor. Then delete the registry entries: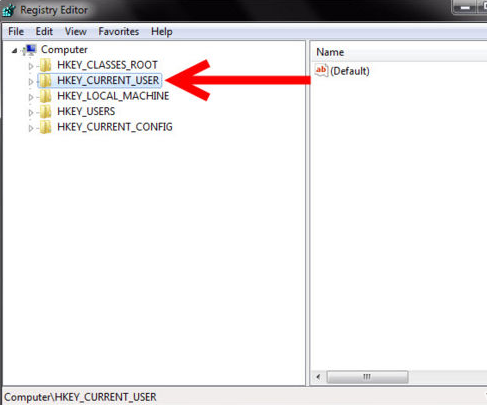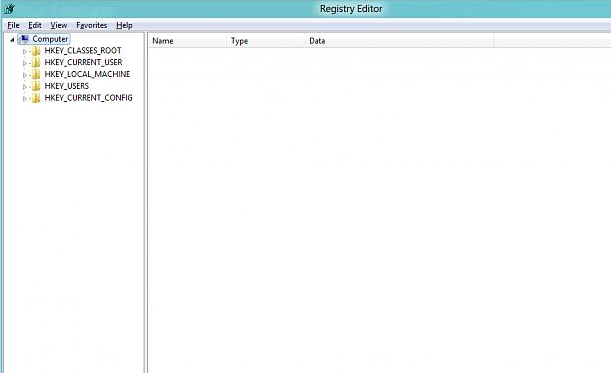 The above mentioned registry ensures that, the virus registers itself with the compromised system and executes itself upon every boot.
HKEY_CURRENT_USER\Software\Microsoft\Windows\CurrentVersion\Run "AA2014" = "%CommonAppData%\WaDprnV7\WaDprnV7.exe"

Prevention of Antivirus Security Pro
To prevent getting infected by Antivirus Security Pro, good PC practice is always required to follow up. Below is the list of prevention measures that have been proved to be efficient in the prevention of virus including Antivirus Security Pro.
Install genuine and powerful anti-virus programs, Firewall and programs providing Internet security aids that are the essential programs to keep computer safe; but assure that updates will be enforced timely.
Due to the exploitation of vulnerability becomes the most popular way for virus to commence infiltration, third-party programs should be adopted and mounted to repair bugs for the remedy by downloading correspondent patches.
It has been known to all that websites, especially the unknown ones, stand a big chance to download suspicious plug-ins/ add-ons/ extensions and virus; therefore, no visit to unknown websites.
Virus can start its infiltration through instant messages; so do not accept suspicious files and give priority to Security Level of instant chat tools.
Virus like Antivirus Security Pro will piggyback on freeware/ shareware; thus it is suggested not to download and install freeware/ shareware to the great extent.
There have been cases that counterfeit update messages incurs installations of virus, including Antivirus Security Pro; hence, update should be performed by accessing official web sites rather than random messages pop up from nowhere.
Priority should always go to custom installation to avoid automatic installation of third-party programs.
Disk partition is recommended to employ so that third-party programs can be placed in other disks rather than C disk.
Apart from good PC practice, secure coefficient of web should also be enhanced. Follow the steps below to make modifications on some parts that have been found to be commonly exploited by virus:
Disable banner that shows what is actually running on a target computer.
Disable ServerSignature and ServerTokens functions.
Disable Directory index by opening up terminal before executing the following commands: 1) rm -f /etc/apache2/mods-enabled/autoindex.load; 2) rm -f /etc/apache2/mods-enabled/autoindex.conf.
Disable WebDAV to guarantee that potential attackers cannot modify files to upload vicious codes by deleting dav, dav_fs and dav_lock files on terminal through commands: 1) rm -f /etc/apache2/mods-enabled/dav.load; 2) rm -f /etc/apache2/mods-enabled/dav_fs.conf; 3) rm -f /etc/apache2/mods-enabled/dav_fs.load; 4) rm -f /etc/apache2/mods-enabled/dav_lock.load.
Turn off request from TRACE HTTP to prevent online conversation from being hijacked by navigating the terminal to /etc/apache2/apache2.conf.
Remedy vulnerability on IIS(Internet Information Services).
Impose restrictions on Apache HTTP Server to prevent virus like Antivirus Security Pro from reading all information stored on the target machine.
Extra Tips:
If you are not confident of deleting the malicious registry keys and files hidden in the Windows system folder, or if you have any questions or doubt at any point, STOP and ask for VilmaTech assistance. Cyber criminals will always change and update the malicious codes in order to make this program become more and more complicated and it would be very difficult for users to remove it by the normal means. If you fail to remove Antivirus Security Pro with the instructions, you can contact VilmaTech online support and have online chat with them.

Part of Rogue.WinWebSec Family Members: