My Safe PC 2014 – Remove My Safe PC 2014 Virus with Ease
My Safe PC 2014 is new version of rogue security spyware which is the direct successor and upgrade of PC Defender 360 fake anti-virus program. And they all in general scheme similar trick to scare PC users whose computers have been infected with the designed fake virus and threaten these victims to pay for clearing out infections thereby gaining illegal profits they desire. Why does the trick that they played can successfully cheat a lot of PC users all over the world? Undoubtedly, the trick is decorated vividly and comprehensively. First of all, seeing from its attractive interface, it brings an entirely new outward appearance of it, which is imitated picturesquely some real anti-virus program. With two direct tabs say "SCAN MY COMPUTER/UPDATE DATABASE" on the middle of home screen.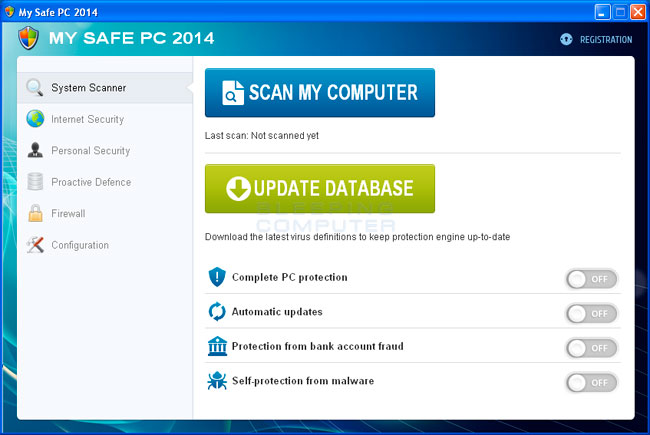 Secondly, a colored status box on the left lets you know in green or red whether you are secured or not, while six tabs to its right give you access to the suite's security features. These tabs provide quick access to specific features: System Scanner, Internet Security, Personal Security, Proactive Defence, Firewall, and Configuration. As seen below picture.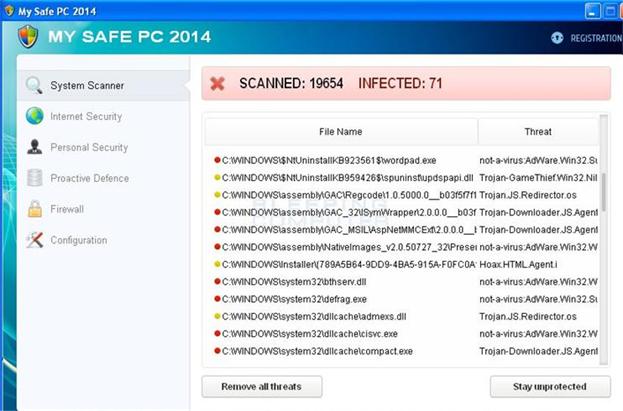 Thirdly, the most effective way for cybercriminals to achieve the defraudation is to scare and threaten PC users by displaying serious alerts about specific malicious infections and system vulnerabilities, and it is required to Active My Safe PC 2014 fake program to safeguard your system.

The Detailed Alerts Have Been Listed as Below
For One-My Safe PC 2014 FIREWALL ALERT
mbam.exe is infected with Trojan-Game Thief.Win32.Nilage.ipj. Private data can be stolen by third parties including Credit Card details and password.
Name: mbam.exe
Version: 1.50.1.3
Company: Malwarebytes Corporation
Location: C: \Program Files\Malwarebytes'Anti-Malware\mbam.exe
And at the bottom of the alert window it says Windows recommends active My Safe PC2014. It requires you click Activate to register your copy of the fake anti-virus spyware and perform threat removal on your system.
For Two- SECURITY ALERT
Vulnerabilities found
Background scan for security breaches has been finished. Serious have been detected. Safeguard your system again exploits malware and viruses right now by activating Proactive Defence.
Upgrade to full version of the software package now! Clean your system and ward off new attacks against your system integrity and sensitive data. Free daily updates and online protection from web-based instructions are already in the bundle.
As all supported alerts mentioned above, which makes it is quite likely for victims to pay the fake program produced by cybercriminals since they really suppose their computers are too in danger to wait. Unluckily, those people who have paid for the virus not only lost their money but also their computers were still suffering from the damages since the virus was still in the infected system and constantly exploited bad things.
How to Remove My Safe PC 2014?
Step 1: Boot up the infected PC with safe mode with networking.
Restart (put power button to start) the infected computer and hit "F8" key after skipping the first interface. It may display Windows Advanced Options, and then highlight "Safe Mode with Networking" option by pressing Up-down keys, press Enter key. Next the infected PC will launch into Windows Operating System.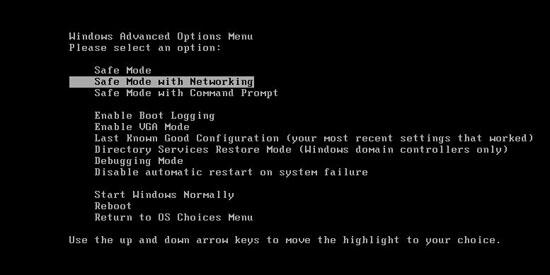 Step 2: End malicious process On Windows Task Manager.
Press Ctrl+ Shift+ Esc or Ctrl+ Alt+ Del to reveal Windows Task Manager. Click on Process tab. Scroll down and locate to the suspicious virus file (random), then click on End process.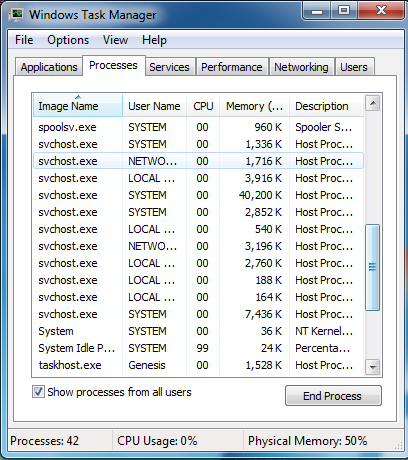 Step 3: Delete the registry entries associated with the rogue My Safe PC 2014 program
1> Open the Registry Editor-Together press Windows + R key->type regedit in the pop-up Run window->click ok. Registry Editor shows up then.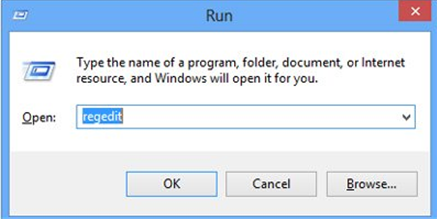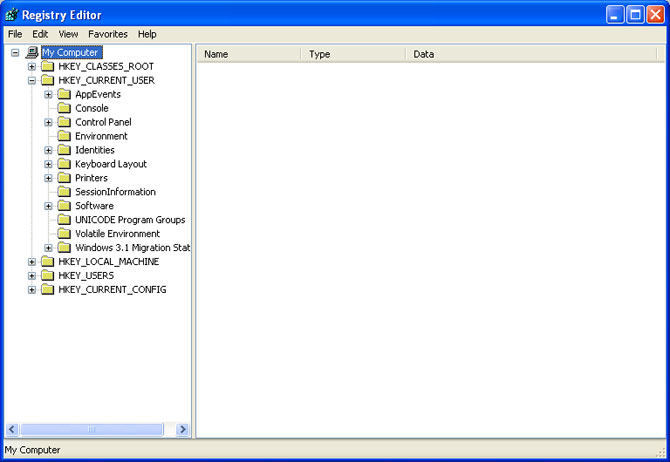 It is convenient for you to definitely find all virus files if you have showed the hidden files, thus please follow on more step to show hidden files first.
Click on Start button-> Click on Control Panel->Double click on Files and Folder Option->Select View tab->Check "Show hidden files, folders and drives"->Uncheck "Hide protected operating system files (Recommended). Then click ok to make all changes effect.
Open Local system disk, delete virus folder files-Open Local (disk) C: \ or Local (disk) D: \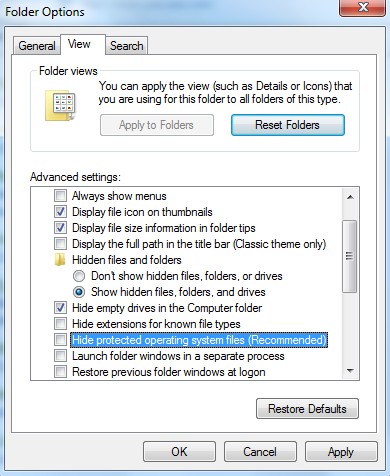 %CommonAppData%\pavsdata\
%CommonAppData%\pavsdata\app.ico
%CommonAppData%\pavsdata\cache.bin
%CommonAppData%\pavsdata\security_defender.exe
%CommonStartMenu%\Programs\My Safe PC 2014\
%CommonStartMenu%\Programs\My Safe PC 2014\My Safe PC 2014 Help and Support.lnk
%CommonStartMenu%\Programs\My Safe PC 2014\Remove My Safe PC 2014.lnk
%Desktop%My Safe PC 2014.lnk
4> Delete associated registry entries:
HKEY_LOCAL_MACHINE\SOFTWARE\Microsoft\Windows\CurrentVersion\Uninstall\pavsdata
HKEY_CURRENT_USER\Software\Classes\.exe "(Default)" = "4g"
HKEY_CURRENT_USER\Software\Classes\.exeshellopen\command "(Default)" = ""%CommonAppData%\pavsdata\security_defender.exe" /ex "%1″ %*"
HKEY_CURRENT_USER\Software\Microsoft\Windows\CurrentVersion\Run "avsdsvc" = "%CommonAppData%\pavsdata\security_defender.exe /min"
Step 4: Totally restart the infected PC after you have completely finish all required removal to make changes applied.
Precautions You Can Take to Defend Computers against This Threat Once Again
1.Don't scan and download some things on unsafe websites especially pornographic sites.
2.Don't open unknown or spam email that is likely exploited with some scam infections.
3.Be cautious about popping-up ads, coupons when you search online. It is usually a trick with infections.
4.Install one advanced anti-virus program on your computer, and regularly run a scan to prevent your PC from potential infections.
Conclusion
It is crucially essential to ASAP remove My Safe PC 2014 from the infected PC once you find it for its danger are always underground exploited without your consent. The main goal of cybercriminals is to cheat your money, absolutely, it has been trying their best to gain profits by tracking online browsing since the fake virus embedded into your computer. For instance, the fake program constantly exploit vulnerabilities into the infected system and open backdoor for hijackers to access in and steal confidential data like online banking account, password and other your confidential privacies. And other bad operation can happen as well like slowdown, freeze, blue screen code errors and almost all programs are disabled. Therefore, to incase of further damage and economic loss, you should remove the fake My Safe PC 2014 anti-virus program quickly.