West Yorkshire Police Virus – Remove Ransom Scam on Android
The West Yorkshire Police virus is well-known as destructive ransomware, which belongs to the big Ukash scam family created by cyber criminals in order to bring disasters on target machine, including Android system. Basically, the West Yorkshire Police virus is designed to attack the PC/Android users who are living in England mainly. Thus, PC/Android users may get the alert which claims "Your computer/Android phone is locked for violating the law of Great Britain". Having the similar properties like Metropolitan Police virus and An Garda Síochána ransom virus (click here to view the post), West Yorkshire Police Android virus uses the same tactics which covered with a bogus notification, declaring that your computer or Android device has been blocked due to it being involved with the distribution of pornographic material, spam and copyrighted content. According to the contents displaying on the screen, it may threaten victims to believe that their IP-addresses have been stored in its database, and if attacked PC or Android users do not pay fine timely to get rid of the punishment, their cases would be transferred to special task force for further investigation. Being faced with such flagrant ransom scam, the very first thing you need to do is to ignore the fake alert and do not spend money for it to avoid unnecessary pecuniary loss. Meanwhile, it is indispensable to remove West Yorkshire Police Android virus completely to end up all its malicious symptoms.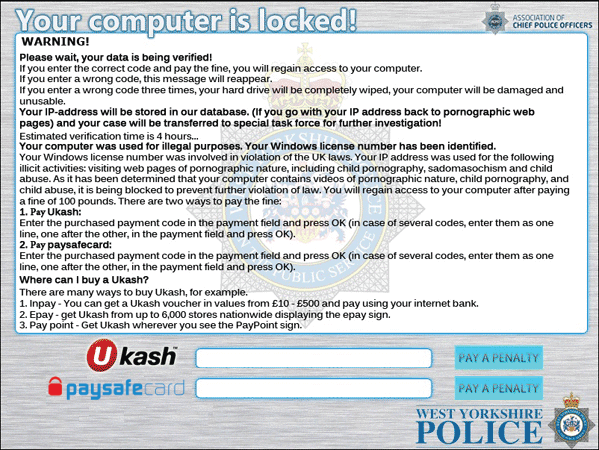 To get more common knowledge of West Yorkshire Police virus, it always aims to coax victims to trust what it displays and pay non-existent fine to release locked PC. Tricky as West Yorkshire Police virus is, it utilizes the name of West Yorkshire Police to increase its authenticity. Most of the time, numerous victims have no idea the accurate time when West Yorkshire Police attacks PC and how it works. In reality, West Yorkshire Police virus is parasitical on email attachments, media files that contain the activation code of West Yorkshire Police virus, unreliable free application downloads, malicious websites or the lawful websites that have been attacked by the ransom virus. It is clear that West Yorkshire Police virus is distributed by various approaches to attack random PCs especially those are short of high PC security protection. Therefore, we should keep cautious while surf online and refrain from using any unknown resource that we do not trust. As soon as the West Yorkshire Police virus installs on compromised machine, typically it will show up the misleading notification and cheat victims to pay money for it. Except that, the West Yorkshire Police virus has the ability to replicate its malicious codes and values all the time and insert them randomly on target machine so as to modify system settings. To be more specific, the boot sector can be altered by West Yorkshire Police virus, which will allow the West Yorkshire Police ransomware run automatically whenever Windows starts.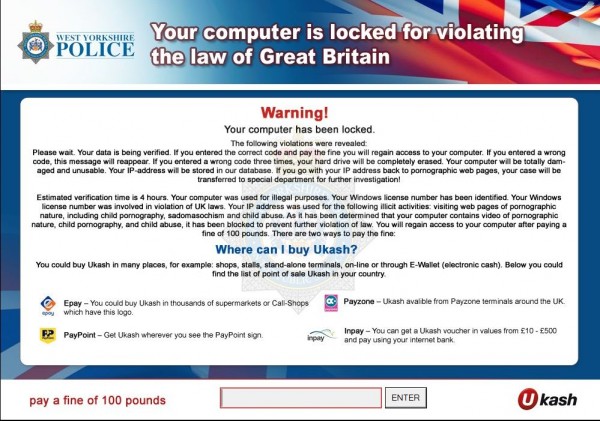 What's worse, the West Yorkshire Police virus is always bundled with various extra PC threats like redirect virus (eg. Searchnu.com virus), Trojan virus, keyloggers and rogue virus. No doubts that the more threats exist on your PC, the more risks they could bring. Also, the West Yorkshire Police virus can significantly slow down the performance of system via occupying large amounts of system resource. This includes starting up, shutting down, playing games, and surfing the web.  Though there has no program is running on your PC, the usage of CPU could be high. Additionally, it could even open a backdoor through exploiting the system vulnerabilities for remote hackers. Therefore, the cyber crooks are able to access affected PC easily with the help of backdoor and steal sensitive data as much as they want on PC. In the meantime, West Yorkshire Police virus is endowed with advanced techniques that could shut down your anti-spyware programs voluntarily and disable Firewall function. If this is the case, the auto removal may fail to help you out of West Yorkshire Police virus successfully. Hence, you may consider the practical manual removal to remove West Yorkshire Police virus properly and permanently.

How does West Yorkshire Police Virus Enter Your System?
The West Yorkshire Police virus can be distributed by downloading files or drives from an unreliable websites, opening email or downloading media files that contain the activation code of virus, fake video codecs and flash updates. Besides that, it is possible to get infected with West Yorkshire Police virus while visit malicious websites or the legitimate websites that have been hacked. Also, torrent files and officially-looking spam letters can easily lead computer users to the infiltration of this virus. Thus, it is necessary to pay attention while utilize any distrusted online resource for the sake of avoiding unwanted infection and damage.
Manually Remove West Yorkshire Police Virus
Not all computer malware could be detected and completely removed by Anti-malware program. West Yorkshire Police virus is one of such stubborn viruses. By using manual method, West Yorkshire Police scam could be stopped and cleaned from toxic computer. To manually get rid of West Yorkshire Police virus , it's to end processes, unregister DLL files, search and delete all other West Yorkshire Police virus files and registry entries. Follow the West Yorkshire Police removal guide below to start.
Method one: Safe Mode with Networking
In some cases, you may even fail to log in affected PC normally. Then you can log in Safe Mode with Networking first to continue.
1.    Safe Mode with Networking
For Windows 7, XP & Vista
Boot up the infected computer, press F8 at the very beginning, choose "Safe Mode with Networking" and press Enter to get in safe mode with networking.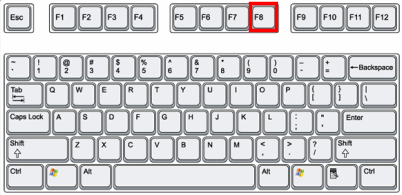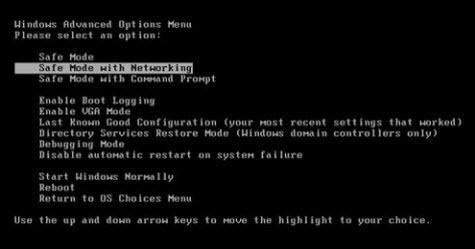 For Windows 8
A: Start and login the infected computer until you see the desktop.
B: Press the Ctrl+ Alt+ Del combination key, the Switch User interface will pop-up.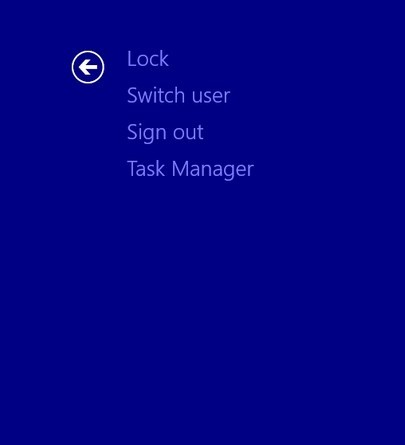 C: Always hold down the "Shift" key on the keyboard and at the same tine click on "Shut down" button once on the bottom right corner of the page.
D: You will get three options there: Sleep, Shut down and Restart. Click on Restart option.


E: The next window says 'Choose an Option' screen," then you need select "Troubleshoot."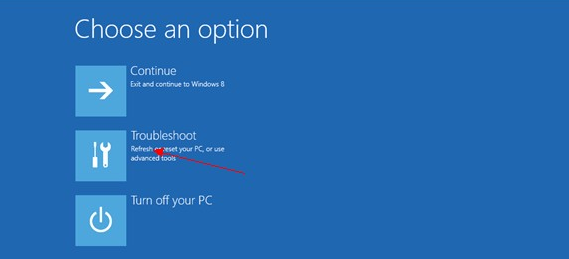 F: On the troubleshoot page click on 'Advanced Options'. In the following window choose 'startup settings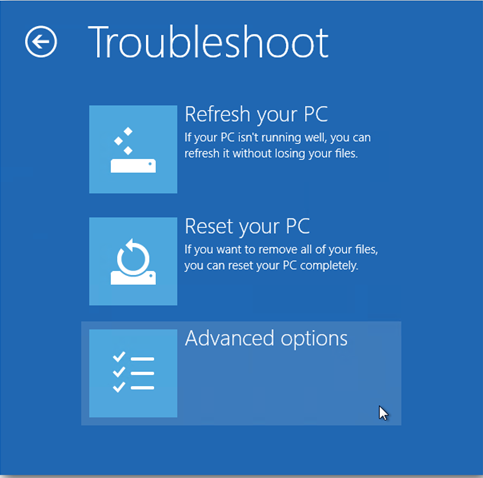 G: Choose 'restart,' and then wait for a minute. Windows will automatically display Safe mode options. At last press F5/5 key to highlight Safe Mode with networking option, hit enter key as well. Later after that, Windows 8 Operating system will be booted up with safe mode with networking.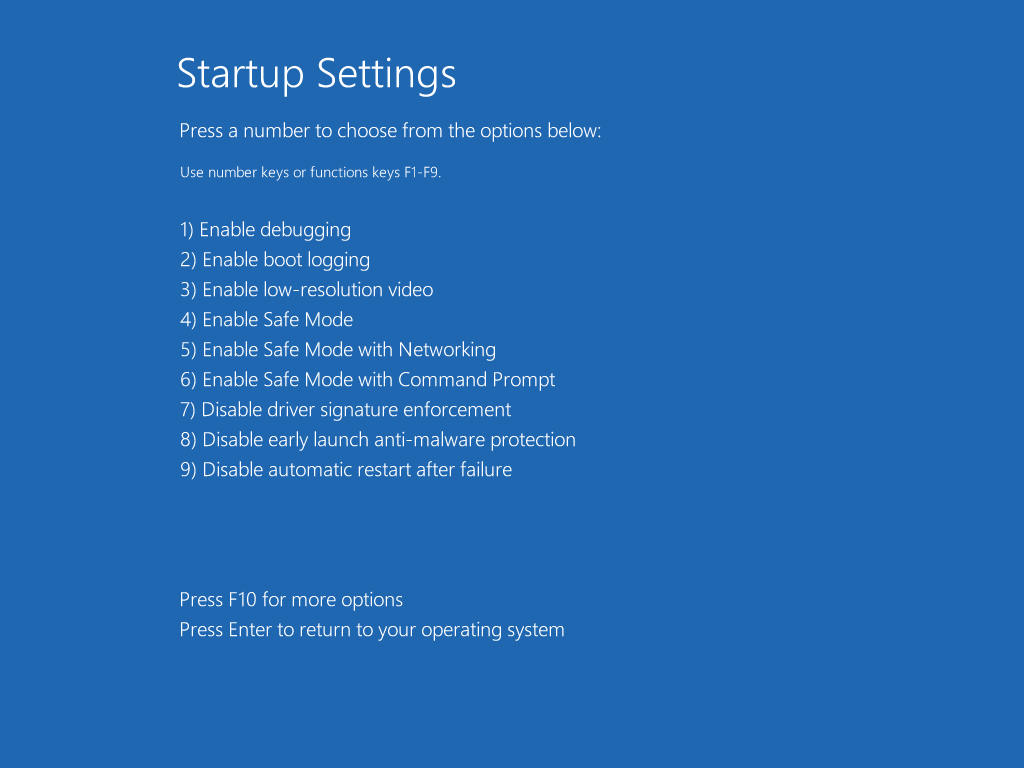 2.    Show hidden files of West Yorkshire Police virus
a. Open Folder Options: clicking the Start button> Control Panel> Appearance and Personalization, and then clicking Folder Options.   After that, click the View tab.
b. Under Advanced settings, click Show hidden files and folders, uncheck Hide protected operating system files (Recommended) and then click OK.

3.    Delete virus files
The related files can be looked for through the Internet; you just then search for these files on your pc and delete them manually.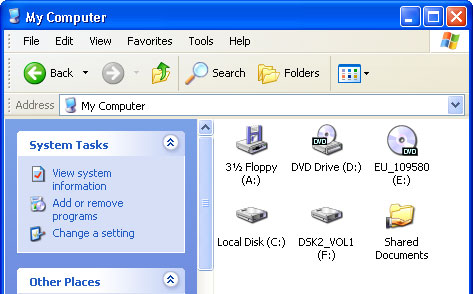 %Documents and Settings%\All Users\Application Data\[random]\
%Documents and Settings%\All Users\Application Data\[random]\[random].exe
%Documents and Settings%\All Users\Application Data\[random]\[random].mof
4.  Remove malicious registry entries
West Yorkshire Police virus adds corrupt entries in the compromised computer's registry so it can hide deeply without you knowing. Again search for and delete the related registry entries listed below: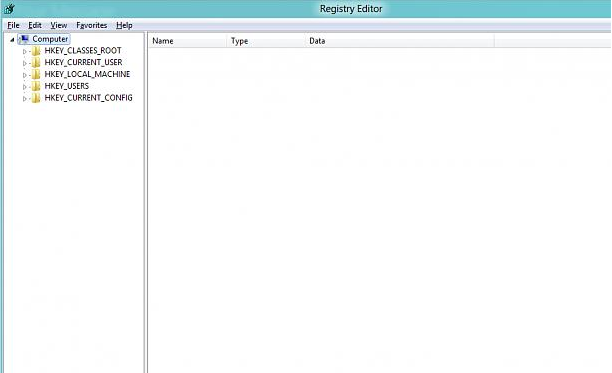 HKEY_CURRENT_USER\Software\Microsoft\Windows\CurrentVersion\Run "[random].exe″
HKEY_LOCAL_MACHINE\SOFTWARE\Microsoft\Windows NT\CurrentVersion\Image File Execution Options "Debugger" = "svchost.exe"

Method two: Safe Mode with Command Prompt
If you still cannot go to Safe mode with networking, you can attempt System Restore with Safe Mode with Command Prompt. However, if not in urgent situation, System restore is not recommended for PC users due to the entire data loss on your PC.
1. Log in Safe Mode with Command Prompt first.
For Windows XP, Vista, Win7
Start up your computer. Keep pressing F8 constantly before Windows launches. Then the Window Advanced Option menu will appears, highlight the cursor and choose Safe Mode with Command Prompt.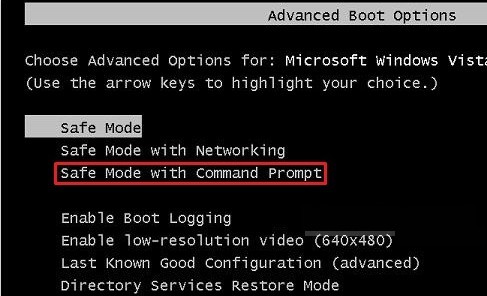 For Windows 8
a.    Start your computer, hold down the Shift key and hit the F8 key (Shift+F8) repeatedly. The Recovery Mode Window would pop up, choose the option of See advanced repair options.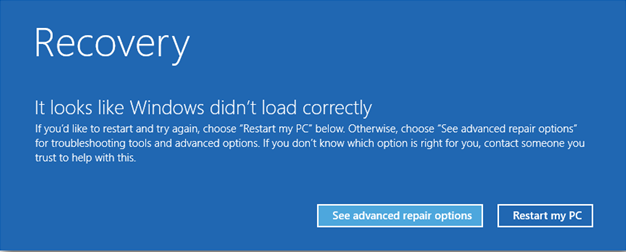 b.    Then Choose an option screen will appear, the next operation is quite similar with Safe mode with networking. Please choose the Troubleshoot option to continue. Once you are at the Troubleshoot Window, click on or select the Advanced Options. Now the Window Startup Settings option will come up, click on Restart Button. Here, you will get the Advanced Boot Options that involved with Safe Mode with Command Prompt.
c.    Highlight the Safe Mode with Command Prompt option or press number key 6 to enable Safe Mode with Command Prompt.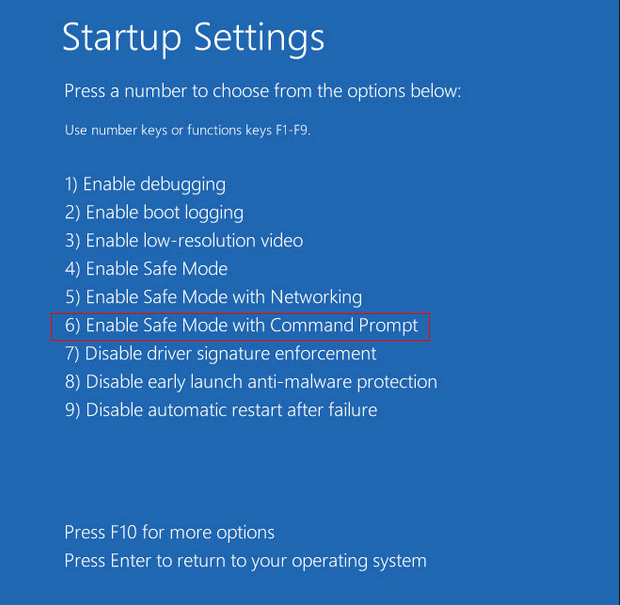 2: When the CMD (cmd.exe) Window pops up, type cd restore and press Enter.


3: Type rstrui.exe and press Enter in the next Window.


4: The Restore system files and settings Window will appear, click Next to continue.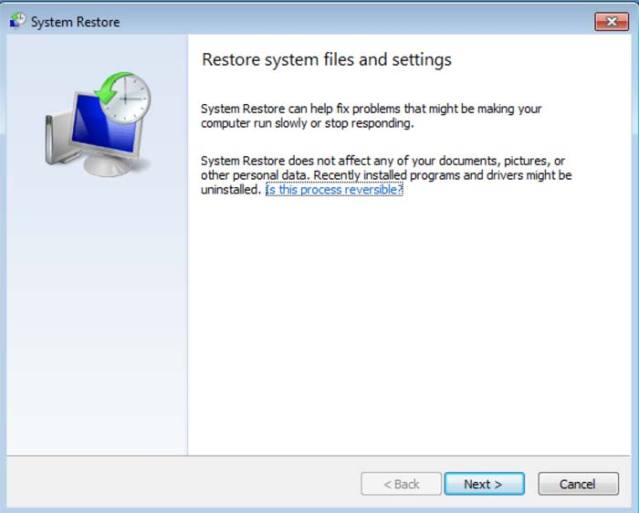 5: Choose an available restore point to restore your system to an earlier time and date. And click Yes to finish the system restore.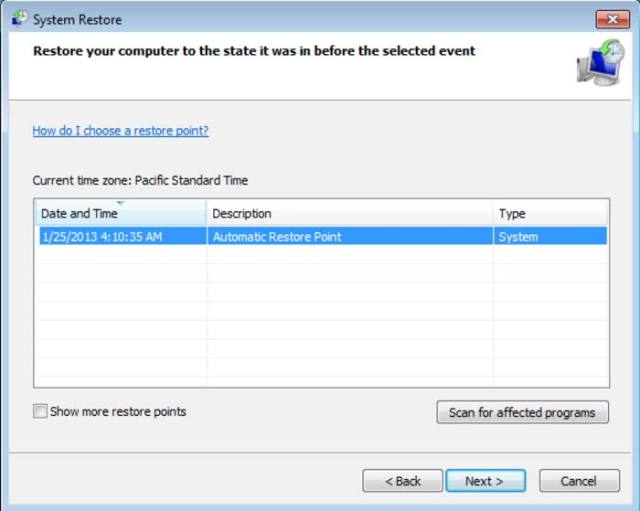 6: When all steps are done, your computer can be restored to the earlier date without infection.

Additional Tips for Speeding up Your PC
Though you have cleaned up West Yorkshire Police virus, the performance of your PC may be slow. Then you can try the follow tips to speed up your PC back to normal.
1.    Optimize Startup. In many case, the sluggish performance of system can be caused by too many programs which are running at startup or in the background. You can simply end up the running programs by clicking Exit and control the startup programs with the help of optimize tools.
2.    Uninstall unnecessary Apps. Too many unused programs can occupy large amounts of Hard Drive space so that to slow down the performance of system significantly. You can easily to clean up any unwanted programs in the built-in function – Add/Remove Program (Start>Control Panel>Add/Remove Program) regularly.
3.    Find and delete temporary files. Temporary files, Left over programs, and old cached can be the factor that impact on system speed seriously. Thus, it is better to have a scan and remove all residual files on your PC frequently to keep it run smoothly.
4.    Empty the Recycle Bin. The Recycle Bin is a location that used to store recyclables files which haven't been deleted from computer permanently. The accumulated files in Recycle Bin also occupy Hard Drive space; you can clean up the Recycle Bin periodically to set free used Hard Drive space.
5.    Run a full scan to check for malware. Malware is one of the kernel factors that has the ability slow down the performance of system seriously. Being created by cyber criminals, there have various kinds of viruses that could be lurked into PC easily without any permission or knowledge. Also, the potential threats on PC could cause Data Corruption, hard disk fragmentation and other symptoms. Typically, the viruses on computer have the common property which could take up a mass of system resource to slow down the performance of system. Dealing with malware problems, you may try your antivirus programs to get rid of threats and speed up PC back to before. However, there is no perfect antivirus program that is capable of resolving all kinds of stubborn viruses. If so, you may consider the mighty manual removal to eradicate threats for good.
Conclusion:
The West Yorkshire Police Android virus is such as a tricky and dangerous ransom virus that can lock target machine and coax victims to pay money for it. We cannot emphasize the scurviness of West Yorkshire Police ransomware too much that some victims cannot even log in system normally in the end. It is clear that we should try our best to clean up the West Yorkshire Police virus from Android phone once being informed of its existence. However, the powerful antivirus installed on our PCs as well as Android devices may fail to against such destructive ransom virus, in spite of updating to the latest virus database. Some innocent PC/Android users may feel despairing and keep fluke mind which drives them to pay money for the nasty West Yorkshire Police scam to release their locked PC. Things go athwart; the West Yorkshire Police virus won't go away from your PC or Android phone but bring worse results instead. Thus, it is time to utilize the effective manual removal to clean up all its processes, dll.files and registry file completely. But, the above mentioned West Yorkshire Police virus manual removal process is really risky and cumbersome which should be handled with adequate expertise skills. Any inaccurate operation may result in data loss or even system crash.
Under this circumstance, it is important for users to prevent dangerous infections than removing them on their own. As cunning virus or malware always invaded into the targeted system with plenty of improper ways, catching the innocent users off guard. Usually, tricky Android virus would like to be bundled with third-party software and some freeware, what's worse, most of the users did not detect the new downloads before using them, naturally giving the opportunity for the virus to endanger the computer system. In most cases, unwanted malware would mix in additional installation items, pretending to be some necessary add-ons or extensions for the system, coaxing the innocent users to permit its installation requests and be fooled. Sometimes, malicious Android virus would also be disguised as a system prompt, popping out suddenly and noticing the users that the system software or application needs to be upgraded immediately, as most of the PC/Android users are not so familiar with the computer so they could not see through the tricks played by baleful virus, and most of the users usually did not pay attention while giving their permission, resulting in disastrous consequences. Moreover, malware or virus would also hide in spam mail sending to the targeted computer or Android phone. This kind of detrimental mails often contained tempting content so that the ignorant users would easily open or download its attachments and get infected unconsciously.
If you are confused how to do the above steps, you just need click here and get help from vilma online computer experts to remove West Yorkshire Police virus completely.