Metropolitan Police Android Phone Virus – Remove Metropolitan Police Virus Completely
Metropolitan Police Virus should be classified as ransomware cheating internet users for money by blocking their PC screens and showing a false notification . Users are so intimidated and afraid to associated with the law, so they would rather pay the money than getting into trouble, which adds to the power to Metropolitan Police Virus just in time.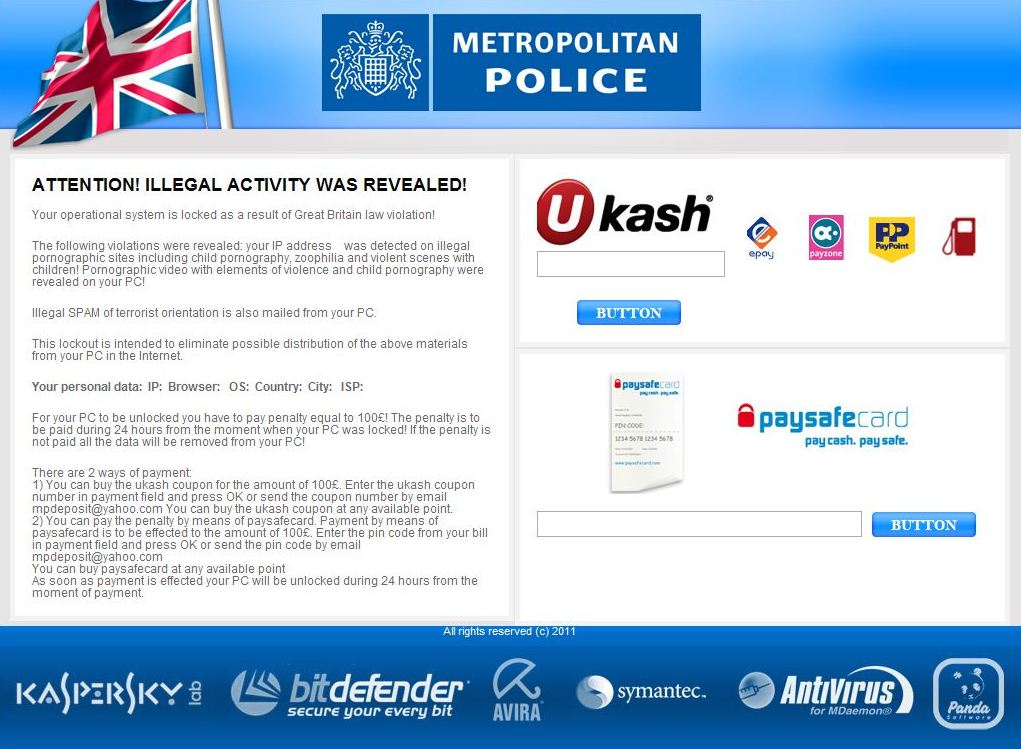 Metropolitan Police Virus has been reported nearly half of a year ago but appears again recently and has the tendency to rise again. Metropolitan Police Virus was first spread in the British. It shows up and pretends as an official hint which could block the screen so that to deprive user's access to the computer. In order to do more decent disguise, Metropolitan Police Virus wrapped with the national flags design and logo of the official police agency to improve its authority and persuasion. Actually, it is definitely a trap delivering a fake message, telling user that the computer or Android phone was blocked to terminate any illegal activity, such as visiting websites containing pornography, child pornography, child abuse,etc. which is definitely an insult. Users should not by panic about it and try to remove the Android malware as soon as possible.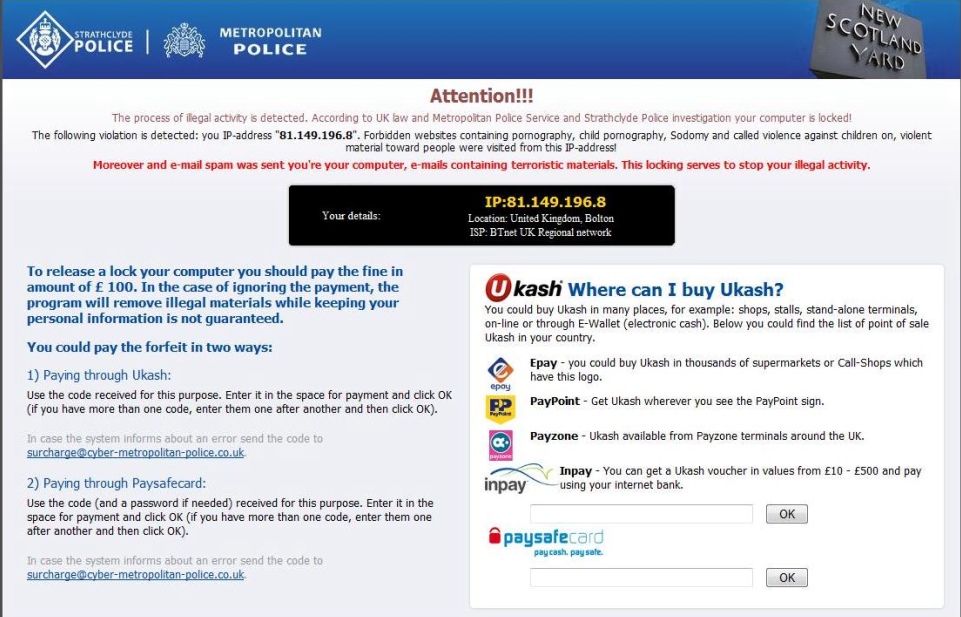 The essential purpose of Metropolitan Police Virus is to trick users to pay 100 pound as the fine via some online payment system such as UKash within 48 hours. But the truth is, Metropolitan Police Virus is a rogue ransomware created by those evil Cyber criminals, they used some nasty and despicable means to block user's operating system, even try to exit the screen locker by pressing the ESC key, or try to reboot the machine, it is still not change a thing. In this case, many computer users will be panic and worried, and easy to fall for its scam and pay this fine faithfully, wishing make the mess stop, which gives a rare opportunity to those Cyber criminals using UKash for money transaction. It's a very smart way to steal money because it is difficult for the police to trace them for the moment. So it is a kindly warning for users not to fall for any single word of the fake message, and there is no better solution other than removing Metropolitan Police Virus from your computer immediately.


Since Metropolitan Police Virus has already deeply invaded into the computer and locked the screen unreasonably, users can even have the chance to run the antivirus or take any remedial measures. But don't worry, here are some instructions to the rescue.
Instruction 1 : Change to Safe Mode with Networking.
It is like a safe net for users to solve problems about the computer within the Safe Mode with Networking, which could effectively stop the other virus infections during the removal process. More than that, users could obtain the highest permission to make modifications to the system, so it is a good choice to remove Metropolitan Police Virus under the Safe Mode with Networking.
Windows XP/7
1.Restart your computer then keep pressing the F8 key before it loads to the Windows.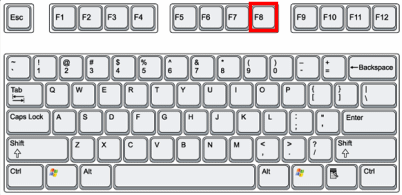 2.Enter the Windows Advanced Options interface, locate to the Safe Mode with Networking, then press Enter.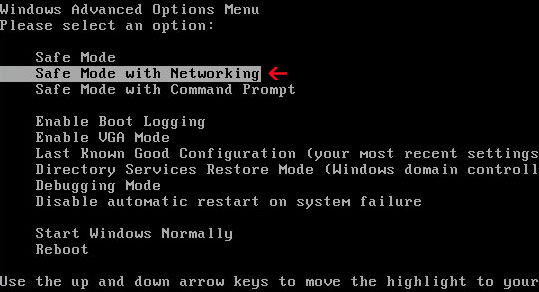 Windows 8
1.Start your computer then open the Run, type the "msconfig" in the research box then press OK to continue.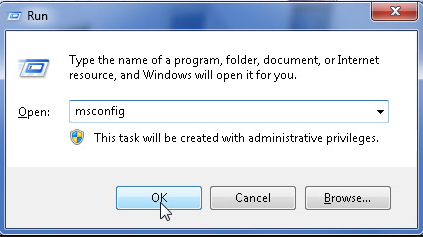 2.In the showing window, select the Boot tab, and locate on the one item, then check the Network option and finish the configuration, then press OK.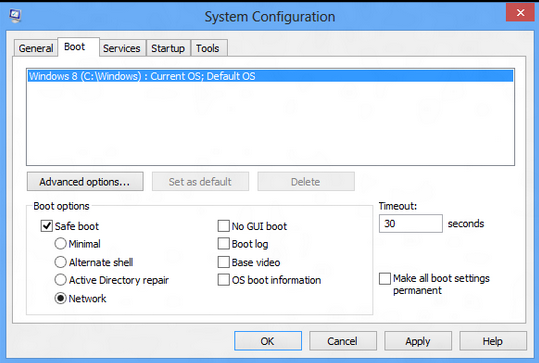 3.Reboot your computer, then it will automatically enter the Safe Mode with Networking.
Instruction 2: End all the processes of Metropolitan Police Virus in the Task Manager.
Tricky virus like Metropolitan Police Virus usually has many malicious processes running in the background, taking up a lot of memory. Under this circumstance, the system will be slow and easy to be stuck. Meanwhile, leaving its related processes running will affect the removal, so it is the best to disable all processes of Metropolitan Police Virus at once.
1.Press Ctrl+Alt+Del keys together at the same time.



2.In the showing window, find and select all the running Metropolitan Police Virus processes, disable them one by one.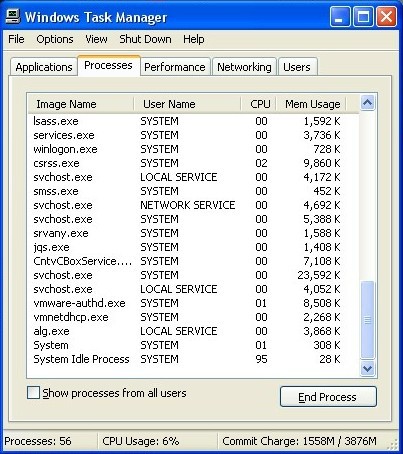 Instruction 3: Delete all the malicious files associated with Metropolitan Police Virus.
1.Show the Metropolitan Police Virus hidden files
Generally, after infecting to the targeted system, virus could create many malicious files in it and hide them so well that the user and antivirus can't find them that easy, then the nasty virus can strive for more time and opportunities to make more damage to the system. So it is necessary to follow the below steps to show up all hidden files of Metropolitan Police Virus first then delete them all.
For Windows XP/7
*Click on the Start button ->open the Control Panel.
*Find and click on the Appearance and Themes link(Appearance and Personalization for Windows 7).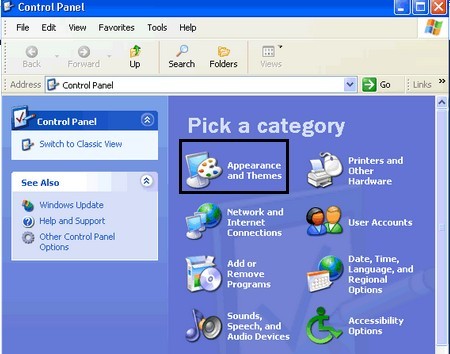 *Double-click on Folder option->Click the View tab.
*Check "Show hidden files, folders and drives" option-> Uncheck the "Hide protected operating system files(Recommended)".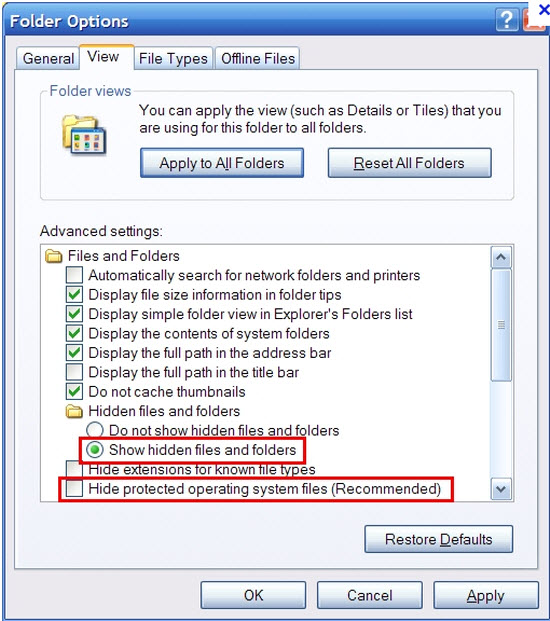 *Click OK and apply the changes.
For Windows 8
* In the Start screen, select the Windows Explorer app.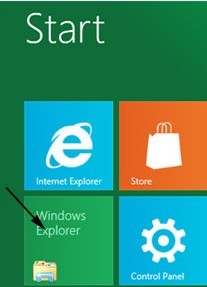 * In the showing window, click on the View tab.
* Put a check mark in the two check boxes of File name extensions and Hidden items.



* Close the current window to apply the changes.
2. Delete all the hidden files of Metropolitan Police Virus after them show up.
Instruction 4: Remove Metropolitan Police Virus registry entries In the Registry Editor.
Have to notice that it is complex and a little risk-involved to remove all the registry entries manually. Because the registry database contains all the important data and files about the whole system, the normal operation of the system is closely linked with the registry. In this case, any tiny change would make an impact on the system. Once made a mistake, the system would get crashed and the consequences will be severe. Especially for those who are not come with strong computer techniques, it is strongly recommended to keep up with the following guidances and pay attention to every single one in case to avoid any trouble.
1.Open Run in the Start menu, and type "regedit" in the box then press Enter.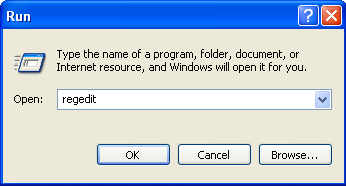 2.Click on HKEY_CURRENT_USER and HKEY_LOCAL_MACHINE for deleting registry keys on the computer.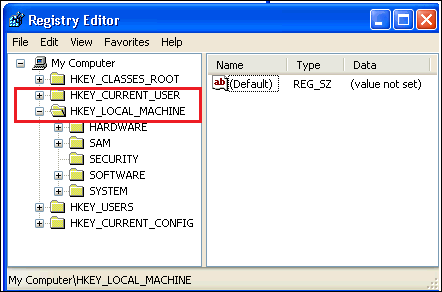 3.Click in the Software folder to delete registry keys for programs.
4.Find Metropolitan Police Virus and delete its registry keys.
5.Right-click on the Metropolitan Police Virus folder and delete it.
6.Close the Registry Editor and restart the computer.
How Terrible Could It Be If Not Remove Metropolitan Police Virus
There is a part of the users choose to ignore the Metropolitan Police Virus and did not intend to take any measures to remove it, letting the rampant virus block the screen and do any damage it wants under the cover of the blocking. As we known, virus is created and designed by hacker, using some advanced and sophisticated technologies to mess around with users and get benefits. Once they break the targeted system's defense and invade into it, user's system will become theirs. They can access any file or application freely and unstoppably. In that case, hackers could encrypt or lock user's important file up, bringing great inconvenience.What's worse, they can also collect or steal user's confidential information, exposing to the public, which is definitely a serious violation, and easily causing users with personal attacks. More than that, hackers can also illegally obtain more important information such as network accounts, passwords, secret codes, financial transaction details, etc. There is no doubt if leaving this terrible Metropolitan Police Virus in the system, users would be under huge threats and misery for the rest of the network life.


Restore the system to wipe the Metropolitan Police Virus
If it is too much for you to remove Metropolitan Police Virus with the above instructions, there is another better choice to get rid of Metropolitan Police Virus easily. To restore the system can not only kill the nasty virus and bring the system back to its original state with neither reinstalling the operating system nor destroying data. It is one of the effective way to restore the registry, local configuration files, Windows management tools database, etc. which is also an effective way to remove Metropolitan Police Virus.
1.Restart the computer and press the F8 key to enter the Windows Advenced Options menu.
2. Use the keyboard to select the Safe Mode with Command Prompt, then press Enter.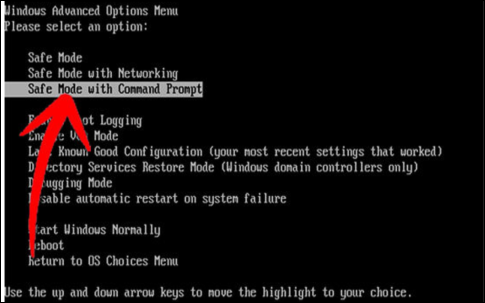 3. Right click on My Computer, click on All Programs, in the Accessories.category, find the System Restore.
4.Uncheck the select the option "Turn off system restore on all drives".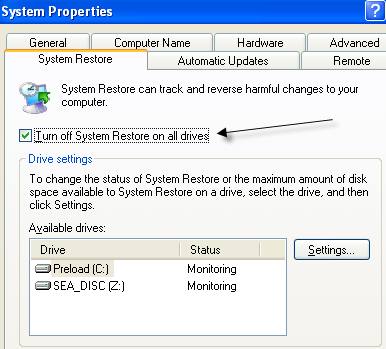 5.Click OK to save the changes.
6. In the System Restore, select "Create a restore point" option.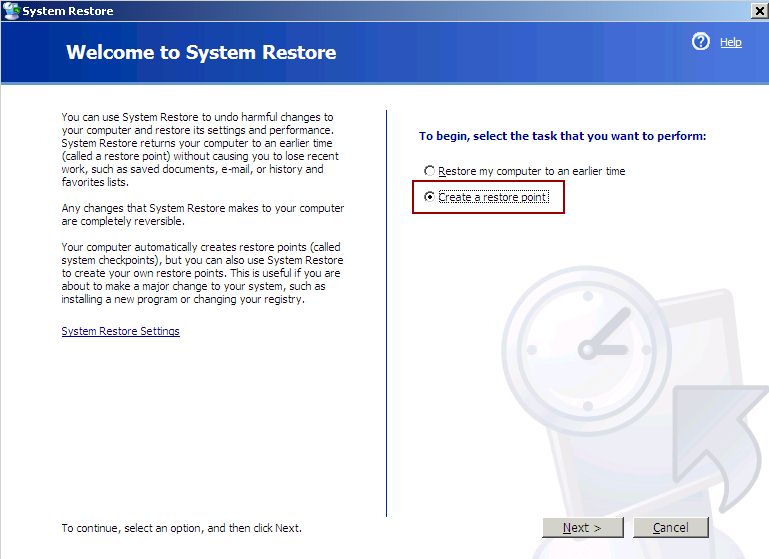 7.Find a restore point named "Before installing the software" in the computer.
8.Follow the wizard till it finished.
9. Select "Restore My Computer to an earlier time", then open up a "Select a restore point" box, choose a date as the restore point and confirm it.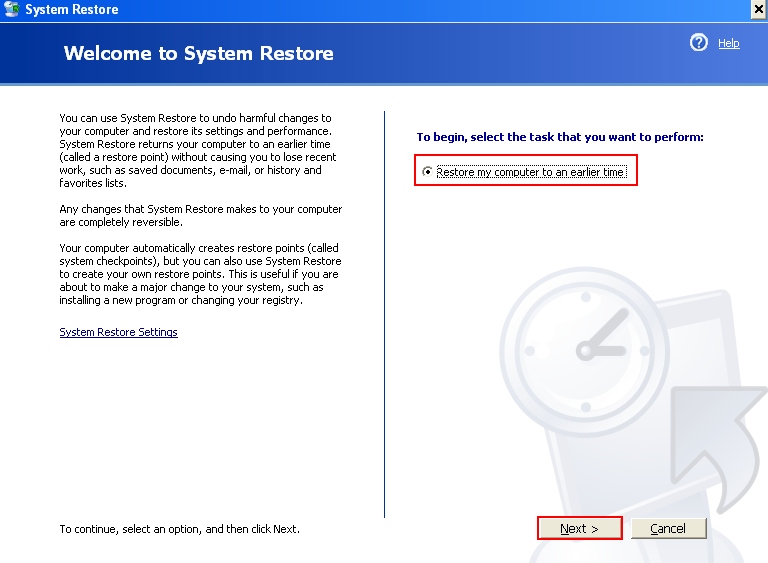 After these steps, it will automatically restore your computer system without your concern. In the end, a noticed message would tell you when it finished.
How to Avoid Metropolitan Police Virus Infections
Have been experienced the whole process of removing Metropolitan Police Virus, it might be easy for users to realize it is time to do something about the routes of the virus transmission. Virus likes Metropolitan Police Virus usually transmits by the network, and it seems like the main approach of transmission in this age. For this reason, we should pay attention to our daily behaviors while surfing the internet, never download any software and programs from those unknown websites with no credit, and never visit those tempting but evil websites, because that might be a huge trap waiting for you. Here are some extra tips for you to prevent your computer from infection:
1. Never use those pirated software, especially make sure that the current used antivirus software is not pirated or fake. Because fake antivirus could make things even worse by delivering many false alerts.
2. Write-protect the system tray and do not put your data in the system tray.
3. An effective anti-virus software could help you a lot, remember to upgrades it frequently.
4. Use the anti-virus software to scan those foreign programs as many times as possible, even those programs come from the hard disk, the floppy disk, the local area network, the internet, and email etc. Executable files should definitely be checked before being copied in the hard drive.
5. Try not to start your computer with a floppy disk.
6. Just in case, be sure to back up your important data regularly.
7. Pay attention to your computer's anomalies, such as slowdowns, strange files appearing, file size changing and memory reducing and etc. You should examine your computer system immediately.
To be noticed, scanning the system comprehensively and regularly could also be an effective prevention for the computer system. New virus technology always emerges faster than anti-virus technology, the current antivirus software is not strong enough and can't do anything about the new one. In that case, antivirus can guarantee to kill the virus thoroughly and in time. Fortunately, most of the anti-virus provides the ability to allow computer users to upgrade to high and new level all on their own. In that way, users can get better protection by enhancing the virus database for defensing. On one hand, users should pay more attention to the antivirus announcement in newspapers and magazines, and keep pace with the development of dynamic virus. On the other hand, user should resist freeware and shareware from those unsafe websites, because most of them are corrupted by hackers and being planted many Trojans or viruses, waiting for innocent users to get infected. So we should be vigilant all the time and try the best to prevent ourselves from any infection.
Sum up
Metropolitan Police Virus has wreaked havoc since a year ago although less victim cases proposedfor help compared to the severe situation in first half 2013, there are still victims locked by it in the late 2013. Thus it can be seen that Metropolitan Police Android virus updated its new version and adopted the more covert and cunning means distributing its villainous programs. Much as we written elaborately above, we expect that there are more users make sense of Metropolitan Police virus and the similar ransomware. Generally speaking, Metropolitan Police Android virus has these characteristics: secret infiltration, aborative disguise, far-reaching destruction and difficult tracing. It diffuses by any possible means, most of which are through drive-by download, exploited kit and rootkit. The virus creators take advantage of innocence and curiosity of netizens, and the low security of websites to compromise system. It is on the name of local law enforcement with logos seemed authentic even accesses to users' webcam in order to ransom money. The conspiracy of Metropolitan Police virus displayed through fake warning of frame accusation; however, this alleged violation has no actual evidence. The huge damage result from this virus is in the train of screen locker. System crash, poor performance and data leakage probably happen. Even if reputable antivirus and security programs cannot remove this Android virus from Android phone or computer. In addition, online payment for the ransomware with Ukash or Paysafecard voucher makes it hard to trace the remote hackers.