Trovigo.com Hijacks Homepage, Remove Trovigo Hijacker from IE/Firefox/Chrome/Opera/Safari
Correct Understanding of Trovigo.com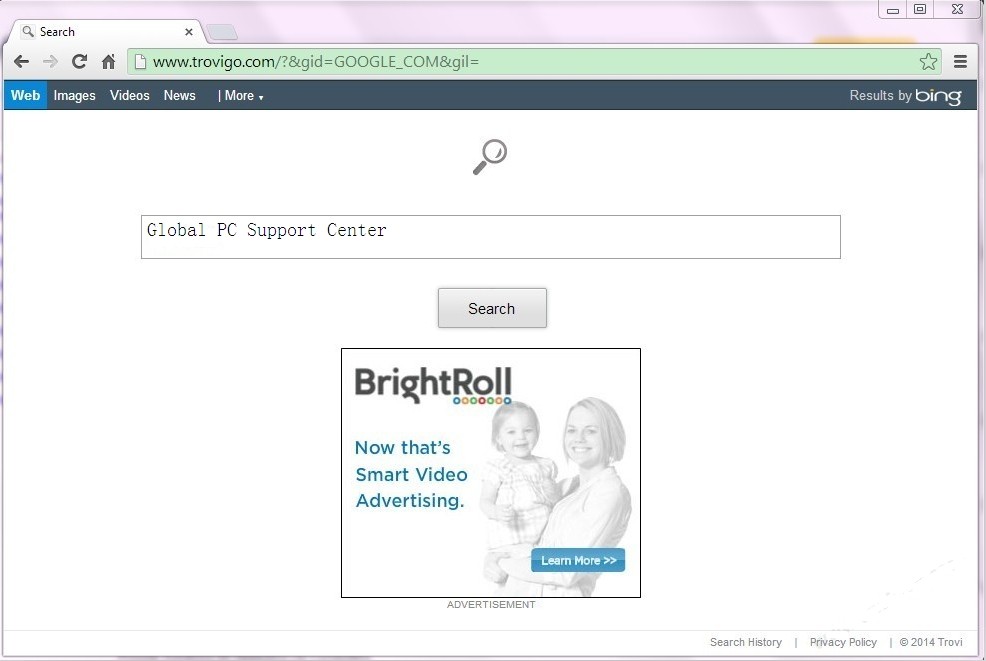 Trovigo.com is not a virus as what most people think and most computer-help site describe though it keeps being default homepage without being removed with conventional method. Technically, trovigo.com is a traffic exchanging site; in other word, it is created to intercept traffic. Apparently, trovigo.com serves to promote sales for some network operators with accumulating traffic. In the age of network marketing, traffic is one of the most important indicators of popularity, credibility and more sales. However, trovigo.com obtains traffic through irregular channels to compete unscrupulously, which does impose troubles to targets and potential dangers to computer health and information security as well. It is advisable to get a full picture of trovigo.com from the following paragraphs and find efficient way to remove it finally. Any questions and appeal for professional help will be answered if you start a live chat window here to contact VilmaTech Online Support.

Trovigo.com Compete Unscrupulously
Additional techniques have been vested to trovigo.com. Once trovigo.com hijacker gets on a machine, BHO technique would load trovigo.com's startup item to system configuration so as to guarantee that Windows loader would activate it to perform at each Windows start and place its .dll file containing trovigo's file information to running process as well as local disk without being examined since such technique is designed as a plugin for web browsers to provide added functionality. With this technique, Trovigo.com manages to stay on a target browser and replace default homepage without permission.
Besides, JS technique is also employed by the browser hijacker, which enables Trovigo.com to control search results by manipulating JavaScript of the target browser and adjust the results to your preference by analyzing browsing history. As a consequence, most of the search results are directing to its partners. This is deceit rather than optimize search engine to improve rankings.

Trovigo.com Troubles
With the two techniques introduced in the preceding paragraph, Trovigo.com may cause some displeased scenario on targets' browser and machine:
Trovigo.com prevents the change of default homepage.
Trovigo.com offers search result but most of them are not that close to search queries.
It takes longer to display a web page.
Additional web applications are installed without authorization.
Trovigo.com displays the same interface as trovi.com, which gets more certainty on the definition that it is a traffic exchanging site which copies content from other sites to obtain traffic for other products produced by the same author. That's why additional web applications would be brought in without knowledge to occupy limited computer resource.

Trovigo.com Potential Dangers
People should notice the potential dangers to keep using trovigo.com as default search engine. It is a freeware and it needs fun to keep running. It is easy to detect random ads popping up on its page. To get more traffic in a short time, cooperating with advertising platform is the best choice. That's why people who have trovigo.com would be directed to commercial sites frequently. As a matter of fact, ads and commercial sites are generally loosely programmed. Thus bug can be found and exploited by infections. In the event that a bug on a commercial site to which a browser is directed by trovigo.com is exploited by infection, the target machine will be soon affected. JS technique will be used to collect log-in credentials and BHO technique will be utilized to load down malicious codes. Error message like twunk_32.exe may be incurred due to random modifications and CPU will be consumed extremely to make a zombie machine.
Therefore, as what security adviser suggests, Trovigo.com should be removed as soon as possible. Manual removal way would guarantee a complete removal when there's no additional item being introduced in by the browser hijacker. Follow the instruction to help yourself. On the occurrence of unexpected situation and you are not able to deal with, it is recommended to contact VilmaTech Online Support and get specialized technical help just in time.

Remove Trovigo.com Hijacker from IE/Firefox/Chrome/Opera/Safari
Step One – Remove Trovigo.com's extension from browser settings.
IE
Access IE's Tools menu and go to its 'Manage add-ons'.
Browse to 'Toolbars and Extensions' so as to remove anything related to Trovigo.com.


Firefox
Unfold Mozilla Firefox to choose Tools.
Then select Options to remove Trovigo.com from 'Add-ons' and 'Plugins' respectively.


Chrome
Click on the spanner icon and choose "Tools" option.
Go to 'Extensions' to find Trovigo.com.
Use dustbin button to remove Trovigo.com.


Opera
Click on Opera menu and select Extensions to continue.
Choose Manage Extensions to find Trovigo.com.
Use "Uninstall" button to uninstall Trovigo.com's extension.


Safari
Click open 'Safari' menu to select 'Preferences'.
Hit 'extensions' tab to locate Trovigo.com.
Press Uninstall button to remove it.
Back to 'Safari' menu and place your mouse on 'Help'.
Choose 'Installed Plug' in the sidebar
Find and remove Trovigo.com.



Step Two – Replace Trovigo.com with other reputable search engine to be default homepage.
IE
Access IE's Tools menu again for 'Search Providers'.
Replace Trovigo.com with other reputable search engines or homepage.


Firefox
Access Options again to select General tab.
Type the desired address to replace Trovigo.com.
Click "Use Current Pages" to finish this session.


Chrome
Click on the spanner icon again to choose "Settings".
Go to Search section on the right pane and click dropdown menu to select desired search engine.
Trovigo.com will be replaced then.


Opera
Access Opera's menu again to choose "settings" this time.
Go to "Preference" and hit General tab.
Locate "Home page" and set your desired search engine to replace Trovigo.com.


Safari
Access 'Preferences' option again to hit "General" tab.
Select desired search engine for "Default search engine" and replace Trovigo.com.

Trovigo.com FAQ
Why anti-virus program won't remove Trovigo.com?
Trovigo.com is a traffic exchanging site rather than virus. Though it hijacks browsers and causes high CPU usage to irritate wide rang of PC users, it benefits from JS and BHO techniques that have been employed in Windows development rather than typical virulent method by replicating itself to affect drivers and other pivotal computer components. Therefore, no Trovigo.com's information and corresponding removal method is recorded in virus reservoir and anti-virus program will not help remove it. It is not because trovigo.com is a fatal virus that it manages to resist automatic removal by reputable security utility.

How did I get Trovigo.com?
Trovigo.com is capable of getting onto a target machine by itself and other third-party programs. With JS technique, Trovigo.com is able to take advantage of vulnerability on script to commence infiltration. Adopting BHO technique, the browser hijacker can then place itself totally into a target system. In other word, getting trovigo.com indicates a vulnerable machine.
As a traffic exchanging site, Trovigo.com manages to attract some freeware/shareware to be its carrier. Trovigo.com would sneak in without knowledge when PC users downloading and installing those softwares carelessly. Trovigo.com can also be brought in by other web applications such as EXEchecker (read more)created by the same author. Therefore, VilmaTech Online Support would like to suggest using carefulness when installing programs and following good PC practice to keep the machine powerful enough to ward off potential dangers such as those from Trovigo.com.
If you have any more questions about Trovigo.com or if you encounter difficulty when removing it, it is recommended to start a live chat here for answer and to seek security assistance for quick solution. Be noted that the above instruction is exclusively for Trovigo.com rather than any incidental issues.