Metropolitan Police Virus on PC & Android Phone – How to Remove Metropolitan Police Virus Completely
What Is Metropolitan Police Virus?
Metropolitan Police Virus should be classified as ransomware which will cheat Windows and Android users' money by blocking the PC and Android phone screen. This virus has been reported nearly half of a year ago and recently, it has the tendency to repeat itself again. Metropolitan Police Virus was spread from the British. It shows up pretending as an officials hint which locking the computer/Android phone so that to deprive user's access. Actually, it is trap delivering a fake message and telling you that your computer/Android phone was locked to terminate your illegal activity, whether you're visiting websites containing pornography, child pornography and child abuse or not, that is definitely an insult for any of you. Windows users should think about how to remove Metropolitan Police virus when they receive the false notification.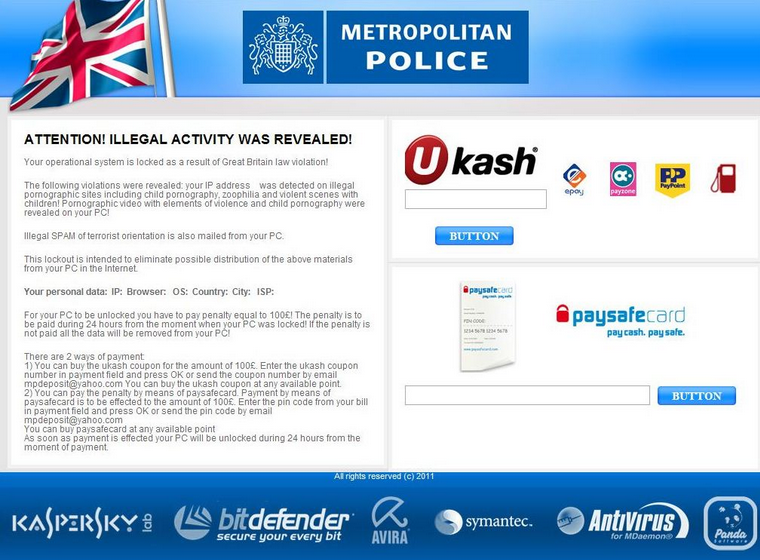 The essential purpose of Metropolitan Police Virus is to trick users to pay £100 as the penalty via some online payment system such as UKash in 48 hours. The truth is Metropolitan Police Virus is a rogue ransomware which was created by those evil Cyber criminals, they took such nasty measures to block your operating system, even if you've tried to exit the screen locker by pressing the ESC key, or you try to reboot your machine and enter the safe mode with networking, it still can not change a thing. In this case, many computer/Android phone users will be easy to fall for its scam and pay this fine, and dreaming to make the mess stop, which gives a rare golden opportunity to the Cyber criminals using UKash for money transaction, it's a very smart way to steal money and very difficult to trace them. So VilmaTech online support warns you not to fall for every single word of the message, and there is no solution other than to remove Metropolitan Police Virus from your computer immediately.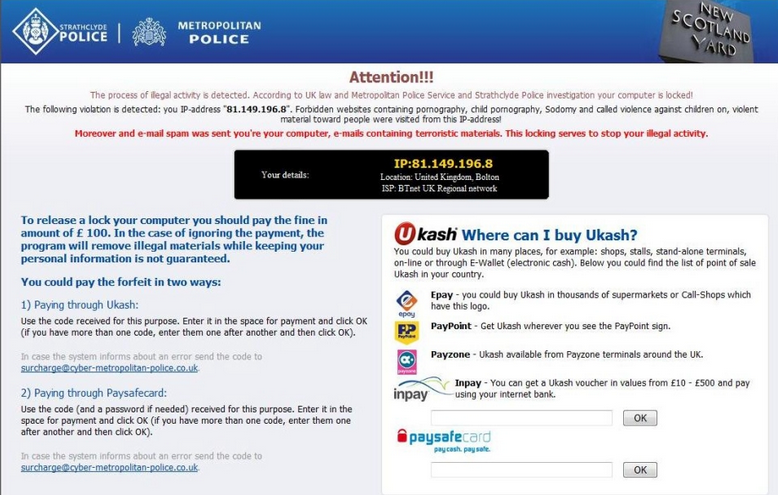 Remove Metropolitan Police Virus Manually
Since Metropolitan Police Virus has already invaded your computer and locked your screen, and give you a chance to run the antivirus. So you have to remove it with professional manual method, We will provide some following instructions to help you. If you have your Android phone blocked by the Metropolitan Police virus, just get professional help from the expert here since Android technique is only mastered by technicians so far.
1. Start your computer, before the Windows loads you have to keep press the F8 key to enter the following screen, select Save Mode with Networking and press the Enter key.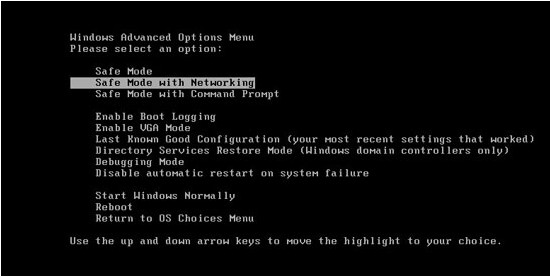 Note: For Windows 8, you need start the infected computer until you see the Metropolitan Police Virus screen. Press Ctrl+ Alt+ Del combination keys to reveal the Switch User interface. And then hold down the "Shift" key meanwhile click on "Shut down" button once on the bottom right corner of the page. You then can see three options there: Sleep, Shut down and Restart. Click on Restart option. The next window says 'Choose an Option' screen," select "Troubleshoot." Click on 'Advanced Options' -> choose 'startup settings.'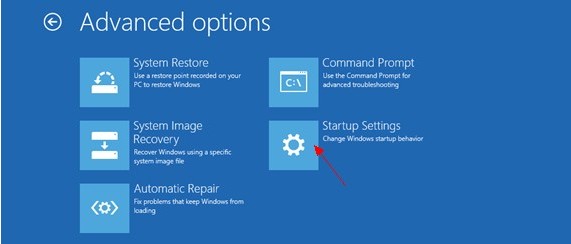 2. Open the Task Manager by Press Ctrl+Alt+Del keys to stop all the Metropolitan Police Virus processes.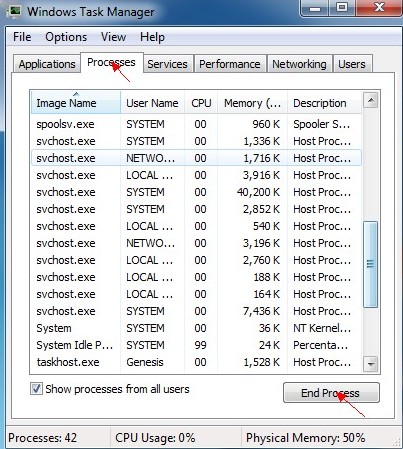 3. Delete all the files associated with Metropolitan Police Virus.
4. Delete all the Metropolitan Police Virus registry entries in your PC system.
We have to notice you that it is complex and a little risk-involved to remove all the registry entries manually. If you are not come with strong computer technique, we suggest you to keep up with the following steps and pay attention to every single one in case to avoid any trouble.
Step one: Discover the hidden files.
Go to Control Panel after press the Start button, search for the Folder Options, then click on the View tab, check the 'Show hidden files and folders' option and uncheck the 'Hide protected operating system files (Recommended)' option, click OK to move on.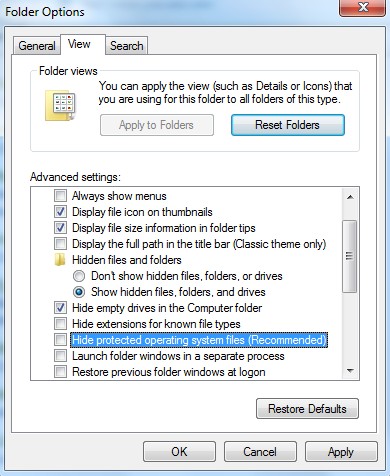 Step Two: Delete the registry entries in the Registry Editor.
Click the Start button and press the R key to open up the Run, then type 'regedit' and press Enter to go to the Registry Editor. Highlight My Computer and open HEKY_C URRE NT_USER and HEKY_CURRENT_MACHINE to find registry entries as follow and delete them all.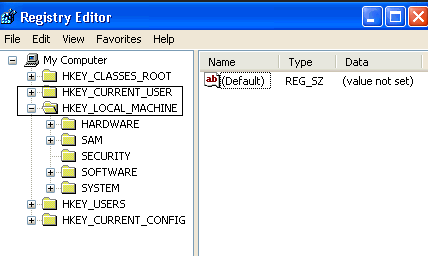 Step Three: After finishing deleting all the leftovers, reboot your computer.

How to Avoid Metropolitan Police Virus Infections
Have been experienced the whole process of removing Metropolitan Police Virus, you might be realized that it is time to do something about the routes of the virus transmission. Virus likes Metropolitan Police Virus usually transmits by the network, and it seems like the main approach of transmission in this age. For this reason, we should pay attention to our daily behaviors while surfing the internet, never download any software and procedures from those small websites with no credit, and do not enter those tempting but tricky websites, because that might be a huge trap waiting for you. Here are some extra tips for you to prevent your computer/Android phone from infection:
* Never use those pirated software or some of unknown sources, especially make sure that your anti-virus software are not pirated.
* Write-protect the system tray and do not put your data in the system tray.
* An effective anti-virus software could help you a lot, remember to upgrades it frequently.
* Use the anti-virus software to scan those foreign programs as many times as possible, even those programs come from the hard disk, the floppy disk, the local area network, the internet, and email etc. Executable files should definitely be checked before being copied in the hard drive.
* Try not to start your computer with a floppy disk.
* Just in case, be sure to back up your important data regularly.
* Pay attention to your computer's anomalies, such as slowdowns, strange files appearing, file size changing and memory reducing and etc. You should examine your computer system immediately.
To be noticed, scanning the disk comprehensively and killing viruses regularly could be an effective prevention for your computer system/Android system. New virus technology always emerges faster than anti-virus technology, the existing anti-virus software is not strong enough and can't do anything about the new one. Fortunately, most of the anti-virus provides the ability to allow computer/Android phone users to upgrade to high and new level all on their own. You could pay more attention to the anti-virus announcement in newspapers and magazines, and keep pace with the development of dynamic virus.

Other Ransomeware Removal Guides You Might Be Interested In:
Homeland Security Virus Removal Tutorial
How to Remove West Mercia Police Ukash Virus

How to Remove Mandiant USA Cyber Security Ransomware

Removal Tips and Conclusion
Tips:
During the virus removal process, there are some tips for you to avoid the trouble of mistaken operation and improve your PC/Android phone performance if you are not an experienced user.
1. Sometime, Safe Mode with Networking is blocked by Metropolitan Police virus. If it doesn't work, please try again to enter advanced options screen and select Safe Mode with Command Prompt. Type "cd restore" in next screen and then type "rsruit.exe" in next line. When the system restore windows appears, follow the wizard to created a restore point which means you can back up the files at previous time.
2. When you go on to the step of deleting entries, it is better back up the keys and values. Registry Editor consists of information files of entries and running programs, once mistaken operation will lead to termination of normal program and system crash. Select the keys or values and open Files tab. Choose Export and follow wizard to for backup copy. Then you are able to find the copy if you delete necessary files by accident.

Conclusion
Metropolitan Police virus is severe cyber threat to computer system/Android system. It breaks the system protection by installing it virus code and modifying the startup programs. Having blocked the running processes, Metropolitan Police virus aims at scaring victims for money so it manage to trick users by all means. As the security system is damaged, the possibility of attacking by other malware is increasing. This is why we ask users not to pay the fake fine and get rid of the virus completely.