Homeland Security Virus Removal Tutorial, Remove Android Lock
Homeland Security Virus, a high of danger ransomware has solemn locked interface on the infected computer and Android system alleges that "THIS COMPUTER HAS BEEN LOKCED" due to you have been violating copy-right and related laws like distributing copyrighted media, child pornography, and using unlicensed software. "To unlock the computer  or Android phone you are obliged to pay a fine of $300. You must pay the fine through MoneyPak." Besides that, the Homeland Security virus displays that you have 48 hours to pay the fine. If the fine has been not paid, you will become the subject of criminal prosecution without right to pay the fine. Moreover, the department for the fight against Cyber activity will confiscate your computer and take you to court. However, actually all of the warning messages on the locked screen are pettifogging and the malicious goal of the Homeland Security virus  Android lock is created to deceive a lot of PC users to pay the demanding fine $300. Many cybercriminals usually use the common trick to successfully gain illegal profit. Correspondingly, a lot of computer users have been a member of the innocent victims. In a word, don't be taken in when you see such locked screen.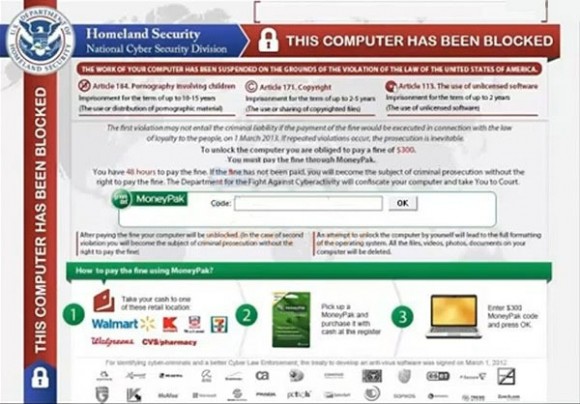 The cybercriminals purposely exploit great prestige of a real high-authority department- US Department of Homeland Security National Cyber Security Division to arouse high degree of vigilance among all victims of the Homeland Security Virus. To make this alert seem more authentic, this ransomware also has the capabilities to detect your personal information and access your installed webcam, so that the scam U.S. Department of Homeland Security virus notification shows what is happening in real place, so that the nasty trick is quite foxy and convincing to make computer users suppose that they have to pay for the fine to unlock their computer and avert from criminal case. As the locked message said, that "After paying the fine your computer will be unlocked." Many Homeland Security virus victims have paid the fine by the guideline on the locked screen" How to pay the fine by using MoneyPak?" At a matter of fact, nothing out of changes just seeing the locked virus screen. Their infected computers are still locked though you have paid for the fine. Therefore, when having Homeland Security virus on your computer, you do never think that its owner is a real U.S. Department but does be a scam virus. All first things you have to do is to exert every way best to remove the Homeland Security scam virus from the infected computer.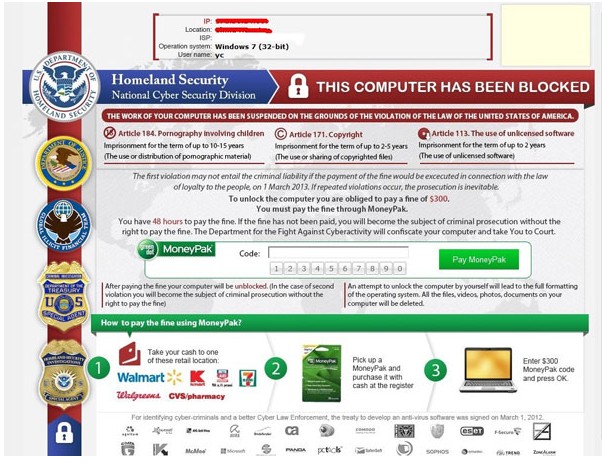 The Homeland Security virus can be underground installed one your computer when your computer does be in high-risk vulnerabilities, when you scan some unsafe website like porn sites or when you download some free programs from unofficial sites. And the virus can be activated when Windows starts or open Internet Browser. Together with other viruses like Trojan virus, browser hijacker, spyware, adware and other ransomwares, the Homeland Security virus increasingly damage the infected computers ASAP so that they can gain personal confidential data for illegal commercial case. Cyber criminals often updated the design of Homeland Security virus locked screen as seen the second screen mentioned above, however you should always keep in mind that the police will never lock down your computer and all things are done by cybercriminals. So, ignore anything it displays and instead use this removal tutorial as bellow to remove Homeland Security virus from your computer.
Tips: The following instruction refers to key parts of computer system, and is recommended only for advanced users. Any mistake will lead to computer crash. If you haven't sufficient expertise on doing that, it's recommended to ask help from VilmaTech Online Experts to clean up the infection for good.

How does Homeland Security Virus Spread?
The Homeland Security virus is mainly spread by Trojan virus which originals from malicious websites or domains that have been attacked by Homeland Security virus. PC users can be able to get infected with Homeland Security virus when they are downloading infected download URLs or hacked programs. Meanwhile, the Homeland Security virus can be spread through a floppy disk or mobile HDD (mobile hard disk drive). Once the floppy disk or mobile HDD is infected and bundled with Homeland Security files, it is able to transfer the virus codes and files into PC.  Except that, the possible way to get Homeland Security virus is to open distrusted Email attachments. As soon as an infected attachment is opened, the virus enters your email application. And then, it may start to download and extend its components on your PC and duplicate itself by automatically emailing everyone listed in your address book.
What's the Effective Way to Remove Homeland Security Virus?
To deal with Homeland Security ransom virus, victims may attempt various methods such as antivirus programs. Certainly, an installed antivirus application has the capability to assist PC users to resolve many intractable PC problems and safeguard machine for good. However, being faced with Homeland Security scam virus, your antivirus software cannot work at all. In reality, there is not any perfect antivirus that can catch all computer infections in the world. Actually, it is the problem not only for your antivirus software, but also for many other even world-leading security applications. New viruses are found daily and although all kinds of security applications have significantly improved the detection of new viruses, technology used by used by virus authors continually changes as they try to avoid detection.
Different from normal threats, the Homeland Security virus can utilize its screen locker techniques to lock the screen of target machine as well as other programs on PC. Thus, Homeland Security virus cannot be removed through common approach. Hence, victims may consider the effective manual removal to remove Homeland Security virus completely and permanently. What's more, the manual removal of Homeland Security is a complex and hazardous process that may cause irreparable man-made damage to your computer. If you're not professional, it is recommended that you back up Windows registry first before carrying out the approach.
Tips: The Homeland Security manual removal is required computer expertise. You need to be very careful to move on every step, because any inaccurate operation may result in data loss or even system crash. If you are confused how to do the a steps, you just need click here and get help from Vilma Computer Experts to remove Homeland Security virus completely.

Manually Remove Homeland Security Virus Step by Step
Method One: Safe Mode with Networking
To enable programs disabled by the Homeland Security virus, you need to reboot the infected computer into Windows with safe mode with networking.
1. For Windows 7, Windows XP, Windows Vista:
You can press the single F8 key on the first line of your keyboard. If your keyboard doesn't work, you had better plug in a wired keyboard and then try the steps:
After the infected computer shuts down, press the power button to boot up the infected computer but before Windows launches on, you need to press F8 key. You then see the Windows Advanced Options menu, highlight safe mode with networking by pressing up-down key and hit enter key. As seen the below picture: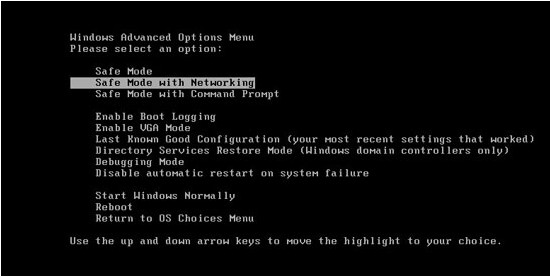 For Windows 8:
You need start the infected computer until you see the Homeland Security virus screen. Press Ctrl+ Alt+ Del combination keys to reveal the Switch User interface. And then hold down the "Shift" key meanwhile click on "Shut down" button once on the bottom right corner of the page. You then can see three options there: Sleep, Shut down and Restart. Click on Restart option. The next window says 'Choose an Option' screen," select "Troubleshoot." Click on 'Advanced Options' -> choose 'startup settings.'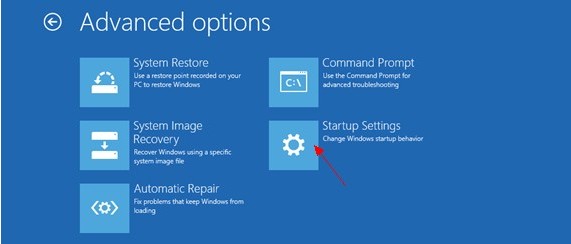 After clicking on Startup Settings, you need choose 'Restart' then Windows will automatically display Safe mode options. By pressing F5/5 key to highlight Safe Mode with networking option, hit enter key as well.
2. End malicious of Homeland Security virus. Press Ctrl+ Shift+ Esc or Ctrl+ Alt+ Del keys, in the Windows Task Manager window select on Process tab. Scroll down and locate to suspicious file (random.exe) then click on End process.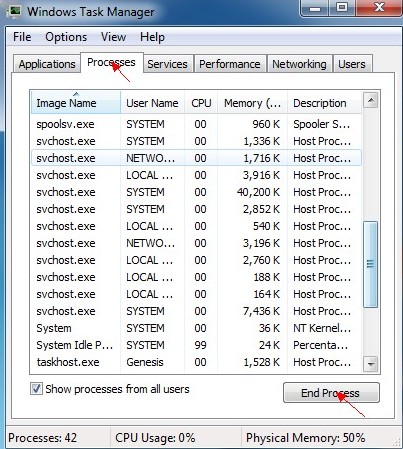 Tips: If you feel confused about any steps, you can start a live chat with VilmaTech 24/7 Online Experts for help so that to remove Homeland Security virus porperly and completely.

3. Show hidden files to fast locate the Homeland Security virus files:
a: Click on Start button
b: Click on Control Panel
c: Double click on Files and Folder Option
d: Select View tab
e: Check "Show hidden files, folders and drives"
f: Uncheck "Hide protected operating system files (Recommended).
g: Then click ok to finish the changes.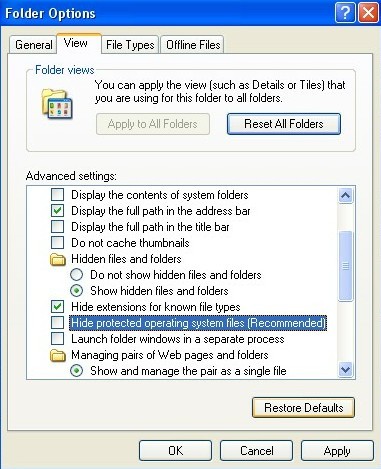 H: After finishing showing hidden files, open Local system disk, delete virus files.
%UserProfile%\Application Data\msconfig.dat
%UserProfile%\Application Data\msconfig.ini
4. Delete the Homeland Security virus registry entries. Press Windows and R key. Type regedit in Run window and click Ok. In the Registry Editor, you need locate at the below entries and delete them.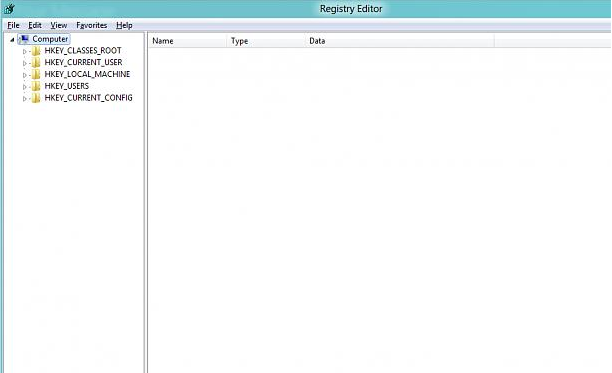 HKCU\Software\Microsoft\Windows\CurrentVersion\Run\Random.exe (it will be named randomly)
HKLM\Software\Microsoft\Windows\CurrentVersion\Run\Random.exe (it will be named randomly)
Method Two: Remove Homeland Security Ransomware by System Restore
1. Boot the infected computer into Windows with safe mode with networking via the steps mentioned above. When you see the desktop, Press Windows+ R key to reveal Run box.
2. Type "cmd" into Run box and hit Enter key.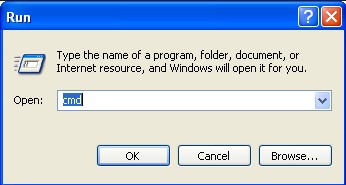 3. You then see a black window where says C:\Windows\System32\cmd.exe, type rstrui.exe at the end of the blinking cursor, and then press Enter key. (Type C:\windows\system32\rstrui.exe for Window 7/8/Vista; Type C:\windows\system32\restore\rstrui.exe for Window XP), then press Enter).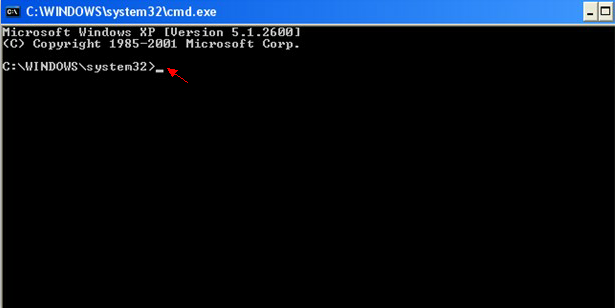 4. In the System Restore window with a list of restore points, locate at a restore point created just before the date the Homeland Security virus locked your computer screen. Then click on Next button.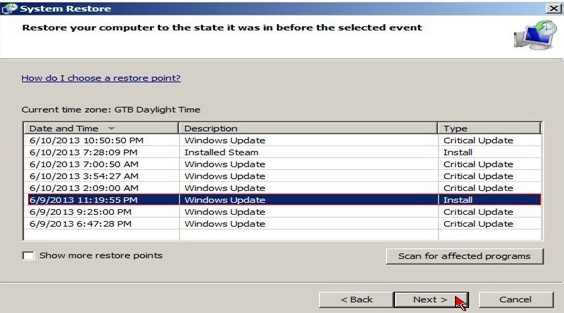 5. Once the System Restore has been completed, you need to restart your computer in regular mode to effect changes.
How to avoid Homeland Security Virus?
Do not open unknown attachments in Emails. The Homeland Security virus can be distributed by some sponsored links or ZIP files in Email. Thus, PC users should be keep cautious while attempt to open any unreliable attachments in Email.
Download files only from trusted sites. As we have mentioned above, PC users may get Homeland Security virus when they download some "free" applications from Internet or other shared network, which are attached to the activation of Homeland Security virus. Therefore, PC users should be more careful to utilize unknown Internet resources.
Do not allow your web browser to run programs automatically. One of the biggest and growing threats is the macro virus, which is spread through data processing and spread sheet programs. Thus, PC users can configure your browser to launch WordPad or Notepad instead of MS word or other programs involved with Email.
Turn off and remove unnecessary services. By default, many operating systems install auxiliary services that are not critical. These services are avenues of attack. If they are removed, threats have less avenues of attack. In addition, if a threat exploits one or more network services, disable, or block access to, those services until a patch is applied.
Always use an antivirus program. You can have a full scan for your PC regularly to detect and prevent potential threats, including Homeland Security virus. Also, it is necessary to update the virus database in your antivirus software frequently so that to fight against the newest viruses effectively. However, in some cases, antivirus application may fail to deal with some stubborn and tricky viruses and is even disabled on PC. If this is the case, you may consider the almighty manual removal to eradicate the infections from your computer for good.
Note: Homeland Security virus or Homeland Security Android virus is a real scam virus, designed to cheat PC users money. We should bear in mind that the virus won't be removed from the infected computer though we have paid for the required fine. So in order to resave your computer and stop your panic, you should have to remove the Andriod virus as soon as you find it. You should have a clear idea that the virus can't be unchangeable. Oppositely, it keeps exploiting variant in system registry every time so that no particular virus files and registry entries exactly offered online. If you still want to get more suggestions on how to detect and clear out the Homeland Security virus  Andorid malware registry entries , you may contact with VilmaTech Online Support.