Poliisihallituksen Virus – How to Remove Poliisihallituksen Virus on Android Phone
Poliisihallituksen virus is an extremely malicious ransomware, designed by cybercriminals to blackmail target computer user through the nasty trick, which it will be intentionally disguised as a Poliisihallituksen related with legitimate authorities from Finland to infect computer so that they can successfully threaten the virus victims and cheat the desired money. To put the solitary goal of the Poliisihallituksen virus into perspective, it is money exactly as the scheming fake message which blocks computer's screen requires the demanding to pay a fine of 100 Euro using PaySafeCard in order to unblock one's computer. The Poliisihallituksen virus locks the objective computer users with full screen of messages blame you have been violating copy-right and related rights law distributing copyrighted content thereby demanding your pay for their willing money to avert from going into jail. Unluckily, many victims of the Poliisihallituksen virus have lost money since they ever supposed their computers would be unlocked later after the paid for the required money. And although these viruses and Antroid malware victims ever had a view that they never did any business with illegality, they still decided to pay for the Poliisihallituksen virus. Thus it can be seen that how sharpie and evil the virus creators are.
The specially composing layout of the Poliisihallituksen virus by its own official language shows to its victims with Finnish authorities (Poliisihallituksen, Keskusrikospoliisi Poliisin, Tekniikkakeskus) article of laws, which looks like another kind of the scam virus named as Ukash virus. You will get a lock full of screen says "HUOMIO! Titokonesi on lukittu turvallisuuden vuoksi allamainittujen syiden takia." with red color bang in the middle when the virus has embedded into and activated on the infected Windows Operating System. Additionally in order to make you suppose Poliisihallituksen virus removal should be an urgency case, the message you see on the lock screen clearly points out that you have to pay for the fine in 48 hours otherwise you will be trapped into criminal case. In the fact, all of these are fake articles. Therefore, don't be taken in when you see such lock screen comes from Poliisihallituksen virus.



Apart from locking its target computer, the Poliisihallituksen virus is able to stealthily produce as much as possible damage on the infected computer particularly when it is bundled with hijacking virus. Together with the other hijacking virus, the cybercriminal must seize much more chances to handle with certain background operation to exploit plenty of troubles with their preys. Slowdown, freeze, even the blue screen error code will happen, as sure as a gun. More seriously, the Poliisihallituksen virus experts in stealing confidential information such as user names and passwords; Credit Card number and password; and other confidential privacy could be taken full advantage by cybercriminal for malicious activities.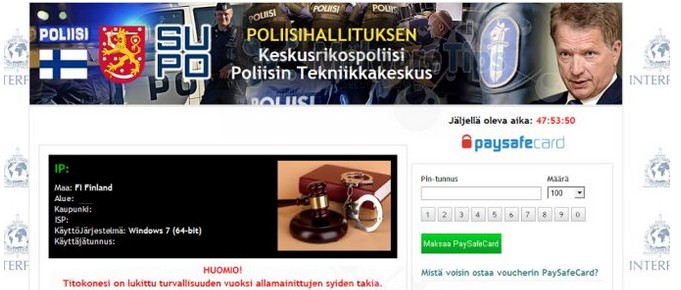 Poliisihallituksen Ransomware Virus Manual Removal Guide
To enable programs terminated by the Poliisihallituksen virus, you need to reboot the infected computer with safe mode with networking. Here is how to reboot computers with Windows 7 (Windows XP, Windows Vista) or Windows 8 into safe mode with networking:
1): For Windows 7, Windows XP, Windows Vista, you can press the single function key F8 on the first line of the keyboard.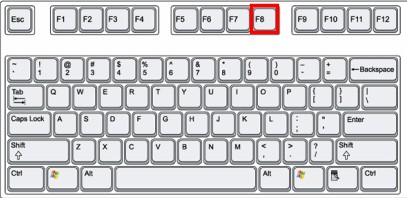 Note: You need to hit the power button to start the infected computer but before it launches on, you need to press F8 key constantly after skipping the first interface. Windows Advanced Options menu will show you Safe mode with Networking, highlight it by pressing up-down key and hit enter key. As seen the below picture: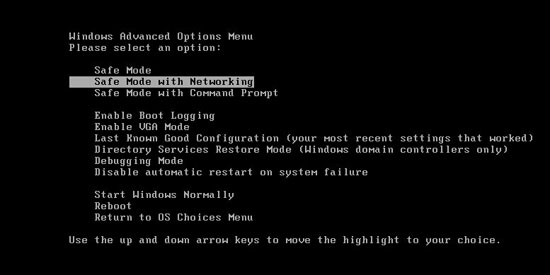 2): For Windows 8, you need start the infected computer until you see the locked screen. Press Ctrl+ Alt+ Del combination key to reveal the Switch User interface. And then hold down the "Shift" key on the keyboard and meanwhile click on "Shut down" button once on the bottom right corner of the page. Later after that, there will be three options there: Sleep, Shut down and Restart. You need lick on Restart option.

3): The next window says 'Choose an Option' screen," then you need select "Troubleshoot"-> click on 'Advanced Options' -> choose 'startup settings'.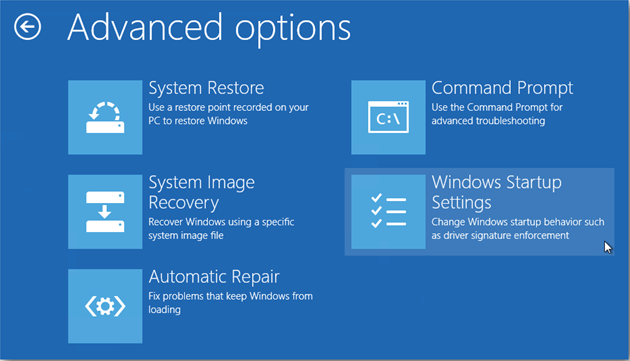 4): After clicking on Startup Settings, you need choose 'Restart' then Windows will automatically display Safe mode options. By pressing F5/5 key to highlight Safe Mode with networking option, hit enter key as well.
5): End malicious process and explorer.exe to avert the infected computer from being locked by Poliisihallituksen virus though it is in safe mode with networking.
Press Ctrl+ Shift+ Esc or Ctrl+ Alt+ Del keys, in the Windows Task Manager window select on Process tab. Scroll down and locate to suspicious file (random.exe) and explorer.exe, then click on End process.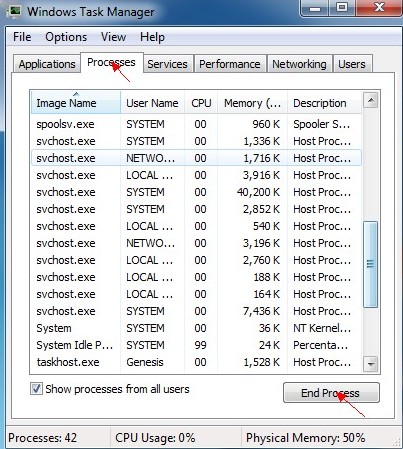 Remove Poliisihallituksen Virus Files and Registry Entries
1): Show hidden files to fast locate the Poliisihallituksen scam files:
A: Click on Start button
B: Click on Control Panel
C: Double click on Files and Folder Option
D: Select View tab
E: Check "Show hidden files, folders and drives"
F: Uncheck "Hide protected operating system files (Recommended).
G: Then click ok to finish the changes.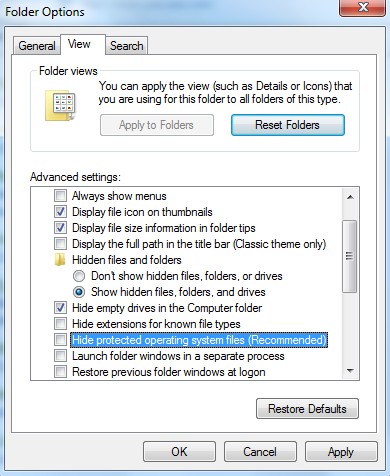 H: After finishing showing hidden files, open Local system disk, delete virus files.
%UserProfile%\Application Data\msconfig.dat
%UserProfile%\Application Data\msconfig.ini
2): Delete the ransomware registry entries
Press Windows and R key, type regedit in Run window.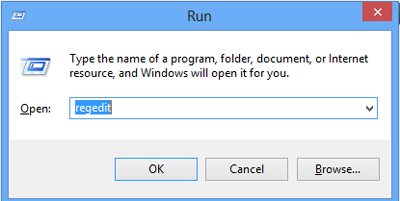 Find the below registry entries from Registry Editor page and delete them.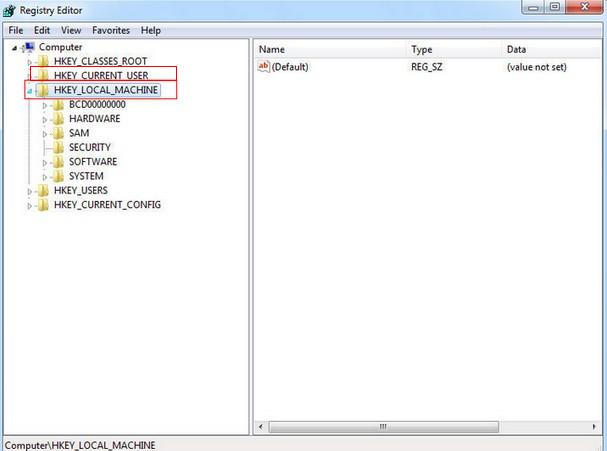 HKEY_LOCAL_MACHINE\SYSTEM\CurrentControlSet\Control\MediaResources\msvideo
HKEY_CURRENT_USER\Software\Microsoft\Windows NT\CurrentVersion\Winlogon\"Shell" = "explorer.exe,%UserProfile%\Application Data\msconfig.dat
Pay Attention
The Poliisihallituksen rogue virus can't be machine-parsable. In stead, it has ability to be changeable every time including its files and registry values. Taking this into consideration, it would be required certain experience and skills to detect the virus files and entries. And absolutely it would be highly of danger if you always leave it on your computer. It is highly recommended the victims of the scam virus clear out the Poliisihallituksen virus from their computer ASAP. If you still need to consult more knowledge on how best to do to handle with registry entries of Poliisihallituksen Android malware, you may contact with VilmaTech Online Support.