FBI Moneypak Virus – How to Remove FBI Moneypak Virus
FBI Moneypak virus has quite high degree of criticality, which is an extremely dangerous ransomware has grown internationally since in the first quarter of 2012. The hackers or cybercriminals produce and supply the FBI Moneypak virus with the copycat name similar to but not really as the same nature of a governmental agency like Federal Bureau of Investigation (FBI). Due to disguising the produced malicious virus as the malware attributed from some high authority enforcement agency, the FBI Moneypak virus creators can easily achieve their unethical tactics-blackmailing money from the those innocent victims and other Internet frauds. The FBI Moneypak ransomware practice various nasty tricks on its target computers to scare and force relevant victims into paying a demanding unnecessary fine of $200-$500 within 48-72 hours in real time. Otherwise a cybercriminal case will against them. As seen on the FBI Moneypak virus screenshot, how so solemn it looks like.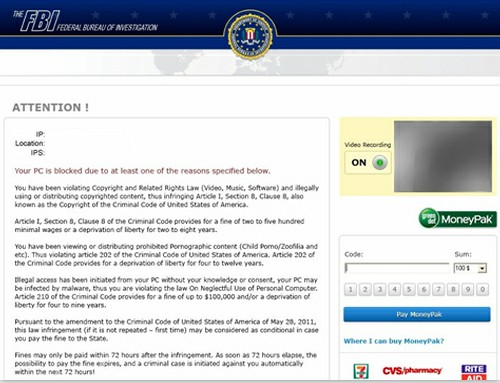 Note: You may chat with VilmaTech Support Team if your are not confident in removing such virus.

Overview of the FBI Moneypak Virus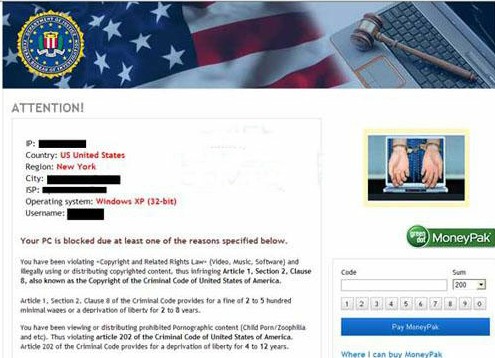 Malicious Fraud Trick
We've probably heard some ransomwares similar to the FBI Moneypak virus, like FBI virus, FBI Online Agent has blocked your computer for security reason (you can click 1 and click 2 separately to see more details about them). Sure, as you can see, the common trick utilized by hackers is disguising the ransomware as a genuine malware attributed by high-authority enforcement agency to accuse of violating copyrighted laws, so that have to pay to unlock the restriction. Usually, though we really haven't done any illegal online activities, we should have felt upset all the time due to warning message declares it comes from enforcement agency and been worry about the infected computer corruption. Taking this into consideration, the warninga revealed on the FBI Moneypak virus locked screen plays essential role on scaring and persuading innocent victims into believing the virus to be true.
Propagation Methods
The FBI Moneypak virus can be propagated with several means like hiding in unsafe websites, fake freeware, and pop-ups. No matter what kind of the infection it is, it is more easily to prey those unwary computer users especially that computers are at high-risk of system vulnerabilities. Thus, just once click, some malicious ransomware can fast slip into your computer. By exploiting increasingly system vulnerability into target computers, the FBI Moneypak virus will then run a invasive payload: such as one that will begin to encrypt personal files with malicious codes on the hard drive so that the infected system can be possible total failure and you can't do anything but seeing the virus screen.
High-Risk Damages
"Never belittle your evil rivals," so as well does treat the FBI Moneypak virus. The damages made by malicious ransomware are far beyond our imagination. One side, the essential goal for the FBI Moneypak malicious ransomware is to fraud money from those victimized users. Apart from blackmailing on the seeming warning interface, the hacker also can be allowed accessing into after the infected computer has been totally governed by them thereby stealing confidential data by tracking cookies, browsing history and remembered privacies. But then again to accomplish the fraud trick, the FBI Moneypak virus first degrade the PC performance like slowdown/freeze/ blue screen of death, and even more total system failure.
Note: If you are not confident of removing the virus you can contact with VilmaTech Support Team

How to Remove FBI Moneypak Virus
Before you read any further about the steps on how to fix the FBI Moneypak virus, will you do yourself a quick favor? Pay close note the FBI Moneypak virus can stubbornly stay on the infected computer, to completely remove it you have to clear out all its variants files and registry entries. Done? Let's continue. How did you that feel? Did your brain think positive thoughts like, "I have been aware of that what I have to do" to accomplishedly remove the FBI Moneypak virus. I made a list of steps how you have do as below.
Step A
To enable programs terminated by the FBI Moneypak virus, you have to reboot the infected computer with safe mode with networking. Here is how to get there
For Windows 7, Windows XP, Windows Vista
1. Shut down the infected computer.
2. Find out F8 key on the keyboard of the target computer.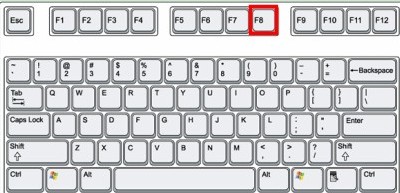 3. Press Power button to boot up the infected computer but before Windows launches (after skipping the first interface), you have to hit F8 key to reveal out Windows Advanced Options.
4. As you can see the page, it says safe mode, safe mode with networking, safe mode with command prompt, etc. Highlight safe mode with networking by pressing Up-Down keys and hit Enter key. Wait for a moment, Windows is loading files to the desktop.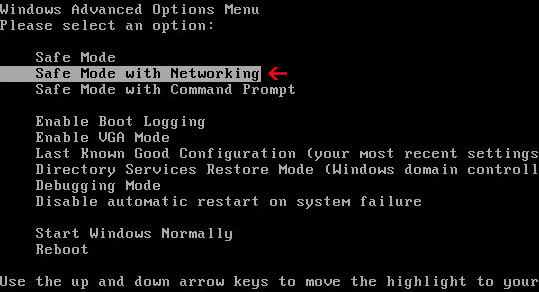 For Window 8
1. Start and login the infected computer until the FBI Moneypak virus screen shows on>Press the Ctrl+ Alt+ Del keys, it will brings you to the Switch User interface>Tap the "Shift" key on the keyboard by your left hand, click on "Shut down" button>Click on Restart option>In the 'Choose an Option' screen, you need select "Troubleshoot." >Click on 'Advanced Options', then in the following window choose 'startup settings> Choose 'restart,'> Press F5/5 key to highlight Safe Mode with networking option, hit enter key.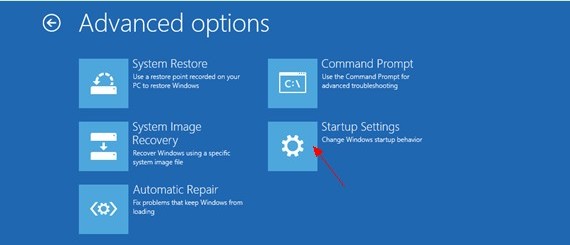 Step B
End FBI virus malicious process. Press Ctrl+ Esc+ Shift (Windows7/vista) or Ctrl+ Alt+ Del (Windows XP/ Windows 8) to open Windows Task Manager. You then locate at random virus file and click on End Process.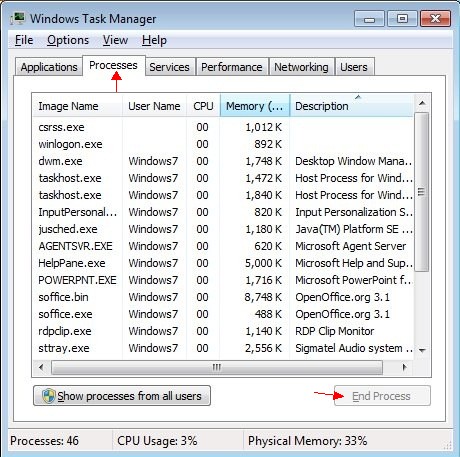 Step C
Delete FBI Moneypak virus files from Local disk. But you need show hidden files first.
A: Click on Start button
B: Click on Control Panel. And click on Appearance and Personalization.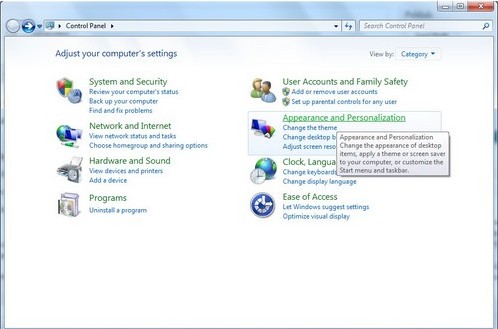 C: Double click on Files and Folder Option.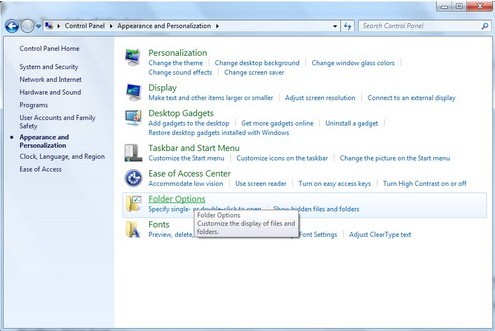 D: Select View tab
E: Check "Show hidden files, folders and drives"
F: Uncheck "Hide protected operating system files (Recommended).
G: Then click ok to finish the changes.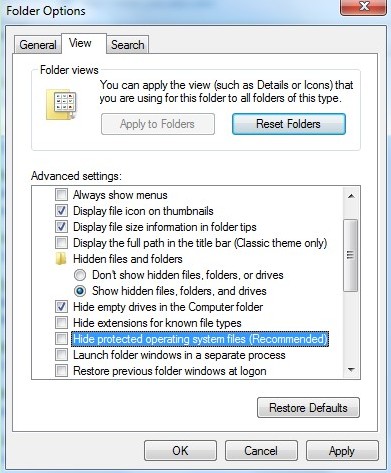 Open Local disk, and remove FBI Moneypak virus files refer to below files.
%Program Files%\FBI Moneypak Virus
%AppData%\Protector-[rnd].exe
%AppData%\Inspector-[rnd].exe
%AppData%\vsdsrv32.exe
%AppData%\result.db
Step D
Delete FBI Moneypak ransomware registry entries.
1. Press Windows+ R key to reveal out Run box. Type regedit in Run window and click Ok.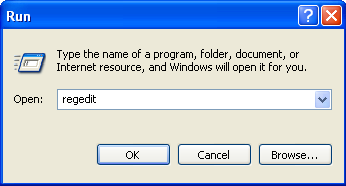 2. In the Registry Editor window, you need navigate to the below path. You then need to find out "Shell" and right click on it. Click on Modify. The default value data is Explorer.exe If you see something else written in this window, remove it and type in Explorer.exe.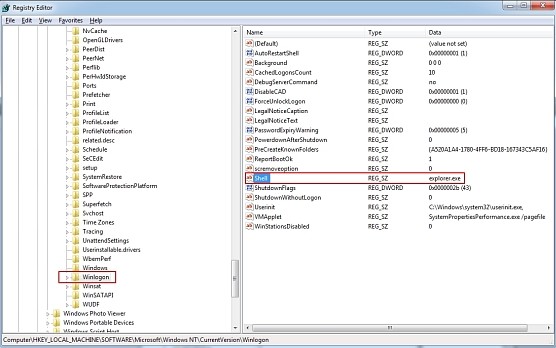 HKEY_LOCAL_MACHINE\SOFTWARE\Microsoft\Windows NT\CurrentVersion\Winlogon\
3. Besides that, you still need delete FBI Moneypak virus registry entries, you can refer to the below registry entries.
HKEY_CURRENT_USER\SOFTWARE\Microsoft\Windows\CurrentVersion\Run\[random].exe
HKEY_LOCAL_MACHINE\SOFTWARE\FBI Moneypak Virus
HKEY_CURRENT_USER \Software\Microsoft\Windows\CurrentVersion\Policies\System 'DisableRegistryTools' = 0
HKEY_LOCAL_MACHINE \SOFTWARE\Microsoft\Windows\CurrentVersion\policies\system 'EnableLUA' = 0
HKEY_CURRENT_USER \Software\Microsoft\Windows\CurrentVersion\Internet Settings 'WarnOnHTTPSToHTTPRedirect' = 0
HKEY_CURRENT_USER \Software\Microsoft\Windows\CurrentVersion\Policies\System 'DisableRegedit'= 0
Step E
Reboot the infected computer with regular mode to effect the virus removal.
Note: The FBI Moneypak virus changes its variant files and registry entries all the time. So it may be possibly a little confused for you on how exactly delete those virus leftovers. Sure, you can click the live chat button as below to contact with VilmaTech experts, you may get quick helps from them.

Extra Tips of FBI Moneypak Virus Removal
Most malicious ransomware like FBI Moneypak virus exploits Java or Flash vulnerabilities to load the malicious code to active though you have run the victimized computer in safe mode with networking for a while. Usually such virus can pop-up again and lock the infected machine after runs in safe mode with networking for few minutes for the flash player can be exploited by FBI MoneyPak virus in some cases. So avoid the virus active and in order for acquire enough time to kill the virus in safe mode, you had better deny the Adobe flash player before you proceeding the steps mentioned above.
Adobe Flash Player Settings has its own privacy settings. If it checked with Allow, the application running on the program can have access to the camera available on the infected machine. Beside that, under the situation of Allow, the virus can utilize the program capture what your camera sees and microphone hears, until you close the application. Moreover, once the FBI Moneypak virus locks you in safe modes, you can do anything there. If it is checked with Deny, the flash does not have access to your camera or your microphone. The flash will continue running, but may not function as intended. So it is more helpful to deny the flash player than never not. You just need open the Adobe Flash Player Settings and check "Deny," you then click ok to apply the changes.
Highly Advisable Precautions
If have fixed the FBI Moneyapk virus, you had better bear the advisable tips here. The tips listed here are about how to guard your computer from malicious ransomware again. No matter what virus it is including Browser Hijacker, fake programs, and Trojan viruses, there are some common places where they hide in. Now let's continue the precautions compiled here. For one, refuse to open any unsolicited incoming emails and some links contain those message. Why? You may be wondering so. The reason is that usually the virus maker exploit a plenty of malicious traits within those spam emails to spread. Once one unwary computer uses click on the nasty things, the virus is able to install itself fast. As the system vulnerability increases by, other viruses access in as well. Therefore, your computer can be taken over by a virus.
For two, never download freeware/shareware from unsafe websites where are the places all kinds of viruses propagate, especially be wary about those freeware provided by low-authority websites. For three, don't visit porn sites or download video there. The biggest source of infections is the porn sites. If you often visit some porn sites and download video there, the viruses like FBI Moneypak virus can quite easily become the fatal rival of your computer.
For three, especially to hijack virus, which is also called Browser Hijacker, mainly attacks Internet Browsers on victimized computer thereby stealthily collecting confidential data by tacking browsing history and online activities. Surely, the hijack virus can fast compromise browser settings and it then can govern completely. So don't be lazy, regularly clear out cookies, browsing history, unnecessary or unwanted toolbar from your computer is quite significant. It can reduce the chances that the hackers attacking your computer starting with Internet Browser loopholes.
For four, always use an anti-virus software program, which is better an updated anti-virus program, one with both an on-demand and an on-access scanner. Scan all new software for viruses (FBI Moneypak virus) before installing them on your hard drive. To regularly scan and clear out junk files and suspicious threats. It is a practical way to prevent from FBI Moneypak virus taking advantage of occasion to slip into the infected computers.
Pay Close Attention
Well, if some of the estimates are to be believed there is an epidemic of cyber espionage and hacking going on in the world these days, the battle of removing  FBI Moneypak virus and other series version of FBI viruses is always ongoing and increasingly fierce since the first quarter of 2013. For computer users, no matter where country they are located in, such malicious ransomware can prey them. For example, the ransomware called Metropolitan Police Virus (Reference URL) always attacks computer users in various European countries, Australian Federal Police virus is engaged in attacking Australian. You can still read more ransmoware removal tips here.
| | | | | |
| --- | --- | --- | --- | --- |
| FBI Virus | | United States Cyber Security virus | Internet Crime Complaint Center virus | FBI FBI Online Agent has blocked your Computer for Security reason |
Besides that, most of the victimized computer users mistakenly suppose the FBI Moneypak virus have been removed once they would have paid the demanding fine. But in fact the hacker does not. Thus, the unexpected thing is that it has leaded to a huge economic loss. Recent valuations of the cost to the United States for example, vary from 100 billion to a trillion dollars every year. Furthermore, some big companies on both sides of the Atlantic are fighting back – many setting out directly to enlist the skills of the Tech experts themselves to protect their data. We have to admit that the serious consequence result of such malicious FBI MoneyPak virus is unpredictable.
Yet it should come to our awareness that FBI Moneypak virus would no doubtfully cause residual damages to continue plague victims even after it is removed successfully due to its capability of opening up backdoor as a consequence of modifications in database and to drivers:
Browsers (IE, Chrome, Firefox, Opera, Safari) may very well be affected by search redirect virus causing homepage replacement as well as reception of unrelated spam sites.
Additional programs might be installed without permission.
Unknown and strange files are piling up in system partition to significantly consume CPU, leading to a sluggish computer.
Error messages may prompt up to hinder programs from launching properly.
Multiple parallel processes are running in the background without being exterminated.
More popup ads may flood browsers to ruin surfing experience and take victims to designated spam sites.
To sum up, FBI Moneypak virus is capable of introducing in additional junks and infections to make a zombie machine. Always remember that FBI Moneypak virus aims at money rather than finishing the dull task to damage a machine. By introducing more infections, FBI Moneypak virus can also make fortune in case victims refuse to hand over the amount of non-existent ransom so fix on its counterfeit accusation message. Whereupon, it is believed that some PC users may want to plan on purchasing another computer. Think about it, there's high possibility out there to get infected by ransomware since there are various versions keep improving infiltration way. The best recommendation is to remove FBI Moneypak virus.
Last Note: If you are not confident of remvoing the virus you can contact with VilmaTech Support Team