FBI Virus – How to Remove FBI Virus (Android Malware Removal)
FBI virus Android lock is identified as high malicious Ransomware known as Reveton that has began to widely spread and developed into a variety of versions since in 2012, which purposefully locks access to the target computer system and Android phone once it infects, and demands a random paid to the creator of the virus (cybercriminals/hijackers) for the sake of the restriction to be removed. The common malicious trick applied to the FBI virus Android malware is pretend to be a form of warning purportedly from a high authority agency to threaten and force into paying using a MoneyPak card. Being Disguised as a high-authority enforcement agency- the Federal Bureau of Investigation (FBI) which is the genuine government agency pertained to the United States Department of Justice that plays a essential role of either a federal criminal investigative body or an internal intelligence agency, the FBI virus Android lock exploits this so it displays a solemn screen of warnings to scare those unsuspecting victims. In addition, to make FBI virus looks more authority and no being inattentive, the virus warning alleges that "THIS COMPUTER HAS BEEN LOKCED" due to you have been violating copy-right and doing other illegal activities (such as downloading pirated software, or watching child pornography). And even the FBI virus accuses of those victimized computer users  or Android phone users with particular law article so that they have to believe it to be true and pay the demanding ifine within 48 hours/ 72 hours.

FBI Virus Warnings
"YOUR COMPUTER HAS BEEN LOCKED/BLOCKED." The innocent victims of the FBI virus can see at least of the deceptive message specified on the locked screen informs why your PC is blocked. It not only accuses  of you for what unlawful activities you did, but also shows the relvent articles provides for a fine and a deprivation of yeas.
To unlock the computer you are obliged to pay a fine of $100. You have 72 hours to pay the fine, other wise you will be arrested. You can see such messages on the locked screen. Apart from blaming you must pay the fine through MoneyPak it still explain you how to pay. Just as you seen, "how do I unlock computer using MoneyPak?" To pay the fine, you should enter the digits resulting code, which us located on the back of your MoneyPak. In the payment form and press Ok.
Your PC will get unlocked in 1-48 hours after the money is put into the State's account. Some victimized victims suppose that their PC can be unlocked once they have paid for the FBI virus, negatively, those PCs can't be unlocked at all though they have paid the fine. In fact, they just paid the fine to those cybercriminals who are not related with the genuine FBI agency. Thus, don't be trapped in the vicious trick exploited by cybercriminal once you seen the FBI virus screen on your computer.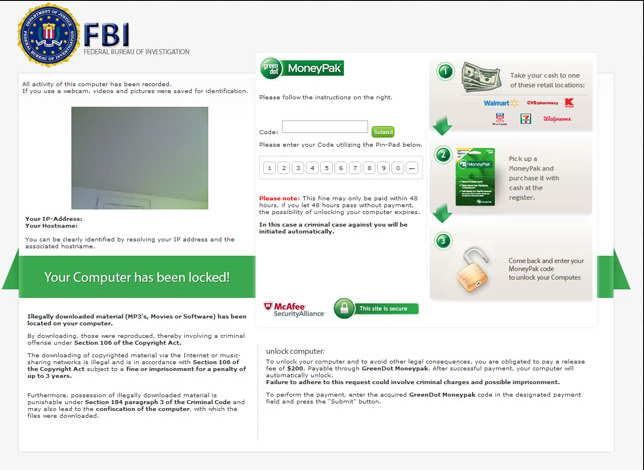 FBI Virus Versions
FBI Moneypak: this original version of FBI virus demands you have to enter a MoneyPak code to pay a fine of $100.
FBI Green Dot Moneypak Virus/FBI Virus Black Screen: this version of FBI virus requires you have to pay a fine of $200 via a little more detailed steps on how to do about it.
FBI Online Agent: this ransomware also uses the name of the Federal Bureau of Investigation. Although it still requires a fine of $200 and gives the name of the responsible agent, this version differs from original ransomware which displays a newly-designed alert without showing your IP address or location.
FBI Cybercrime Division Virus: this is a verison pretends to belong to the FBI's Cybercrime Division. It asks for a paid fine of $300. Also you can see a newly solemn interface with different logo that is not same as before. However, the purpose has never been surpassed- money.
FBI Department of Defense Virus: this version of FBi virus is similarly to its predecessors, seeks to swindle $300 by convincing its victims that they have violated several laws of USA. In addition, it also changes a little. The different thing is the form of the payment. Such FBI virus requires those victims paid the demanding fine by MoneyGram prepayment.
White Screen FBI virus: this version of FBI virus goes up on the stage with a white screen and a mouse cursor on your locked computer, you then still be informed that you have to pay to unlock the infected system.
FBI Computer Crime and Intellectual Property Section virus: this version  of FBI virus asks to pay a fine of $200. It is just like the former one FBI Green Dot Moneypak Virus.
FBI System Failure virus: this version of FBI virus is used to blackmail $300, for that it asks using REloadit prepayment. If you see such warning, you must ignore it and use manual guides on this post to remove malicious virus from the system.
Note: there still other versions about FBI virus don't be listed here, for example such version requires a fine of $400 or $500. In a word, don't pay anything when FBI virus has been locked your computer.



FBI Virus Damages
Taking system damages into consideration, FBI virus is endowed with high abilities to corrupt it. It is far beyond our imagination. For one, the group of FBI ransomware can make the infectious computer completely locked jut when Window starts and keep exploiting system vulnerability background to make a total system failure, which can result of victimized computer users at nail-biting thereby preparing to pay. For second one, once the FBI virus makers just called cybercriminals totally govern the target computer, some serious troubles like programs disabled/deletion, system files corruption/missing, encrypted files, and blue screen of death will naturally happen. Just when your computer is infected with the version of White Screen FBI virus, which is an extremely deadly virus so you hardly boot your computer in safe mode with networking to resave it but helplessly wait for it is crashed down in the build-up current crisis.
Taking the economic loss into aspect, the FBI virus can seize any chances to steal money from its target computer users. Apart from blackmail money on the virus locked screen, the cybercriminals are able to steal confidential data for malicious profits by taking over Internet browsers without any consent and then tracking browsing history, cookies, and remembered privacies (online transaction account, password, Credit Card number). Once the confidential data exposures especially to commercial/government agencies, there is no doubt that this is disastrous. Therefore, to void further damages, it is highly recommended you remove FBI virus from the infectious PCs ASAP.

How to Remove FBI Virus from My PCs- First Method
First Step: To enable programs terminated by the FBI virus, you have to reboot the infected computer with safe mode with networking. Here is how to get there
For Windows 7, Windows XP, Windows Vista
1. Shut down the infected computer.
2. Find out F8 key on the keyboard of the target computer.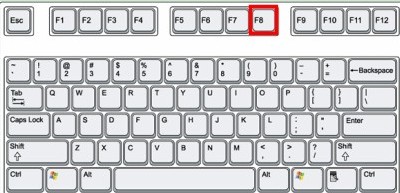 3. Press Power button to boot up the infected computer but before Windows launches (after skipping the first interface), you have to hit F8 key to reveal out Windows Advanced Options.
4. As you can see the page, it says safe mode, safe mode with networking, safe mode with command prompt, etc. Highlight safe mode with networking by pressing Up-Down keys and hit Enter key. Wait for a moment, Windows is loading files to the desktop.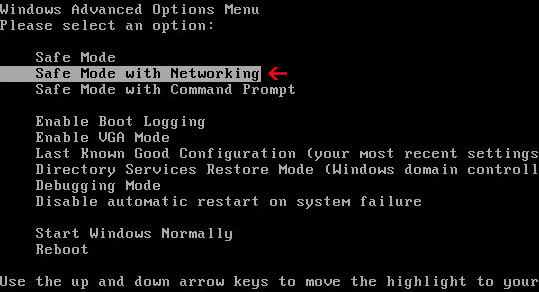 For Window 8
1. Start and login the infected computer until the FBI virus screen shows on>Press the Ctrl+ Alt+ Del keys, it will brings you to the Switch User interface>Tap the "Shift" key on the keyboard by your left hand, click on "Shut down" button>Click on Restart option>In the 'Choose an Option' screen, you need select "Troubleshoot." >Click on 'Advanced Options', then in the following window choose 'startup settings> Choose 'restart,'> Press F5/5 key to highlight Safe Mode with networking option, hit enter key.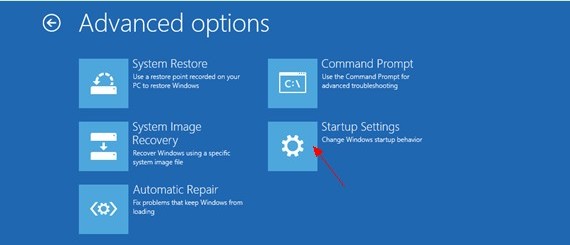 Second Step: End FBI virus malicious process. Press Ctrl+ Esc+ Shift (Windows7/vista) or Ctrl+ Alt+ Del (Windows XP/ Windows 8) to open Windows Task Manager. You then locate at random virus file and click on End Process.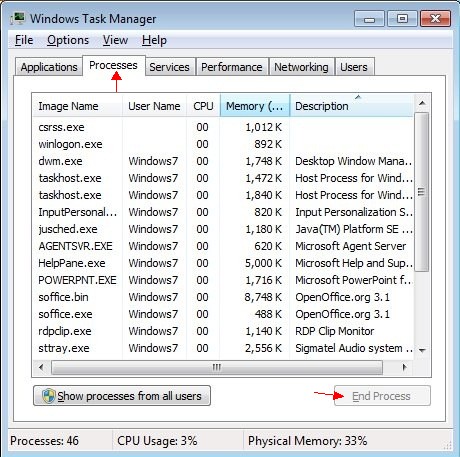 Third Step: Delete FBI virus files from Local disk.
1. Show hidden files first.
A: Click on Start button
B: Click on Control Panel. And click on Appearance and Personalization.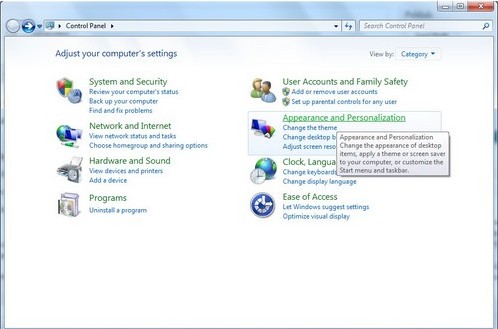 C: Double click on Files and Folder Option.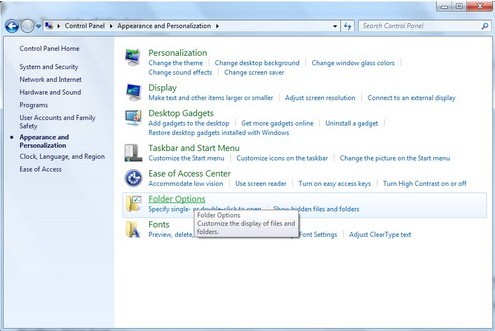 D: Select View tab
E: Check "Show hidden files, folders and drives"
F: Uncheck "Hide protected operating system files (Recommended).
G: Then click ok to finish the changes.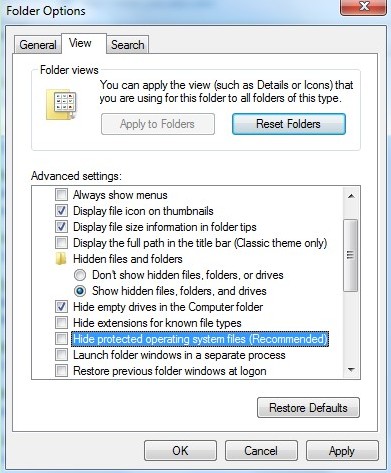 2. Open Local disk, and remove FBI ransomware files refer to below files:
%Program Files%\FBI Moneypak Virus
%AppData%\Protector-[rnd].exe
%AppData%\Inspector-[rnd].exe
%AppData%\vsdsrv32.exe
Fourth Step: Delete FBI virus registry entries.
1. Press Windows+ R key to reveal out Run box. Type regedit in Run window and click Ok.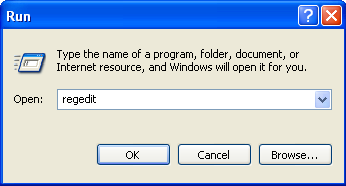 2. In the Registry Editor window, you need navigate to the below fath. You then need to find out "Shell" and right click on it. Click on Modify. The default value data is Explorer.exe If you see something else written in this window, remove it and type in Explorer.exe.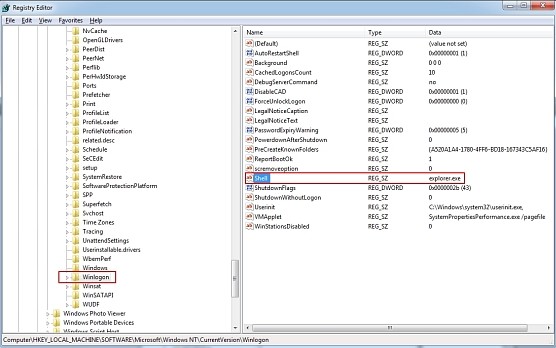 HKEY_LOCAL_MACHINE\SOFTWARE\Microsoft\Windows NT\CurrentVersion\Winlogon\
3. Besides that, you still need delete FBI virus registry entries, you can refer to the below registry entries.
HKEY_CURRENT_USER\SOFTWARE\Microsoft\Windows\CurrentVersion\Run\[random].exe
HKEY_LOCAL_MACHINE\SOFTWARE\FBI Moneypak Virus
HKEY_CURRENT_USER \Software\Microsoft\Windows\CurrentVersion\Policies\System 'DisableRegistryTools' = 0
Fifth Step: Reboot the infected computer with regular mood to effect the virus removal.
For Mac OS X
FBI virus even can lock the Internet Browser on the  computer with Mac OS X. As seen the screenshot as below.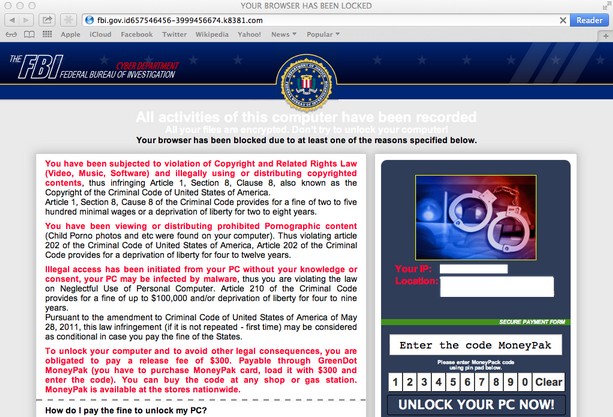 1. Click on the Safari menu and then choose Reset Safari.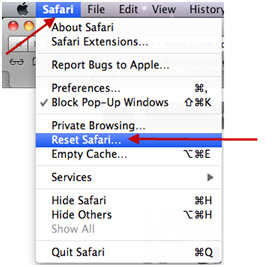 2. In the next windows, you need make sure all items are marked and click on the Reset button.
3. A warning dialog will now appear detailing the items that will be removed.
4. Click the button on the dialog labeled Reset to complete the process.
5. Your Safari browser will now restart automatically.
6. Delete FBI virus files and registry entries just similar to the steps mentioned above.
Remove FBI Virus with Second Method-System Restore
System Restore can't be used to back up user's personal files. It only backs up settings and registry values so that it has possible risk to lose some personal files. You can backup your needed files before making system restore.
Windows 7/Windows Vista/ WindowsXP
1. Press Windows+ R key to bring out Run box. Type "cmd" into Run box and hit Enter key.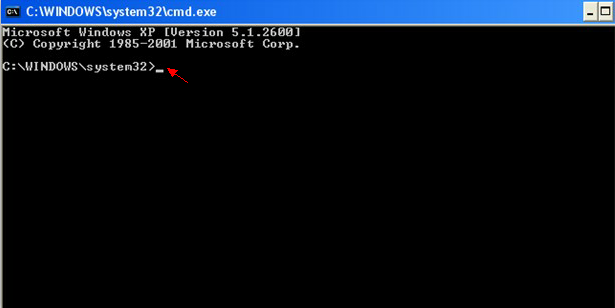 2. The black box where says C:\Windows\System32\cmd.exe pops-up, and then type C:\windows\system32\rstrui.exe (Window 7/Vista) at the end of the blinking cursor, and then press Enter key. If you are using one computer with Windows XP, you need type this one C:\windows\system32\restore\rstrui.exe in stead.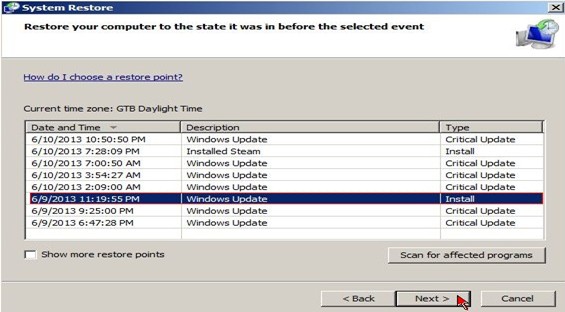 3. In the System Restore window where prompt you that restore your computer to the state it was in before the selected event. And the page will show you with a list of restore points, select on a restore point created just before the date the FBI virus locked your computer. And then click on Next button to proceed to the restore process.
4. Wait for a minute and you need to restart your computer as the demanding of the pop-up wizard once the System Restore has been completed.
For Window 8
1. To restore from a restore point you will first have to navigate to the Systems Protection tab by typing "System Restore" in the Windows 8 Search bar.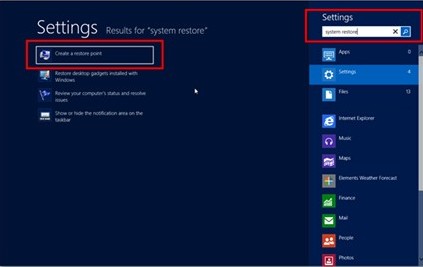 2. Open up the control panel and select "System and Security."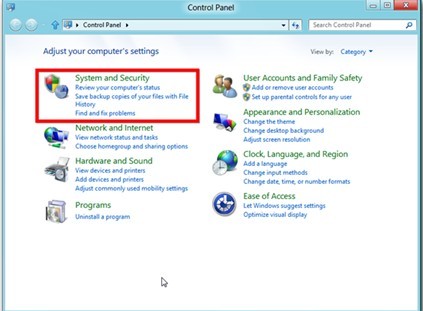 3. Then select "Advanced System Settings."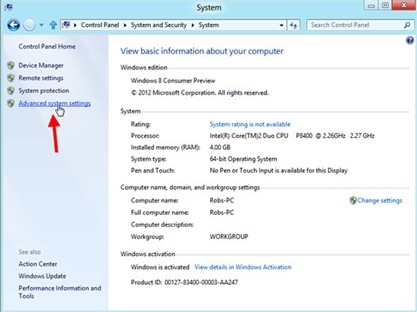 4. In the next window, click on the "System Protection Tab."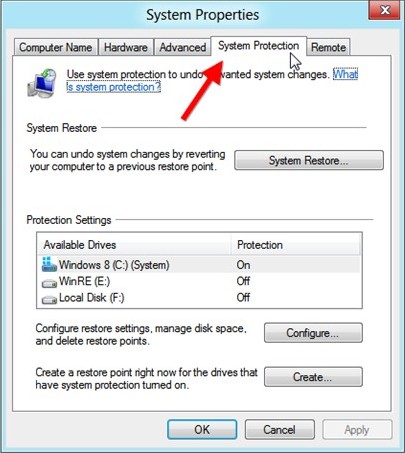 5. In the same window, click on System Restore button.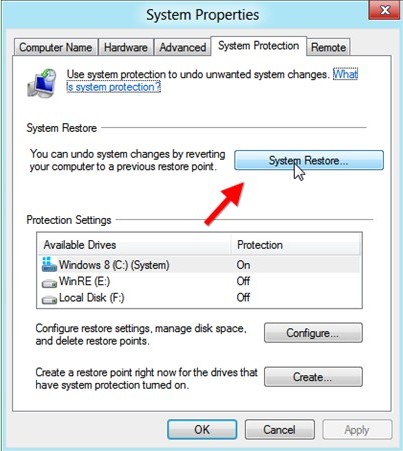 6. Next it will show you System Restore Wizard. Click on "Next" to continue.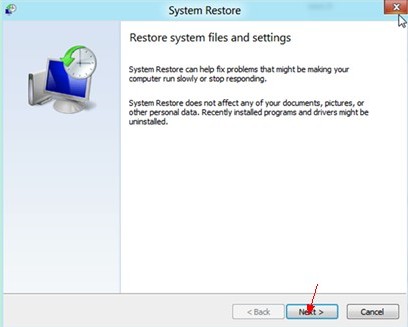 7. In the next window you will be asked that which restore point you would like to take, click on it and click Next button again. Later after that you'll find the following window asking you to confirm your choice. You have to click on Finish button and Windows will automatically complete the restore for you.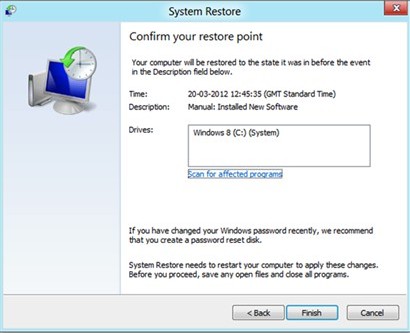 8. Restart the infected computer to effect FBI virus removal.
How to Prevent FBI Virus
1. FBI virus generally utilizes various social engineering tactics to enter a victim's computer. This type of malware may be delivered by malicious websites or some legitimate web pages which have been compromised to the developers of scam. Another common method used to propagate FBI virus is the attachments such as Zip-archived extension in a spam email or unreliable freeware/shareware downloads which contain the activation of the malware. To prevent from the infection of FBI virus, computer users are obliged to keep cautious while using any distrusted online resources.
2. Use a firewall to block all incoming connections from the Internet, which should not be publicly available. If not necessary, computer users should turn off file sharing system configuration. If file sharing is required, computer users can use ACLs and passwords protection to limit anonymous access. This will significantly reduce the chance to get infected with FBI virus.
3. Install a standard and trustful antivirus program to maintain regularly computer protection. Most commonly a powerful antivirus application has the capability to detect and remove various malware for the sake of protecting computer from damages. Anyhow, new viruses are produced daily which may be endowed with freshly attributed by hackers. So it is important to update the virus database in antivirus program regularly in order to remove the latest threat effectively.
Pay Close Note
To remove FBI virus Android lock from your infected computer, you can be through if you actually accomplished each step. But it is really not enough. You still need take some effective precautions to guard your computer or Android phone from getting infected with such FBI virus again. For one- install anti-virus program. It is essential to install a high-authority anti-virus program to protect your computer in real time, which had better be an updated anti-virus program, one with both an on-demand and an on-access scanner. Scan all new software for viruses like FBI virus Android malware before installing them on your hard drive. In order for making sure there are no loopholes in the security that will be possibly exploited by these viruses can enter through.
For two- Avoid clicking unsafe things like ads pop-ups, avoid clicking on some strange email attachments or spam email and downloading some low-authority programs. Usually such FBI virus and other Trojan viruses can be bundled with those freeware and shareware particularly those programs from unsafe site. If you need to download some needed programs, it is highly recommended you remove such virus  from the Android system. Well, these are recommended tips. Hope you can get helps on this post. If you tried steps mentioned above but still have troubles with complete FBI virus Android lock removal, you may chat with VilmaTech Online 24/7 experts for more suggestions.