Vista Protection 2013 – Remove Vista Protection 2013 with Ease
Vista Protection 2013 does be actually malicious program with clear features listed on the left side like Main, Perform Scan, Internet Security, Personal Security, Proactive defense, and Firewall, created by hijackers to display fake security alerts on users' computer thereby threatening and scamming those unwary users into buying a totally useless rogue antivirus program. Vista Protection 2013 rogue program disguised a real anti-virus program has abilities to infiltrate the compromised system in a form of anti-spyware without any consent. And it warns target users that their computers are high of danger, to ensure clean out computers' system they have to pay the fine to get the antivirus program (fake anti-virus program) activated. As the messages showed on the fake virus- Vista Protection 2013 screen, it focuses on pointing out your computer is infected with Trojan viruses and how many files are infectious at the moment and how high-risk damages it will be if you don't remove all infected files. So at the end of the alert message it suggests that "Activate your copy right now and get full real-time protection with vista protection 2013," which is a common nasty trick exploited by hijackers to collect money from the victims. Unluckily, many careless computer users are still trapped into the trouble with infectious files and even more are suffering from the economy loss though they have paid for the fake Vista Protection 2013 program. How bad thing it is. Therefore, don't be taken in by the  fake anti-virus program when you see it on your computer. What first thing you had better do it to remove Vista Protection 2013 fake program form your computer.

How to Remove Vista Protection 2013 Fake Antivirus Program?
1. The rogue Vista Protection 2013 program produces can make you be at nothing what to do just like other fake anti-virus program My Safe PC 2014 or System Doctor 2014 does. So you need follow this step to enable part of programs on the infected computer. Here is how: Make sure the infected computer completely shut down. You then hit the power button to start the infected computer, but you need press F8 key before Windows Vista launches on to reveal Windows Advanced Options menu. When you get the menu page, highlight Safe mode with networking option and then press Enter key on the keyboard. This is the steps to boot up the infected computer into Windows with safe mode with networking.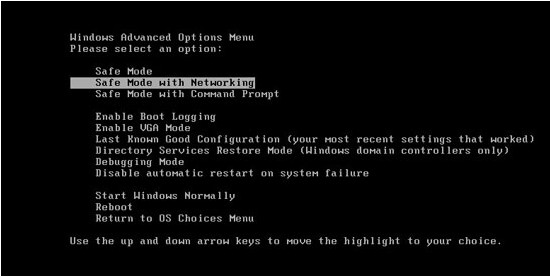 2. When you see the desktop press Ctrl+ Shift+ Esc the combination key or right click on the Task Bar to open the Windows Task Manager; then scroll down and locate at suspicious process [Vista Protection 2013].exe, you then click on End process button.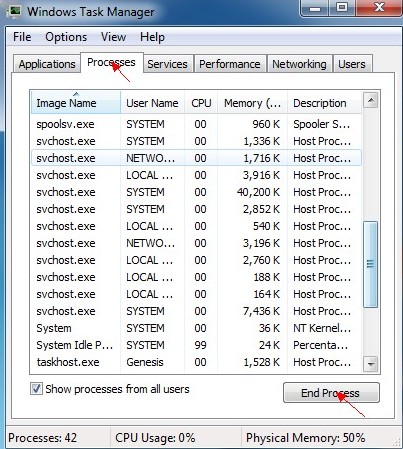 3. Remove Vista Protection 2013 fake program files. Open local disk and then show hidden files. Click on the Start button->Control Panel-> Double click on Folder Options-> Click View tab-> Check "Show hidden files, folders and drives"->Uncheck "Hide protected operating system files (Recommended)-> Click on Ok to effect all changes.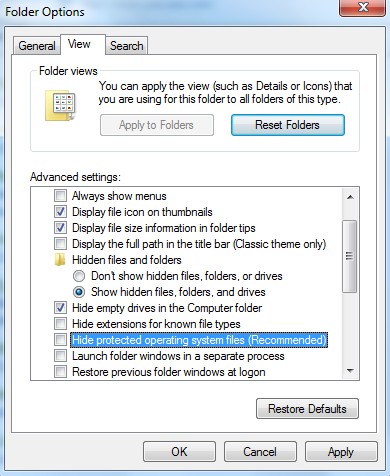 4. Come back Local system disk, access to the %userprofile%\appdata\local\temp and %AllUsersProfile%\Application Data\.dll and you then need to find out the virus files and delete them.
5. Press Windows + R and type regedit in the pop-up run window or enter the regeddit in search box form the start menu. In the Registry Editor window, find the Vista Protection 2013 virus registry entries by the below entries. (Note: The virus keeps updating its variants, so does it is registry entries. You should be careful and definite about your targeted virus entries and then delete them)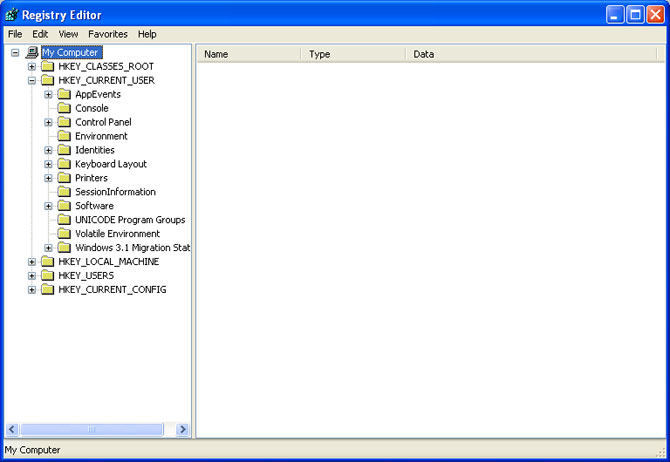 HKEY_CURRENT_USER\Software\Microsoft\Windows\CurrentVersion\Run "[rnd].exe"
HKEY_CURRENT_USER\Software\Microsoft\Windows\CurrentVersion\Settings "net
Pay close attention: If you can't remove Vista Protection 2013 program or other fake programs, you can make a system restore to deal with it. So please continue the next step
6. Boot the infected computer into safe mode with networking like the steps mentioned above. You then press Windows+ R key to reveal Run box. Type "cmd" into Run box and hit Enter key.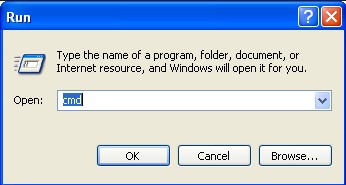 7. In the pop-up black window where says C:\Windows\System32\cmd.exe, you then type C:\windows\system32\rstrui.exe in the black cmd window and press Enter.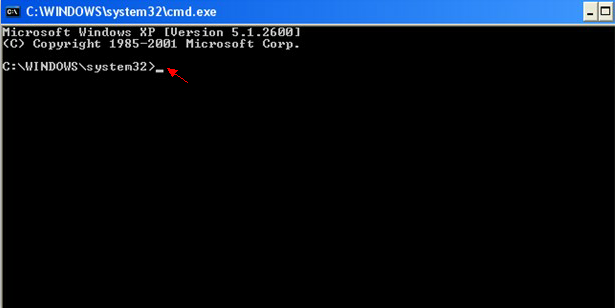 8. Next in the System Restore window with a list of restore points, through a restore point created just before the date the Vista Protection 2013 fake anti-virus program locked your computer screen.
9. Wait a moment for system restoring, you need to restart your computer normally once the System Restore has been completed.
Note: If you don't find the restore point that you want, you can make one manually.
10. To reach the System screen in the Control Panel, you can open the Control Panel and then click the System icon.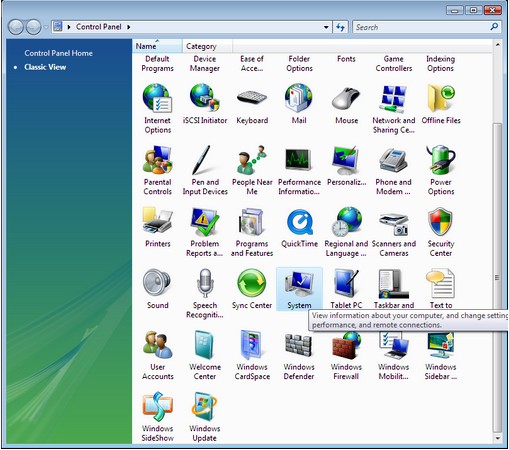 11. Click the System protection link on the left side  of the page to get to the System Protection Tab of the System Properties applet.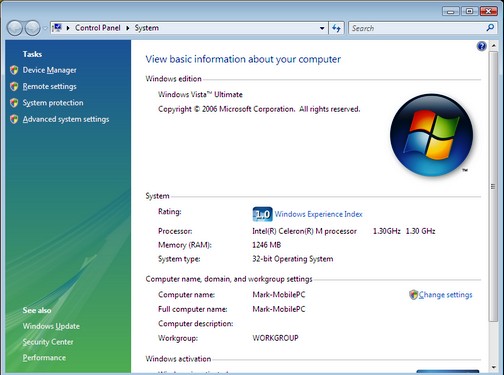 12. In the System Properties window, click on System protection tab. You can Create a restore point or restore from a previously saved one. Click the Create button to create the point that you want.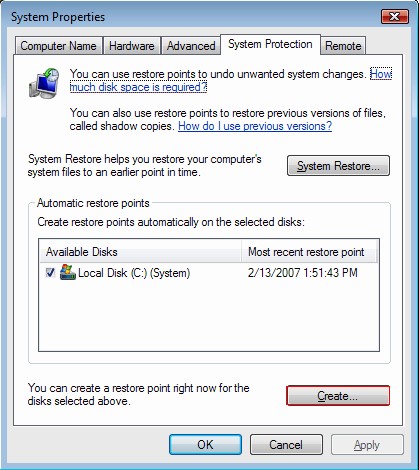 13. Type in a description so you can recognize this restore point later on and click OK. You need to wait for a moment for it could take a few minutes to complete.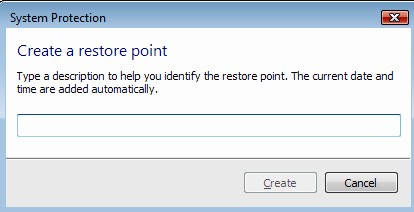 14. Then you can continue performing the restore point through the steps mentioned above.
Last Close Attentions
Vista Protection 2013 particular fake antivirus software originates from a family called FakeRean (Braviax). The virus is specially designed to attack computers running on Windows Vista all around the world, which can be able to stealthily block all windows programs. Once the fake virus has been in your computer, it must exert itself to make increasingly damages to degrade your computer performance and obvious symptoms can be seen immediately. For one, the fake Vista Protection 2013 virus always engages in exploiting numerous high-degree system vulnerabilities to open backdoor and then allow hijacker accessing in and stealing confidential data by tracking browsing histories. Such as your personal files, photos, documents and passwords get stolen; Your computer is used for criminal activity behind your back; Bank details and credit card information gets disclosed; For two, taking the computer damages into perspective, the rogue Vista Protection 2013 program makes your Internet browsers crashed frequently and web access speed decreased. In addition it at first time disables all programs once it has overall governed the infected computer so that they can make computer users at nail-biting but active the established fake antivirus program. In a word, you should follow the guides mentioned above to remove Vista Protection 2013 fake program from your computer rather that pay for the fine. And you can contact with VilmaTech Online Support for suggested measures when you comes across troubles.