How to Remove Ransom32 Ransomware, JavaScript ransomware Removal
Ransom32 Ransomware Brief Introduction
Ransom32 is regarded as a new version evil ransomware which dedicates to attacking online users' computers just through a bitcoin address. Compared with previously released ransomware, Ransom32 ransomware has nothing different, but it can be said is the first JavaScript ransomware due to its distribution way of Ransomware as a Service campaigns. In this case, Ransom32 ransomware takes full use of Bitcoin address, Service, or RaaS to spread infection, it can be bundled within a bitcoin address to conceal its existence. Just as doing so can the Ransom32 ransomware automatically entice in the targeting machines without any consent as long as online users follow a carefully crafted malicious bitcoin address and join the declared affiliate program. Even worse, everyone can be the accomplice of the Ransom32 ransomware to maximize the numbers of victimized users over the cyberworld. Ransom32 ransomware offers affiliate program service, which allows victimized users to join an established malicious affiliate online fraud and unintentionally help attackers extend the virus's outreach, and affiliates also can receive a part of ransom payments. As a results, there are increasingly online computer users can be attacked by such Ransom32 ransomware and the damage is very incredible, the monetary loss in special.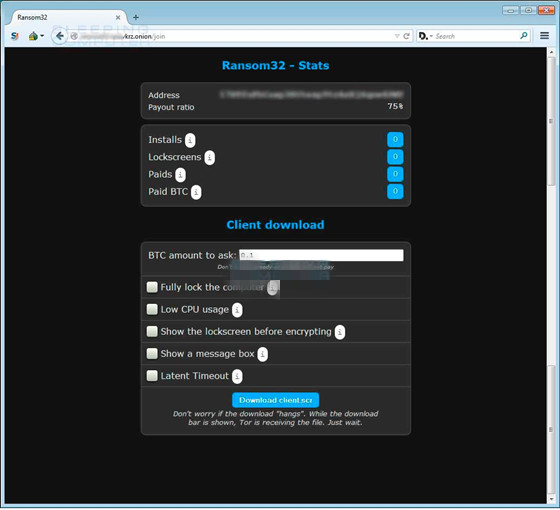 Ransom32 ransomware also is dubbed as the Ransom32 affiliate system, which performs a Ransom32 TOR affiliate service to lure those unsuspecting online computer users who need a bitcoin adress to join a RaaS service. The interface declares affiliates can share a generous ransom payment to lure more and more online computer users to be trapped. Differ from the Gomasom encryption virus –  Gomasom .Crypt Ransomware, the Ransom32 ransomware takes full use of the most popular affiliate marketing service to confuse and trick online users. Once Internet users joined the malicious affiliate program and became controlled completely, the Ransom32 ransomware could pop-up an affiliate console interface wherein victimized can see their personal distribution campaign and various settings configuration regarding on how the ransomware executable should be run. After the liking configuration of the ransomware, the Ransom32 ransomware can be downloaded and copied to users' computers and distributed easily. Besides, the Ransom32 ransomware never stops its steps to steal sensitive information from a compromised machine, log-in credentials, online transaction data, banking data, and a lot of other financial details must be at risk of steal. Furthermore, the Ransom32 ransomware also can encrypt victim's data and then display a ransom note for blackmailing money.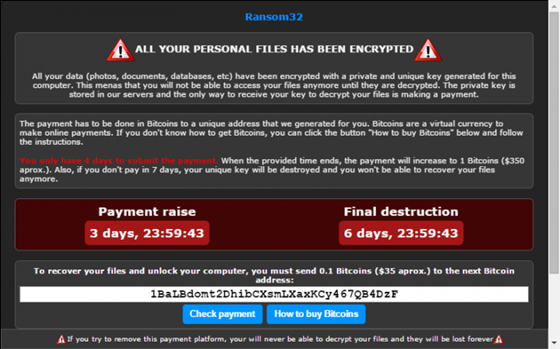 Note: The most effective way to stop Ransom32 ransomware pop-ups and reduce damage to the minimum is to remove it as quick as possible. If need professional help to get it completely fixed, you can Live Chat with VilmaTech 24/7 Online Services now.

How to Remove Ransom32 Ransomware from Infectious Computers
1: Bypass the Ransom32 Virus Locked Page
A: Safe Mode on Windows 8.
Press the Ctrl+ Alt+ Del combination key
The Switch User interface will pop-up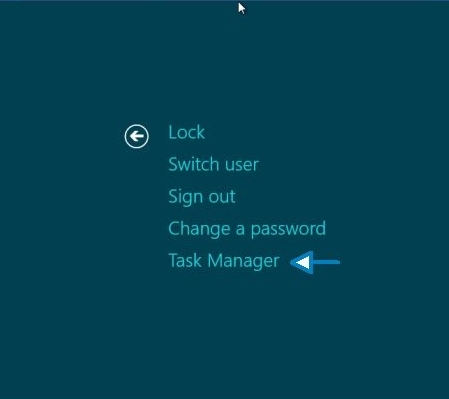 Always press the the "Shift" key, at the same time click on "Shut down" button
From the pop-up three options choose Restart option.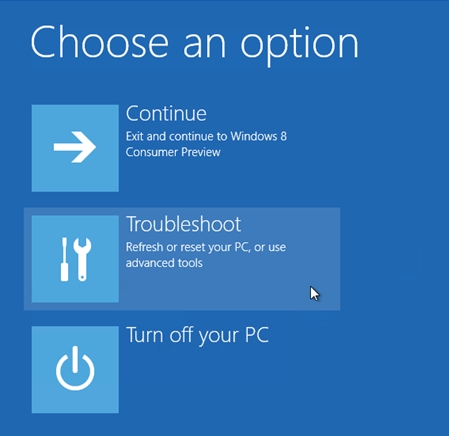 Next just need choose "Troubleshoot."
Select 'Advanced Options'
Choose the Choose 'restart,' under Startup Settings.
Press F5/5 key to choose Safe Mode with Networking.
B: Safe Mode on Other Windows Versions.
Shut down the infectious machine.
Reboot it again but before windows launches on, always press F8 key.
You then can see Windows Advanced Options.
Press up-down keys to choose Safe Mode with Networking Option.
2: End the Ransom32 ransomware Malicious Process
Reach the desktop, press Ctrl+ Esc+ Shift or Ctrl+ Alt+ Del
Locate at the Process tab on Windows Task Manager
Scroll down and choose malicious process related with Ransom32 ransomware,
Click End Process button.
3: Delete Ransom32 Virus Files
Open control panel, click Appearance and Personalization link.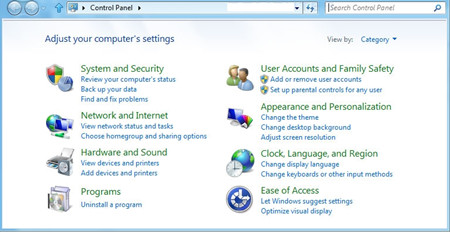 Double click on Files and Folder Option.
Reach the next page.
Choose Folder Options category.
Choose Show hidden files and folders option.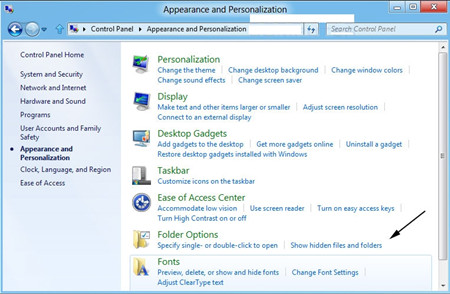 Select the "View" tab. Check "Show hidden files.
Check "Show hidden files, folders and drives."
Uncheck "Hide protected operating system files. Click Ok..
Got to local disks and delete malicious files about the Ransom32 Javascript-based ransomware.
4: Delete Ransom32 virus entries
Press Windows + R.
Type regedit in Run box and press Ok.
Reach the Registry Editor.
Find Ransom32 ransomware entries and delete them.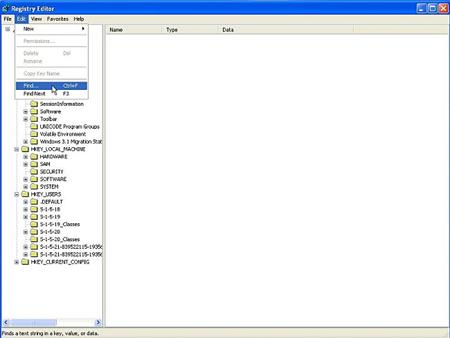 Reboot the infected system.
Still need more help to handle with the javascript-based ransomware files and registry entries? You can Live Chat with VilmaTech Online Services now.

Recover Ransom32 Ransomware System Restore (Windows 8)
1. Reboot the computer and simultaneously hold down the Shift key on the keyboard until the Windows Recovery Environment option pops-up.
2. If you are on the desktop now, you can navigate the mouse around on the Start screen to reveal settings charm. Go to general settings and click on advanced start up and restart. See the reference screenshot.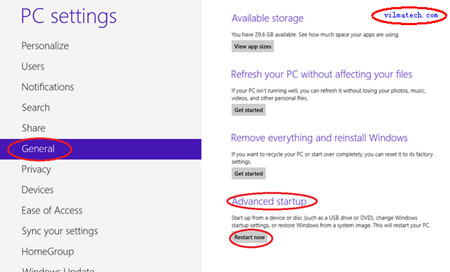 3. Next page is referred to the Choose an option. You need click on troubleshooting option there.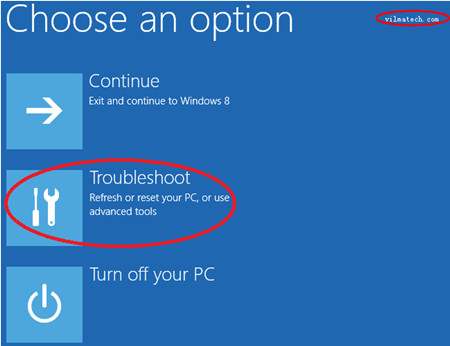 4. Go to Advanced Option from the next pop-up window.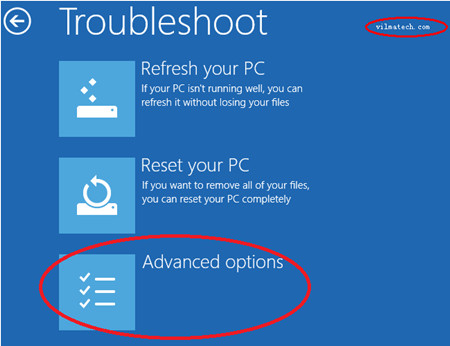 5. Click on System Restore.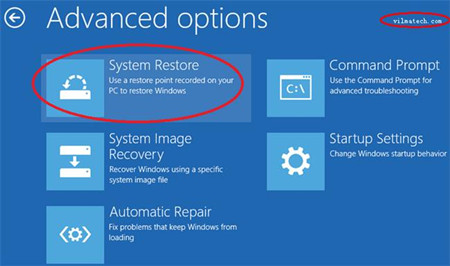 6. It will bring you to the Preparing system restore page. See as following.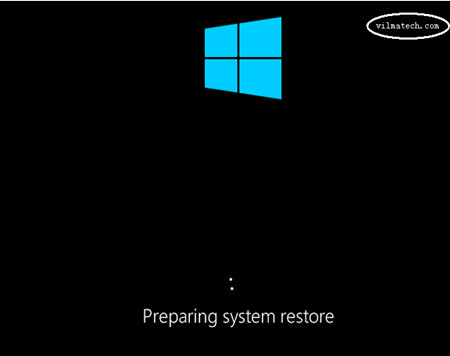 7. Next you will have to choose your user account and provide the password… (This authentication is to prevent unauthorized persons restoring your PC without your knowledge), If it is required, you need type in the demanding admin password to continue.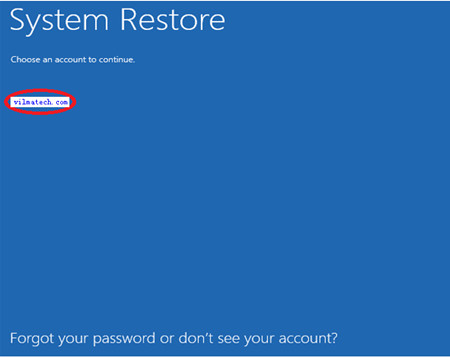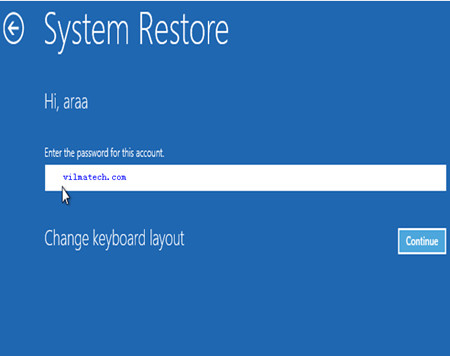 8. You then get the screen of System Restore reads Restore system files and settings.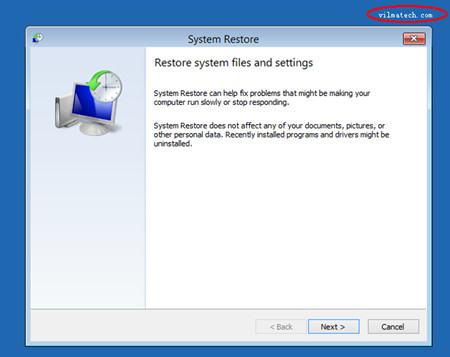 9. You need click the "Next" Button there, and click "Yes" option.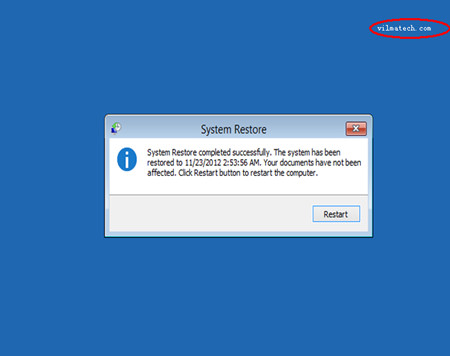 10. Now click on "Close" to get it done.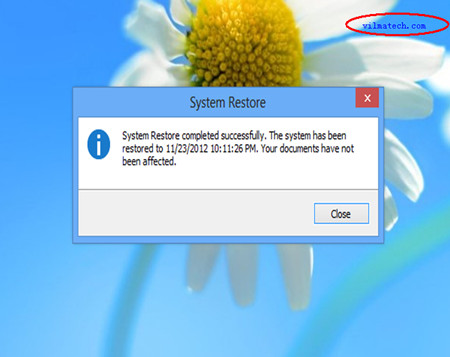 Conclusion
Ransom32 Ransomware is publicly recognized as the first Javascript ransomware coming programmed entirely in Javascript, which not merely blocks out the infectious machine but also encrypt all personal data and files for a ransom payment. When Ransom32 Ransomware completes encryption process, it would a pop-up to inform victimized users what has happened on their computers and files, how to finish a ransom payment, the ransom amount, and how the payments will be send through a bitcoin address. What enables this malicious Ransom32 Ransomware so hazardous is through Javascript and HTML, which males it much easier to create NW.js packages for Linux and Mac. This imply that the Ransom32 Ransomware also can attack linux and Mac in an easy way. Therefore, never belittle the Ransom32 Ransomware, which is a quite malicious ransomware can carry out incredible damage of any kind of system, Linux, Mac, Windows, android and more. Till now, what you have to recognize is the Ransom32 Ransomware is quite dangerous and what best you have to do is to remove it as soon as possible rather than pay a ransom. If still need further help to fix the Ransom32 Ransomware and mitigate files damage, you can live chat with VilmaTech 24/7 Online Experts