How to Remove Gomasom Ransomware, Gomasom .Crypt Ransomware Decrypted
Gomasom Ransomware Overview
The Gomasom Ransomware is GOogle MAil ranSOM for short, a new version of wild encrypted ransomware kicking off into the public realm with particularly destructive ability of blocking computers and encrypting files and executables for malicious benefit-making. In this month, the Gomasom Ransomware started to spread over the cyber world and till now a lot of computer users have been the innocent targets and suffering incredible damage carried out by the virus. Gomasom Ransomware blocked out the infectious computers and announced a email pop-up purportedly intended to guide victimized users and convince them to pay a fine. By definition, the Gomasom Ransomware is similar to the previous version of XRTN Ransomware, which is able to restrict victimized users access to their personal files and even plus all applications installed on the infectious computers. Considering recovering all encrypted files, the Gomasom Ransomware also performs a fraud tactic to trick victimized users. For example, one Internet users become attacked, the Gomasom Ransomware would encrypt all files on the infectious machine and then pop-up a solution to inform victimized users they can get their files come back, and the solution just needs victimized users pay a demanding fine for a decryption key.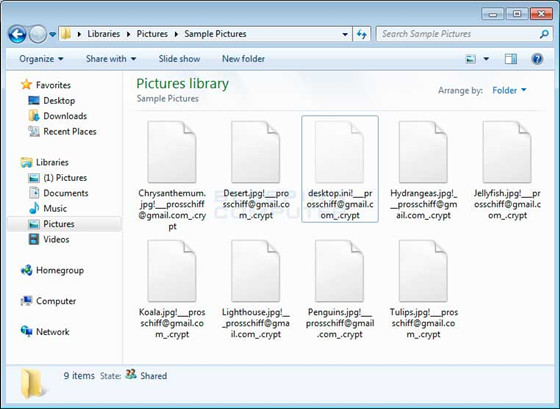 Considering the charge, most victimized users probably feel it is worthwhile as long as they can recover all their personal files and the infectious computer return to work as usual. But, once victimized users have this mind, they are probably at high risk of being tricked much money and losing sensitive information. The reason is all information reflected on the Gomasom Ransomware interface is tricked, comes carefully crafted by attackers to fool victimized users and attempt to trick money from them by this way. Although you have finished the payment for a decryption key, all your encrypted files wouldn't be recovered. The infectious computer is still attacked by Gomasom Ransomware. As you experienced, the pop-up solutions listed on the Gomasom Ransomware interface initially seems like a great chance for people recovering all their personal files, while all of which would lead to lose a lot of money and even all sensitive information stored on the infectious computer, just such as log-in credentials, online transaction data, banking data, and a lot of other financial details. Therefore, there is a truth that the Gomasom Ransomware is a well-orchestrated malware campaign aiming at blackmailing money from those unsuspecting online computer users. The predicament that Gomasom Ransomware blocking infectious computer and encrypting all personal files won't be fixed just as the tricky guideline.
It is highly recommended of you removing Gomasom Ransomware firstly and completely, If need professional help to fix the virus you can Live Chat with VilmaTech 24/7 Online Services now.

How to Remove Gomasom Ransomware And Mitigate Files Damage
Unlock Gomasom Ransomware Interface
1. To reach the desktops and bypass the Gomasom Ransomware pop-up warnings, the infectious machine should be booted into safe mode with networking.
Press the Ctrl+ Alt+ Del combination key
The Switch User interface will pop-up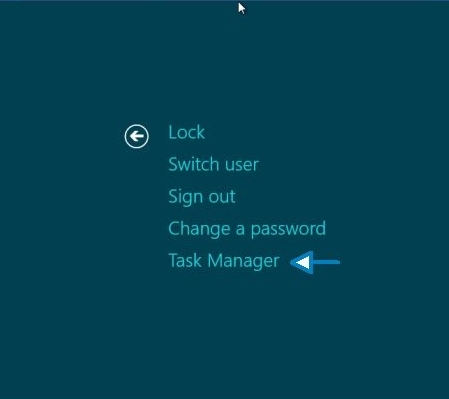 Always press the "Shift" key, at the same time click on "Shut down" button
From the pop-up three options choose Restart option.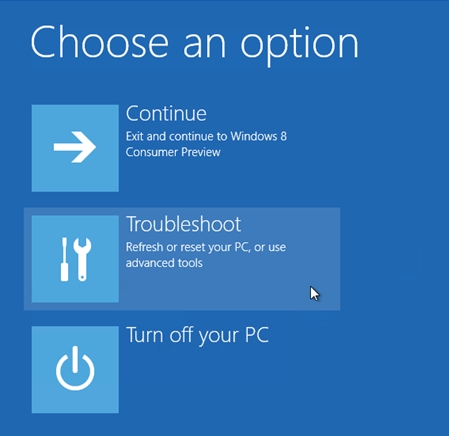 Next just need choose "Troubleshoot."
Select 'Advanced Options'
Choose the Choose 'restart,' under Startup Settings.
Press F5/5 key to choose Safe Mode with Networking.
For other versions of Windows operating systems, such as Windows 7, or Windows Vista, you can follow the below guides.
Shut down the infected computer.
Once done, reboot it again but before windows launches on, always press F8 key.
You then can see Windows Advanced Options.
Press up-down keys to choose Safe Mode with Networking Option.
End the Gomasom Ransomware Malicious Process
Reach the desktop, press Ctrl+ Esc+ Shift or Ctrl+ Alt+ Del
Locate at the Process tab on Windows Task Manager
Scroll down and choose malicious process related with Gomasom Ransomware,
Click End Process button.
Delete Gomasom Ransomware Files
Open control panel, click Appearance and Personalization link.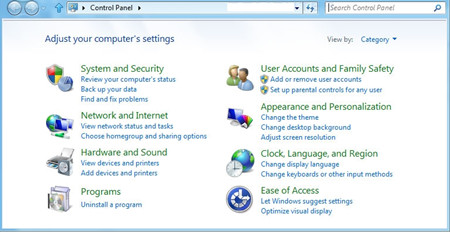 Double click on Files and Folder Option.
Reach the next page.
Choose Folder Options category.
Choose Show hidden files and folders option.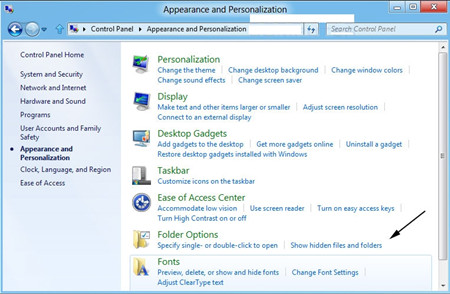 Select the "View" tab. Check "Show hidden files, folders and drives."
Uncheck "Hide protected operating system files. Click Ok..
Got to local disks and delete malicious files about the Gomasom Ransomware.
Delete virus entries
Press Windows + R.
Type regedit in Run box and press Ok.
Reach the Registry Editor.
Search Gomasom Ransomware entries and delete them.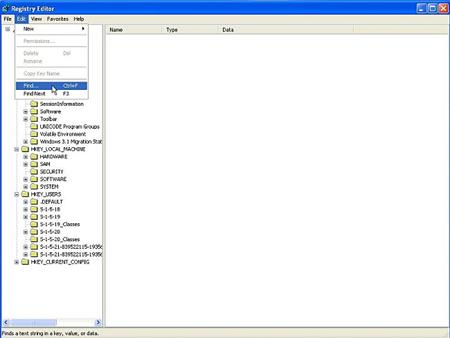 Reboot the infected system.
Still need more helps to handle with the Gomasom Ransomware files and registry entries? You can Live Chat with VilmaTech Online Experts now.

Remove Gomasom Ransomware with System Restore (Windows 8)
1. Reboot the computer and simultaneously hold down the Shift key on the keyboard until the Windows Recovery Environment option pops-up.
2. If you are on the desktop now, you can navigate the mouse around on the Start screen to reveal settings charm. Go to general settings and click on advanced start up and restart. See the reference screenshot.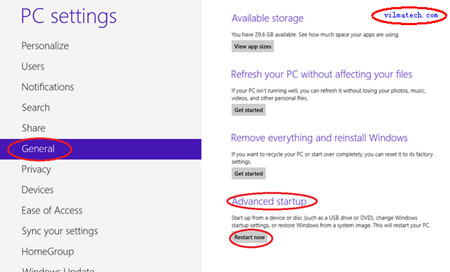 3. Next page is referred to the Choose an option. You need click on troubleshooting option there.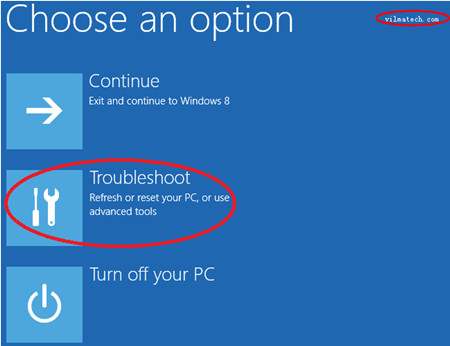 4. Go to Advanced Option from the next pop-up window.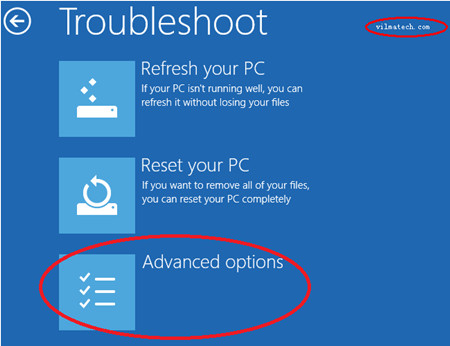 5. Click on System Restore.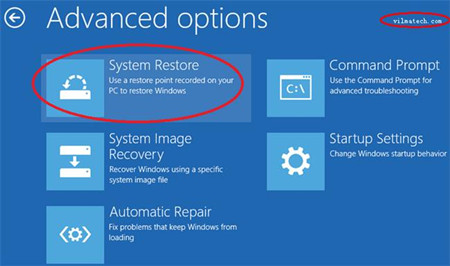 6. It will bring you to the Preparing system restore page. See as following.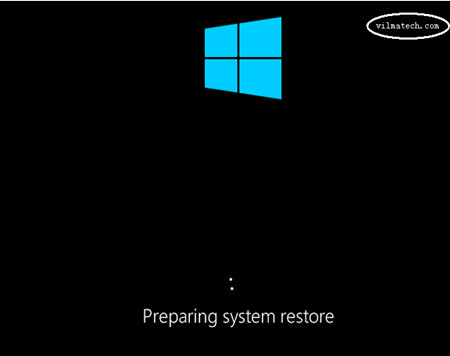 7. Next you will have to choose your user account and provide the password… (This authentication is to prevent unauthorized persons restoring your pc without your knowledge), If it is required, you need type in the demanding admin password to continue.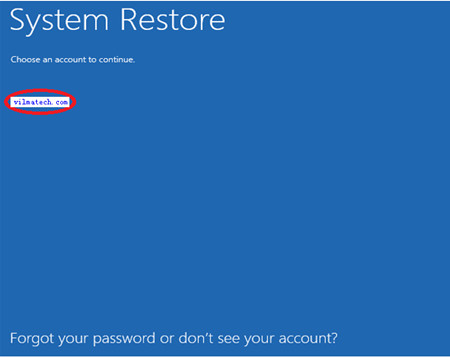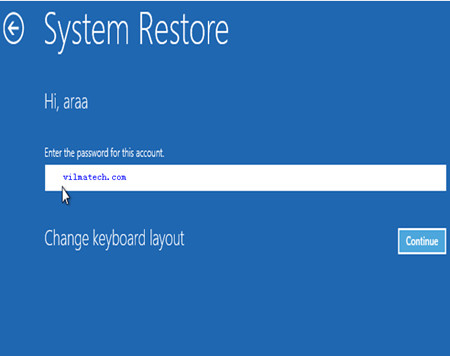 8. You then get the screen of System Restore reads Restore system files and settings.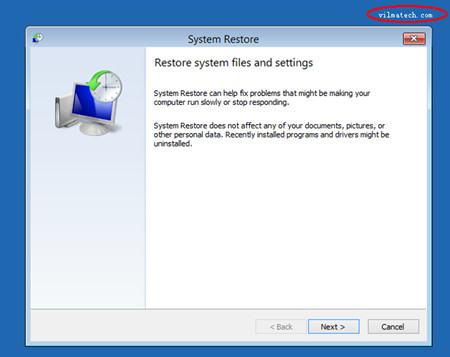 9. You need click the "Next" Button there, and click "Yes" option.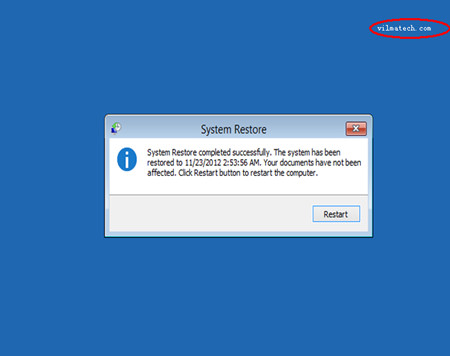 10. Now click on "Close" to get it done.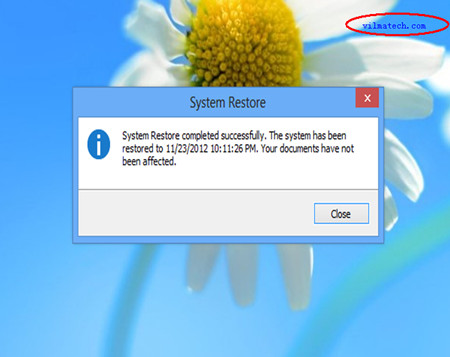 11. Refer to the video as below to create a restore point. The restore point must be the date before Gomasom Ransomware attacking your computer.
Conclusion
Gomasom Ransomware is a newly distributed encrypted virus by attackers, which takes advantage of Gmail address to complete its fraud of much money from those innocent computer users. Once computer users become attacked, all files stored on the infectious computer could be encrypted with the file extension .crypt and they would be the targets who are expected to email the address listed in the encrypted file name to get fine payment guideline. If done as the instruction reflected on the Gomasom Ransomware pop-ups, victimized users would have to lose a lot of money. And the final beneficiaries are those cunning attackers. If you are one of those victims, what best you have to do is to fix the Gomasom Ransomware immediately rather than attempt to pay a ransom to attackers. For the authors of the Gomasom Ransomware never have the conscience, they won't help you recover all files just considering they have received the payment. Therefore, don't be taken in. The only and effective way is to fix the Gomasom Ransomware completely to mitigate system and files damage. If you still need further help to fix the malicious ransomware, you can live chat with VilmaTech 24/7 Online Experts