Remove Govome.inapsearch.com, Browser Hijacker Removal Guide
Many computer users are confused about why it redirects to Govome.inapsearch.com when they open a new tab or homepage. Actually, their browser and homepage are hijacked by a malicious browser hijacker Govome.inapsearch.com which changes your browser settings without permission. Once a Windows platform computer was infected with this malware, it would soon be installed automatically in system aimed at the target browsers like Internet Explorer, Mozilla Firefox and Google Chrome. And then it would change the default setting of user's browser and when you tried to open a desirable page it appeared another website. What's more irritated was that it also popped up unwanted advertisements in quantities. In addition to that, it would alter the default search engine, add unwanted websites as well as add-ons and give users the wrong connections when they clicked on the links.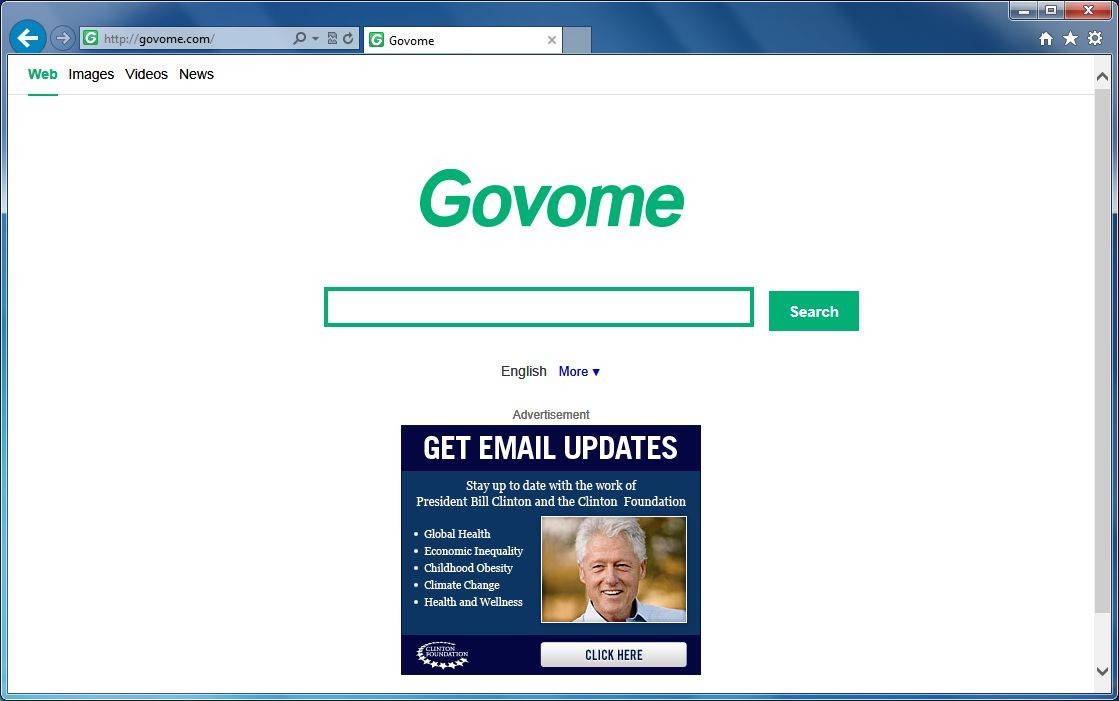 Even though victims suffered from its constant interruption with ads and intentional redirection, it did more harm to computers. As a matter of fact that Govome.inapsearch.com makes a profit via spamming users to click on its advertisements and the fake websites published by commercials. However, it is not helpful to get the untrustworthy information on it and risky to be threatened by cybercrime. Users may be infected with virus, Trojans, worms, spyware and phishing programs hidden behind the malvertising. Peep at your shopping history and searching queries, Govome.inapsearch.com probably controls your shopping activities and pops up the related ads according to your information. The unwanted pop-ups and the turning to unknown-sources websites open the door to hackers in deed. Not only those, the continuous ads occupy your net flow and slow down the opening speed of a web. Besides, the PC performance is dragged down so that causes a series system problem such as poor running speed, windows freeze and system errors.
Users usually infected with this browser hijacker by installing it themselves without carefully reading the installation terms, for it is often tied up with freeware and shareware, also in adware and junk mails. So, it is advisable to consider attentively when click on the download and install button of a file. In view of so many victims of the browser hijacker Govome.inapsearch.com, it must be eliminated from computers immediately. Some of security programs can detect but remove it completely, so victims need to erase it manually. We will show you the manual instruction below, you can follow step by step.
Tips: If you have any questions about this browser hijacker and its removal, please click on this button to consult with VilmaTech Online Experts .

Manually Remove Govome.inapsearch.com Virus
Step one: remove Govome.inapsearch.com from browser
For Firefox users:
Click on the Tools menu of Firefox to select "Add-on" option. Click Extensions tab, find out Govome.inapsearch.com and choose Remove.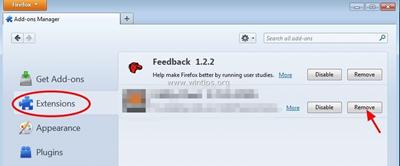 For Chrome users:
Click on Google Chrome icon to select Setting. Hit Manage Search Engine on the right pane if default homepage is modified. When done, click on Extension option and then remove Govome.inapsearch.com in the Recycle Bin.

For IE users:
Open Tools menu and choose Manage Add-ons option. Find and select Govome.inapsearch.com in Toolbars and Extensions and Search Providers respectively. Click Disable/Remove button to uninstall Govome.inapsearch.com.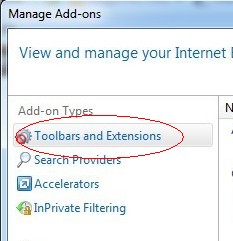 Step two: remove Govome.inapsearch.com from computer
For win 7/vista/xp:
1.    Open Start menu, go to Control Panel, and find out Uninstall a Program/ under Programs icon, double click it.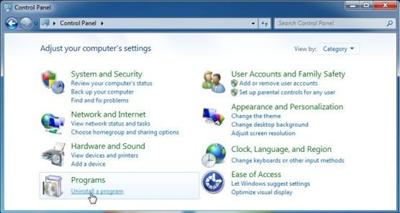 2.    Scroll down and select on Govome.inapsearch.com in the Uninstall a program list, Click Uninstall/Change button.
3.    Follow the uninstall wizard to finish removal process.
For win 8:
1.    Click Apps button in Start screen to display the Apps view, there is a search field on the top right corner.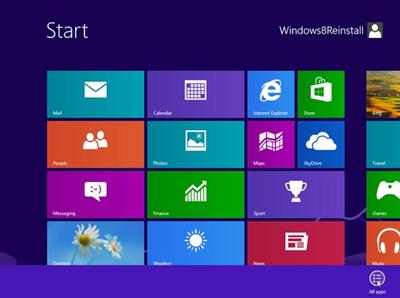 2.     Type Control Panel in the blank and then click it when it appears on the left. (Or you can press Windows + X key on the Start screen, click Control Panel when a list appears on the left bottom corner)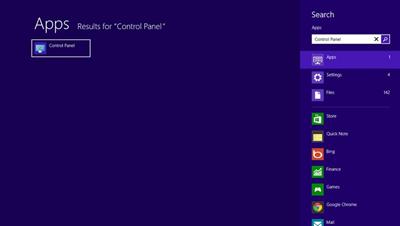 3.    Click Uninstall a program and select Govome.inapsearch.com under the program list. Click Uninstall button on the right side.
Tips: If you have any problem or question during the whole removal process, please contact VilmaTech Support agents 24/7 online for more detailed instructions.

Step three: reset the browser
For Mozilla Firefox:
1.    Click on Mozilla Firefox button, select Help tab Troubleshooting information option.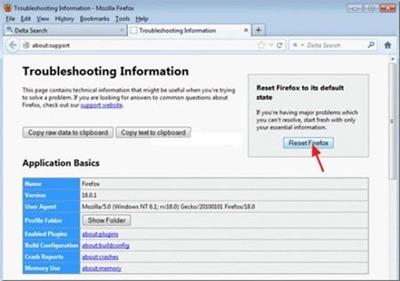 2.    Click Reset Firefox button in the right top side in the following page.
3.    Choose Reset Firefox button in the pop-up window.
4.    Select Finish.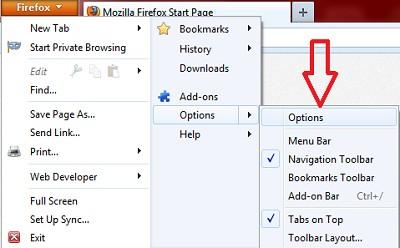 5.    Click on Firefox button again, choose Options.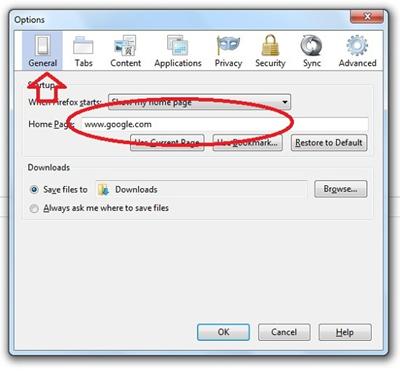 6.    Select General icon and add a new homepage in the blank.
7.    Click Ok.
For Google Chrome:
1.    Click on the wrench icon of Chrome and choose Settings in the menu.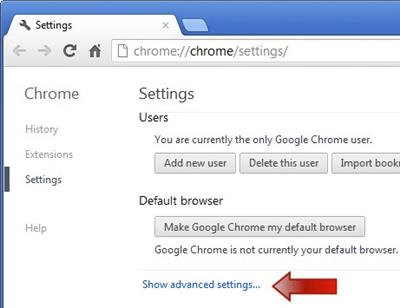 2.    Click Show advanced settings.
3.    Hit Set pages in On startup and press "X" to remove Govome.inapsearch.com.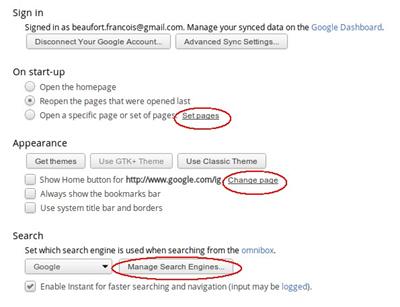 4.    Hit Change in Appearance, check Show Home Button and add a new homepage address.
5.    Hit Managed search engine in Search and set a search engine you want and remove other suspicious search engine.
6.    Restart Google Chrome.
For Internet Explorer:
1.    Click on wrench icon or Tools tab and select Internet options.
2.    Click on General tab and add a new homepage address in the blank.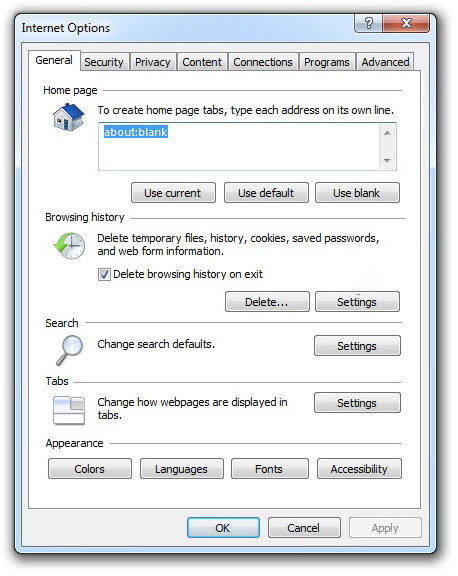 3.    Click Apply button then OK button.
Conclusion
As Govome.inapsearch.com is recognized as dangerous browser hijacker, it is necessary to remove it timely to protect your computer. In order to remove completely, victims should eliminate all the infected files manually and improve the browser settings to an advanced level instead of relying on the security programs only. Otherwise, to change the false habit of clicking randomly on a connection or downloading an unknown file is a better way to avoid attacking by malware. Nevertheless, Govome.inapsearch.com is a cyber threat that can be prevented and removed by manual method so victims don't need to be panic when infected.
If you still have trouble in removing Govome.inapsearch.com or other malware, please feel free to chat with professional and experienced VilmaTech 24/7 Online Experts , they will be glad to help you.