PC Clean Maestro, Is It A Normal Program? [How to Uninstall]
No matter you like it or not, your PC often stores unwanted "junk" files and traces of your personal information including passwords, credit card information, and email / chat communications so that the machine could speed up displaying the same content when you visit again. This, genuinely speaking, occurs without your knowledge. As a result your PC runs slower and exposes you and your family to identity and security theft should there be any virus attack.
PC Clean Maestro presents as a computer helpful program to help clean up junk files and fix registry errors for a better PC performance. You think it is a savior when it detects thousands of problems? That could be so wrong. You'll soon find out that PC Clean Maestro ask for purchase for such fix. The detected number is just to intimidate PC users into purchasing the application at a price of $49.95.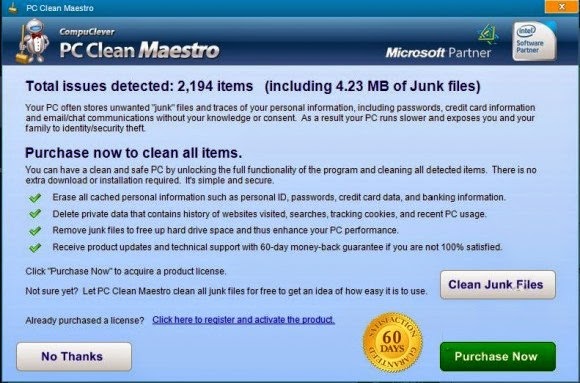 What Is PC Clean Maestro?
PC Clean Maestro has been put by security companies in to the same category as Windows Web Shield while there are downloads of this application on some reputable download sites like CNET.net. Remember MyPC Backup? PC Clean Maestro resembles it. PC Clean Maestro might not be a rogueware as many believe, yet it is an application that rushes to earn money for its maker by:
bundling with third-party program for wide spread and automatic installation.
showing horrible numbers to make targeted PC users purchase the application.
sticking to computers so that PC Clean Maestro gets a chance to step up the deal.
All these can be quite annoying during the operation.

Is PC Clean Maestro Good?
Not like rogueware, PC Clean Maestro will do its work after the purchase. Yet some problems should raise your attention. PC Clean Maestro installs itself automatically most of the time through third-party program. To return the favor, this application will download them, which is why some PC users would start to see ads or additional programs.
What's worse, according to CNET.com, the total downloads of this application can be up to 443, which undoubtedly occupies the internal resource to slow down the PC performance, especially of the old computers, no matter how hard PC Clean Maestro tries to clean up junks. It should be widely informed that extremely consumed CPU would hinder the full play by background processes and some critical services. Consequently, the machine will be made susceptible to infections.
What's more, people should be noted that any sticky program that automatically installs adds its scheduled task to Windows Task Scheduler in order to launch the program at various scheduled times (the schedule varies depending on the version). Such random modifications in DataBase by third-party program could impose adverse influence on the compactness of the system configuration.
To solve the aftermath, here are some options given by VilmaTech Online Support:
Uninstall the dropped down programs thoroughly one by one upon detection.
Enlarge your memory if you want to keep PC Clean Maestro.
Enhance the security defense on your computer.
Simply uninstall PC Clean Maestro.
If the last resort is to uninstall it, please follow the below manual way since anti-virus program won't deal with non-virus items. Any help request will be gladly answered if you start a live chat window here.

Manual Way to Show How to Uninstall/ Remove PC Clean Maestro
Step one – exit PC Clean Maestro if it is running in the background; otherwise the following steps will lead to nowhere but failure.
Locate PC Clean Maestro's icon on the Taskbar.
Right click on its icon and select "Exit".
PC Clean Maestro would stop its operation and its uninstall can be carried on smoothly.


Step two – remove PC Clean Maestro's values and keys in DataBase.
Use Win+R key combination to get Run box.
Put in "regedit" and hit Enter key will bring you Database window.
Navigate to the following entries and remove anything related to PC Clean Maestro (locate the words like "pccum" and "CompuClever"):
HKEY_CLASSES_ROOT\Windows driver
HKEY_CURRENT_USER\Software
HKEY_LOCAL_MACHINE\SOFTWARE
HKEY_CURRENT_CONFIG\Software
HKEY_LOCAL_MACHINE\SOFTWARE\Microsoft\Windows\Current
HKEY_CURRENT_USER\Software\Microsoft\Windows\CurrentVersion Version


Step three – end PC Clean Maestro's startup item to stop its automatic running.
Windows 7/XP/Vista
Activate Run box and put in 'MSCONFIG'.
Hit Enter key and tap Startup tab on the pop-up window.
Locate PC Clean Maestro/the related words.
Press 'Disable all' to remove its startup items.


Windows 8
Use Ctrl+Shift+Esc key combination to access Task Manager.
Navigate to Startup tab and locate PC Clean Maestro/the related words.
Press 'Disable' button to remove its startup items.



Step four – uninstall PC Clean Maestro from Control Panel.
Windows 7/Vista/XP
Click on Start menu to access Control Panel.
Enter into "Add/Remove Programs" and uninstall PC Clean Maestro.

Windows 8
Hit on "Unpin" button at the bottom-left corner of Start Screen.

Access 'Control Panel' to select "Programs and Features" and uninstall PC Clean Maestro.


Step five – remove PC Clean Maestro's installation package.
Remove PC Clean Maestro's installation package under:
C:\Program Files\
C:\Users\[your username]\Documents\
C:\Users\AppData\LocalLow\
Tips for PC Clean Maestro Uninstall
On some computers with weak security protection, uninstalling PC Clean Maestro will not make it disappeared. More steps to be done so that no redundant items will be left to take up limited space. The above thread is meant to instruct PC users to find out the related items specific to your OS installed rather than showing the exact items detected on certain computer. The latter could lead to failure as the OS and BIOS system could be various and thus the situation can vary accordingly.  Therefore, certain level of computer skills and knowledge should be available. Should you have trouble of tracking down the related items, just start a live chat to get technicians from VilmaTech Online Support for a complete removal according to your concrete situation.

Defragment Does You Favor
You don't know how where to remove the installation package of the dropped down programs  by PC Clean Maestro or you just don't want to waste energy in locating and removing the scattered files and fragments? Simply do a defragment and you'll be beneficial. Here's the video to show how.