Kernel32.dll Errors – How to Fix Kernel32.dll Problems (DLL Errors)
What is Kernel32.dll?
Kernel32.dll is a shared 32-bit dynamic link library (DLL) file existing in Microsoft Windows operating system kernel. It can be used by multiple processes while only one copy is loaded into memory. Kernel32.dl handles memory management, input/output operations, and interrupts. When Windows boots up, Kernel32.dll file is loaded into a protected memory space in order to limit other applications to occupy space. Served as a core process in central module, Kernel32.dll allows executable programs (EXE) to communicate with a specific device so that to do particular functions. Errors related to Kernel32.dll file can be provoked by a certain program or application, and sometimes can be caused by multiple files and applications. PC users may encounter "invalid page fault" error caused by Kernel32.dll when a program or application attempts to enter into protected memory space.
An Example of Kernel32.dll error in Skype:

Important Note: The following instruction refers to parts of computer system. If you have not sufficient expertise on doing that, you may face risk of damaging the computer. In this circumstance, you can ask help from VilmaTech 24/7 Online Computer Experts to manually fix the problems for you.

Cause of Kernel32.dll Errors
Missing or corrupted Kernel32.dll. A missing or corrupted Kernel32.dll may disable the normal operation of program and application directly. Such as the popular Fatal Kernel32.dl error in Skype: "Failed to get proc address for GetLogicalProcessorInformation (KERNEL32.dll) ".
Invalid or corrupted registry files. Windows registry is kernel database used to store hardware, software settings and options of Microsoft Windows operating system. An important invalid or corrupted registry file can lead to numerous system errors, including Kernel32.dll error.
Outdated Kernel32.dll file. The system files should be updated to the latest ones regularly so that to keep its normal operation. A outdate Kernel32.dll file can cause random errors as well.
Infected Windows files by virus or spyware. Virus or spyware is a primary factor that may generate Kernel32.dll error through infecting vital Windows files.
How to Fix Kernel32.dll Errors
1: Reboot your computer first.
Generally, some PC problems or errors can resume themselves after PC reboot. Thus, you can choose to reboot PC first once being noticed of Kernel32.dll error. If it does not work, you can attempt the rest methods to fix the error.
2: Corrupted Kernel32.dll file.
The corrupted Kernel32.dll can cause various system errors. To deal with such problem, you can simply replace Kernel32.dll file by DOS (Disk Operating System), which can help you to manage and control the Hardware and the Software resources of PC. In addition, if the Kernel32.dll error results from running an application such as Skype. You could download and install a new version of application to replace the previous one first. If still failed, you can try the following instruction.
Caution: If you haven't sufficient PC expertise to handle such problems. It is strongly recommended for you to contact VilmaTech Computer Experts for real-time help. Otherwise, Any inaccurate operation in system may result in data loss or even system crash.

a: Copy a DOS file from other computer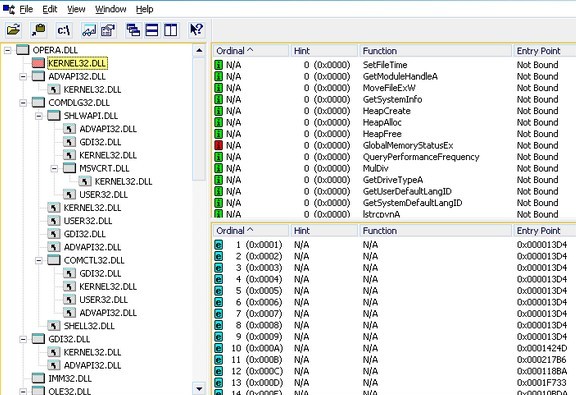 b: Then click Start, and go to My Computer.
c: Find c:\windows\system32, and then install the DOS file in it.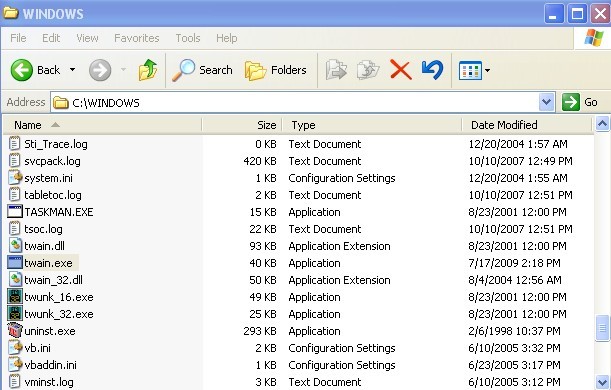 d: when it works, type regsvr32 dernel32.dll.
e: After that, press Enter
f: Register the module it required, when it has done, press OK.
3: Missing Kernel32.dll.
It is certain that a missing Kernel32.dll file may lead to errors. If you cannot find Kernel32.dll on your PC, or the system pop ups the alert which states the missing Kernel32.dll. You may fix the error with the help of windows installation CD.
a: Put the windows installation CD into your computer.
b: Go to Command Mark, type cd system32, and press Enter.


c: Then type ren kernel32.dll kernel32.old, and press Enter.


d: Type map, and then press Enter
e: Again, when it has done, type expand f:\i386\ kernel32.dll, and press Enter.
f: Type exit, and when your PC restart, take the windows installation CD out.
4. Kernel32.dll errors caused by virus or spyware.
As we have mentioned before, Kernel32.dll errors could be caused by virus and spyware infection. In reality, it is difficult to estimate the detailed numbers of virus and spyware. However, for the purpose of damaging target machine, viruses are generally endowed with similar properties which could replicate their malicious codes and registry files constantly when executed on PC. And then, the viruses could spread and insert their numerous values and registry files into system at an unimaginable speed. Typically, kernel Windows file would be an important target by nasty virus. In this case, the affected Windows files would cause various system errors, including Kernel32.dll error.
To fix those errors caused by virus infection, PC users could attempt to utilize their installed antivirus programs. Nonetheless, there is not a perfect antivirus application which has the ability to handle all kinds of viruses, especially for those are strengthen with progressive and stubborn features. Feel frustrated about the errors and viruses? No worries, almighty manual removal can always help you out of trouble. You may know few knowledge about the specific virus on your PC and not familiar with the operation of removing virus as well as fixing the system errors. In this case, you may contact VilmaTech 24/7 Online Experts to help you resolve all the problems promptly and properly.

The Related System Errors You May Be Interested In
AAWService.exe – How to Fix AAWService.exe Error?
Svchost.exe – How to Fix Svchost.exe Problem