Interpol Virus Scam, Remove Interpol Department of Cybercrime Android Virus
Overview of Interpol Virus Scam
The Interpol virus (aka. Interpol Department of Cybercrime Android virus) is another destructive Ukash ransomware created by cyber criminals, which restricts access to the affected PC/Android phone and demands a ransom paid to a bogus notification in the name of legitimate Interpol Department organization. The Interpol Android scam mainly attacks the PC/Android users from European and North American countries. Upon its installation on a target machine, a misleading message will cover the computer or Android screen voluntarily , which stats that your computer or Android device has been locked due to it being involved with violating Copyright and Related Rights Law (Video, Music, Software) and illegally using or distributing copyrighted content. What's more, according to your impertinent behaviors, a demanded fine of 100 euros or 100 pounds is required to release your locked PC as well as Android device. You may pay fine through Ukash or Paysafecard within 72 hours after the infringement, or worse punishment would happen to you. However, no matter how many items the alert emphasize, the Android threat has nothing to do with the lawful Interpol government and is only a fake notification utilized to coax victims to pay non-existent fine on it.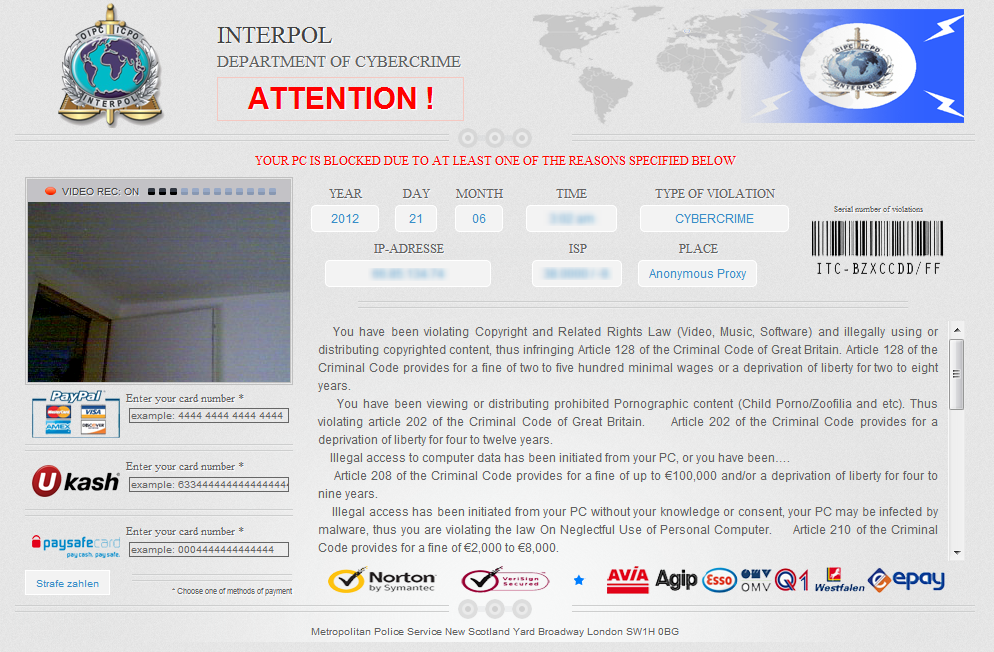 Tricky as Interpol virus is, it can be lurked and activated into a PC through various methods. For more details, PC users may get Interpol virus via opening the unknown Email and click the strange links attached in it, downloading free applications and movies from Internet, visiting suspicious websites which may contain commercial ads, pornographic items or 3D online games. As soon as the Interpol Department of Cybercrime virus installs its components successfully on PC, it will start to replicate its malicious codes and registry files in order to mess up system settings. Commonly, the boot sector would be altered by Interpol scam so that the Interpol virus could run automatically whenever system starts. Moreover, the Interpol virus has the capability to slow down the performance of system via taking up large amounts of system resource. This includes starting up, shutting down, playing games, and surfing the web. Even though there have no programs running on your PC, the ususage of CPU may reach 100% point.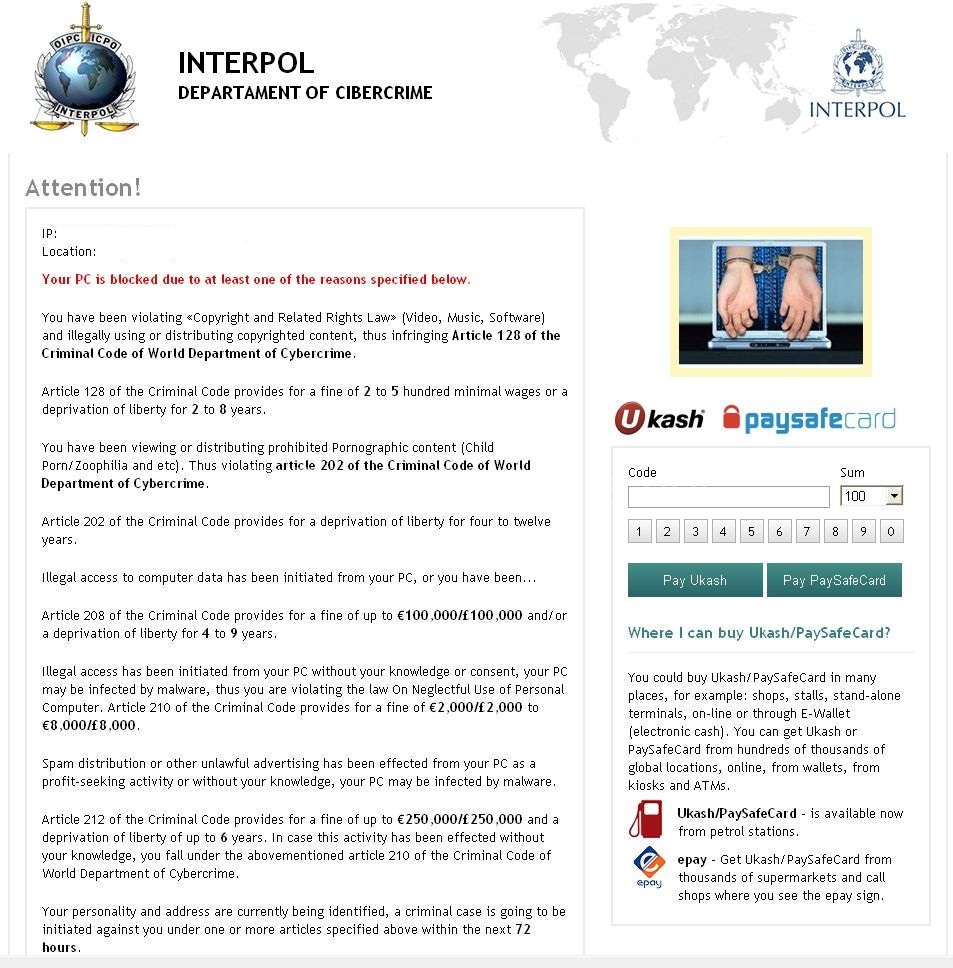 Having the similar features like the infamous National Security Agency virus and FBI porn scam (click here to view the post), the Interpol Department of Cybercrime virus is capable of downloading and installing additional threats which may contain Trojans, worms, browser hijack viruses on PC without awareness. Thus, it is indispensable to remove Interpol virus timely to end up potential threats. In addition, delaying removing Interpol virus, it may open a backdoor for remote hackers which can be used to conduct distributed denial of service (DDoS) attacks. Hence, more ports of affected system would be opened to third party. Remote hackers would even be able to access compromised machine freely and attack your confidential personal data. An effective removal is required to remove Interpol virus completely for the purpose of keep system and privacy safe.
Tips: The following instruction requires computer expertise. Any mistake will lead to data loss and even computer crash. If you need help for removing Interpol virus safely, you may consider to start a live chat with VilmaTech Computer Experts now.

How Interpol Virus Enters Into Your System
The Interpol virus, as well as other dangerous ransom virus, is often bundled with malicious files or drivers from an unreliable website, shareware or other downloadable software. PC users may get infected with Interpol Department of Cybercrime virus through opening unknown attachments such as ZIP files or links in Email which may contain the activation code of Interpol virus, clicking on deceptive pop-up ads that may appear as regular Windows notifications with links. In some cases, it is likely to get Interpol virus when PC users open some legitimate websites which have been attacked by Interpol virus already. Therefore, to avoid Interpol virus infection and other potential threats, we need to keep cautious when we are surfing online and utilizing unknown Internet resource.
How to Detect Interpol Virus Scam
The Interpol Department of Cybercrime virus is a typical ransom virus which utilizes the advanced screen locker techniques attacking target machine. By displaying misleading alert on screen, the Interpol virus always aims to threaten PC users to believe that they have committed a cybercrime by distributing spam, illegally downloading copyrighted material or pornographic content. Therefore, to unlock your PC and avoid jail, you will be demanded of a certain fine about 100 euros or 100 pounds. However, the alert of Interpol Department of Cybercrime virus is only a bogus notification which created by cyber crooks who attempt to gain from victims. Though you pay the non-existent fee through it, the nasty Interpol virus won't go away from your PC instead. For worse results, the Interpol virus will not only damage your system but also your sensitive data without prompt removal.
Most commonly, it will be impossible for the PC users to start any legitimate application once being attacked by Interpol virus. No matter how many times you reboot your affected PC, the Interpol virus would take over your computer's desktop as well as other programs forcibly. In this case, victims will not be able to unlock their PCs in regular way. Because the Interpol virus is not likely to be detected and removed through a convenient antivirus program, Interpol virus manual removal is strongly recommended for innocent victims. In this case, you will be able to remove all its processes, DLL files and registry files to end up harmful symptoms.
Tips: Manual removal refers to key parts of computer system. Any error step may lead to system crash. If you are not familiar with the operation, you may contact VilmaTech 24/7 Online Experts here for real-time help.

Best Way to Remove Interpol Virus (Manual Removal)
As we have mentioned before, the Interpol virus has the ability to disable the operation of antivirus applications as well as other programs. Though you may fail to remove Interpol virus with the help of antivirus, you could attempt the mighty manual removal so that to erase all its components on PC for good.
1.    Safe Mode with Networking
In some cases, PC users cannot log into attacked machine in regular mode. Thus, it would be more difficult to deal with the Interpol virus in normal mode. You can choose to start your PC into Safe Mode with Networking first in order to operate the removal smoothly.
If you are using Windows 7, Vista & XP:
Reboot the PC and keep pressing F8 key on the keyboard before Windows launches. Hit the arrow keys to choose "Safe Mode with Networking" option, and then tap Enter key to enter Safe Mode with Networking.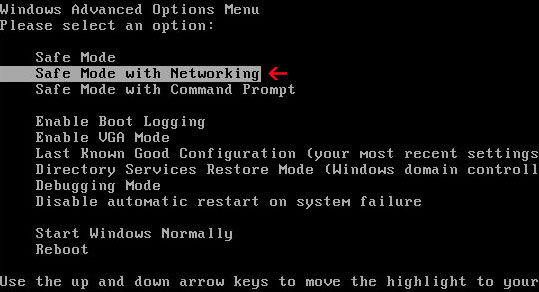 Additional tips:
Sometimes, the F8 key may not help you to log in Safe Mode with Networking successfully. Thus, you can use System Configuration Utility option in Windows to get into Safe Mode with Networking. Here are the detailed steps:
System Configuration Utility in Windows XP
1. Open the Start menu on your desktop and click Run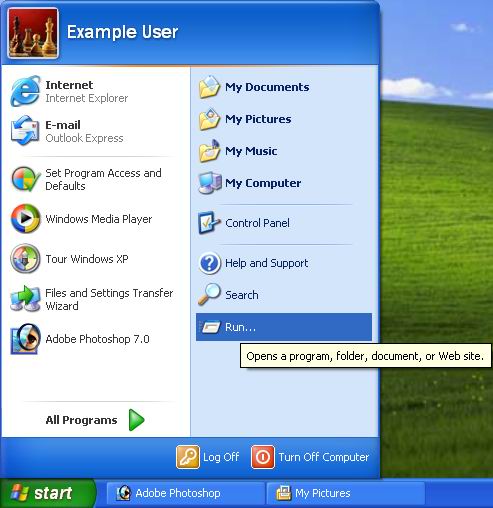 2. Type msconfig in the search box and press OK.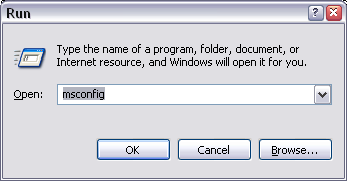 3. Select the BOOT.INI tab.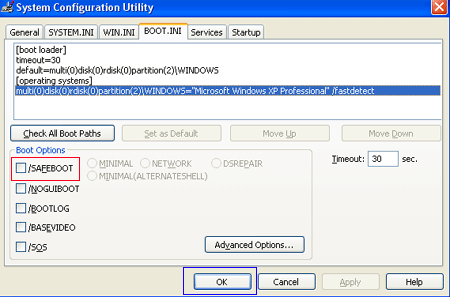 4. And then put a check by the entry/ SAFEBOOT and click the radio button MINIMAL
5. Choose Apply and Ok.
6. Restart the computer to open in safe mode.
Note: When you need regular mode back, please run msconfig again and remove the check by / SAFEBOOT. If you get stuck with the steps, you can find help from VilmaTech PC support online.

System Configuration Utility in Windows 7/Vista
1. Open the Start menu.
2. Run Start Search in Vista or Search Programs and Files in Windows 7.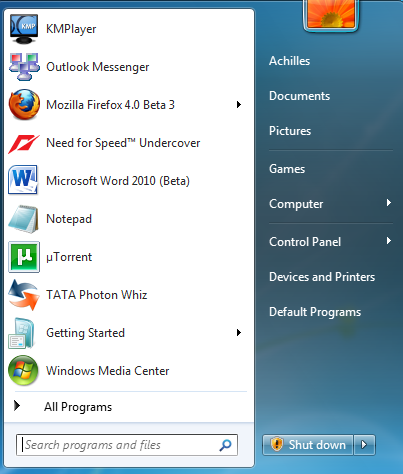 3. Press msconfig or msconfig.exe in the box and select the Boot tab.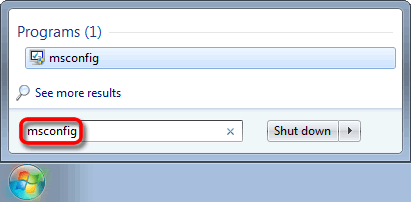 4. Check Safe Boot in the Boot options and click the radio button Minimal as well.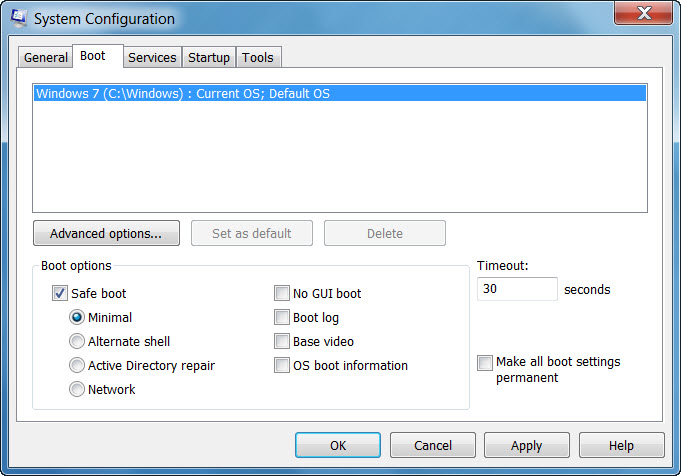 5. When it is done, click Ok and restart the computer to open in safe mode.
Note: When you are done with safe mode, you will need to go back msconfig and remove the check by Safe boot. Or else whenever you boot your PC, it will open in safe mode. Having problems while operating the steps? Then you may start a live chat with VilmaTech online experts for help.

If you are using Windows 8:
a: Start and login the infected computer until you see the desktop. Press the Ctrl+ Alt+ Del combination key, the Switch User interface will pop-up.

b: Always hold down the "Shift" key on the keyboard and at the same tine click on "Shut down" button once on the bottom right corner of the page.
c: You will get three options there: Sleep, Shut down and Restart. Click on Restart option.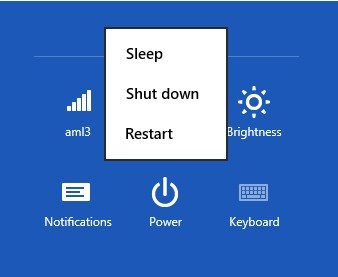 d: The next window says 'Choose an Option' screen," then you need select "Troubleshoot."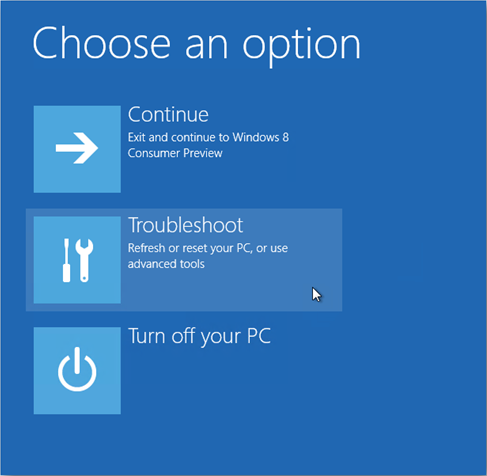 e: On the troubleshoot page click on 'Advanced Options'. In the following window choose Startup settings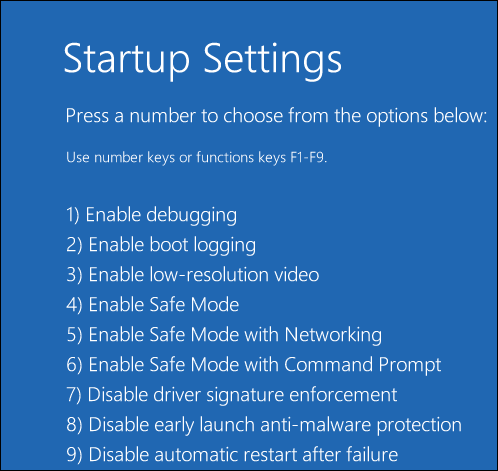 f: Choose 'restart,' and then wait for a minute. Windows will automatically display Safe mode options. At last press F5/5 key to highlight Safe Mode with networking option, hit enter key as well. Later after that, Windows 8 Operating system will be booted up with safe mode with networking.
2.    When you are able to log in system, show the hidden files of Interpol virus:
a. Open Folder Options: clicking the Start button> Control Panel> Appearance and Personalization, and then clicking Folder Options.   After that, click the View tab.
b. Under Advanced settings, click Show hidden files and folders, uncheck Hide protected operating system files (Recommended) and then click OK.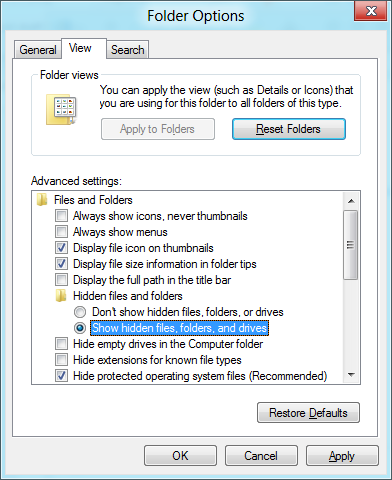 3.    Search for all related registry entries infected by this dangerous virus and wipe them out: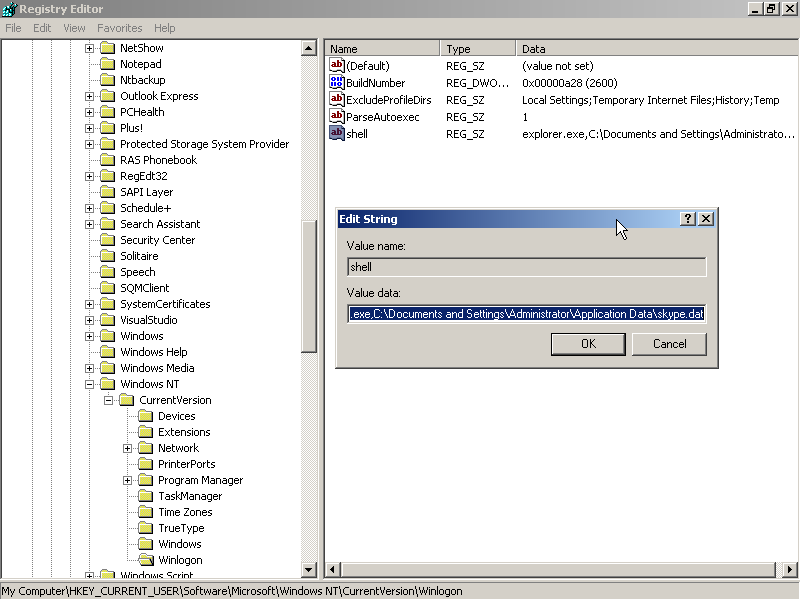 HKEY_CURRENT_USER\Software\Microsoft\Windows\CurrentVersion\Policies\System "DisableTaskMgr" = 0
HKEY_CURRENT_USER\Software\Microsoft\Windows\CurrentVersion\Run\random
4.    Delete associated files related to this virus from your PC completely as follows:
%Temp%\[RANDOM CHARACTERS].exe
C:\Documents and Settings\<Current User>
C:\Users\<Current User>\AppData\
How to Speed up Your PC
Some PC users may complain that even though the Interpol virus is removed from PC, the performance of system is quite slow. Then what can we do to speed up our system. Here are some useful tips:
Uninstall unused programs and leftovers. Usually, too many unused programs, left over programs, old cached and temporary files can occupy large amounts of hard drive space. The more unused programs and leftovers exist on your PC, the more slow speed your PC will run.
Disable Start Programs. Two many Start Programs will extremely slow down the speed of loading Windows Startup and booting your computer. This is because the Start Programs use vast operating memory, which can lead to sluggish system performance obviously.
Fix system errors. Once the system files have been changed or corrupted, the errors could slow down the performance of system significantly. Hence, you can scan your Windows System for errors regularly in order to speed up PC for good. In addition, system errors are able to cause serious system results such as Data Corruption, hard disk fragmentation, and even computer crash. If you are informed of system errors, it is better to figure out the proper way to fix it to avoid any unwanted damage.
The popular system errors can happen to Csrss.exe and Svchost.exe. You can click the links below to view the detailed instruction to resolve Csrss.exe and Svchost.exe problems.
Svchost.exe – How to Fix Svchost.exe Problem
Csrss.exe – How to Fix Csrss.exe Problems
Conclusion:
The Interpol Android virus is such a dangerous threat which can lock your PC/Android platform and threaten you to pay non-existent money on it. However, as we have mentioned above, the Interpol virus has the capability to disable the antivirus applications as well as other powerful anti-spyware. In reality, there is not any perfect antivirus that can catch all computer infections in the world. Actually, it is the problem not only for your antivirus software, but also for many other even world-leading security applications. New viruses are found daily and although all kinds of security applications have significantly improved the detection of new viruses, technology used by used by virus authors continually changes as they try to avoid detection. In this case, the effective manual removal is strongly recommended for PC/Android users.
Important Note: Manual removal of Interpol Android virus is complex and risky task, as it refers to key parts of computer system, and is recommended only for advanced users. If you haven't sufficient expertise in dealing with program files, processes, .dll files and registry entries, it may lead to mistakes damaging your system permanently after you delete crucial computer files by mistake. If you cannot remove Interpol Android malware completely by yourself, you're welcome to contact VilmaTech online computer experts here to help you quickly and safely remove the virus.