How to Remove FBI Header Virus, FBI Scam Virus with $500 Ransom Removal
FBI Header Virus Brief Introduction
FBI Header virus is the newly released offensive cyber-attack coming from much avaricious cyber gangs. Many of these hazardous ransomware come very well orchestrated by attackers, the main goal is to fool those targeting computer users and attempt to trick a lot of money from them. According to the experience, this sort of FBI Header virus we see is a fake governmental ransomware that uses the disguise the identify of some authentic agencies to block systems to intimidate targets to finish a demanding ransom payment within the specified time. In most cases, the infectious PC users would be warned they have violated with laws and the FBI Header virus distributed on their computers is just a immediate warning. And victimized users have to pay a required ransom up to $500 for a release otherwise a serious punishment will against them once beyond the deadline. Well, if it is the first time you come across such irritating warning declared that is distributed by legal agency, you may feel fear and at loss what to deal with such thing. The worse is that you're likely forced to pay massive payout just rooted in avoiding unnecessary troubles psychology. If you did like that, FBI Header virus then could successfully finish its fraud tick and illegally earn a lot of money from you without any efforts.
What makes most victimized computer users feel fear is a series of article of law warnings, which clearly declares how they have violated with laws and the level of crime is serious, they have to pay the demanding ransom of $500 in time in case of being imprisoned. However, whether the truth is just like those declarative warnings or not, of course not, the only fact is the FBI Header virus is ransomware frequently exploited by attackers and has no relationship with any authentic agency. Attackers just trickily take advantage of the authoritative identity to scare those unsuspecting computer users into being trapped. Just similar to he FBI ransomware arrived in 2012, FBI Header virus also is the fake police blocked virus that denotes a popular cyber attack of blackmailing heavy payouts from targets. Once your computers become attacked by such FBI Header virus, remember to refuse to pay a ransom of $500 and instead seek out effective ways to remove it from the infectious computer as quick as possible. The longer time such FBI Header virus leave alone on the infectious computer without any fix, the worse damage you have to suffer from.
Take damage into consideration, it is impossible that the FBI Header virus only carries out subtle damage, on the contrary, it can never stop its steps to damage the infectious computer and lead to incredible loss on both system corruption and confidential information exposure. FBI Header virus would provide victimized users with a limited time to get ready to submit the demanding ransom, however it also keeps constant system corrupting. FBI Header virus is able to constantly exploit system vulnerabilities for a complete control. Once done, the backdoor on the infectious computer can be opened easily and those cunning attackers can be endowed with an easy access to the infectious disks through backdoor. If so, victimized users not merely suffer from huge damage on the infectious PC but also have to face sensitive data theft, including log-in credentials, online transaction data, banking data, and many more other financial data. Once attackers acquire what they need, they never have a conscience and will never let you be. A series of other malware just like Trojan virus, browser hijacker, malicious adware, and more may keep troubling you.
The FBI Header virus should be removed from the infectious PC and browsers as soon as possible, if you need further help to get such virus removed completely, Live Chat with VilmaTech 24/7 Online Services now.

How to Remove FBI Header Virus from Infectious PC Definitely
Step A
Bring the infectious computer to the safe mode with networking to enable some programs terminated by the FBI Header virus.
For Windows 7, Windows XP, Windows Vista
1. Shut down the infected computer.
2. Find out F8 key on the keyboard of the target computer.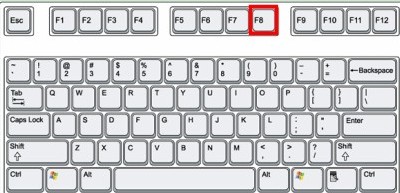 3. Press Power button to boot up the infected computer but before Windows launches (after skipping the first interface), you have to hit F8 key to reveal out Windows Advanced Options.
4. As you can see the page, it says safe mode, safe mode with networking, safe mode with command prompt, etc. Highlight safe mode with networking by pressing Up-Down keys and hit Enter key. Wait for a moment, Windows is loading files to the desktop.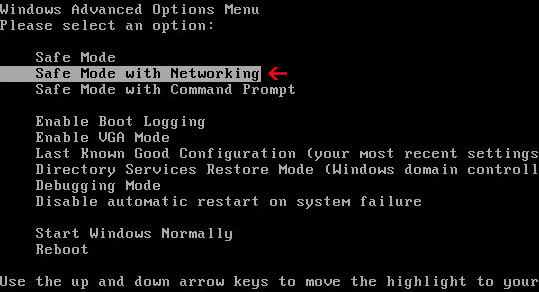 For Window 8
Start and login the infected computer until the FBI Header virus screen shows on>Press the Ctrl+ Alt+ Del keys, it will brings you to the Switch User interface>Tap the "Shift" key on the keyboard by your left hand, click on "Shut down" button>Click on Restart option>In the 'Choose an Option' screen, you need select "Troubleshoot." >Click on 'Advanced Options', then in the following window choose 'startup settings> Choose 'restart,'> Press F5/5 key to highlight Safe Mode with networking option, hit enter key.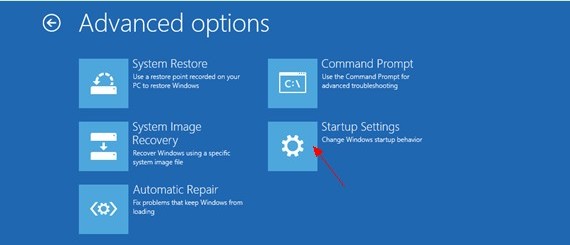 Step B
End the FBI Header virus process. Press Ctrl+ Esc+ Shift (Windows7/vista) or Ctrl+ Alt+ Del (Windows XP/ Windows 8) to open Windows Task Manager. You then locate at random FBI Header virus file and click on End Process.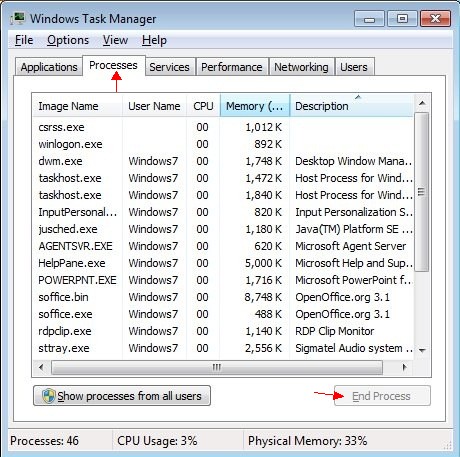 Step C
Delete FBI Heade virus files from Local disk. But you need show hidden files first.
1. Click on Start button. Click "Control Panel." And click on Appearance and Personalization.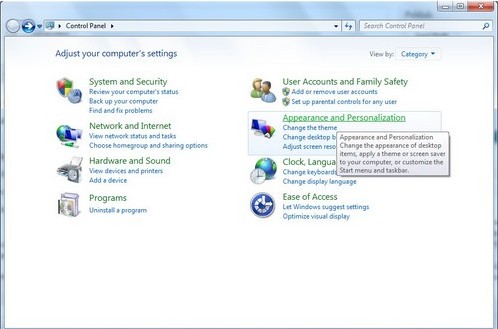 2. Double click on Files and Folder Option.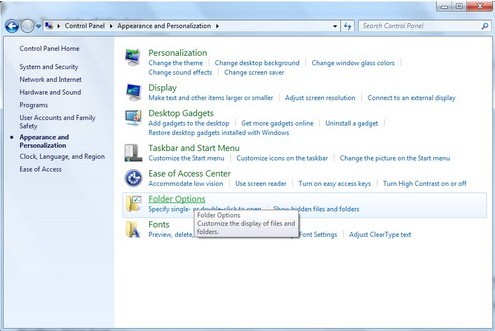 3. Select View tab. Check "Show hidden files, folders and drives."
4. Uncheck "Hide protected operating system files (Recommended). Then click Ok to finish the changes.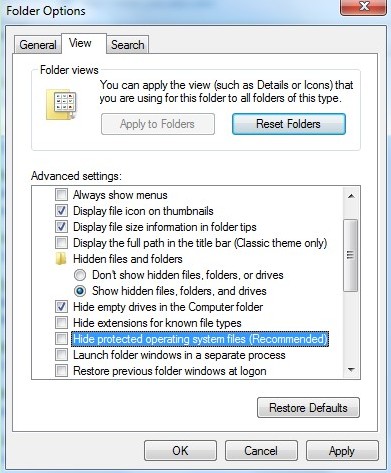 5. Open Local disk, and remove FBI Header virus files refer to below files. You can click on Start Button and click My Computer or Computer. You then open Local disk there.
%Program Files%\ FBI Header virus
%AppData%\Protector-[rnd].exe
%AppData%\Inspector-[rnd].exe
%AppData%\vsdsrv32.exe
Step D
Delete FBI Header virus registry entries.
1. Press Windows+ R key to reveal out Run box. Type regedit in Run window and click Ok.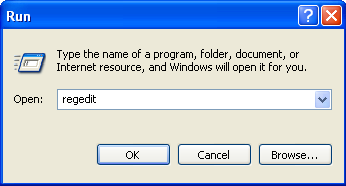 2. In the Registry Editor window, you need navigate to the below path. You then need to find out "Shell" and right click on it. Click on Modify. The default value data is Explorer.exe If you see something else written in this window, remove it and type in Explorer.exe.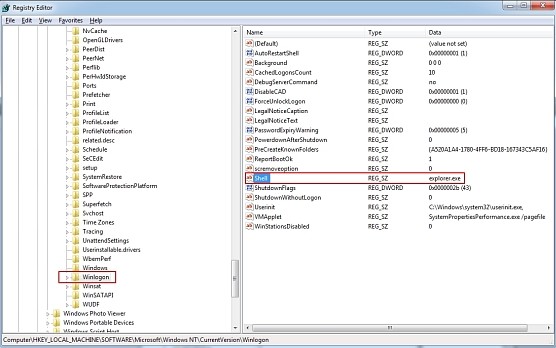 HKEY_LOCAL_MACHINE\SOFTWARE\Microsoft\Windows NT\CurrentVersion\Winlogon\
3. Besides that, you still need delete FBI Header virus registry entries, you can refer to the below registry entries.
HKEY_CURRENT_USER\SOFTWARE\Microsoft\Windows\CurrentVersion\Run\[random].exe
HKEY_LOCAL_MACHINE\SOFTWARE\FBI Header virus
HKEY_CURRENT_USER \Software\Microsoft\Windows\CurrentVersion\Policies\System 'DisableRegistryTools' = 0
HKEY_LOCAL_MACHINE \SOFTWARE\Microsoft\Windows\CurrentVersion\policies\system 'EnableLUA' = 0
Step E
Reboot the infected computer with regular mode to effect the FBI Header virus removal.
Conclusion
FBI Header virus refers to the so-called avaricious ransomware, it performs a commonplace online fraud trick by using of some authentic identities. Once Internet users become attacked, their computers have to undergo serious damage, for example, the infectious will be completely compromised and governed by attackers for illegal online activities. The infectious system also can be completely blocked out. And all programs on the infectious PC will fail to enable for any operation. According to the said ransom notes, the victimized users should refuse to pay any payment on the warning page, and the best way to reduce the damage to the minimum is to remove the malicious FBI Header virus at firs time. To remove the FBI Header virus requires professional skills to deal with virus files and registry entries correctly. Attackers usually hide the virus files and registry entries with the formats similar to the system files and entries. Therefore, if you are not qualified to recognize such FBI Header virus leftovers, you'd better consult for professional help from those IT elites. So, if you still need further consultation to clear out FBI Header virus, you can live chat with VilmaTech 24/7 Online Experts