Avast SecureLine VPN Review 2020: Worth Purchasing?
Avast SecureLine VPN is designed by the world-renowned antivirus firm Avast with an aim to protect everything in your digital life – from your data, to your identity, as well as your online privacy. Avast not only provides all the essential antivirus protection you need, it also has a VPN service that adds extra security and privacy for people. Is Avast SecureLine VPN good to use? Does it allow Torrents & p2p? Check out the Avast SecureLine VPN Review 2019 and hide your activities from your Internet provider, advertisers and employers now.

Avast SecureLine VPN Overview:


Avast SecureLine VPN, also known as Avast SecureLine is a user-friendly VPN service that works on Windows, Mac, iOS and Android. (Please note the latest version of Avast SecureLine VPN is not supported by and cannot be run on Windows Vista or Windows XP.) The VPN features with a clean user interface and covers worldwide servers to ensure the fastest speed while you are trying to bypass geolocation restrictions and access your favorite content while traveling. SecureLine server locations include: Australia, Austria, Belgium, Brazil, Canada, China, Czech Republic, Denmark, Finland, France, Germany, Hungary, Israel, Italy, Japan, Singapore, Malaysia, New Zealand, Norway, Switzerland, Taiwan, UK, United States and more.
Unlike those VPNs that limit your bandwidth usage, Avast SecureLine VPN lets you use as much as you want without any limitations. So, you can download as much data, stream as much video or listen to as much music as you'd want to without any restrictions from your ISP, or even your VPN client. As for the security, Avast SecureLine VPN uses AES 256 bit encryption along with Open SSL and certificate authentication. On Windows, SecureLine uses Open VPN for encryption while it uses IPsec for Mac. These are standard protection protocols that prevent hackers, your ISP, the government, and advertisers from snooping on your browsing history and online activities. Avast SecureLine VPN also features with a DNS leak protection which adds an extra layer of security to ensure your data is not compromised.
Not all VPNs allow torrenting and p2p filesharing. Fortunately, Avast SecureLine VPN allows peer-to-peer connections through specific server locations:
Prague, Czech Republic
Frankfurt, Germany
Amsterdam, Netherlands
New York City, New York
Miami, Florida
Seattle, Washington
London, United Kingdom
Paris, France
And the best part is Avast SecureLine has a Kill Switch feature, which is perfect for protecting your privacy if your connection is ever lost. With Avast SecureLine VPN, you are able to surf anonymously as the VPN helps hide your IP address and encrypt your online traffic. It also secures your Wi-Fi connection, anonymizes your online browsing and even privatizes your VOIP calls via Skype or Viber. Avast is protecting 400 million people worldwide. If you haven't got a VPN yet and are concerned about your online privacy, Avast SecureLine VPN is worth a try.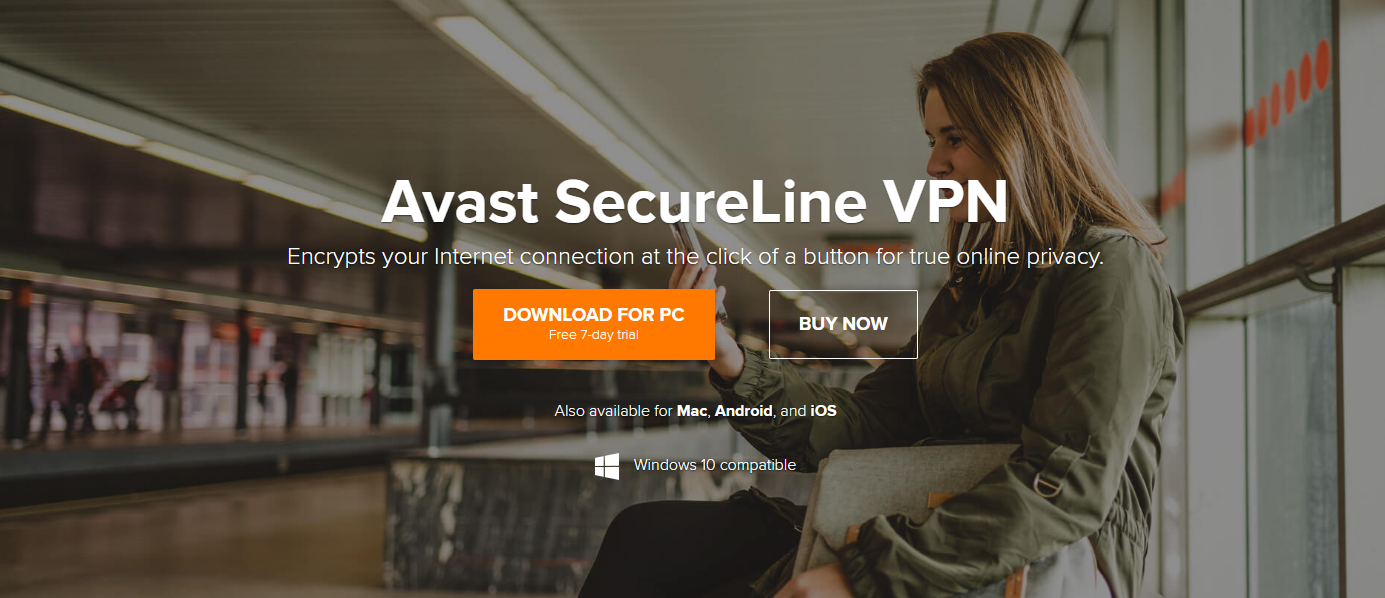 Avast SecureLine VPN Pricing Plans & Deals:
Depending on the subscription length, Avast SecureLine VPN offers three plans for people to choose from: 1 Year, 2 Years and 3 Years. Here's how much each subscription costs.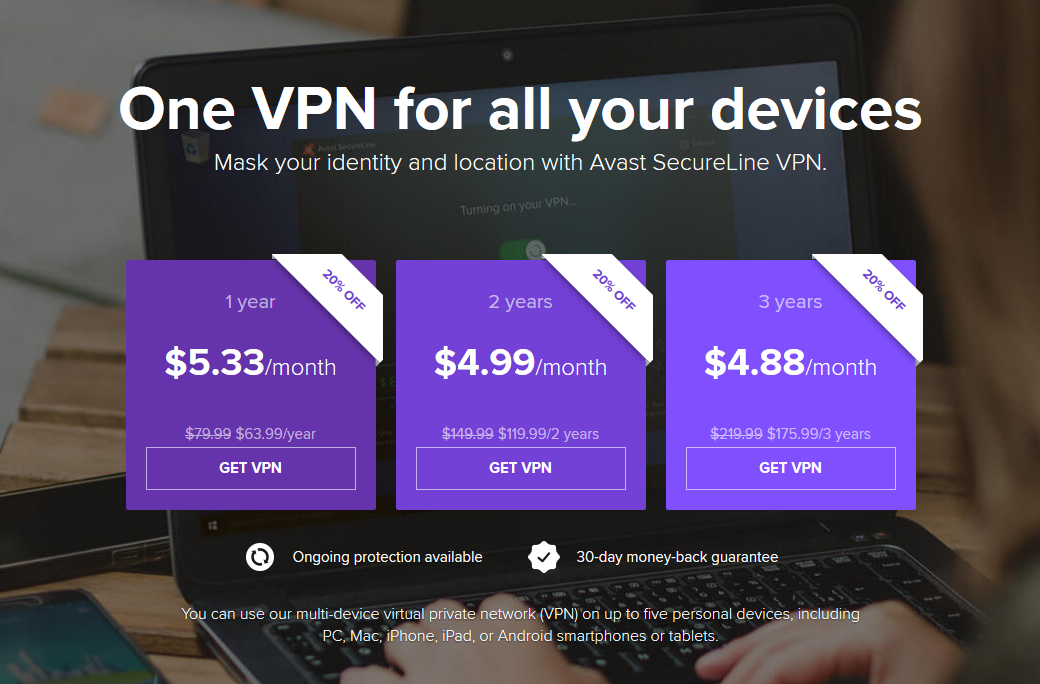 1 Year Plan – $5.33/Month ($63.99/year SAVE 20%)
2 Years Plan – $4.99/Month ($119.99/year SAVE 20%)
3 Years Plan – $4.88/Month ($175.99/year SAVE 20%)
As the image shows, the price of Avast SecureLine is a bit higher than many other VPNs, however it does offer a free 7-day trial with no strings attached. In addition, Avast's refund policy reveals a standard 30-day money-back guarantee if you purchase through their "online retail stores" or through Google Play. So, you will have enough time to test the service before you hand over your money.
Is there a discount for Avast SecureLine VPN?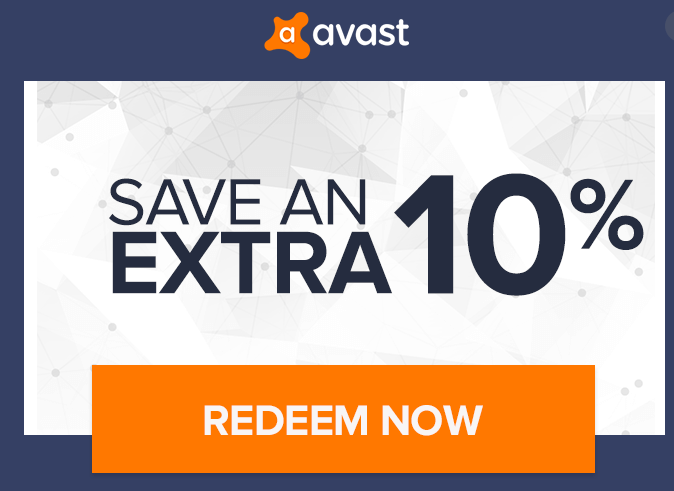 Yes. For people who care their online privacy and freedom, Avast is offering an extra 10% off coupon code to make them join Avast SecureLine VPN with a lower price. To get the exclusive Avast SecureLine 100% real coupon code, all you need to do is to click the promo button below, and you have to copy the code and apply it at checkout to start your savings. Shield your data, unblock content and become 100% anonymous with Avast SecureLineVPN now!
Get Avast SecureLineVPN Coupon Now
Payment Options: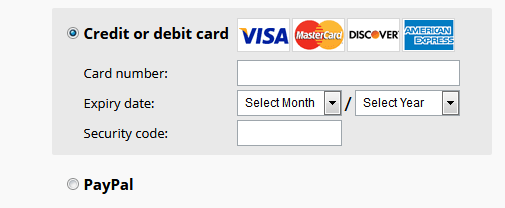 Avast accepts different payment methods including VISA, MasterCard, Discover, American Express and PayPal. However, the company does not accept payments via Bitcoin. Bitcoin is the most commonly accepted anonymous payment method. Nowadays it is accepted by more than 50% of VPN providers (and almost all of the top VPNs). So, this is an unquestionable drawback for people who hoping to pay for a VPN anonymously and get maximum anonymity.
Advantages of Using Avast SecureLine VPN:

Hide your Internet activities from your ISP.
In fact, ISPs such as AT&T, Comcast, and Verizon, among others, are known to keep records of their users' internet history and the worse thing is that Congress has allowed Internet Service Providers (ISPs) to sell and share user's browsing histories. It goes without saying that your online privacy is no longer safe anymore. Avast SecureLine VPN is a good way to protect your online privacy and hide your IP address from your ISP, from hackers, from government agents, or from anyone else. It hides your true location making your browsing anonymous and also encrypts your Internet traffic with military-grade encryption. In this way, no one else can see what you are doing online and know what websites you've opened and what data that you sent and received before.
Bypass web restrictions in office/school/college.
Educational institutions or work place usually offer Wi-Fi connection to people who need it as the internet has become central to 21st century academia. However, for a variety of different reasons, their Internet connection is not open. Sometimes you may find a wide range of websites and services such as social media websites like Facebook, Twitter, Instagram and the like, and online gaming are blocked on their network. This censorship is irritating. But with Avast SecureLine VPN, you can get around online censorship, and of course, use the internet for whatever you choose, like how it should be!
Use public Wi-Fi in confidence.
Free Wi-Fi is available in shopping malls, airports, restaurants, coffee shops, libraries, public transport, hotel rooms – you name it. It goes without saying that these networks are incredibly convenient, but security can be an issue because data sent through public Wi-Fi can easily be intercepted. If you don't take precautions, the personal information includes bank account details, passwords, credit card info or sensitive email contents on your devices could be sent over a public Wi-Fi network to a hacker for illegal use. Avast SecureLine VPN makes use of AES 256-bit encryption to secure your connections to public WiFi servers. It lets you connect safely to any hotspots: coffee shop, airport, library, park – even a stranger's phone tether.
Hide your real IP address and browse anonymously online.
An IP Address, like any address, is a powerful thing when known. It can be used to identify where you are in the world, restrict content, or track you online. By knowing your IP address, ISPs and the government can target ads at you, block you from accessing overseas content, put you under surveillance or censor you. Avast SecureLine VPN can assign new IP addresses for you. In other words, as soon as you connect to its VPN network, your real IP can be hidden and you'll be assigned another IP address, making you are from other locations. Avast SecureLine VPN ensures you an anonymous browsing. It prevents online tracking by the Government, advertisers and cybercriminals for you.
Unblock streaming video and social media website.
Avast SecureLine VPN allows you to bypass the geographic restrictions on social media sites and streaming services. That means it can give you access to a huge amount of TV, movies and other content usually restricted by location. For example, you can unblock Facebook, Twitter, Google, YouTube and WhatsApp in China when you select a Avast SecureLine VPN server from 54 locations in 34 countries and connect to it. As the same way, Avast SecureLine lets you unblock streaming video on sites like Netflix, Hulu, Amazon, HBO, BBC and others. You will get fast download speed for uninterrupted, high-quality streaming from anywhere of the world
Download torrent files safely.
Torrenting without a VPN is just asking for trouble. Avast SecureLine VPN is suitable for BitTorrent. It helps people stay private online and hide their uploads and downloads, making torrenting safely and anonymously.
Customer Support: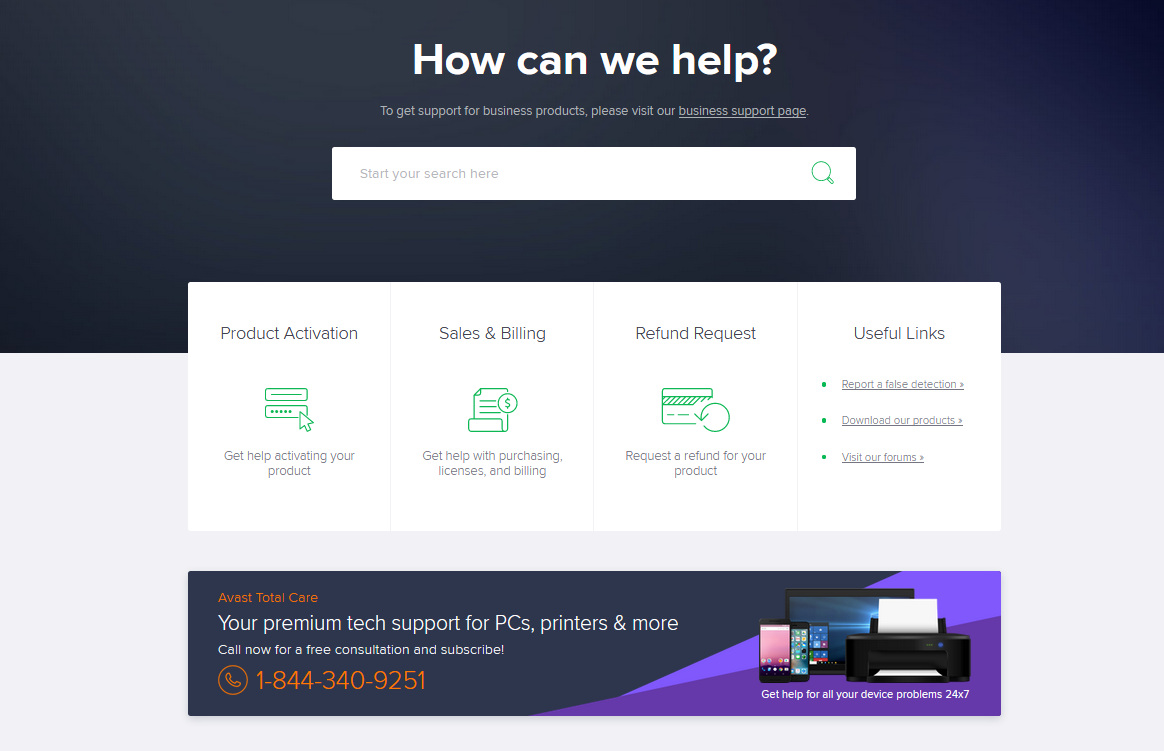 Having difficulties with Avast SecureLine VPN? Don't hesitate to get in touch with Avast support team. Although we don't see Avast offers a live chat support, people can call the toll-free number 1-844-340-9251 for installation, configuration, and troubleshooting. The call is available 24 hours a day, 7 days a week. For billing questions and refund requests, people can choose to submit a ticket. It's totally free. However, before submitting the support ticket, please make sure there isn't the similar question already answered.
Another great support area is the Official Avast Forum, where you can read, ask, and answer questions related to Avast products as part of a community of other users.
How to Get Started with Avast SecureLine VPN?
1. Go to Avast SecureLine VPN page here and get 100% real Avast SecureLine coupon code. Please copy the code first, then you will be redirected to Avast SecureLine VPN pricing page.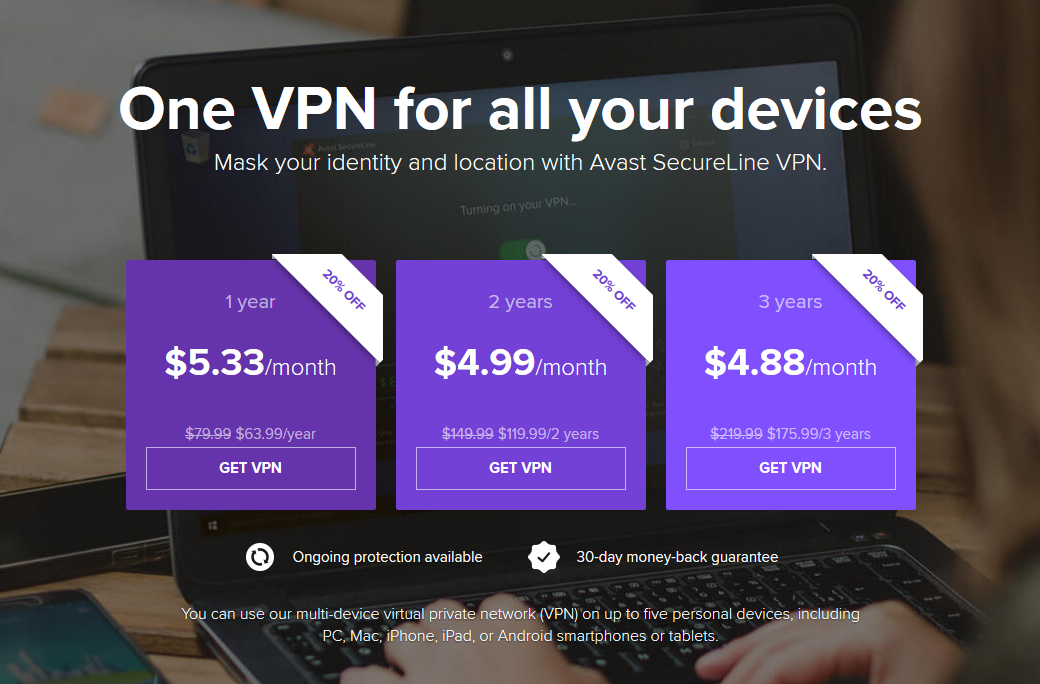 2. Choose your favorite plan and click "Get VPN" to go further. Take 2-Years Plan for example. Paste the Avast SecureLine VPN coupon code to the box and click Apply to get discount first.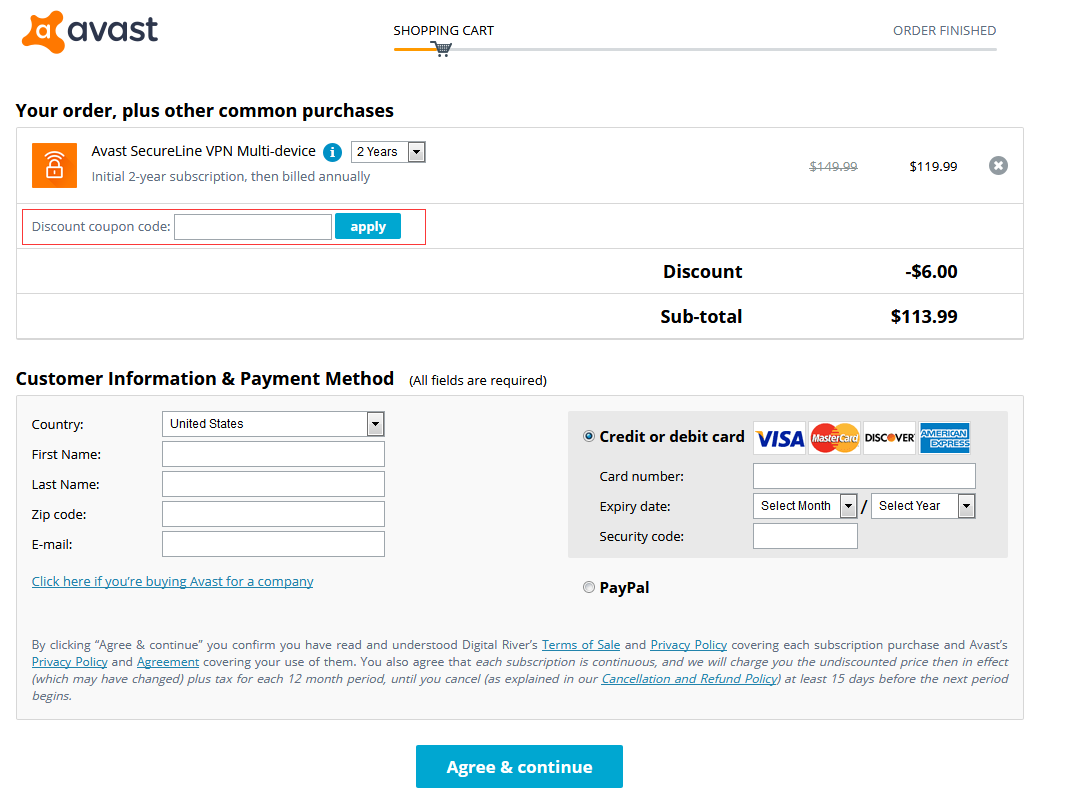 3. Enter your information including your name, zip code, country and email address to create an Avast account.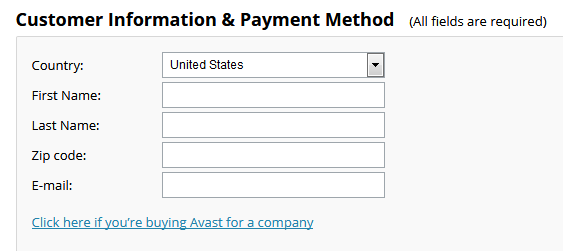 4. Choose your preferred payment options and fill in your information.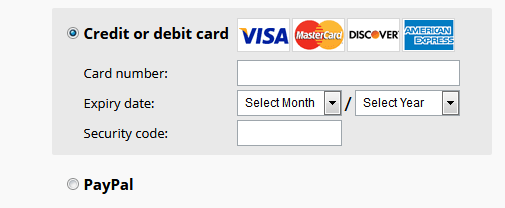 5. Click "Agree&Continue" button to confirm your payment.
Video Guides on Avast SecureLine VPN Review
Top 10 Best VPN Services In The World
| VPN Provider | Servers | Country | # of Connections | Price(USD) | Website |
| --- | --- | --- | --- | --- | --- |
| | 2000+ VPN servers in 94 countries. | British Virgin Islands | 3 Connections | $6.67/Month (Save 49%) | 1 View Deals |
| | 1,000+ VPN servers in 60+ countries. | USA | 10 Connections | $4.87/Month (Save 60%) | 2 View Deals |
| | 200+ servers in 70 countries. | Bulgaria | 6 Connections | $4.18/Month (Save 50%) | 3 View Deals |
| | 4646+ servers in 62+ countries. | Panama | 6 Connections | $3.99/Month (Save 66%) | 4 View Deals |
| | 3034+ Servers in 28 Countries. | USA | 5 Connections | $2.91/Month (Save 58%) | 5 View Deals |
| | Servers in 55+ countries & 100 cities | Canada | Unlimited | $4.08/Month (Save 55%) | 6 View Deals |
| | Global servers in 30+ locations. | Germany | 1 Connection | $2.91/Month (Save 68%) | 7 View Deals |
| | 97+ servers in 21+ countries. | Romania | 6 Connections | $4.80/Month (Save 46%) | 8 View Deals |
| | Global 300+ Servers. | Seychelles | 3 Connections | $3.33/Month (Save 34%) | 9 View Deals |
| | 500+ Servers in 50 countries. | British Virgin Islands | Unlimited | $1.99/Month (Save 83%) | 10View Deals |
Conclusion:
Avast SecureLine VPN is a basic VPN service developed by the multi-award winning consumer cybersecurity company Avast and launched in 2014 in Prague, Czech Republic. The VPN supports on different platforms, including Windows, Mac OS X, iOS, Android and allows up to five devices at a time with one single account. It provides servers in 54 locations over 34 countries and features with no bandwidth limits. Basically, the more locations there are to choose from, the better your chances are of having good internet speeds with little lagging. Though the number of servers it provides is a small number compared to the top VPNs, Avast SecureLine VPN covers all the basic VPN security features such as Kill Switch, No Logging Policy, 256-bit AES Encryption, DNS Leak Protection and the best thing is it supports P2P and torrent downloads. Avast SecureLine VPN guarantees your complete privacy as it never stores or tracks your online data. It secures your online activity with the peace of mind you deserve.
On the other hand, Avast SecureLine VPN has an easy-to-use interface, making it perfect for beginners to try out. The VPN is built on OpenVPN and OpenSSL which are the most reliable, widely-used and transparent privacy protection protocols. It offers above average speeds from most servers. Overall, if you are a beginner and want a simple VPN app for protecting your computer or mobile devices, Avast SecureLine VPN is a decent choice. Whether you want to connect securely, download safely or browse anonymously, you can get benefits from it. But if you are looking for a VPN that supports router or accepts Bitcoin payment, Avast SecureLine VPN is not for you. Hopefully, Avast SecureLine VPN will add more servers and features to customize user's Internet experience soon.
Get this Deal Now