Astrill Coupon Code & Discount, Promo Code 2020
Astrill promotion sale is on now. Astrill is offering 48% discount for their yearly plan, and if customers have an extra Astrill coupon code they can enjoy the biggest savings. Astrill VPN is a high-quality VPN service based in Seychelles. It is trusted and admitted by millions of users worldwide to be the excellent VPN to unblock websites and content from censorship even the most intensive Great Firewall in China. Get the discount up to 48% off for the high-quality and attentive Astrill VPN service. No Astrill coupon code require. The exclusive Astrill discount is offered in a limited quantity for a limited period! Take a look at the current offerings below.

What's Astrill VPN?
Astrill is a privacy-focused VPN service provider based in Seychelles. They do not log data as they practice strict non-logging policy. Also, Astrill will not transfer or share any data to third parties as they have no laws or article about data retention from government to comply with. Astrill VPN offers ultra-fast VPN servers in over 50 countries. They keep optimizing the network to let customers enjoy the fast speed. There is unlimited bandwidth and unlimited server switching. You are allowed to connect up to 5 devices at the same time with one subscription. Astrill VPN is powered with different strong VPN protocols including OpenVPN, StealthVPN, OpenWeb, L2TP, IPSec, SSTP, which definitely give more security for customer. Many users choose to use Astrill VPN as they offer paid dedicated or private IP address. The private IP on specific server gives users more anonymity, private IP is static and stays the same for the duration of your membership. Get dedicated IP on selected servers that is used only by you and noboday else. What's more, Astrill also offers VIP add-on to provide optimized speed and reduces latency for clients in Asia and gamers. VIP package allows prioritized traffic on all servers. Comes with Multi-hop VPN for increased anonymity. Astrill VPN works with different devices including Windows, iOS, macOS, Android, Linux and routers.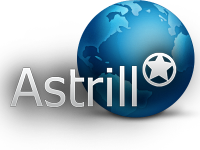 Astrill Personal VPN Plan: For Personal Use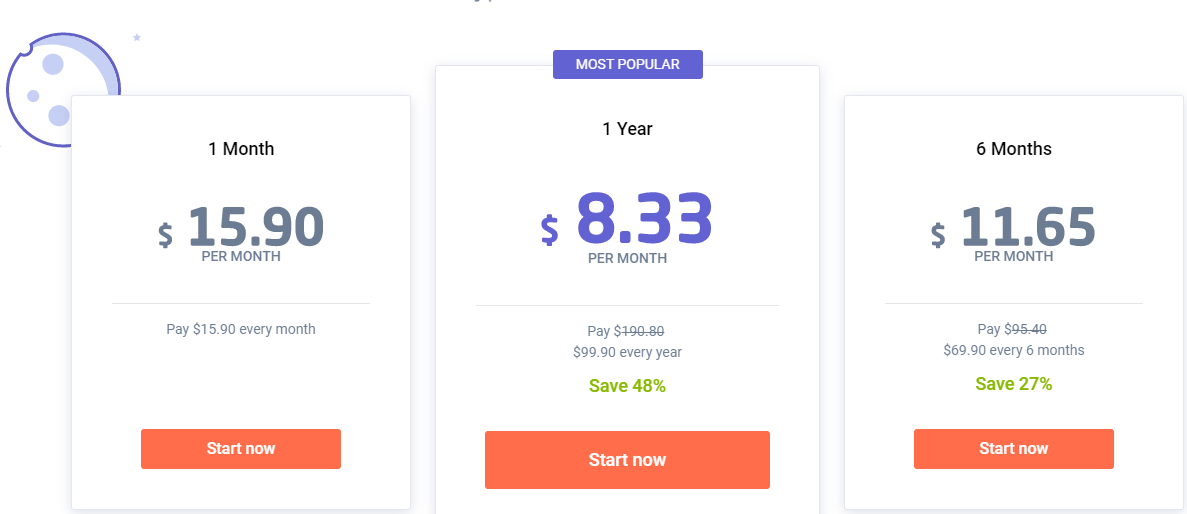 1-Month Plan $15.90/Month ($15.90 billed every 1 month SAVE 0%)
6-Month Plan $11.65/Month ($69.90 billed every 6 month SAVE 27%)
1-YEAR Plan $8.33/Month ($99.90 billed every 12 months SAVE 48%)
Every plan includes 5 simultaneous connections, Unblock your favorite websites and Download torrents securely
Astrill accepts the following payments: Credit Cards (Visa, MasterCard, American Express, UnionPay, JCB, Diners), Debit Cards, Bank Wire Transfer, PayPal, Perfect Money, Wechat Pay, AliPay and Bitcoin.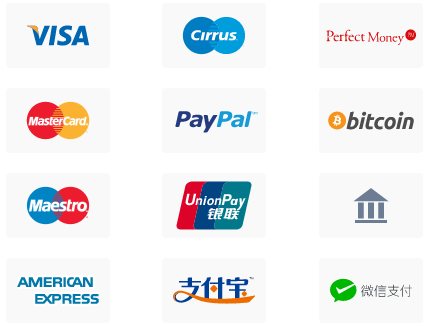 All Personal VPN Plans Include All Following Features:
Connect up to 5 devices
Unlimited bandwidth
Unlimited server switches
Unlimited speed
No logs kept
Surf anonymously
Unblock your favourite websites
BitCoin supported
Military grade encryption
OpenVPN / StealthVPN / OpenWeb / L2TP / SSTP
337 VPN Servers in 49 countries
Secure checkout
24/7 support
Astrill Business VPN Plan: For Business Use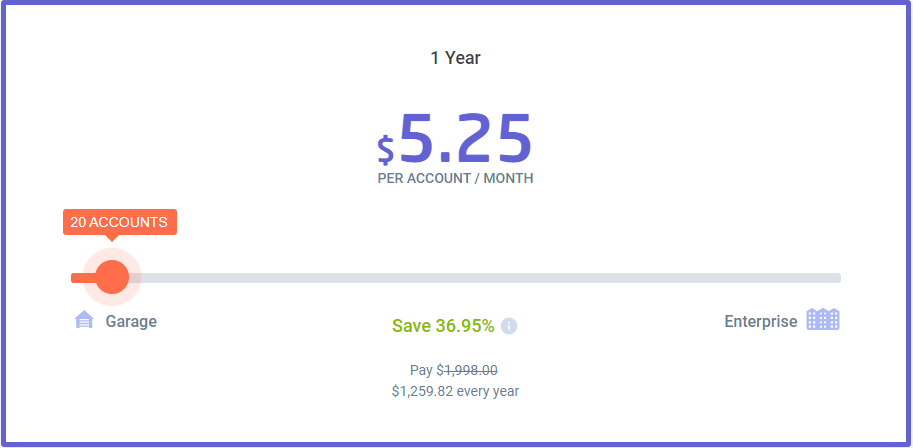 Your business information including business e-mails, online banking, corporate plans or accounting numbers are vulnerable to hackers and organizations trying to spy on you. Luckily, you can protect all your network communication with Astrill. Astrill business VPN solution uses military grade encryption protocols to avoid third-party espionage from governments, ISPs or industry competitors. With accounts for each employee you patch every possible hole in your office online security.
Ultra-fast VPN servers in 50+ countries
free 100 GB data on VIP servers
OpenVPN / StealthVPN / OpenWeb / L2TP / SSTP
Connect with one click
Free apps for Windows, macOS, iOS, Android, Linux, Router
24/7 business support
Astrill Covers the Entire World with 337 Servers in 113 Cities and 65 Countries
Atrill VPN establishes a huge network and keeps expanding its servers. You can enjoy more anonymity with Astrill VPN. Everything online is encrypted and shield from any pry eyes. Anyone trying to penetrate into your internet connection to steal sensitive data will be stopped by Astrill VPN because your web traffic is completely encrypted. Atrill VPN has over 319 global VPN servers located in 65 countries that applies protocol modes OpenWeb, StealthVPN, OpenVPN, L2TP/IPSec, Cisco IPSec, IKEv2, PPTP and SSTP. You can limitlessly switch between 319 servers located in United States, Japan, United Kingdom, Austria, Belgium, Bulgaria, Switzerland, Czech Republic, Chile, Germany, Denmark, Spain, Finland, France, Greece, Hungary, Ireland, Italy, Lithuania, Luxembourg, Latvia, Moldova, Netherlands, Norway, Poland, Portugal, Panama, Romania, Russia, Sweden, Slovakia, Ukraine, Canada, Mexico, Egypt, South Africa, Hong Kong, Indonesia, Israel, India, Korea, Malaysia, Singapore, Turkey, Taiwan, Vietnam, Australia, New Zealand, Argentina, Brazil.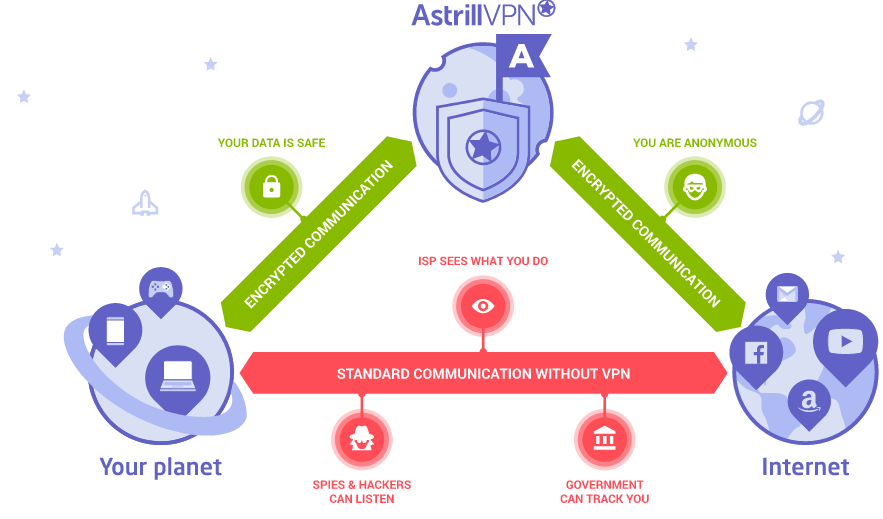 Is Astrill VPN Reliable and Secure?
Yes, Astrill focuses on customer's privacy and security online. It is a trusted VPN service.
Perfect Jurisdiction: Astrill VPN is a Seychelles-based VPN provider offers awesome and trusted VPN service to around the world. Seychelles is a good privacy jurisdiction as it is not a member of any massive surveillance alliance like 5 Eyes or 14 Eyes ally. Seychelles is a small chain of islands off the coast of Africa and has become independent island chain in the middle of nowhere. They do not store any information or keep logs because the Astrill VPN Server Network is operated off-shore and there are no laws that obligate them to keep logs on their customers. Astrill.com does not sell, rent, or trade your personal information with others. Your information is protected. So there is no data transferred to other party.
Zero-logging Policy: Astrill conducts strict no traffic logging policy. They will not log your data and browsing history. They may keep your name and account for the purpose of technical functioning the service and connecting problem troubleshooting. For more detail about no-logging policy, you can read it as following:
We try to keep as less personal information as possible. Some information is however necessary for technical functioning of the services. What we keep and how long we store it is explained in details below:

Our system keeps track of active sessions – connection time, IP address, device type and Astrill VPN application version during the duration of your VPN session. Once you disconnect from VPN this information is removed permanently from our system. This information is solely used to limit the number of devices connecting from single account simultaneously. You can check all active sessions from member zone and you can erase them at any time.

Astrill also counts amount of traffic used by clients in order to plan network expansions. No personally identifiable information is kept – only the total number of transferred bytes.
256-bit SSL encryption: AstrillVPN uses advanced standard encryption technology 256-bit SSL encryption to encrypt all internet traffic of their customers. 256-bit SSL encryption is the current industry standard. This strongest encryption method not only protect all your internet traffic but also encrypt your financial details when you're purchasing Astrill service. Your financial details are passed through a secure server using the latest 256-bit SSL (secure sockets layer) encryption technology. 256-bit encryption is referring to the length of the encryption key used to encrypt a data stream or file. A hacker or cracker will require 2256 different combinations to break a 256-bit encrypted message, which is virtually impossible to be broken by even the fastest computers.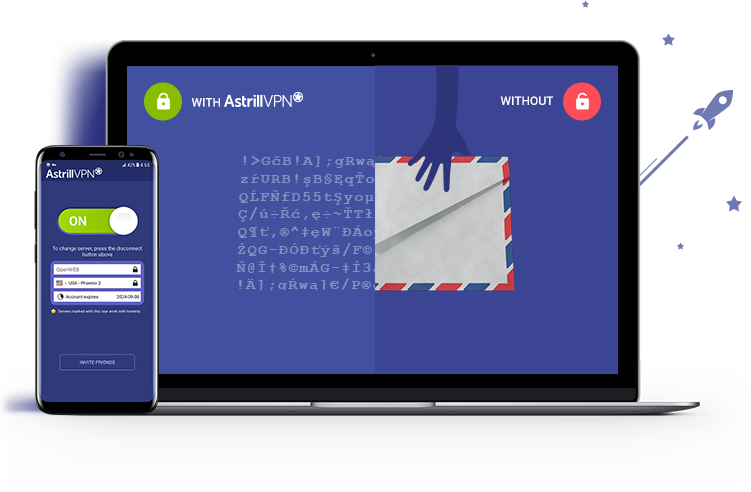 What Makes Astrill VPN So Great?
Astrill VPN is trusted thousands of internet users worldwide for its numerous awesome features and functions. It offers such advanced technologies as 256-bit encryption, multiple protocols, dedicated IP address, multi-hop VPN, NAT Firewall and more. all these awesome features make Astrill VPN powerful and increase layer to secure and encrypt customer's internet traffic against pry eye. With Astrill VPN, customer can circumvent censorship like the Great Firewall and bypass the geo-blocking restrictions to access any websites anywhere around the world.
1. OpenWeb – Remarkable Proprietary Protocol by Astrill
OpenWeb is a remarkable proprietary protocol developed and engineered by Astrill. It is built on TCP and encrypted in multiple security encryption and authentication layers. You can switch between servers within seconds without waiting for VPN software to reconnect as it is a connection-less protocol. It works perfectly even in the countries with high censorship like in China. It's difficult for DPI (Deep Packet Inspection) to detect OpenWeb, so all the traffic looks like regular browsing and no one knows you're using VPN. OpenWeb protocol is encrypted with AES-256 encryption.
2. StealthVPN protocol – Strong Enough to Bypass the Most Intensive Censorship
Stealth VPN protocol is a strong connection that has a strong performance to bypass Deep Packet Inspection (DPI) firewalls and provides invisible VPN access anywhere in the world. it uses Obfuscation technology to bypass the firewall system detection and any kind of Anti-VPN tools. Stealth VPN is stable and works well with both UDP and TCP modes. StealthVPN has a dual layer of encryption which makes it hard to be detected and blocked by countries with high censorship like China, UAE, Iran, Cuba, Russia, etc. Stealth VPN lets you get around VPN blockades and tunnel through firewalls, so you don't have to have your network activity monitored. StealthVPN data streams are protected with AES-256 and authentication is done with certificates.
A 'Stealth VPN' is simply a VPN server or protocol that is able to disguise VPN traffic as regular web traffic, even when subjected to deep packet inspection by your network administrator or firewall. Stealth VPN can either be implemented on a server or protocol. 'Stealth' VPN technology scrambles or disguises your VPN traffic, making it unidentifiable as VPN traffic, or disguising it as regular TLS encrypted web traffic. Using a VPN service with obfuscation or 'stealth' technology allows your VPN connection to rewrite or obscure the packet headers, so it's unrecognizable. StealthVPN feature is strong enough to make Astrill VPN survive in China with intensive censorship. Therefore, Astrill VPN is also one of the best and strongest VPN working in China!

3. Multi-hop VPN – More Secure
When using VPN, you connect to the entry node and traffic is then routed to the exit node from where it continues to access the Internet. This is extremely useful to improve privacy, as anybody sniffing on your traffic sees that you connect to server A with IP 1.2.3.4. They may then suspect that you are using VPN and check what server A with IP 1.2.3.4 is accessing. Even though there are thousands of other users accessing the server A with you and browsing online content through it, the attackers can get some limited information about what IPs you may be connecting to by monitoring network activity on server A.
This risk is eliminated with multi-hop VPN connection available for all Astrill VIP users. After you connect to Server A, it does not access Internet directly, but instead passes the request through an encrypted tunnel to server B. Server B then executes the request and forwards reply back to server A, which sends it back to you. It becomes extremely hard to track where traffic from user goes and from where it returns. Multi-hop VPN works only with OpenWeb protocol with official Astrill VPN software. It cannot work on platforms where OpenWeb is not supported.

4. NAT Firewall blocking unrequested connections, exploits, bad data packets
Astrill's NAT Firewall is an additional layer of security for your internet connection. It protects your device from unrequested and malicious inbound traffic. NAT Firewall works like a security tool. For example, if you install security tool or antivirus on your device, your antivirus can take action immediately when it detects an incoming threat or a virus in system, while NAT Firewall of Astrill jumps into action as soon as any malicious traffic tries to penetrate into Astrill VPN network.
Astrill's NAT firewall protects a user's IP and blocks intruders from sneaking into the victim's online activities. Once the doors and backdoors are locked, no hacker can enter your system. NAT firewall ensures that you stay secure from every cyber threat and enjoy an anonymous and unrestricted internet anytime. Astrill's NAT Firewall also protects users from bad packet data. If your internet connection is secured with NAT Firewall, no cyber criminal will be able to attack you with bad packet data.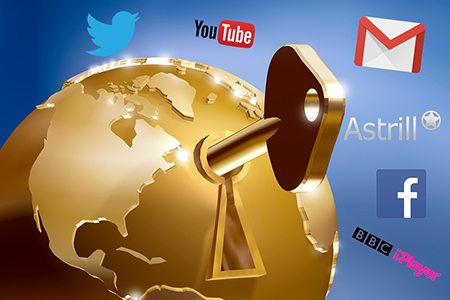 5. Astrill's Dedicated IP Address Increases More Anonymity for You
By default while browsing with Astrill VPN, the IP that you use to access the Internet is shared between hundreds of other users who are using the same server at the same time. Since there are so many others accessing the same IP and using it for browsing, it becomes impossible to say who on the network did what. If you need to forward ports on your VPN IP (in order to use P2P services such as Skype or Bittorrent or to make some local services available to the Internet – for example local web server) you will need a Private IP. Private IP or dedicated IP is not shared with any other users and on selected servers (marked with star) all ports can be forwarded to your device connected to the Private IP over OpenVPN, StealthVPN, L2TP, PPTP and SSTP.
With dedicated IP address by Astrill, you can enjoy total control of your IP. A dedicated IP VPN can prove to be your passport to certain networks, databases, servers and more. with Astrill VPN's dedicated IP, you can have ultra-fast speed in streaming, you can limit online access to your bank account, you can add an additional wall of security for your website by limiting FTP access to your IP only, and you can setup a two-factor authentication protocol to your website, bank account or the online resource of your choice.
6. Special and exclusive VIP VPN servers Offered by Astrill
VIP add-on gives you access to additional VPN servers with optimized speed and reduced latency for clients in Asia and gamers. Unlike other servers available in basic membership plan, traffic on these servers has to be bought in bundles of 100GB / month. VIP servers are in: Hong Kong, Taiwan, USA, Japan, Singapore, Korea, China. VIP servers are connected to premium networks with direct routes to Asia. Latency (ping) on these servers is highly optimized and these servers perform extremely well for gamers. Reduced ping is the key factor of smooth multi-player online gaming.
Multi-hop VPN feature is also Available for all VIP customers! Multi-hop VPN makes your online activities even more invisible. While you connect to one VPN server, the Internet traffic is routed through an encrypted tunnel to another VPN server thus making the correlation between traffic coming in / out of your PC and traffic coming in / out of the VPN server you connected to impossible to detect. Hide behind our network of super-fast VPN servers.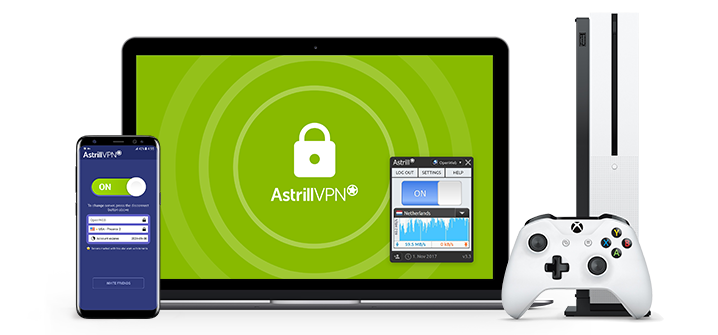 Video Guides Astrill Coupon and Discount
Top 10 Best VPN Services In The World
| VPN Provider | Server | Country | # of Connections | Price(USD) | Website |
| --- | --- | --- | --- | --- | --- |
| | 1500+ VPN servers in 94 countries. | British Virgin Islands | 3 Connections | $6.67/Month (Save 49%) | View Deals |
| | 1,000+ VPN servers in 60+ countries. | USA | 5 Connections | $6.49/Month (Save 46%) | View Deals |
| | 4400+ servers in 62+ different countries. | Panama | 6 Connections | $3.29/Month (Save 72%) | View Deals |
| | Servers in 30+ locations around the globe. | Germany | 1 Connection | $4.99/Month (Save 44%) | View Deals |
| | 750+ VPN servers in 140+ countries. | Hong Kong | 5 Connections | $2.04/Month (Save 79%) | View Deals |
| | 3034+ Servers in 28 Countries. | USA | 5 Connections | $2.91/Month (Save 58%) | View Deals |
| | 97 VPN servers in 21 countries. | Romania | 6 Connections | $4.80/Month (Save 46%) | View Deals |
| | 300+ VPN Servers in many countries. | Seychelles | 3 Connections | $3.33/Month (Save 35%) | View Deals |
| | 450+ servers across 100+ locations in 50+ countries. | Singapore | 5 Connections | $1.00/Month (Save 92%) | View Deals |
| | Over 200 servers in 69 countries. | Bulgaria | 6 Connections | $4.92/Month (Save 50%) | View Deals |
Summary
Astrill VPN protects your online privacy and makes you enjoy amazing internet freedom. It uses strongest 256-bit encryption to encrypt and protect your internet traffic against any hackers and snoopers even your ISP. Astrill prevents your ISP from tracking and monitoring your online communications and browsing activities. With Astrill VPN, your IP address is hidden from websites and Astrill then stop them from tracking you. Astrill creates a secure tunnel over the internet, which protects your data against eaves-dropping, tracking your browser activity or modification. All your data will be protected securely even though you are connecting with an unsecured free WiFi hotspot in café, coffee bar, airport and supermarket. Astrill VPN also can help circumvent censorship by schools, governments and workplaces to access the websites you want. Astrill has the powerful performance to unblock popular websites and streaming service that are restricted due to your IP location anywhere and anytime. Astrill VPN is also the best fit if you are travelling, because you can access the internet like you are at home – in your native language and without any restrictions. You can enjoy the ultimate freedom and relax on the internet with Astrill VPN while travelling outside. But after reviewing its price you can find out that it is a bit expensive!!! There still are many good VPN services in the world, you can compare them on the chart above before deciding to get one!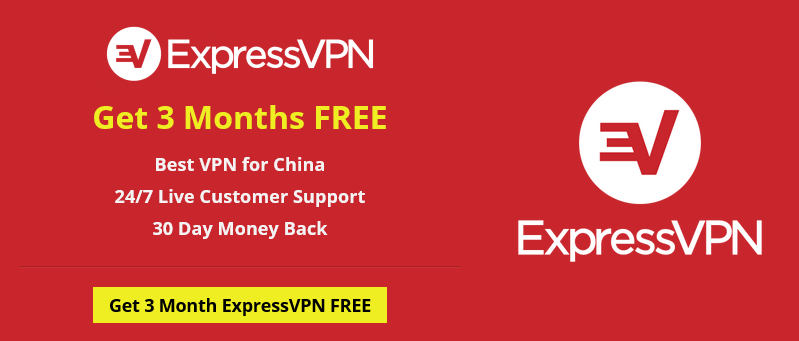 Warm Tips for you: There isn't any Astrill coupon code! Astrill now isn't offering the discount coupon and there are not the exclusive Astrill coupon codes to promote their crafted VPN service worldwide. Astrill is good but the price is a bit high. So we recommend ExpressVPN, IPVanish or Zenmate VPN as they are also great VPN services with lower pricing.
Get this Deal Now