Is XP Antivirus 2014 Real or Rogueware? Remove Dangerous Fake Anti-virus Program
Is XP Antivirus 2014 Real?
Named just like any other genuine anti-virus programs, XP Antivirus 2014 is in effect a rogueware trying to trap PC users into purchasing its so-called "licensed"/"advanced" version to solve the problems it claims to have. Usually speaking, no PC users would know how and when XP Antivirus 2014 installed itself. When the rogueware installs, it would automatically pop up to scan the PC at each Windows start without bothering the victims.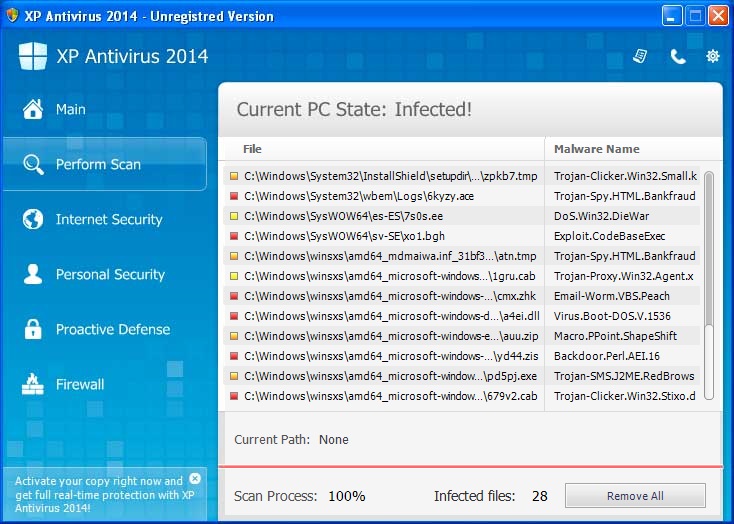 Though Windows XP has stopped service, many people keep it. Because of this, virus makers forge the software and attack the vulnerable system. By capitalizing Rookit technique, XP Antivirus 2014 embezzles the genuine look of typical Windows Antivirus programs to be convincing. To make people keep using it, the rogueware offers services including Internet Security, Personal Security, Proactive Defense and Firewall that are needed most by today's people; however, the rogueware using such services to grab personal information and disturb healthy operation.


Dangers Along with XP Antivirus 2014
With rookit technique, XP Antivirus 2014 manages to numerate drivers concerning startup services, security center and the like to insert .dll files and .exe files for automatic running and the destruction of security defense so that build-in security utilities will not flag it as virus and the installation request of security utilities will be denied. A vulnerable machine is extremely susceptible to affections without any protection, especially when it is connected to the Internet. Delay in removing XP Antivirus 2014 can lead to more affections.

No register to XP Antivirus 2014
Experts from VilmaTech Online Support highly suggested no registration to XP Antivirus 2014! If one frequently updated knowledge on virus from VilmaTech, one should know that it is normal for web pages to adopt BHO computing technique for confident and convenient surfing. However, the rogueware puts keyloggers onto the registration page and vicious add-ons to record the keystrokes when you are entering bank password and to access cookies (containing personal information on all the websites you've been) when you are trying to finish the transaction.
If you have registered for XP Antivirus 2014, it is wise to get quick solution and change password afterwards to minimize loss including potential loss. Since the security defense system is destroyed upon XP Antivirus 2014's installation, manual method is the best option. Stick to the steps only when you are computer knowledgeable. In the event that more and unexpected problems occur, just contact VilmaTech Online Support and live chat with technicians here for solution.

Manual Way to Remove XP Antivirus 2014
Step one
use its uninstall kit to uninstall XP Antivirus 2014
Since the rogueware installs by default, one should find its evidence in start menu. Check "All Programs" and select XP Antivirus 2014 to choose its uninstaller, if there's any.


Step two
end processes that are not belong to system nor to the normal programs you use.
This needs certain level of computer knowledge. You are free to compare with the processes on another healthy computer or follow the steps to find out the guilty ones.
Use Ctrl+Alt+Delete key combination to bring up Task Manager window.
Hit View tab to select 'Show Kernel Times'/ 'Select Process Page Columns'.
Check PID (Process Identifier) before pressing on OK button.

Please then find 'LSASS.exe' for its image of the User Account which does not belong to system.
Keep the window open, and use Win + R key combination to activate Run box.
Enter 'CMD' and press Enter key to get the command window.
Type 'ntsd –c q -p (PID, the number you saw on Task Manager)' and hit Enter key.


Step three
end the services with "Path of Executables" pointing to XP Antivirus 2014.
Activate Run box and enter "services.msc" to access system services.
Double click on the enabled services one by one to check their "Path of Executables".
Disable/remove the ones with the path directing to XP Antivirus 2014.



Step four
remove temp files and folders.
C:\Users\[user name]\AppData\Local\Temp\
C:\WINDOWS\Temp
C:\Documents and Settings\[user name]\Local Settings\Temp
C:\Documents and Settings\[user name]\Local Settings\Temporary Internet File
Tips on the Removal of XP Antivirus 2014
There's no universal method to remove XP Antivirus 2014 completely. Should there be additional affections in a target machine, failure can happen. The condition and situation on every computer is quite different. This is why only victims with certain level of computer skills and knowledge are allowed to follow steps offered above. The method offered herein is exclusively applied to XP Antivirus 2014, not including any incurred issues.
There's also no permanent way to remove XP Antivirus 2014 in the age when virus raging around the Internet. The rogueware can stage back if the computer is still at the mercy of some unknown malware or under the protection from weak defense system. If one needs quick and professional help, VilmaTech Online Support is 24/7 online and available.

Defragment Is Suggested
Some victims may find that the machine is running slower than it should after the removal of XP Antivirus 2014. This is because thousands of indifferent files and folders scattered around the system. It could be time consuming to remove them one by one. Therefore, a video is made to show you how to defrag your computer: