Uninstallor Review – Is it Safe & Trustworthy?
You're probably on this page because you have problem in removing a program that won't uninstall, or you are looking for a good application to delete unwanted traces that some applications leave behind. Cleaning up isn't always as easy as we think. If a program have gone bad or what you downloaded was potentially unwanted programs or adware, you will find the software will refuse you to uninstall. Sometimes it will display error message when you attempt to remove it, while sometimes it doesn't even show up in the program list from the Add/Remove Programs Control Panel. In this case, you may need a third-party uninstaller that can do more than what the standard uninstall utility in Windows is able to do.
Uninstallor is my favorite uninstall tool as it can uninstall any programs quickly and find leftover files that anyone couldn't. Its functionality is very effective. Now I will be reviewing this tool and I hope this review will be helpful for you.
What's Uninstallor?
Uninstallor is one of the best uninstallers on the market that enables you to completely uninstall software from your machine, including the unwanted files and folders that are usually left behind and take up your disk space. The tool not only supports 32-bit and 64-bit versions of Windows naively on Windows XP, Vista, 7, 8, and 10, but it also works on Mac machine. Uninstallor has a user-friendly interface and it allows you to customize your user interface design by changing the theme colors. Considering adults would prefer a light UI whereas the younger lot would prefer a dark background that is exciting and stylish, Uninstallor supports both options so you can select working in dark mode or bright mode. Thanks to its intuitive layout and overall simplicity, even you are an inexperienced user, you won't have any troubles while working with this program.
Uninstallor is quite lightweight (less than 5 MB), so it won't affect your PC performance or slow down your computer. Instead, the uninstaller can help you improve your computer performance to some extent by deleting apps on your machine you barely use or need anymore. When you use Uninstallor, it will scan your hard disk drives and Windows Registry, and show all files, folders and Registry entries related to the program that you want to uninstall. Just with 3 easy steps on Uninstallor, you can delete them all. Any remnants of the uninstalled software will not remain on your system. Uninstallor lets you completely remove unwanted software as well as the leftover file system and registry items, thus making your computer clean and even faster. Due to its compact size and innumerable features, Uninstallor is now considered to be one of the best options to uninstall unwanted software on Windows and Mac.
Basic Features of Uninstallor
Easy steps to set up and install.
Fashion and good UI design with dark and bright theme.
Automatically check your Registry and hard drive for remnants that the program might have been left behind.
Display comprehensive data on any program installed on your computer.
Strong ability to delete unwanted application and stubborn software that cannot be removed by Windows utility.
Get rid of unknown toolbar or browser plugin hard to be detected or removed completely.
Fix the program install/uninstall errors if anything found.
A build-in search bar that allows you to quickly find the application you would like to remove.
Custom Fix to remove programs that do not show up in your program list.
Remote Fix to let Uninstallor technicians resolve your problem via Teamviewer with your permission.
30 Days money-back guarantee.
How to Use Uninstallor?
Using Uninstallor is fairly simple. Even if you are not an experienced user, you can finish the removal by yourself. All you need to do is:
Find out the software that you would like to uninstall, and select it. Uninstallor will display detailed information about the software at the bottom.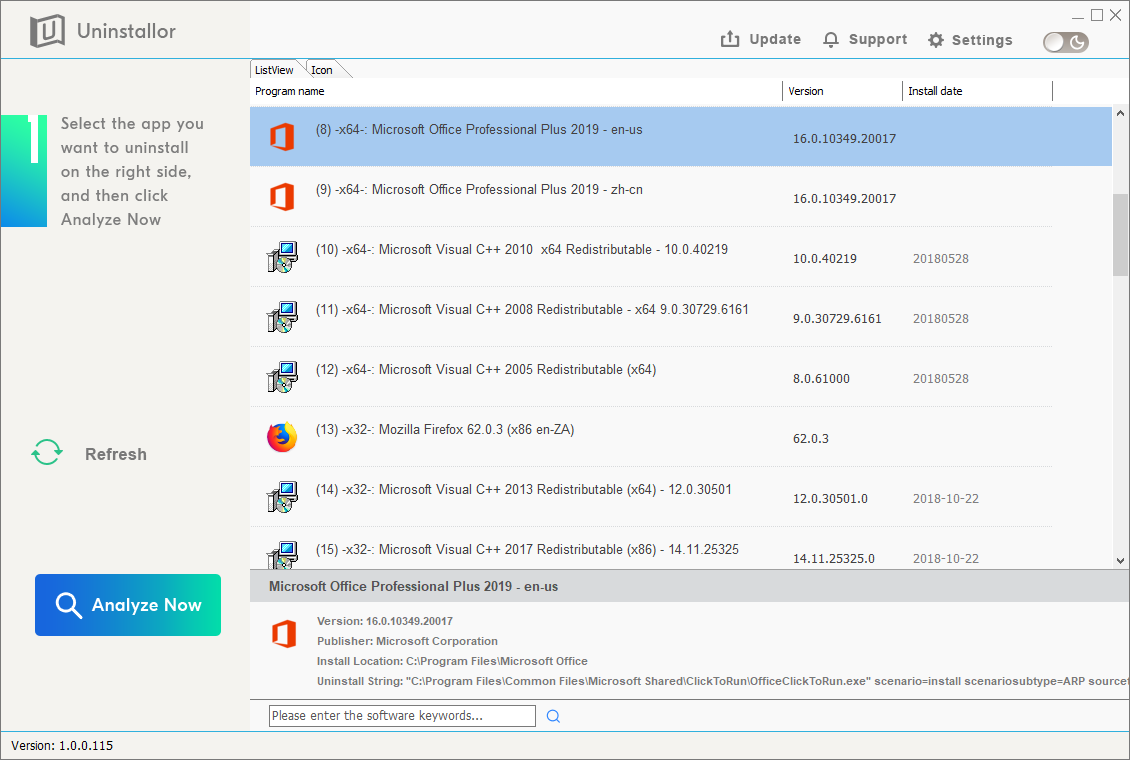 2. Click on "Analyze Now" button. Uninstallor will automatically scan the registry and system files to find out any leftover files related to the software.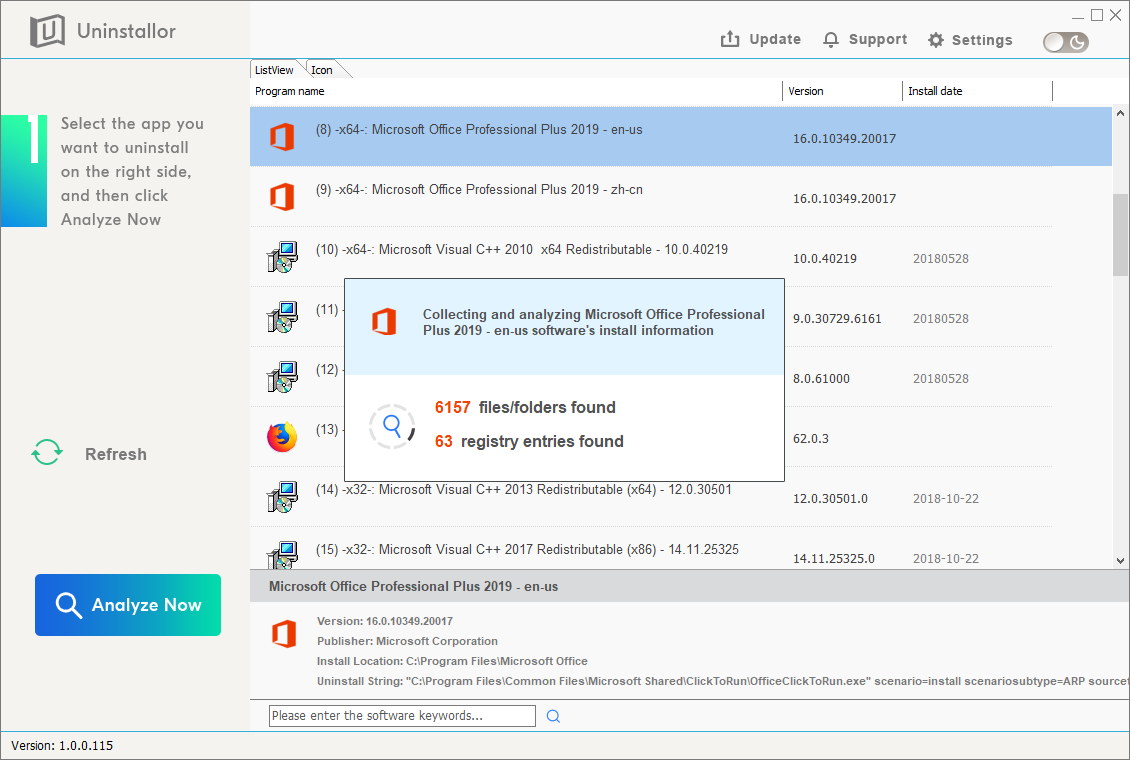 3. Once finished, click on "Uninstall button" to delete them all.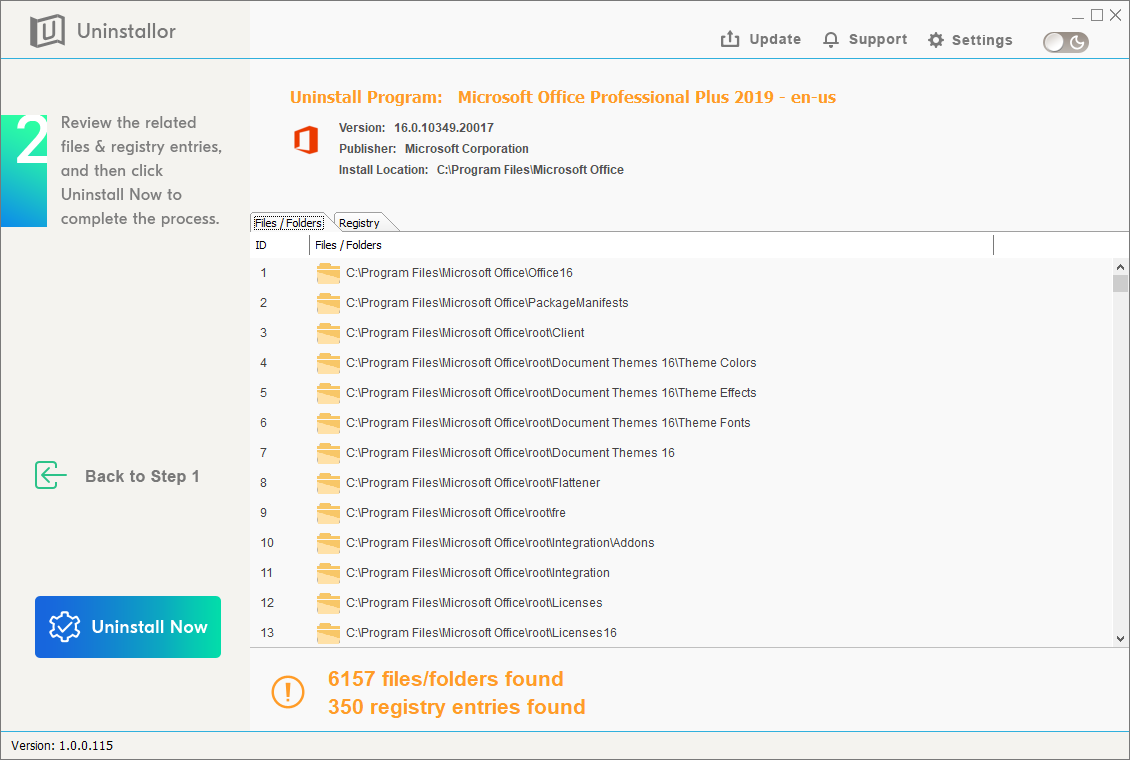 4. Click Yes on the pop up dialog box to confirm the removal and Uninstallor will inform you when it has officially deleted and removed all traces of the application from your computer.
Conclusion:
Uninstallor is not a must-have tool for most computer users because both Windows and Mac have built-in utilities that help in uninstalling apps that are no longer used or required. However, sometimes you may get stubborn software installed on your machine that will not allow you to uninstall in the normal way. And for some Microsoft built-in software like 3D Builder or Groove Music, you'll find you are out of luck when you are going to delete them. That's why you need Uninstallor on your machine. With Uninstallor, you do not have to figure out what files to remove or what boxes to check – all you need to do is specify the program you don't want and hit "Uninstall Now", and Uninstallor will take care of everything. Uninstallor does more than just getting rid of the main application, it helps you get rid of leftovers, shortcuts, registry files and other unwanted remnants. No more leftover files lingering around. If you want a program gone for good, Uninstallor is the way to go!