Uninstall Vuze Toolbar – Easy Steps to Follow up
Negative Response to Vuze Toolbar
Vuze toolbar has been in use for many years, but there are requirements to help uninstall it nowadays. Vuze toolbar has been recently found to not be beatable. It installs without PC users' permission even its box is unticked; meetings with vuze toolbar are always made after users uninstalled Vuze using Revo Uninstaller together with Windows 7 Uninstall utility; uninstall Google Chrome and reinstall will not help uninstall vuze toolbar; delete all files under vuze and azureus will not help change the terrible situation. What scares PC users is that vuze toolbar would display a Vuze Remote tab and popup each time Google Chrome is opened. All these happen not long ago and vuze toolbar seems to target Google Chrome so far.
From the above negative description that vuze toolbar is considered as an unwanted application as it installs onto computers even after it was unchecked. To crown it all, vuze toolbar acts suspiciously and shares common with freecause toolbar virus to popup at each Google launch and to stick around after running reputable uninstaller together with anti-virus programs.
It should capture your attention when vuze toolbar becomes tough and refuses easy uninstall for it usually indicates that your database (where registry entries relating to computer services are placed) is modified to some extent without your knowledge. Any modification without permission is capable of weakening security defense of a computer, making it possible for additional installations of junks/ cookies, which is the reason why the computer equipped with vuze toolbar is running more and more slowly and also the reason why we need to uninstall vuze toolbar as soon as possible to strengthen up the defense as unknown cookies can track down one's whereabouts.
How Do I Avoid Vuze Toolbar Installation?
It is obvious that unchecking the check box next to any downloads will not help avoid vuze toolbar installation. Actually, to avoid installing vuze toolbar, we need to take precautions like:
* Update Windows/ browsers (including Google Chrome, Mozilla Firefox, IE) on a regular base.
* Run anti-virus program regularly.
* Seldom use P2P program/ shareware.
* Manage add-ons/ plug-ins/ extensions from time to time.
* Set browser to a higher secure state, enable popup blocker as it has been found that some toolbars are interacting with pop ups.
Good PC practice is always needed in a call to keep your computer in a good condition and avoid experiencing troubles to uninstall vuze toolbar.

Detailed Step to Uninstall Vuze Toolbar
Step 1. Uninstall vuze toolbar in Control Panel where it should been found.
a. Windows 7/Vista/XP
Start Menu -> Control Panel > select Add/Remove Program > look for vuze toolbar -> click on Uninstall/Change.
b. Windows 8
Locate 'Unpin from Start' > right click on it > choose 'Control Panel' from the pop-up menu) > uninstall vuze toolbar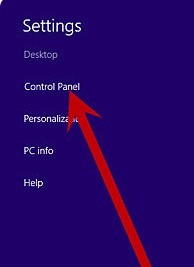 Step 2. To stop vuze toolbar from popping up automatically, we need to uninstall its startup item.
a. Windows 7/Vista/XP
Start Menu -> Select 'Run' -> type 'MSCONFIG' -> System Configuration > select Startup tab > find and tick related items > hit Disable button.
b. Windows 8
Bring up Task Manager > select Startup tab > find and tick related items > hit Disable button.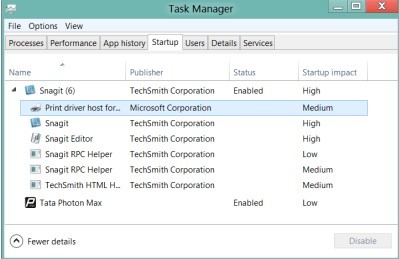 Step 3. Show hidden files to uninstall vuze toolbar completely
a. for Windows 7/XP/Vista users
Start menu > 'Control Panel' > search for 'Folder Options' > select 'View' tab > tick 'Show hidden files and folders and non-tick Hide protected operating system files (Recommended)' -> press 'OK'.
b. for Windows 8 users

Open My Computer > open Windows Explorer > select View tab > tick 'File name extensions' and 'Hidden items' options.

Step 4. Manage Add-on and Extension to uninstall vuze toolbar
a. Firefox users to follow up:
1) At the top of the Firefox window, click on the Tools menu -> manage Add-ons -> modification should be made under Extensions tab and Plugins tab respectively.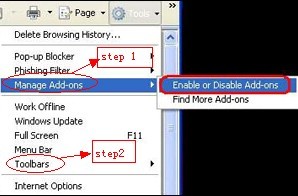 2) Go to 'Toolbars' and uninstall vuze toolbar there.
b. Google Chrome users to follow up:
Click on 'Customize and control' Google Chrome icon -> select 'Extension' > find and select vuze toolbar > click on the dustbin icon followed it.
c. Internet Explorer users to follow up:
Go to Tools -> 'Manage Add-ons' > go to 'Toolbars and Extensions' > find and click on vuze toolbar -> click 'Disable'/ 'Remove' to uninstall vuze toolbar.

NOTES:
As cookies and other junks piling up in the computer after quite a while, the above steps may not help with complete vuze toolbar uninstall. Without expert skills and toolbar uninstall experience, it is difficult to tell useful items from junks. Therefore, you need to attach extra attention when uninstalling vuze toolbar and other junks. Mistake would trigger error message and disabled service on the machine. As alternative, you are welcome to go to center for computer virus removal and get one-on-one assistance, VilmaTech online support will help you out right away.