Uninstall Kaspersky – How to Uninstall Kaspersky Anti-virus Program Completely?
Automatic uninstall Kaspersky is frowned upon, although Kaspersky does provide a clear method for uninstalling them. It's just not as simple as a check box that gets its own uninstall window, since you have to go through the Customize menu, which makes the auto-uninstall sort of surreptitious. Moreover, as a result of automatic uninstall Kaspersky may not uninstall the program incompletely including its leftovers like registry entries, invisible or virtual files. Here VilmaTech provides PC users with a few of effective methods about how to uninstall Kaspersky anti-virus program completely.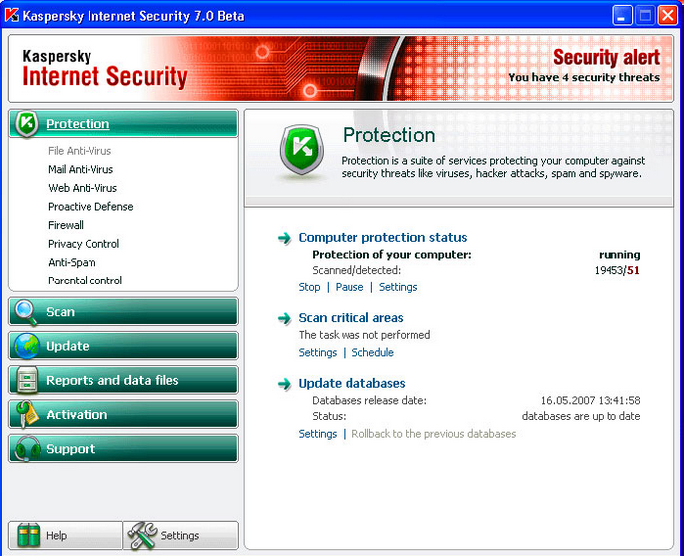 Uninstall Kapsersky – Manual Removal Tips
Aiming to an over uninstall Kaspersky tutorial, a lot of computer users all through the world aspire to pick a better and unified approach. Kaspersky Anti-Virus is one of the best antivirus software solutions available. It protects your computer against bots, worms, Trojans, rootkits, spyware and viruses. However, although the anti-virus program has improved its own installation process so it's faster than before, it won't take less time to uninstall process than before. Please follow the procedure below if you would like to uninstall it.


First One: Uninstall Kapersky via the Setup Wizard
1. Go to Start -> All Programs -> Kaspersky -> Click on Modify, Repair or Remove.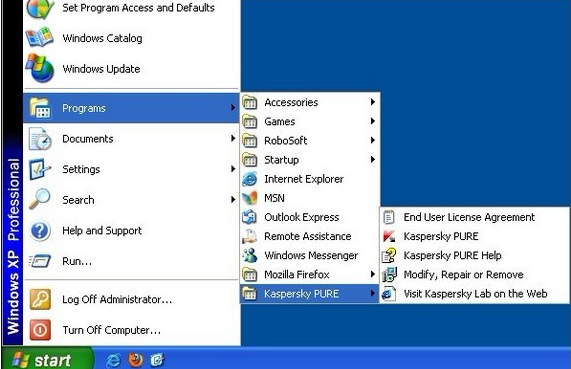 2. Then Setup Wizard will start. Choose Remove. Click "Remove".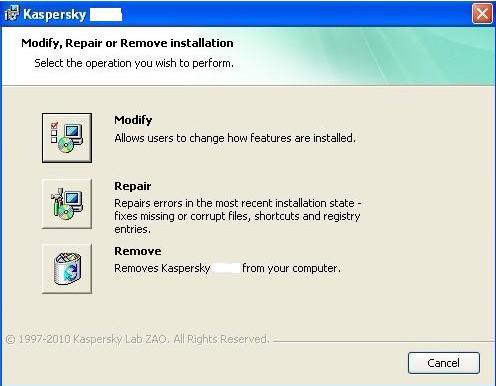 3. In the next window, you can choose what data accumulated and used by the program you want to save on your PC. To delete all data of the y anti-virus program, select "Complete uninstall". Click on Next button.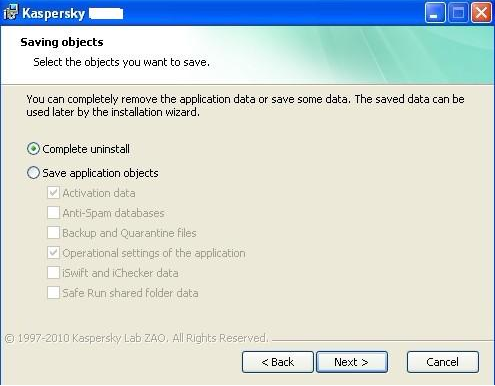 4. Pop-up message says that if you are ready to remove all components. Please click on "Remove" to continue.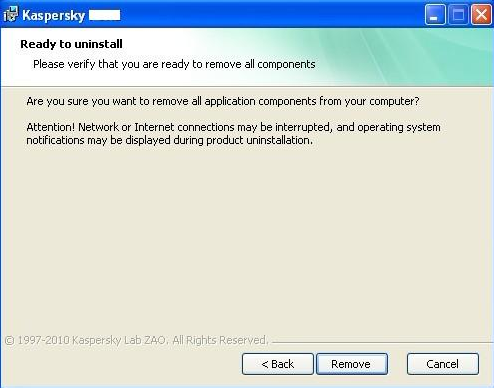 5. It will be required a rebooting to apply system changes and then finish the un-installation. When you are prompted to reboot the PC, select "Yes" to reboot it immediately.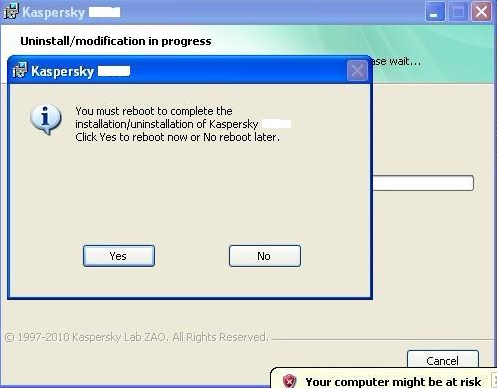 To completely uninstall Kaspersky by this its own wizard, besides all above information, you have to locate the program folder and delete the left files.
Click on Start button, click Computer/My Computer, open C/D drive to find Kaspersky folder and delete it. This is the last step to make sure the anti-virus program has been clean out.
Second one: Uninstall Kaspersky with Add/Remove Programs
A: Click on Start button-> Control Panel->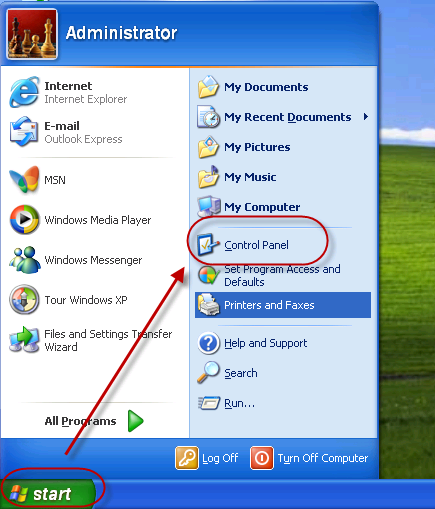 B: Double click on Add/Remove programs(Uninstall/change a program for Windows 7/Vista)->scroll down and locate Kaspersky->Click Change/Remove button.


C: In the next window, there are three options Modify, Repair, Remove. It is needed to click on Remove option and proceed to uninstall Kaspersky.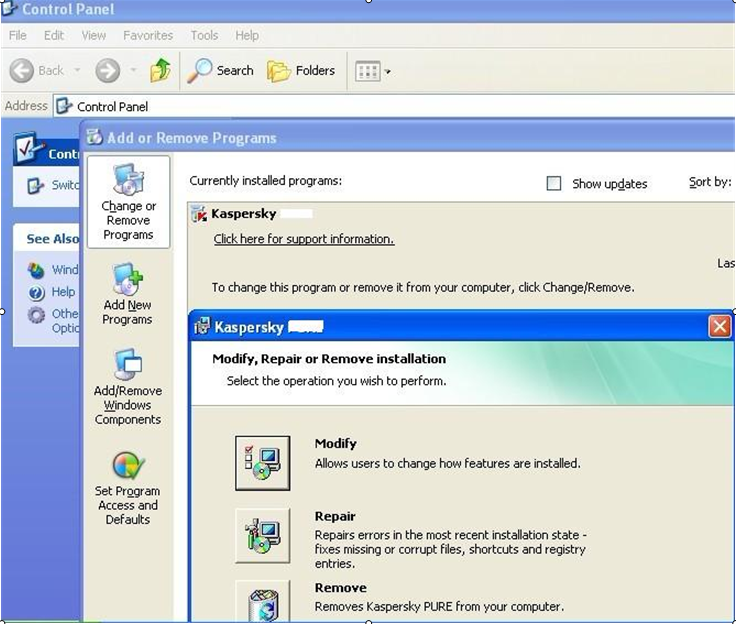 D: Follow required process and get it finished. It is similar to the wizard mentioned above.
E: Usually there are leftovers including registry entries, invisible files, and unknown add-ons could be left in system when you uninstall such anti-virus programs by the way- Add/ Remove Programs. One more thing that you have to do is open Registry Editor to delete related Registry entries.
Together press Windows +R, type regedit in run window, click ok. Registry Editor comes up.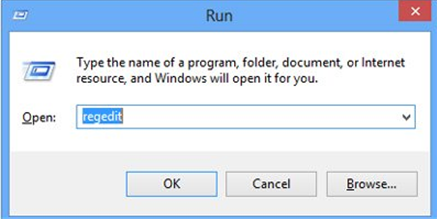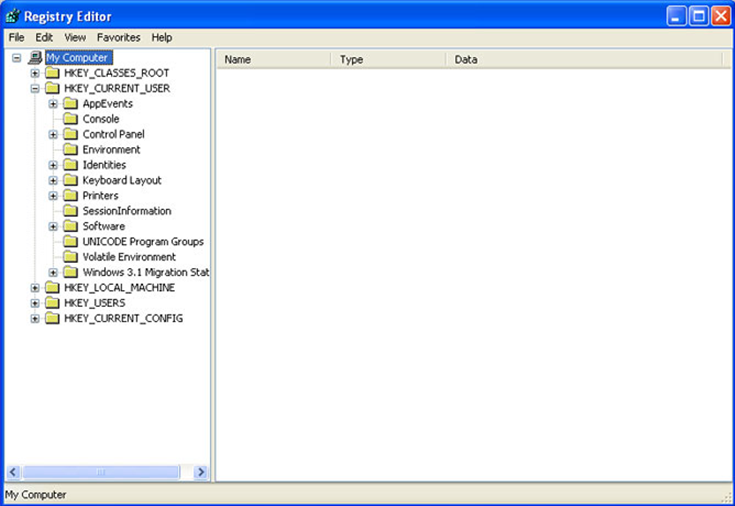 F: Find the target registry entries and delete them.
HKEY_CURRENT_USER\Software\Microsoft\Search Assistant\ACMru\5603, 000 – Kaspersky
HKEY_CURRENT_USER\Software\Microsoft\Windows\CurrentVersion\Explorer\MenuOrder\Start Menu\Programs\Kaspersky PURE, 00D8 4B 41 53 50 45 52 7E 31KASPER~1, 0180 4B 00 61 0 73 00 70 00 K.a.s.p.
HKEY_CURRENT_USER\Software\Microsoft\Windows\ShellNoRoam\MUICache, C:\Program Files\Kaspersky Lab\Kaspersky PURE\avp.exe – C:\Program Files\Kaspersky Lab\Kaspersky \avp.exe, C:\Program Files\Kaspersky Lab\Kaspersky\drvins32.exe – Driver installer, C:\Program Files\Kaspersky Lab\Kaspersky \netcfg.exe – Net configurator
HKEY_CURRENT_USER\Software\Trolltech\OrganizationDefaults\Qt Factory Cache 4.6\com.trolltech.Qt.QImageIOHandlerFactoryInterface:\C:\Program Files\Kaspersky Lab, (Default) – (value not set)
HKEY_CURRENT_USER\Software\Trolltech\OrganizationDefaults\Qt Plugin Cache 4.6.false\C:\Program Files\Kaspersky Lab, (Default) – (value not set)
HKEY_LOCAL_MACHINE\SOFTWARE\KasperskyLab, (Default) – (value not set)
HKEY_LOCAL_MACHINE\SOFTWARE\Microsoft\Security Center\Monitoring\KasperskyAntiVirus, (Default) – (value not set)
HKEY_LOCAL_MACHINE\SOFTWARE\Microsoft\Windows\CurrentVersion\Installer\Folders, C:\Documents and Settings\All Users\Application Data\Kaspersky Lab\AVP9\Dskm
At Last
So far, whichever the way you have tried, you could have uninstalled the anti-virus program successfully. However, it is essentially important to have a clear idea on how best you should do to finish the process before you deleting anything. Since it is possible to cause uninstall error or any uninstall accident for mistakenly handling with registries. The three ways mentioned above is relatively clear to follow, hope you can get help here to uninstall Kaspersky completely.
If you still have no idea on how to remove this program or want to uninstall any other Windows programs that can not be removed by Windows Add/Remove programs, you can contact VilmaTech online support team to ask for more tech information and they will give you professional suggestion and help you resolve your PC problems including the uninstalling issues.