Remove PCEU Virus on PC & Android Phone – How to Remove PCEU Virus Completely?
What is PCEU Virus?
PCEU virus is a new version of ransomware infection that is designed by cybercriminals. The cybercriminals illegitimately disguise the virus as United Kingdom Police (Police Center e-crime Unit) to infect computer and Android system so that they can successfully threaten the virus victims and gain illegal profit. The virus will display a full screen with warning message on your computer/Android phone screen, which alleges your computer/Android phone is locked due to you have been violating copy-right and related rights law- (Video, Music, Software) and illegally using or distributing copyrighted content. In a word, the warning messages simply give you a view that you have violated the related laws. Besides that, the lock screen focus on the message that says if you don't pay for fine within 72 hours, a criminal case will be initiated against you automatically. Moreover, in order to let target users know how to pay the fine, they clearly show the sentence "The mount of the fine is £100, you can pay a fine Ukash or PaySafeCart" with green text. Actually, every alert you see is a trick designed to cheat your money. Don't believe it.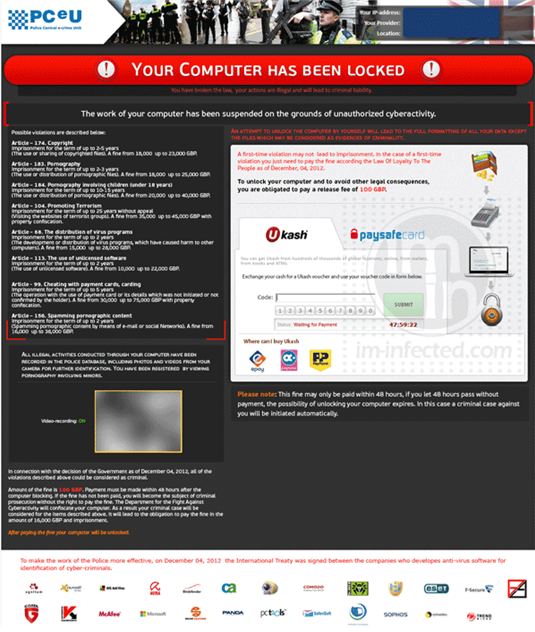 Several Symptoms of PCEU Virus Are Seen on Computer and Android Phone
* The computer/Android phone screen is locked and can't run any program including anti-virus program, web browser, network and other software. No matter how many times you have tried to completely shutdown then reboot your computer/Android phone, only the fake notification would pop-up on.
* Claim you have violated certain laws, a criminal case will against you. Sometimes, a part of the victims are going to pay though they haven't done any illegal activities. Apparently, the criminals are to seize this state of mind to successfully deceive users.
* Demand you to pay the fine with required Ukash or PaySafeCart. And show you how to finish the payment.
* Slowdown, freeze and blue screen problems constantly happen. Internet connection is corrupted. If the PCEU virus is bounded with other infections such as hijack virus, Trojan virus, Worms, you may get a lot of pop-ups like ads, coupons, and other blue error codes.

Quickly Remove PCEU Virus to Avoid Further Damages
Step A: Please try to put the infected machine into Safe mode with networking first to unlock the screen temporarily from this PCEU virus. To put the computer in Safe mode with networking, please hit F8 key while system is booting up (Skipping the first interface) before it's logging in. Windows Advanced options then will come up. There are a few of boot options at there, use arrow keys to highlight Safe mode with Networking option and hit enter key. Windows will be loading file in to that mode then.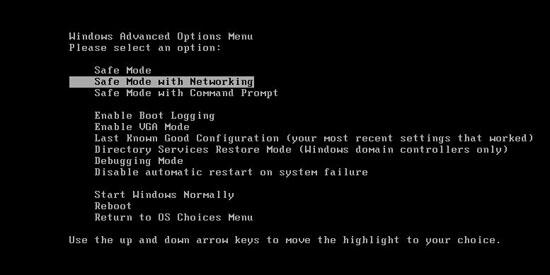 Note: Safe mode is a diagnostic startup mode in Windows operating systems. Safe mode with networking is used as a way to gain limited access to Windows when the operating system won't start normally. Especially to temporarily unlock infected screen and enable computers enter safely into Windows and correct any problems (Remove PCEU virus).
Step B: Open Windows Task Manager to end the virus processes. Together Press Ctrl+ Shift+ Esc or Ctrl+ Alt+ Del, Windows Task Manager may pop-up. Select on Process tab. Scroll down and locate to the virus file (random), then click on End process.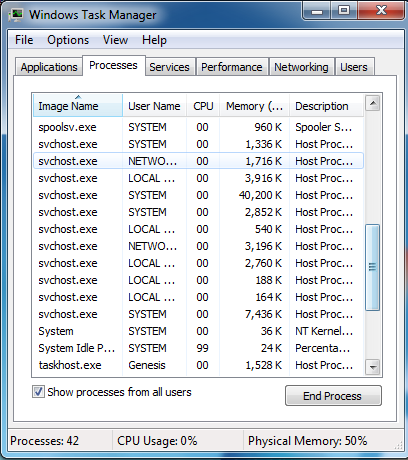 Step C: Open your local System Disk, Find the below virus folder files and delete them.
Before doing the step c, you should show the hidden files at first to easily find the virus files.
Click on Start button-> Click on Control Panel->Double click on Files and Folder Option->Select View tab->Check "Show hidden files, folders and drives"->Uncheck "Hide protected operating system files (Recommended). Then click ok to finish the changes.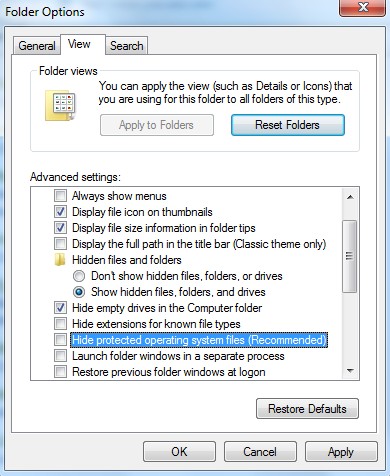 Open Local system disk, delete virus folder files.
%AppData%\random
%CommonStartMenu%\Programs\*.lnk
%Desktop%\PCEU.lnk
Step D: Open the Registry Editor to delete virus registry entries. Together press Windows +R key->type regedit in the pop-up Run window->click ok. Registry Editor shows up then.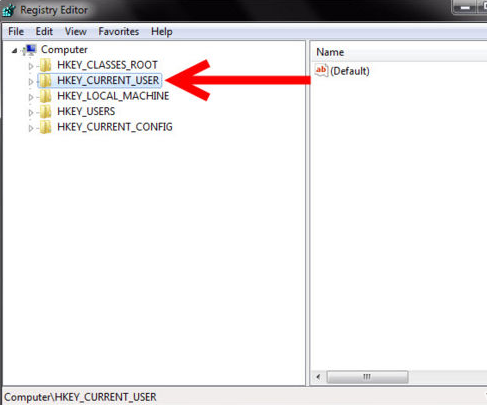 Step E: Delete all virus registry entries.
HKCU\SOFTWARE\Microsoft\Windows\CurrentVersion\Run Regedit32
HKEY_CURRENT_USER\Software\Microsoft\Windows\CurrentVersion\Run ""rnd
HKEY_CURRENT_USER\Software\Microsoft\Windows\CurrentVersion\Policies\System "DisableRegedit"
HKEY_CURRENT_USER\Software\Microsoft\Windows\CurrentVersion\Policies\System "DisableRegistry"

How to Prevent PCEU Virus from Infecting Your Computer and Android Phone
This is the virus that is spread by spam email and PCEU virus is embedded within attachments that are sent to millions of users every single day. These emails will contain a very short and to the point message, instructing the user to quickly open the attachment to see what they have found regarding them. It will state that it is a picture or some other piece of personal information. The virus would be installed sneakily on the computer and Android phone without users' permission when they open the attachment from suspicious email. Another way that the virus gets onto computers and Android system is through freeware and sharing websites. The PCEU virus can be placed within downloads and when the user installs these free programs it also unpacks the malicious attack. We would like to introduce several tips on how best do to avoid such virus.
First, it is important to install a standard/ advanced anti-virus program onto computer and Android phone. Make sure there are no loopholes in the security that will be possibly used by these Trojans that carry the PCEU virus can enter through.
Second, be careful of Internet pop-ups. If you see a pop-up that looks like Windows (or another trusted program's)/Android anti-virus software but warns you of a problem that need to be fixed with an extreme level of urgency, it may be a scam, so close the pop up, then run your own anti-virus program to check.
Third, downloads should only be allowed if the source is trusted and likely been used before without any risk to the computer and Android phone. If you need to download some needed programs, it is highly recommended you get it from the official website. Usually the scam virus is able to sneakily embed into system while you are downloading some freeware.
Conclusion
The scam PCEU virus is quite malicious. As you seen, the tricky virus not only locks your computer/Android phone but also blackmails your money. Besides that, it is rarely alone on a computer/Android phone. The infected machine usually has multiple infections. So the damages made by the virus shouldn't to be neglected. The solitary goal for the virus is gain illegal profit. The virus is able to let criminals generate your web traffics, detect personal confidential privacies like personal online banking information. It is really urgency to get rid of PCEU virus once you find it on your computer/Android phone. Be noted that if you have your Android phone blocked down by PCEU virus, it is high recommended to get help from technicians here since the related skills and technologies are exclusively mastered by limited technicians. If you want quick and professional help, just start up a live chat window here to contact VilmaTech Online Support.