The Latest Released Apps of 2023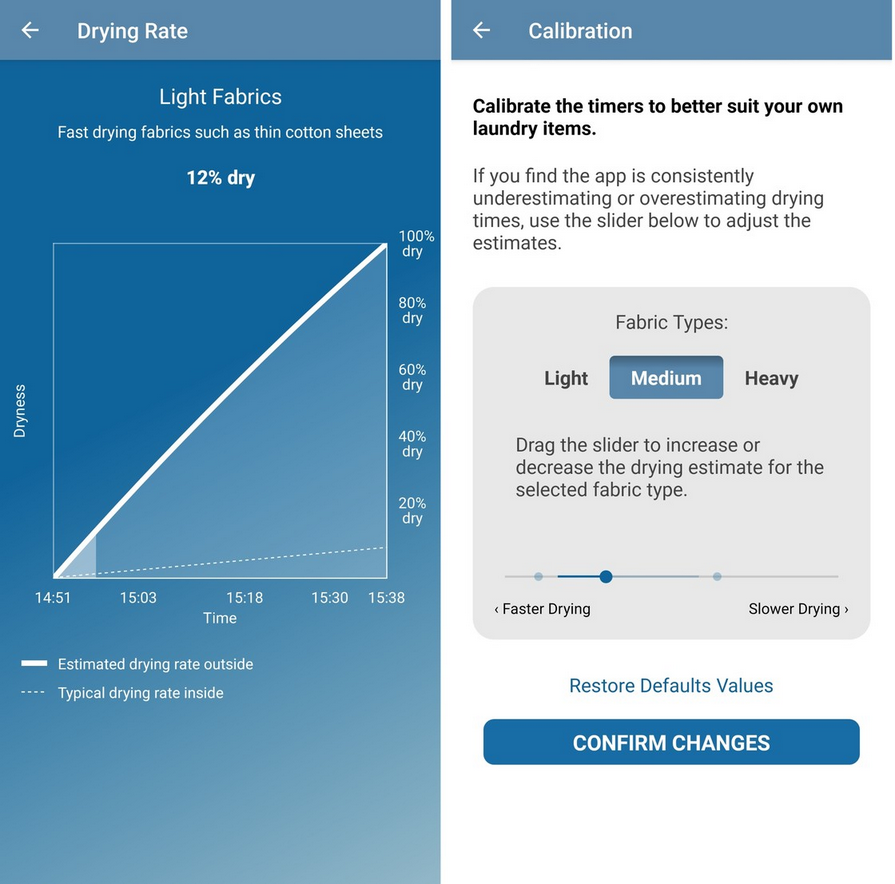 Laundry Timer
In the dryer is not yet popular today, the majority of families are still accustomed to drying clothes up, but drying clothes but to see the face of God, sunny or cloudy, how the temperature and humidity, there is no wind and many other factors will affect the speed of drying clothes. In real life, it is really difficult for us to master the drying time, most of the time is always drying there, and then constantly go over to touch to determine whether dry or not, if it is drying outdoors, we have to worry about whether the clothes will be dirty.

Laundry Timer is an app specifically made for drying clothes. It gives you a prediction of the drying time based on the weather conditions of the current location, so you don't need to check it as often or worry about drying outside for too long. The app displays local weather conditions, including the usual temperature and humidity, as well as data like "solar energy". What you should be most concerned about is the drying time estimation given below.
Laundry Timer classifies clothing into three fabric categories: light, medium, and heavy, which correspond to fabric items such as thin shirts or quick-drying clothes, cotton shirts or long-sleeved sweatshirts, and thicker jeans or thick towels. Depending on the material and thickness of the fabric, Laundry Timer will give you a reminder at the corresponding time. Of course, you can also recalibrate the timer according to the actual condition of your clothes.
In addition, Laundry Timer will also give you time-sensitive reminders when the weather changes suddenly, such as rain or high winds, so don't forget to put your clothes away then. Now, you can download Laundry Timer from Google Play.
AI Photo
In the past few months, it seems that we can really feel that AI is about to become "refined", with AI drawing challenging art awards, and programmers being ashamed of themselves in front of ChatGPT, and DeepL Write, which was launched a year ago, improving rhetoric and perfecting writing. Unlike most similar products that are cloud-based, the developer has brought the model to the local market, so you don't need to be a member and you don't have to pay extra to get an efficient AI drawing experience.
The AI Photo experience is similar to other AI drawing tools. Click "Add Image" on the main interface, fill in your drawing requirements in the "Image Description" on the right side, and then click "Produce Image". The app will give you a clear time progress bar marker, and you will get an AI drawing after the progress bar runs out. If you are not satisfied with the drawing result, you can adjust the picture description, and if you think the picture is too rough, you can increase the value of "steps" under the description to make the picture more detailed. Note that AI Photo currently only supports English image descriptions due to the limitations of the built-in model.
AI Photo supports iOS, iPadOS, and macOS platforms, with the iOS version requiring an iPhone or iPad from 2021 onwards and the macOS version supporting only M1 or M2 chip Mac devices, giving you a significant advantage in processing efficiency. The desktop side has a clear advantage over the mobile side. In addition, the macOS version supports custom models. If you are not satisfied with the drawing effect of the built-in models, you can import other CoreML models in "Settings" > "Models".
DeepL Write
I'm sure you're no stranger to DeepL, a translation tool. Recently DeepL has launched another writing tool powered by artificial intelligence technology, which can help authors correct errors and embellish their works in a very short time.
The interface of DeepL Write is similar to that of a traditional tool web page, so what you see is what you get, and you can use it right away. First, select the language in which you want to enter your text. Currently, only English (American and British) and German are supported. Then, in the text box on the left, you can type or paste the text you want to modify, and the text box on the right will automatically display the text modified by artificial intelligence after a few seconds, and highlight the modified words by underlining and green font.
Clicking on any word in the right text box will bring up a candidate window where I can choose whether to display other options for "whole sentences" or other options for "words". Once you select the replacement type, DeepL Write will provide you with a number of replacement options for the selected word or whole sentence, and you can replace it directly by clicking on it. Once the replacement is complete, click the Back button to undo the replacement.
At the bottom of the right text box, there are four buttons, from left to right, for Voice Read, Like, Stomp, and Copy. Click the two-way arrow button in the middle above the two text boxes to swap the contents of the left and right text boxes. So far, these are all the features of DeepL Write, which can be said to be rather rudimentary. However, in terms of the effect of the artificial intelligence criticism, it is still quite good. I took a few paragraphs from some of my own writing for testing, and there was nothing wrong with the suggested changes provided by DeepL Write, and some of the suggested expressions were indeed more authentic than my original text. However, DeepL Write has also been tested in cases where the suggested word changes are exactly the same as the original word, which is understandable since it is still a Beta version. My comment on DeepL Write is that if I had been born a few years later, I wouldn't have had to suffer so much when writing essay.
Currently, DeepL Write is only available on the web and free users can rewrite up to 2000 characters at a time. If you are a paid user of DeepL Pro, you can rewrite up to 5000 characters at a time. DeepL Write does not currently support the DeepL API, nor does it support the glossary or formal/informal tone features.
yetCalc
After many years of schooling, we all used to punch the hyperbola and kick the pi, but now the arithmetic application we learned has long become a way to calculate which size of daily necessities are more cost-effective to buy at the supermarket.
Most of the built-in calculators from manufacturers only have simple calculation functions, so it's easy to add, subtract, multiply and divide, but when we encounter slightly more complicated calculations or scenarios that require unit conversions, we have to turn to third-party applications.
In addition to common calculations, yetCalc also supports various unit conversions, including exchange rate conversions, volume, area, length, weight, etc. Its exchange rate conversions even support querying the exchange rate of a fixed date, and yetCalc is capable of handling such needs occasionally. yetCalc itself requires very few permissions, so if you do not have the need to query the currency exchange rate of a specific date, you can completely deny access to its network.
In addition, yetCalc can also perform simple function calculations, which is sufficient for users with slightly more advanced calculation needs on a daily basis.
Overall, as a calculator, yetCalc basically meets all our needs, and the extra features it offers are more useful than the manufacturer's calculator. The design of yetCalc follows the material design and is colorful, so it doesn't look out of place even as our default calculator.
You can download yetCalc through F-Droid, which is open source and completely free, with no in-app purchases or ads.
TouchRetouch 5.1
TouchRetouch is a pretty interesting old retouching tool that can do a lot of things that professional photo post can't do very well, such as removing backgrounds from photos and fixing blemishes, but at the same time removing them so that you don't see the processing traces in them, so delicate processing can reduce the difficulty of a lot of post work.
One year after the last 5.0 version update, this quite powerful photo repair application has finally launched version 5.1.0. Although the version number is not as huge as last year's 5.0, we can still see the many highlights it brings.
Compared to other post-production applications of the same type, TouchRetouch's blurring tool is actually more like "depth of field" – especially when used for images with multiple portraits coexisting, the blurring feature can highlight the main portrait presented, creating a three-dimensional depth of field effect. In version 5.1, the blur tool can more accurately identify faces and text, allowing us to blur portraits without having to specifically adjust the center.
Another asset of TouchRetouch is object-awareness. In 5.0, object perception was used to minimize the impact on other screens when deleting objects; however, it was still lacking in some scenes where people were present. Therefore, in 5.1, TouchRetouch has enhanced object perception, especially for the face, which needs to be processed frequently, so that there are no more burrs or obvious edges when processing.
Another not so "important" change in version 5.1.0 is that the payment model has been changed from a buyout to a subscription system, and old users who originally paid for the buyout can keep the features they currently have access to and automatically upgrade to the so-called "old friend package". TouchRetouch offers a 50% discount on the first year of subscription.
This may not be so good for old users – on the one hand, TouchRetouch has not been updated very often over the year (mostly bug fixes), and on the other hand, as an image fixing application, TouchRetouch is not used that often in daily life.
Poweramp
Poweramp, the most comprehensive native music player for Android, has finally received the long-awaited dynamic lyrics display and Material You dynamic coloring widget in the latest 949 bulid update, giving us a big gift quietly and unexpectedly.
According to the official update notes, this update supports both synchronized lyrics and asynchronized lyrics. You just need to put the corresponding LRC file into the same directory of the song, and Poweramp will automatically scan the lyrics for tags, names and folders to match the song automatically. Also, after my testing, lyrics embedded in music files can be read successfully.
To get to the lyrics screen, just click the lyrics button directly on the album cover. But if you're a "compulsive" person like me and can't stand to put anything else on the album art, Poweramp also supports swiping on the album cover to access the lyrics. Poweramp also offers a choice of three lyric display sizes, which can be adjusted in the settings or by pinch (two-finger pinch or open) gestures in the lyric display.
In addition, Poweramp has also opened a new API interface for plug-in developers to access other lyric services to further enhance the experience. Maybe in the near future, we will be able to search lyrics online directly in Poweramp.
The downside, however, is that when Poweramp displays dynamic lyrics with translations, it chooses to highlight the translated lyrics instead of the original language in which the artist is singing. Also, the font size and spacing between the original lyrics and the translated lyrics are identical, which can be a bit dazzling. It is not clear whether this is a "bug" or a "feature" of the new version, but I think it will still have a big impact on the usage experience.
Another thing I regret is that the lyrics are only centered, not to the left or to the right. But I think we can leave it to third-party skins to solve these problems, after all, Poweramp's third-party ecosystem is really beyond the reach of other competitors.
If you are a long-time user of Poweramp, you must have complained about its "no design sense" widget. In this release, Poweramp has finally taken a stab at it, bringing in a new Material You dynamic coloring widget.
Although the new widget's aesthetic is still "hardcore", at least it's a positive sign. The updated Poweramp offers more widget options for Android 12+, and you can still freely adjust parameters like corner radius, font, shadow and color.
Note, however, that the previous widget style may need to be retooled due to errors that have occurred since the update.
In addition to the two heavyweight features above, there are several nice little updates worth introducing. For example, you can move all tab information and buttons below the album cover to enjoy a completely pristine album cover; you can also turn off the background color of tabs, playlists and navigation bar to get a cleaner interface design.
All in all, this update to Poweramp is very sincere. With the previously adapted theme icons, Poweramp is down to the last big button on the media card for Android 13 features. And if Poweramp pays more attention to the UI in the future and hires a professional UI designer to optimize it (like me), then I believe it will be perfect. You can download Poweramp from the official website.