Supra Savings Pops up and Ruin Surfing Experience, Removal Guide
How to Get Supra Savings Popups?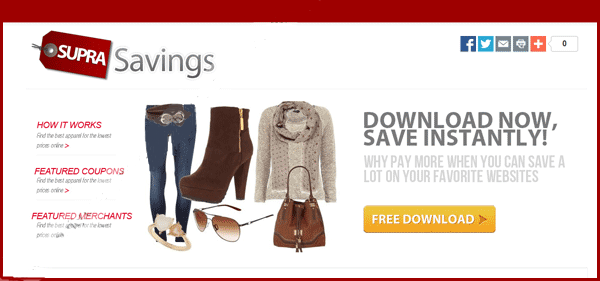 According to our clients, Supra Savings pops up after shopping online for a while. Sometime later, it increases in frequency. It is easy to tell that SupraSavings offers coupons, it of course spreads mainly through world wide web. If one surfing on the web site that cooperates with the ads promotional site.
The other major way to get SupraSavings is via drive-by download. Usually, SupraSavings would be bundled with some freeware/shareware. Anyone who install a third-party without checking the sub-options to install along the process would get relentless SupraSavings popup ads.

Will SupraSavings Ads Damage Computer?
Supra Savings is technically an advertising platform. It is no more than a PUP (potentially unwanted program) for its unpleasant behaviors. SupraSavings by itself will not harm a computer; however, it can influence a computer adversely. To get more details, please keep reading. Any question will be gladly answered by security adviser from VilmaTech Online Support if one starts a live chat window here.

The persistent popup and automatic start without permission indicate that the startup configuration has been modified. As a web application, it is BHO technique that helps with it. If such technique is taken advantage by infection, vicious codes will be injected into system configuration easier without permission and knowledge.
The frequent popup will degrade PC performance as more caches are piling up in local disk to take up limited space as well as CPU. This would lead to unreasonably used resource, leaving insufficient resource to hinder full play by some pivotal system components; take security services and programs for example, they might not be that powerful as they were to ward off potential threats.
As a promotional tool, Supra Savings would record users' online whereabouts so as to figure out preference and the place to publish which products. This is mainly accomplished by JS technique. As soon as such technique is captured by virus, it would help record any in-put information, especially log-in credentials for identity theft.
As a matter of fact, there's a big chance that SupraSavings can be held hostage by virus due to:
SupraSavings adopts some slightly-modified techniques to hijack many browsers.
There are many similar advertising platforms available and it is easy to make another; therefore it does not deserve fine work to reveal bugs.
SupraSavings randomly builds cooperative ties with third parties without careful examination.
SupraSavings Harassment
More web applications like browser hijacker/redirector and toolbar might be detected later.
No conventional methods will remove SupraSavings pop ups.
Freezes can occur occasionally on both computer and browsers.
Multiple processes might be caught to run in background to consume internal resrouce.
Virus might be later detected after being controlled by SupraSavings ads.
It is highly recommended to remove SupraSavings before something unpleasant happens to the controlled machine and complex the procedures in removing the pop-up ads. Since SupraSavings is not virus at all, manual method is the best for it. Should you have any question on the procedures or confusion, please do feel free to get one-to-one assistance by contacting VilmaTech Online Support so that no mistake would be made.

Follow Instruction to Remove SupraSavings Popup
A
stop SupraSavings from popping up by starting with pop-up blocker.
Internet Explorer
Access IE's Tools window and choose Options.
Hit its Privacy tab to locate pop-up Blocker section and check "Block pop-ups".


Firefox
Click on Firefox's button to select "Tools" for Web features.
Select SupraSavings to be blocked.


Chrome
Spread its tool menu and choose Options.
Hit "Under the Hood" tab to press on "Content Settings" button.
On the pop-up window, choose "Pop-ups" on the left pane and access "Exceptions" on the right pane to make sure that SupraSavings is not there.
Press "OK" button to block SupraSavings.


Opera
Expand Opera's menu to select "settings" for "Preference".
Browse to General tab and locate "Pop-up" section to choose "Block Unwanted Pop-ups".


Safari
Click on "Safari" option on the upper screen to click on "Preference" option.
Hit "Security" tab and check the box next to the option "Block pop-up windows".



B
access system configuration to disable/remove the startup items of SupraSavings.
Windows 7/XP/Vista
Press down Win key and R key together to get a Run box.
Put in 'MSCONFIG' and hit Enter key will get another window.
Then hit on Startup tab to remove SupraSavings' start up item with 'Disable all' button.


Windows 8
Use Ctrl+Shift+Esc key combination to access Task Manager.
Browse to Startup tab and remove SupraSavings' start up item with 'Disable' button.


Mac OS X
Hit on Apple icon and choose 'System Preference' in the drop-down list.
Navigate to 'Users & Groups' and choose the user account that is harassed by SupraSavings.
Locate its startup item on the right pane.
Tick the box next to it and hit on minus icon to complete the startup removal session.



C
access Running Task to disable/remove SupraSavings' service.
Windows 7/XP/Vista
Access Start Menu to click on All Programs for Accessories.
Select System Tools and then choose System Information.
Next expand Software Environment and choose Running Tasks.
You will now see the path for each service and program in the right pane.
Disable the items related to SupraSavings.


Windows 8
Choose All Apps on Start Screen and select Accessories.

Then choose System Tools and then System Information.
Next expand Software Environment and choose Running Tasks.
You will now see the path for each service and program in the right pane.
Disable the items related to SupraSavings.

Mac OS X
Hit on Finder menu and select "Services" for "Services Preferences".
Tap "Services" on the left pane and locate SupraSavings on the right.
Disable/remove SupraSavings' service.

The Purpose of SupraSavings Pop up
SupraSavings is an advertising platform offering coupons and promote products in passing. The more people click on it, the more traffic it gets to be more popular and the more profit it gets both when PC users using its coupons and through PPC (pay per click). It is obvious that what Supra Savings targets at is money. Such ads can also generate income when programs asking for cooperation, i.e. publish its products on Supra Savings.

SupraSavings Removal Tip – Defrag
As what has been stated in the preceding paragraphs that it is not good for PC performance for its crazily piling-up cache and the fat chance to be captured by virus, it is recommended to check for any additional threat or potentially dangerous items on the same computer so that SupraSavings will not return right after the removal. If you don't know how to check, or you run into difficulties in removing Supra Savings, please do not hesitate to get exclusive help from VilmaTech Online Support. Note: it is not capable of removing something permanently, one should always follow good PC practices to be free from potentially dangerous items as well as infections. Defrag is also recommended after the removal to optimize the machine for a better operation when the scattered SupraSavings files are exterminated. Here's the video to show how.