Remove Your Computer Has Been Blocked Virus, Android Malware Removal
Your Computer Has Been Blocked Virus is part of ransomware, perturbs many computer users' lives by blocking their computers and Android phone. It's an instant propagated infection can block thousands of computer users all around the world. Some innocent victims mistakenly suppose Your Computer Has Been Blocked virus Android malware is attributed from the enforcement agency due to they has been persuaded by the solemn virus locked screen, displaying large amounts of messages "The work of your computer has been suspended on the grounds of violation of the law of the United States of America," and saying clear law article purported from FBI high-authority agency.
Well that's the key question as some computer users get ready to pay the fine demanded on the locked screen to unlock their infectious computers. In fact the truth right now is Your Computer Has Been Blocked virus Android malware is designed by hackers to blackmail users' money, which really isn't attributed from FBI enforcement agency. In fact, once pay for the virus demanding fine, you would make a loss of $300, and even the infected computer is still blocked. So what're its malicious goals? What have we learned about how to remove Your Computer Has Been Blocked virus from PC or Android system? We'll get onto what those are in due course. But before we set off, it might help to get our bearings. You may continue reading the next parts.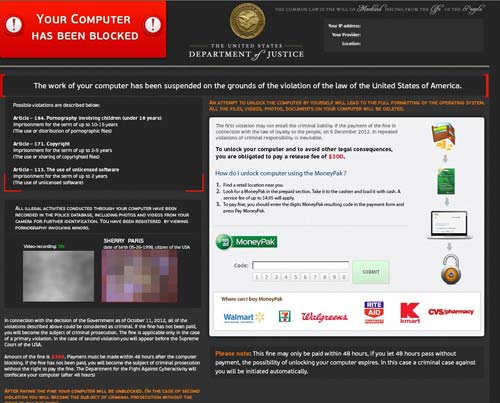 The saying "Your Computer Has Been Blocked" definitely is fake alert to scare those innocent victimized computer users. And the saying "To unlock your computer and to avoid other illegal consequence you are obligated to pay a release fine of $300" is more ridiculous for us for we really don't do any illegal online activities. You may suppose so ridiculous and inexplicable, that is right as the Your Computer Has Been Blocked is exactly a malicious virus, all large amounts of alerts are designed to cheat you. The real purpose of the alert message as viewed on the virus blocked screen is to threaten, for only when those fake message actually scared them will they would be trapped into paying for the required fine thereby the hackers acquiring the desired money.
You may be wondering if the Your Computer Has Been Blocked virus can be removed once you have paid the $300. Don't treat it lightly as your computer won't be unlocked though the hackers have received the money. Imagine, though, if a notorious hacker can resave what malicious thing the ever did why still a lot of computer users suffer from the Your Computer Has Been Blocked virus damages. Thus, resist to paying the fine once such malicious viruses are identified on your computer.
The thing you have to first do is to remove it from the infected computer ASAP. Under such situation, leave the Your Computer Has Been Blocked virus unfixed, there will huge damages happen on the infected computer. A series of computer troubles constantly occur even more make a total system corruption. Furthermore, the hackers can access into the victimized computers can steal confidential data by tacking online activities including tracking browsing history, remembered data, and online transaction data. If a big computer or high-authority confidential data is theft, and that could have dangerous, potentially disastrous consequences.

How to Remove Your Computer Has Been Blocked Virus
Well, I believe you have been aware that Your Computer Has Been Blocked virus is hackers' designed ransomware, its goal is to blackmail money. Do you suppose the damages made by such ransmoware are just like mentioned above? But they're not, the damages resulted in are far beyond our imaginations. Therefore, don't belittle the virus. It is highly recommended you quickly remove such virus from infectious computers. Let's now get onto the subject of this post- remove Your Computer Has Been Blocked virus. You may follow the steps listed as below.
1 Start with Safe Mode with Networking
Safe Mode with Networking is a diagnostic mode of a computer operating system (OS). You can use it to remove Your Computer Has Been Blocked virus as you can reach the desktop and handle with virus files in person.
A: Shut down the infectious computer totally. After it finishes, hit the Power button to start it but before you seeing Windows launches, you need keep hitting F8 key on the keyboard.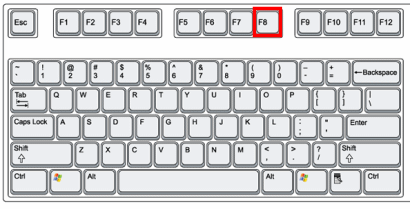 B: Next the Windows Advanced Boot Options will reveal out, you then highlight Safe Mode with Networking Option by pressing Up-down keys on the keyboard. Wait a while, Windows is loading files. If the Your Computer Has Been Blocked virus doesn't show there, you can continue the removal process.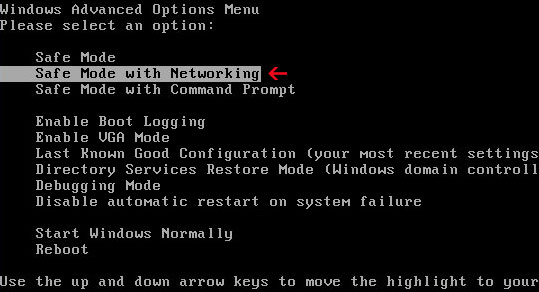 2 End the malicious process of the virus
When you see the desktop without Your Computer Has Been Blocked virus screen, you need press Ctrl+ Esc+ Shift or Ctrl+ Alt+ Del to open Windows Task Manager. On the Windows Task Manager window, locate at Process. You then click on random virus file and click on End Process.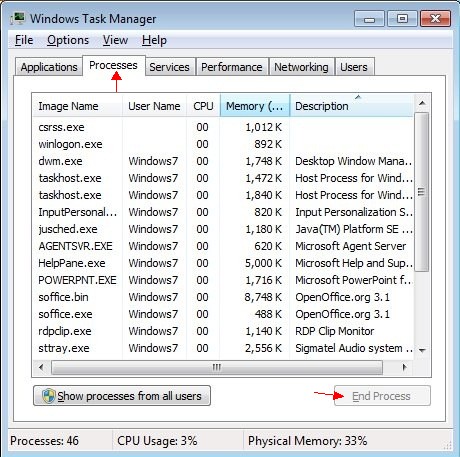 3 Open Local Disk and delete the ransmoware files there.
A: You need show hidden files so that you can find out all virus files and delete them clearly. Open Control Panel and click on Appearance and Personalization. Seen as the screenshot as below.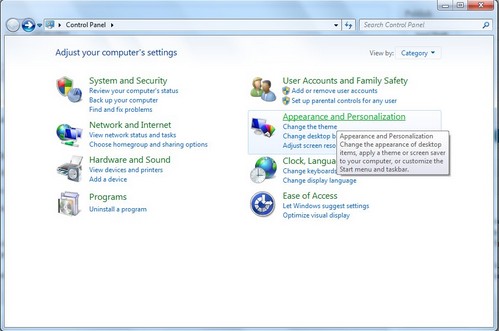 B: Click on Folder Options-> Select View tab->Check "Show hidden files, folders and drives"->Uncheck "Hide protected operating system files (Recommended).->Then click ok to finish the changes. Then come back to the local disk and delete the virus files, you can refer to the below file:
%AppData%\Protector-[rnd].exe
%AppData%\Inspector-[rnd].exe
%AppData%\vsdsrv32.exe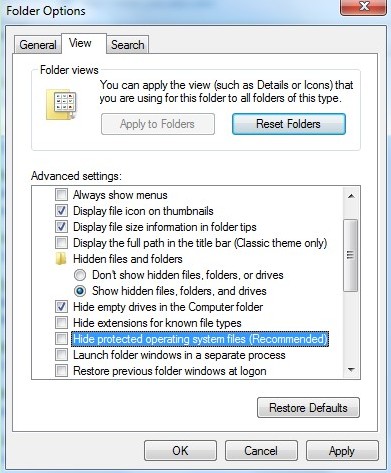 4 Delete the Your Computer Has Been Blocked virus registry entries
A: Press Windows+ R key to reveal out Run box. Type regedit in Run window and click Ok. In the Registry Editor window, you need access below entries or others and delete them. Since the virus changes all the time, it is a little difficult in detecting all virus files and registry entries. If you still confused about this and need more helps, you can chat with our Tech Experts online.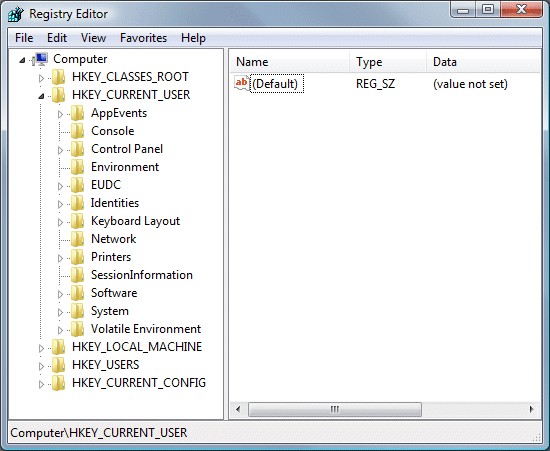 HKEY_CURRENT_USER\SOFTWARE\Microsoft\Windows\CurrentVersion\Run\[random].exe
HKEY_LOCAL_MACHINE\SOFTWARE\ Your Computer Has Been Blocked Virus
HKEY_CURRENT_USER \Software\Microsoft\Windows\CurrentVersion\Policies\System 'DisableRegistryTools' = 0
B: Restart the infected computer with regular mode to see if the Your Computer Has Been Blocked virus is removed.
Note: The registry contains essential configuration information for the operating system, for installed applications as well as individual settings for each user and application. A careless deletion or careless change to the operating system configuration in the registry could cause irreversible damage, so it is usually only installer programs which perform changes to the registry database during installation/configuration and removal. Therefore, if had better make sure about how to remove the Your Computer Has Been Blocked virus registry entries.
Extra Tips for Windows 8 Users
For many Windows 8 computer users hardly know how to boot their computers with safe mode with networking, in fact, it is exactly a little more confused than the previous Windows versions. If it is needed, you can follow the below tips.
A: Boot up the locked computer until you see the virus screen. To reveal Switch User screen, you press the Ctrl+ Alt+ Del combination key.
B: Next you can see the Switch User window, on the objective switch user page, tap the Shift key and meanwhile select and click on Restart on the pop-up options.
C: Next, click on Troubleshoot form the Choose an option screen.
D: You then need in sequence click on Advanced Options-> Startup settings (as seen below screenshot) -> Choose Restart-> Press F5/5 key to highlight Safe Mode with networking option, hit Enter key.
E: When you see the desktop in safe mode with networking, you can follow the similar steps mentioned above.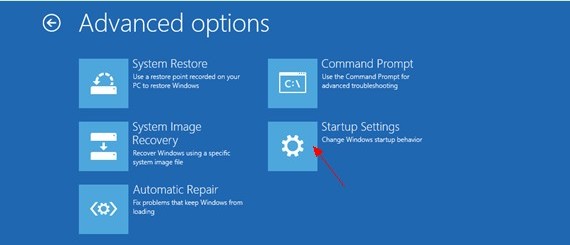 How to Access and Use System Restore
System Restore allows you to restore your computer to a previous state quickly and easily. So when your computer is infected with Your Computer Has Been Blocked virus, it may affect some of the system settings and prevent other programs from working correctly. You can use System Restore to revert these settings back to their previous state. But System Restore can not be used to back up your personal files. You will lose your personal files if you use system restore to fix the virus. So It is highly recommended you had better keep on the safe side. As a last resort, don't select this method.
Verify and Configure Windows System Restore
Checking whether System Restore is active sounds like a simple thing – and for the most part it is, you can be through just a few of easy- to-clicks.
A: Click on the Start button and go to All Programs -> Accessories -> System Tools -> System Restore.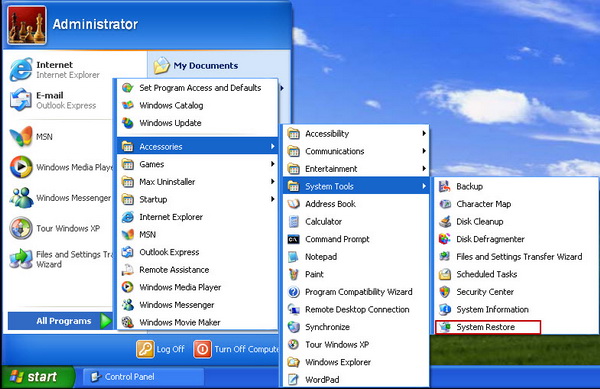 B: It will look like you now can utilize system restore, but just click next so that you can get into the utility to see a history of all past system restore points.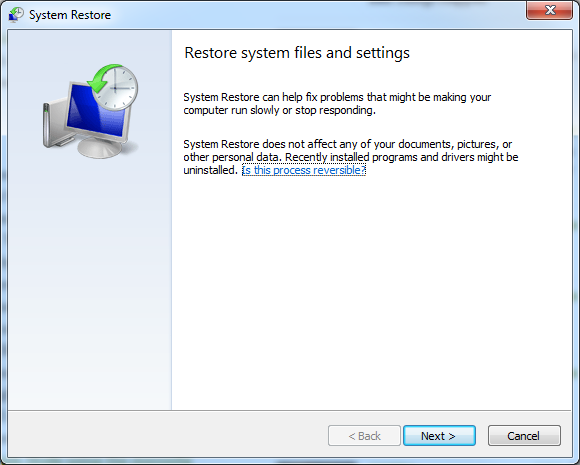 C: You'll see a list of date/time combinations of recent restore points on the next window. What you need to look for is a frequent entry with a Description of "Automatic Restore Point". Scroll down and see how often these Automatic Restore Points are taken. Does it seem to be weekly, bi-weekly, monthly or none at all? You need make sure that the frequency of restore points is what you expect so that you can remove the Your Computer Has Been Blocked virus accomplishedly. It is advisable that look for a restore point before the date of the scam virus infects your computer.


D: If does have one target restore point, you can click Next button to continue the system restore by the pop-up wizard.
Access and use System Restore on Windows 8
As the technology continues to advance, Windows 8 hid the way users can access system restore immediately. So a plenty of computer users can't know how best to do to access and use system restore.
A: To restore from a restore point you will first have to navigate to the Systems Protection tab by typing "System Restore" in the Windows 8 Search bar. You then open up the control panel and select "System and Security."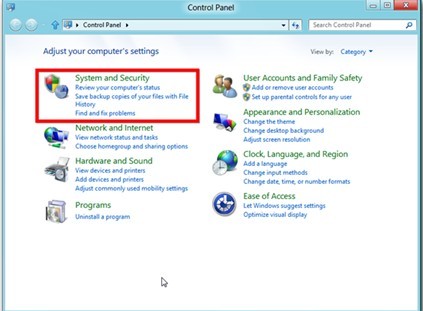 B: Then select "Advanced System Settings."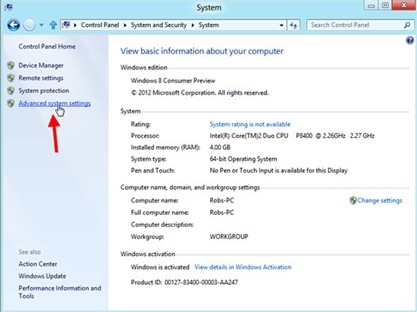 C: Click on the "System Protection Tab" in the next window, and at the same window, click on System Restore button.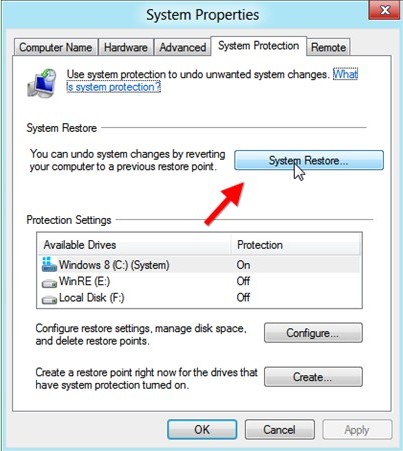 D: Next it will show you System Restore Wizard. Click on "Next" to continue. In the next window you will be asked that which restore point you would like to take, click on it and click Next button again. Later after that you'll find the following window asking you to confirm your choice. You have to click on Finish button and Windows will automatically complete the restore for you.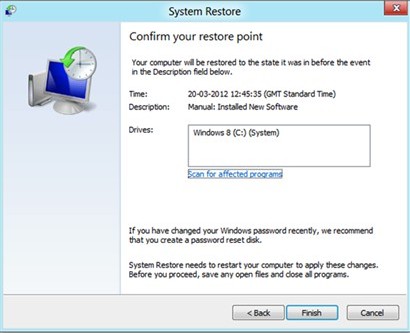 E: Restart the infected computer to effect Your Computer Has Been Blocked virus removal.
Conclusion
So, today is the now. According to just about someone, the victimized computer and Android phone users of the Your Computer Has Been Blocked virus Android malware, the consensus seems to be that a criminal case will against them in soon future, but what we don't yet know is by how much loss and what computer damages will have on us if we just suppose such scam virus can be unlocked once we have paid. So be cautious. The note have to be put forward here is you shouldn't mistakenly suppose the computer restriction can be released by hackers, the Android virus still locks and damages the infectious computer though you ahve paid the demanding fine of $300. Besides that, it had better have a clear view that you should remove the Your Computer Has Been Blocked virus Android malware at first time in case of further damages and avoid unexpectable computer troubles in soon. Now after a read on removal guides for the virus removal, have you been aware of how best you should do to fix the scam Your Computer Has Been Blocked virus? The most several core steps are in handling with virus files and registry entries, so be well ready for that.