Remove Tox Ransomware, How to Remove Tox Virus from Infectious PCs
Tox Ransomware Description
Tox is regarded as the hazardous malware called Ransomware, attackers use the new version of the Tox Ransomware in ambitious attacks against PCs, Tablets, and even Android phones. Tox, the sort of notorious ransomware that is frequently exploited to compromise targeted users' PCs, tablets, and android phones, has also been used in lot of attacks on targeted users for extorting a specific ransom. Tox ransomware can be said is an evolution of encrypted virus, difference is, the virus comes identified as a platform that allows anyone can create their versions and cashes in ransom. It may lure anyone to become its affiliate to create their own Tox virus and distribute it to others with 70% of the profit. In this ransomware distribution, the Tox can turn anyone as its accomplices, just need become Tox affiliate, create profile, and then use associated malicious files to get more users trapped. Although there are a lit of difference on distribution, the original nature of the Tox ransomware is similar with the Bit Cryptor Ransomware used to encrypt files on victimized system and extort money.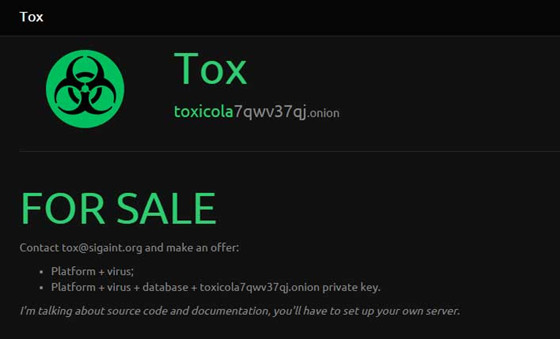 Once one affiliate finishes the Tox Ransomware attack on your computer, the Tox Ransomware would start a carefully crafty extortion scheme. It claims that all your personal files in your PC are now encrypted, and the only way to recover them is that you should have to pay a ransom of $50.00. And the ransom should be paid in bitcoins to the address in time. The Tox Ransomware has the ability to encrypt files, which can lock targeted computers and completely encrypt all files just after installation on the victim's computer. All personal files can be held hostage just until a required ransom is paid. Files including .txt, .odt, .ods, .odp, .odm, .odb, .doc, .docx, .docm, .wps, .xls, .xlsx, .xlsm, .xlsb, .xlk, can be encrypted to the .toxcrypt extension.However, never suppose the authors of the Tox Ransomware has a conscience, the virus is still located in your victimized machine though you have paid the demanding money to recover your data. This implies that the Tox Ransomware can attack your machine again unless you make a complete removal. Paying the demanding fine never is a wisdom method to recover your files and resave your computer from further damage.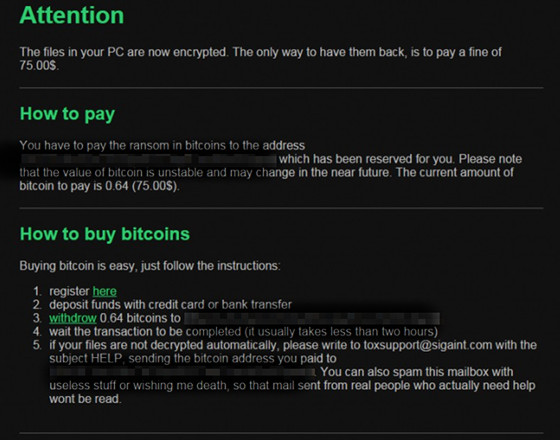 Note: It is highly recommended of victimized users removing the ox Ransomware from the infectious computer, android phone, or tablet as quick as possible. If need professional help to remove the ransomware completely and quickly, you can contact with VilmaTech 24/7 Online Service now.

How to Remove Tox Ransomware from Infectious Computer
Windows 8 – Reboot Infectious Machine into Safe Mode
1. To bypass the Tox Ransomware pop-up screen, you should start the victimized computer with safe mode with networking.
Press the Ctrl+ Alt+ Del combination key
The Switch User interface will pop-up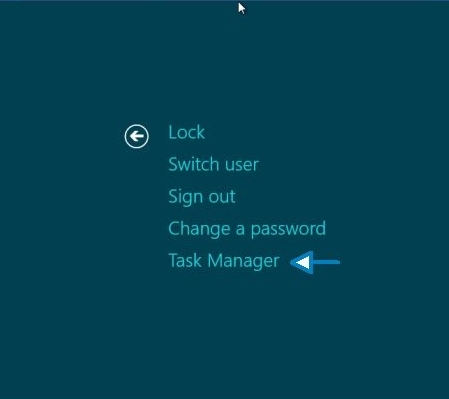 Always press the "Shift" key, at the same time click on "Shut down" button
From the pop-up three options choose Restart option.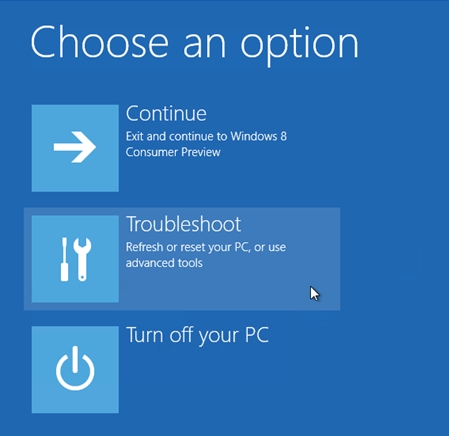 Next just need choose "Troubleshoot."
Select 'Advanced Options'
Choose the Choose 'restart,' under Startup Settings.
Press F5/5 key to choose Safe Mode with Networking.
If you are on the Windows 7, or Windows Vista, you can follow the below tips.
Shut down the infectious machine.
Reboot it again but before windows launches on, always press F8 key.
You then can see Windows Advanced Options.
Press up-down keys to choose Safe Mode with Networking Option.
Terminate Tox Malicious Process
Reach the desktop, press Ctrl+ Esc+ Shift or Ctrl+ Alt+ Del
Locate at the Process tab on Windows Task Manager
Scroll down and choose malicious process related with Tox virus,
Click End Process button.
Delete Tox Ransomware Files
Open control panel, click Appearance and Personalization link.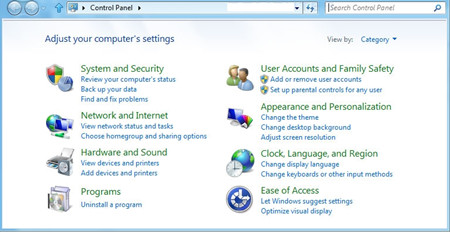 Double click on Files and Folder Option.
Reach the next page.
Choose Folder Options category.
Choose Show hidden files and folders option.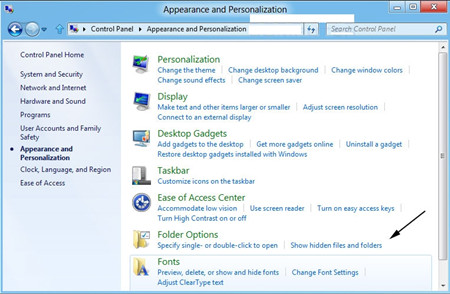 Select the "View" tab. Check "Show hidden files, folders and drives."
Uncheck "Hide protected operating system files. Click Ok..
Got to local disks and delete malicious files about the Tox Ransomware.
Delete  Tox virus entries
Press Windows + R.
Type regedit in Run box and press Ok.
Reach the Registry Editor.
Search Tox virus entries and delete them.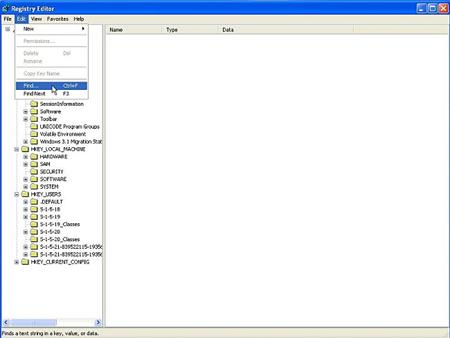 Reboot the infected system.
If you are confused about the steps to remove Tox Ransomware files and registry entries? You can Live Chat with VilmaTech Online Experts now.

Remove Tox Virus with System Restore (Windows 8)
1. Reboot the computer and simultaneously hold down the Shift key on the keyboard until the Windows Recovery Environment option pops-up.
2. If you are on the desktop now, you can navigate the mouse around on the Start screen to reveal settings charm. Go to general settings and click on advanced start up and restart. See the reference screenshot.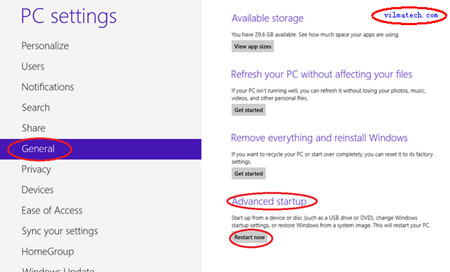 3. Next page is referred to the Choose an option. You need click on troubleshooting option there.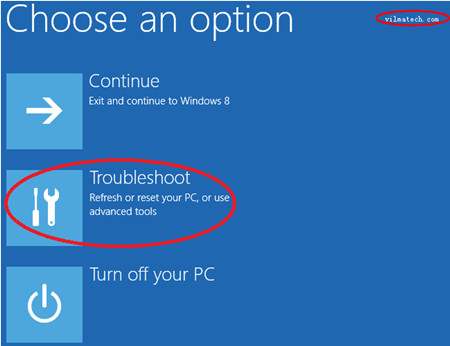 4. Go to Advanced Option from the next pop-up window.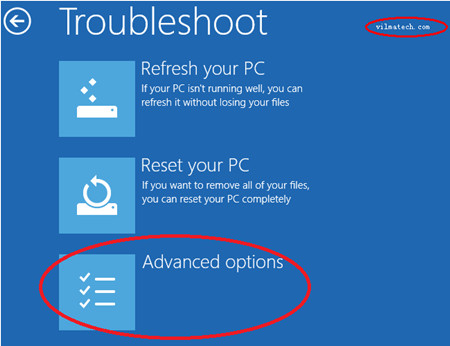 5. Click on System Restore.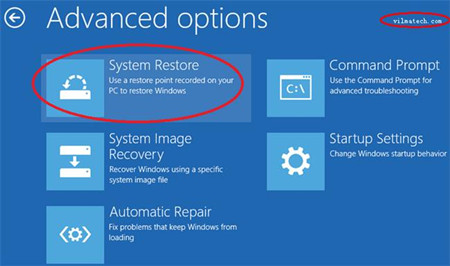 6. It will bring you to the Preparing system restore page. See as following.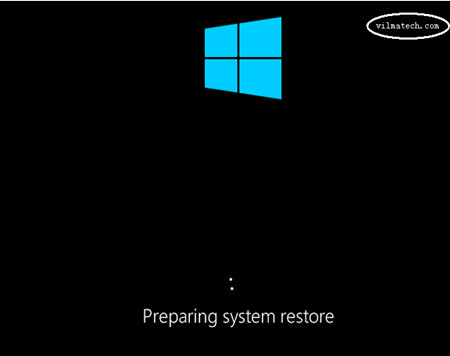 7. Next you will have to choose your user account and provide the password… (This authentication is to prevent unauthorized persons restoring your PC without your knowledge), If it is required, you need type in the demanding admin password to continue.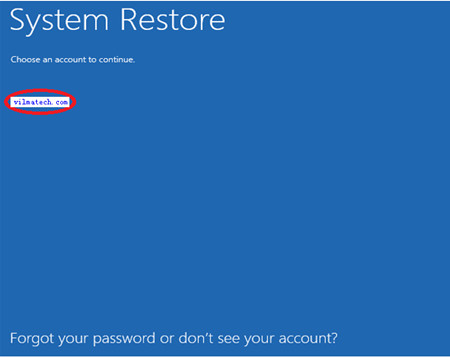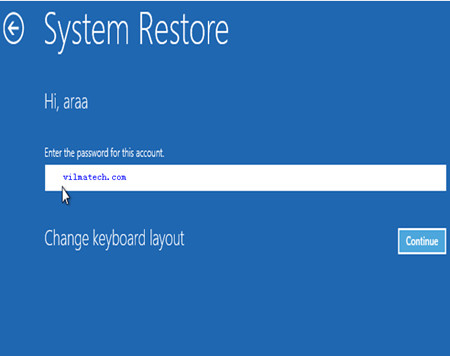 8. You then get the screen of System Restore reads Restore system files and settings.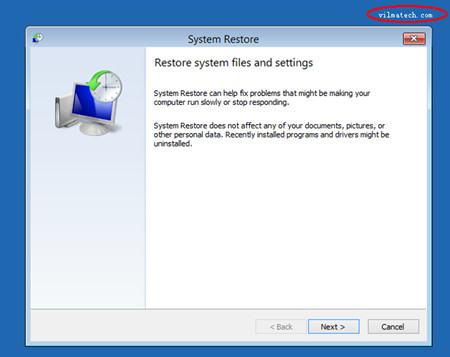 9. You need click the "Next" Button there, and click "Yes" option.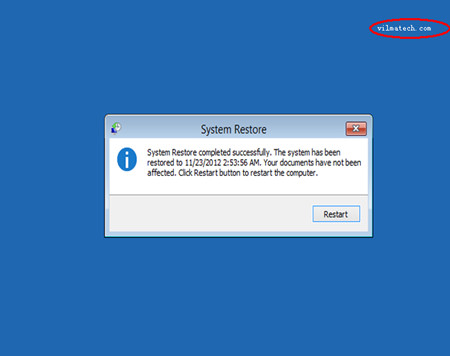 10. Now click on "Close" to get it done.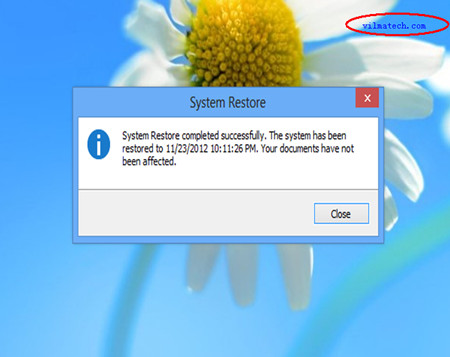 11. Refer to the video as below to create a restore point. The restore point must be the date before Tox Ransomware attacking your computer.
Conclusion
Tox Ransomware grabs people's attention of benefit-making to maximize its distribution with ease. As a file encryption virus, Tox Ransomware doesn't exist on the victimized machine alone and instead always tries to lure as many malicious threats as possible. Tox Ransomware is able to constantly exploit system vulnerabilities on the infectious computer for a total system failure, and then even allows attackers collect confidential information in person, including login credentials, online transaction data, banking data, and a lot of other financial details. Tox Ransomware virus encrypts all files on victimized computer and blackmail money for a release, which is a commonplace online fraud tactics frequently exploited by attackers or cyber gangs. The Tox Ransomware virus can be distributed only in email spam attachments, which pretends to be a word document, thus, never click on those potentially unwanted emails. In a nutshell, the Tox Ransomware should be removed from the infectious machine as quick as possible rather than a ransom. If you need further help to fix Tox Ransomware and recover your files, you can live chat with VilmaTech 24/7 Online Experts