PureVPN Now Offers a 7-Day Free Trial on Its Android App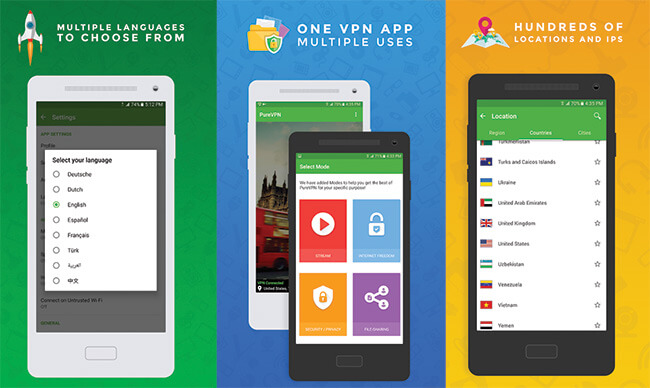 Good News! PureVPN is now offering a 7-day free trial for your complete peace of mind. You are going to enjoy a VPN trial of the world's fastest, safest and simplest VPN service to get complete Internet freedom. If you are ready to use a VPN on your Android device but not sure if it is worth the price, it's the best time to give PureVPN a shot now.
VPN, as known as virtual private network is a good tool to protect yourself online. Everything you do on the Internet is being watched by somebody. They could be your ISP, advertiser, the government or even malicious hackers. PureVPN can help you encrypt your data in transit using military-grade encryption and it is capable of hiding your IP address, so you will get ultimate safety and protection no matter you are home or on the go. Once connected to PureVPN server, all of your information is secure from prying eyes, and all of your online activity looks like it's coming from the PureVPN server instead of you. PureVPN also allow users to access the internet freely and without any restrictions. It offers 2000+ servers in 140+ countries to connect you to your favorite content.
With PureVPN on your Android, you can get absolute anonymity and the best protection. Since PureVPN can encrypt all traffic from end-to-end for your peace of mind, so you will always feel safe while using a public Wi-Fi and it guarantees smooth connectivity over Wi-Fi, LTE & 3G for you. PureVPN offers a unique set of security features, making it stand out from the rest of the competition. The features include: Internet Kill Switch, Split Tunneling, Content Filter, Web Filter, Smart Antivirus Protection, App Blocker and more. To learn more details, please visit PureVPN Website.
Get this Deal Now