More Pop-ups with Web Protect Extension, Should I Remove/Uninstall It?
Nature of Web Protect
The name and the philosophy of Web Protect state that the browser extension is computer user-beneficial to interdict any possible access to potentially dangerous web sites and thus ward off virus that distributed trough the Internet in which we now get much involved today.
As a matter of fact, Web Protect is a PUP that tricks people into downloading and installing and that collects user data to display targeted contextual based advertisements. Evidence are:
Pop-up, pop-under and in-text ads are spotted; some of them would be titled "Ads by Web Protect".
You'll see the same or similar items/category on the ads.
No entry of Web Protect is found on the machine.
WebProtect.dll has been flagged by anti-virus programs like Bitdefender and ESET-NOD32.
Scanning the whole machine will you get the alert about PUP.Optional.WebProtect.A.
By doing so, Web Protect manages to intercept and accumulate traffic to gain revenue from pay-per click/click through rate.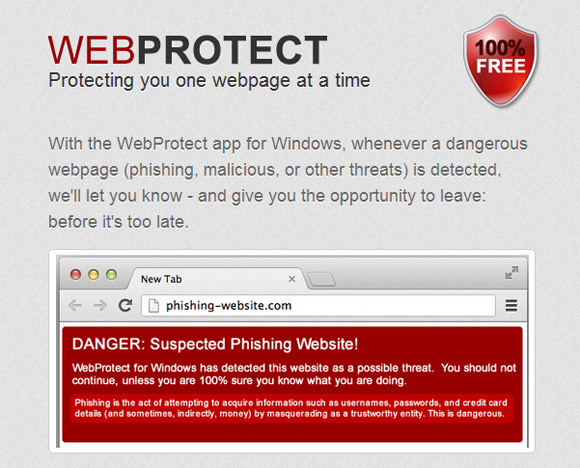 Should I Remove Web Protect?
Technically, Web Protect is not a virus. Yet, experts from Global PC Support Center would highly suggest a quick removal for:
Default homepage and search engine are changed to unknown or unpopular ones after the installation of Web Protect.
Once the existing browser setting is changed to Web Protect's satisfaction, usually speaking the search engine/homepage will be changed to the ones that have cooperative ties with the PUP, more ads will be displayed to the point where the surfing experience will be totally ruined.
According to the survey, the most used version of Web Protect is 10.0.0 which would drop approx. thousand kilo bytes on the target machine.
According to the survey, Web Protect installs into local disk (limited storage volume) by default. As a web application that displays tons of images and texts, a good deal of caches will be loaded in local disk, which would result in poor PC performance overall, including but not limit to freezes and crash.
PUP Web Protect uses BHO computing technique.
All web applications apply BHO technique to display the most related results told by user data and browsing history. Such application can be either safe or dangerous depending on the compactness and the property of an item. Should there be any evidence of loophole/bug or the like, it can be easily found and taken advantage by virus for penetration and information theft. Web Protect is no more than a tool to gather traffic, it is extremely easy to make alternatives. Besides, Web Protect delivers other ads through its platform randomly and thus gets a fat chance to connect vicious links. It is not safe to have Web Protect that applies BHO computing technique.
In conclusion, Web Protect should be removed ASAP. Otherwise, the scenario can be unpleasant and virus attack probably happens. The thread to remove/uninstall the PUP is shown below. Stick to the steps and help yourself. In the event that you run into additional problems in the middle of the removal, just contact VilmaTech Online Support by starting a live chat window here for professional and efficient solution.

Show How to Remove/Uninstall Web Protect In Manual Way
Why manual removal is offered here? Every program adopt MD5 to prevent other programs modify its settings arbitrarily so does Web Protect. Security tools are not allowed to play hard on programs that are not technically virus. Besides, the names of its components might not related to "Web Protect" such as its running progresses like PCProtect.exe and postcollect.exe, which could confuse technicians, let alone the man-made security utilities. Stick to the steps to dig out the associated items and remove Web Protect completely. Since there's no instance on Mac, steps are shown for Windows.


Step1. use its uninstaller to remove Web Protect.
Navigate to C:\Program Files\Web Protect\wp-adk_uninstall.exe and double click on the executable file; follow on-screen instruction to go through the automatic uninstall in first place.


Step2. remove Web Protect's extension according to the creation date in browser settings.
Internet Explorer
Open Internet Explorer to click Tools on the upper left menu bar; select "Manage add-ons" to continue; browse to 'Toolbars and Extensions' and 'Search Providers' respectively; click on the "More Info" next to suspicious items and remove them with creation day on and after Web Protect's installation.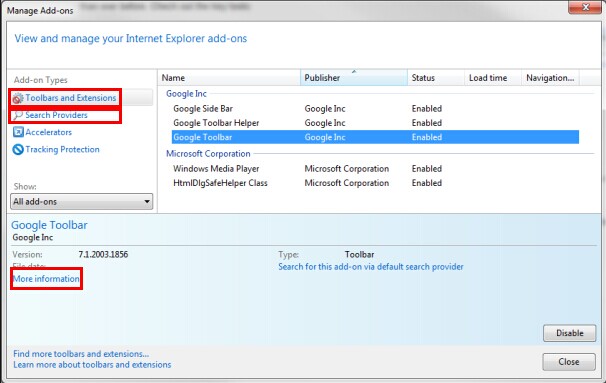 Mozilla Firefox
Open Mozilla Firefox and click Tools on the menu bar; select Options to continue; browse to 'Add-ons' and 'plugins' respectively; click on the "More Info"/gear icon next to suspicious items and remove them with creation day on and after Web Protect's installation.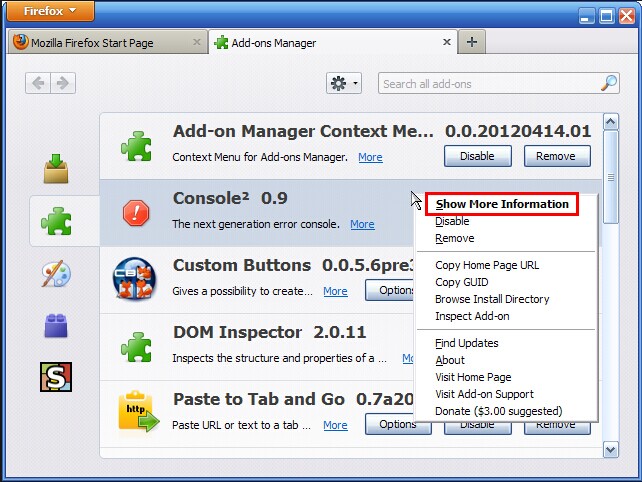 Google Chrome
Open Google Chrome to click on the spanner icon and select "Tools"; navigate to 'Extensions' and click on the "More Info"/gear icon next to suspicious items; remove them with creation day on and after Web Protect's installation.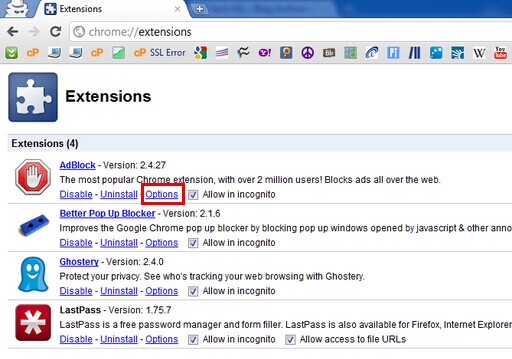 Opera
Unfold Opera menu to select Extensions; enter into Manage Extensions; click on the "More Info"/gear icon next to suspicious items; remove them with creation day on and after Web Protect's installation.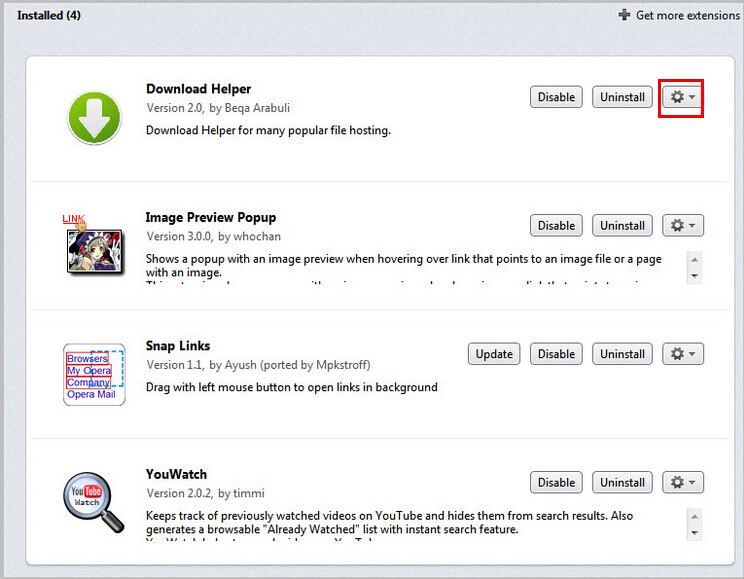 Step3. show hidden files and folders to remove the associated ones.
Windows 7/XP/Vista
Access "user accounts and family safety" and click open 'Folder Options'; tap View tab to tick 'Show hidden files and folders" and non-tick "Hide protected operating system files (Recommended)'; press OK button will reveal all hidden items.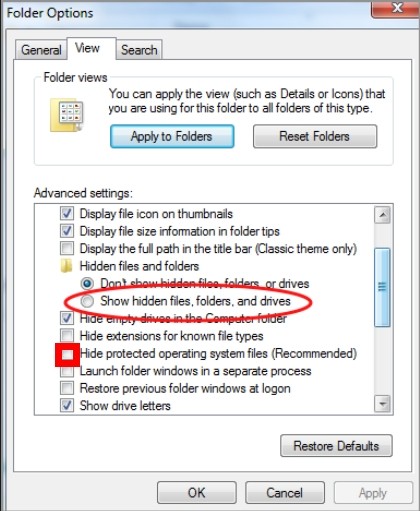 Windows 8
Find and click open Windows Explorer on Start screen; hit View tab to check 'File name extensions' and 'Hidden items'; press OK button will reveal all hidden items.


Arrange file by day and navigate to the following locations to remove the items generated by Web Protect on and after its installation.
C:\Windows
C:\Program Files\
C:\windows\system32\
C:\users\user\appdata\local\
C:\Users\[your username]\Documents\
C:\users\[username]\appdata\locallow\
How to Prevent Web Protect's Installation Again?
Many people report that Web Protect installs again after the uninstall/removal, and impute the failure to incomplete removal. PC users should be aware that Web Protect is distributed through the Internet and removing it on our computer does not equal to removing it from the World Wide Web. Any carelessness could end up with Web Protect. So please do not readily place trust in the ads popping up randomly. If you want to install certain program, do install from official sites. In addition, victims should change the browser settings to default after the removal offered above since the related programs would introduce Web Protect back in without consent. If you encounter additional thorny problems in the removing process, get specialized help from VilmaTech Online Support before more problems are triggered/bred. Live chat Now.

Defrag After Web Protect Removal
As what has been said in the preceding paragraphs that a good deal of caches would be loaded in local disk. And usually they are scattered around. It is time consuming to clean them up. Therefore defrag after Web Protect's removal is required. Here's the video to show how: