How to Uninstall Bitdefender Agent thoroughly?
How do I uninstall BitDefender Agent from Windows completely? I tried many ways, but failed. I got various kinds of errors when trying to uninstall the software. It said I didn't have permission to uninstall the software and needed to contact Administrator. It was weird because I am the Administrator. Is there anyone who can tell me what I have missed? I need to uninstall it as soon as possible because it does not allow me to install another antivirus. Please help me get rid of BitDefender Agent.
Brief Description of BitDefender Agent
BitDefender Antivirus is one of the most popular antivirus programs currently on the market. It is able to detect well-known and unknown threats effectively before they can cause real damage to system. The software is easy to install, and it is small in size, running at high speed without affecting the PC performance obviously. It is a good program with gaming, image and video editing and resource-intensive software.
BitDefender Agent is its free antivirus edition which is fast & free to use. The free edition includes essential malware protection, on-demand & on-access scanning and more useful features. It uses behavioral detection to monitor your apps for suspicious activities and stop threats timely. It comes with useful scan engines to detect to and remove various kinds of viruses, worms, Trojans, ransomware, zero-day exploits, rootkits and spyware. BitDefender Agent scans quietly in the background and does not interrupt your job. There is no sudden lag or ads out of the blue. It is really a great solution for PC security. There aren't custom scanning options like similar products provide.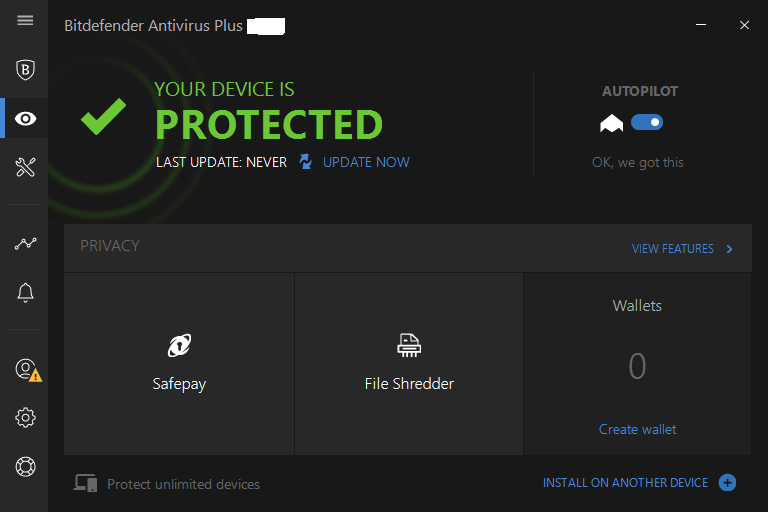 Have Problems with BitDefender Agent?
Despite the great protection it provides to your PC, you might encounter some problems when using it on your system. It is normal. Even you use the best software on the earth, you run into problem someday. Some of you choose to repair the software and continue to use it as your security program. Some of you may decide to uninstall BitDefender Agent as they can't fix the problem.
What kinds of problems you have with BitDefender Agent? Some users report that BitDefender Agent blocks safe websites, and makes it difficult for them to browse the web properly. Some legit apps are blocked by the antivirus program as well. Some users say that there is a conflict with gaming apps, streaming site and other programs they use frequently. For example, it does not work properly with Microsoft Outlook, the popular email and time management tool. Some users tell that their PC takes a long time to boot after installing BitDefender Agent. It may have something to do with the incomplete removal of a previous security suite. Some users state that BitDefender Agent won't scan the PC. That may be cuased by a faulty installation or incompatible with other security software like Windows Defender.

Can't Uninstall BitDefender Agent?
Fail to remove BitDefender Agent from your Windows? You are not the only one who can't uninstall antivirus software. There have been many users who have troubles when trying to uninstall BitDefender Agent from the Windows control panel. When you decide to uninstall the software, you may not find it on Windows removing feature. Hence, you can't find a specific uninstall process to delete Bitdefender Agent off the system. Some users can't proceed due to some errors like, "The software can't be uninstalled as some programs are using it", "You don't have sufficient permission to uninstall the software" and "This software has been corrupted and can't be uninstalled." You may need to run the software as administrator or restart the PC into safe mode to uninstall the software.
Sometimes, the removing process takes a long time and still not finish yet. Some users can't remove BitDefender Agent completely. After they uninstalled the software and rebooted the PC, they still saw traces of the program, including files and registry entries. With files and registry entries that are associated with BitDefender Agent on the system, users may not be able to reinstall the software or install another antivirus. Why is it so difficult to remove antivirus software? It is because the BitDefender Agent update has modified the software's protection system. The software's developers added a watching feature to it. This feature is able to restore the files associated with the antivirus each time users attempt to uninstall it. Users need to go through the protection system to uninstall antivirus software successfully.

How to Uninstall BitDefender Agent?
How to fix uninstallation errors? What is the proper way to get rid of BitDefender Agent? Though it is difficult to uninstall the software, there always is a way to fix the problems. We will guide you through to remove BitDefender Agent completely. There are two options for you to choose, uninstalling BitDefender Agent manually or removing the software automatically with an uninstaller. The manual solution requires some computer skills. If you use uninstaller, you only need to follow the software wizard to uninstall the software.
Manual Guides to Remove BitDefender Agent from Windows 10.
As it needs sufficient permission to uninstall the software, you can choose to restart the PC into safe mode first. There are three ways to uninstall software on Windows 10.
Method 1: Uninstall from Start menu.
Step 1: click Windows icon at left bottom and scroll down the menu list to look for BitDefender Agent.
Step 2: right click BitDefender Agent and select Uninstall option. It will take you to program page. Select BitDefender Agent and click uninstall. Click Yes to proceed.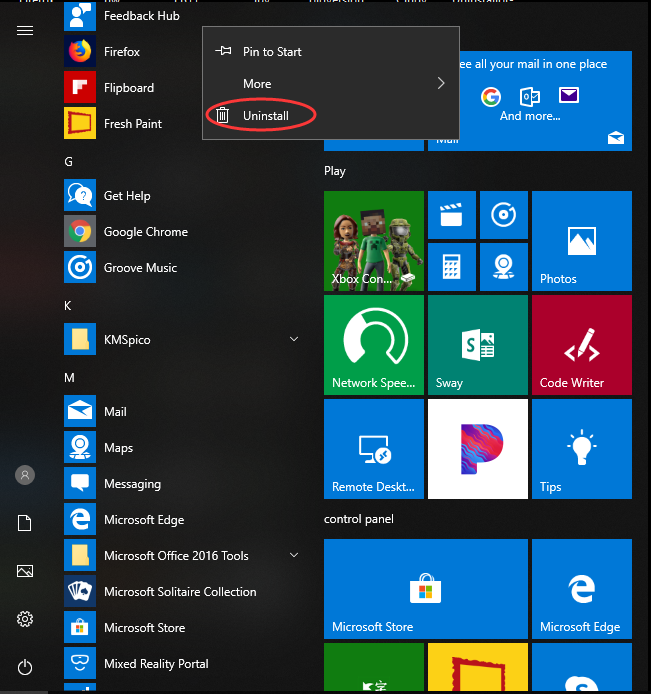 Method 2: Uninstall from Settings. Sometimes, the software may not appear on Start menu. If you can't find the software, you can try it from Settings.
Step 1: click Windows icon to open Start menu, and then click Settings.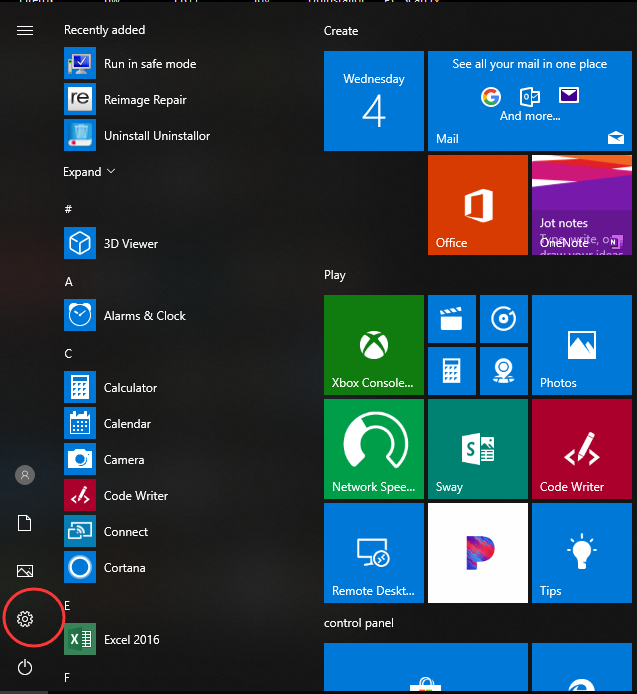 Step 2: click the Apps icon in the Settings area.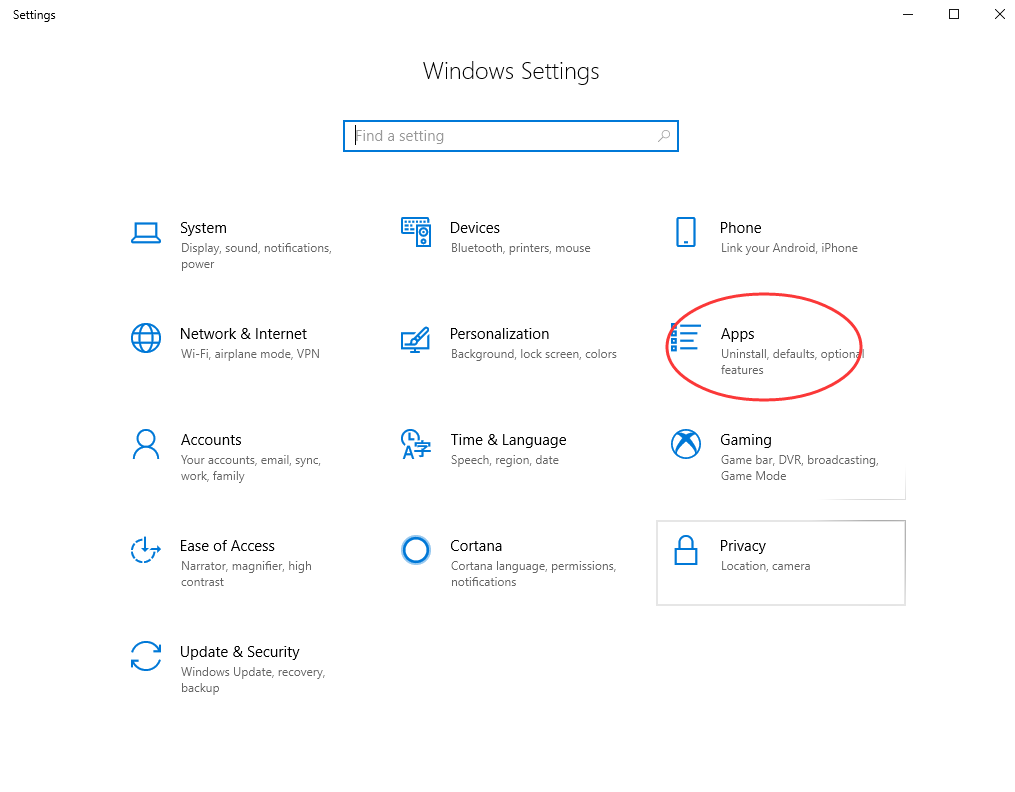 Step 3: click Apps & Features to open the list of installed software.
Step 4: find Bitdefender Agent and select Uninstall. Click Uninstall again to confirm your choice.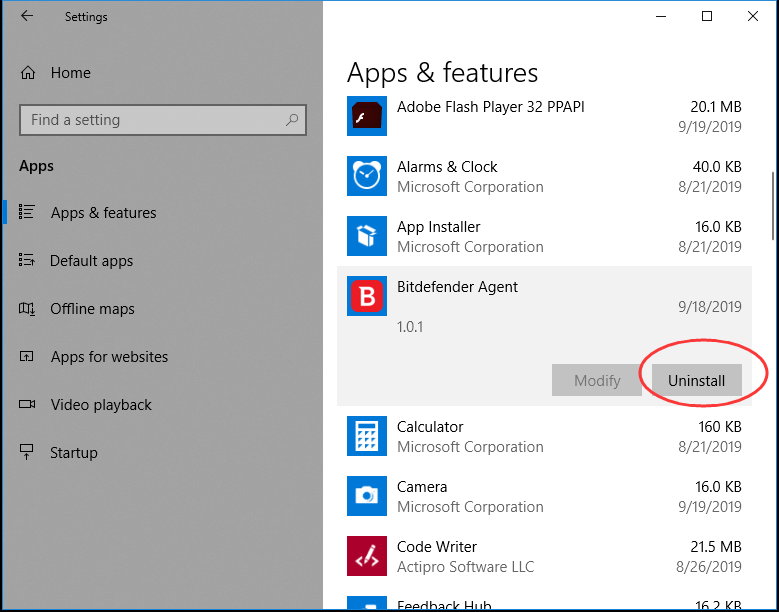 Method 3: Uninstall from Control Panel.
Step 1: click search box on taskbar and type control panel. You will see several options popping up on a list. Click control panel to open a window.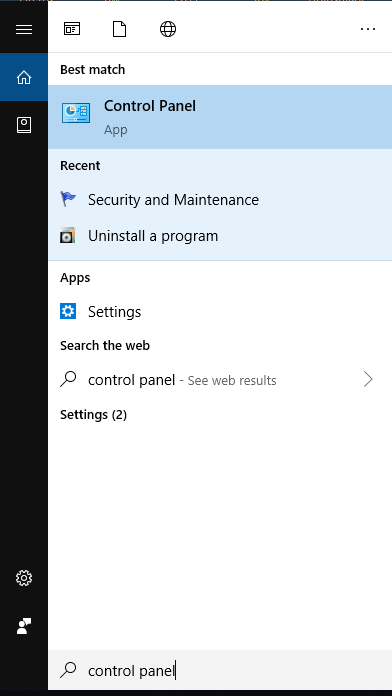 Step 2: click Uninstall a program under Program area. It will display software you installed.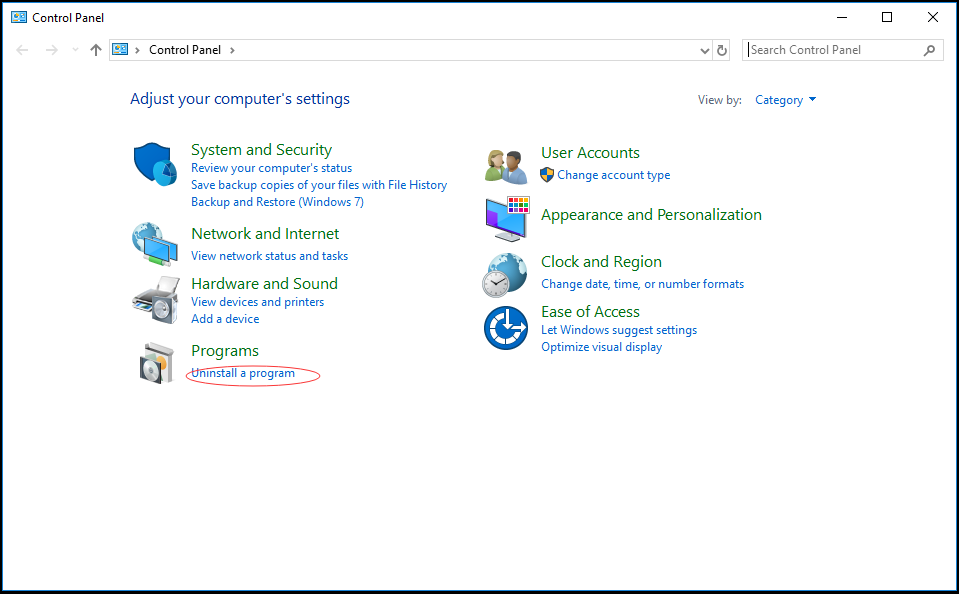 Step 3: select BitDefender Agent and click Uninstall. Confirm your choice to execute uninstalling.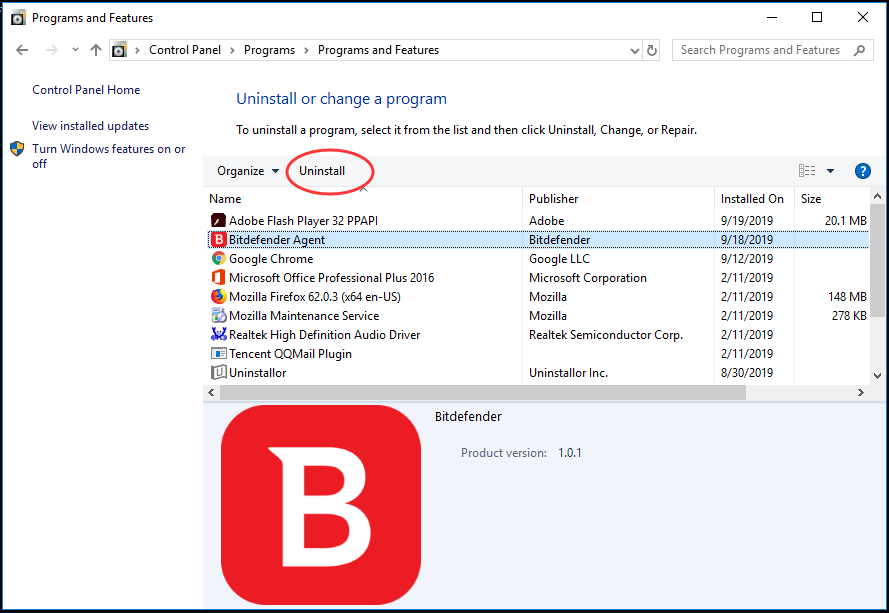 No matter which method you use, you will still need to clean leftovers as the leftovers can stop you from installing new software or cause other annoying problems. It is important to remove the associated items from registry. Follow the guides to clean registry entries. If you are not good at computer, we suggest you export file to back up registry data. In case you make mistake when removing the registry, you can restore the data instantly.
Step 1: open the Windows' search box.
Step 2: type "regedit" to open the Registry Editor of the system.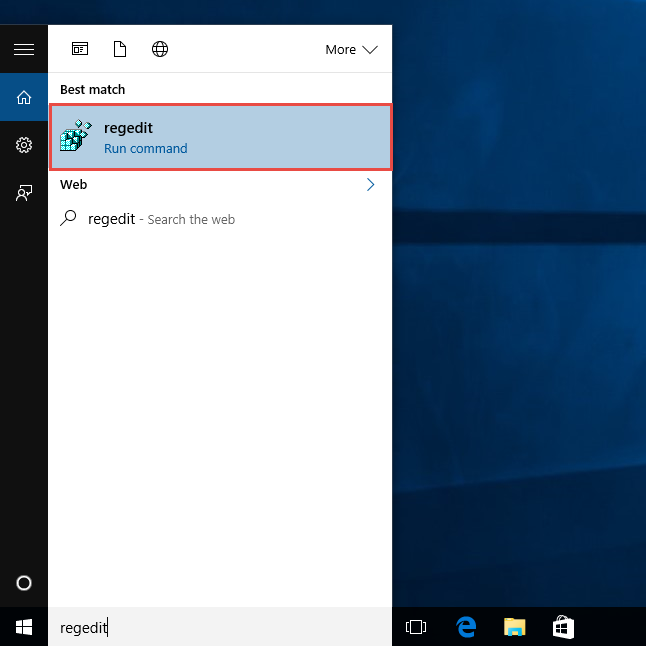 Step 3: look for software folder and double click it to open subfolder.
Step 4: look for folder of BitDefender Agent and open its folders of locations. There may be several locations of the software. Delete all folders related to BitDefender Agent.
%AllUsersProfile%\random.exe
%AppData%\Roaming\Microsoft\Windows\Templates\random.exe
%Temp%\random.exe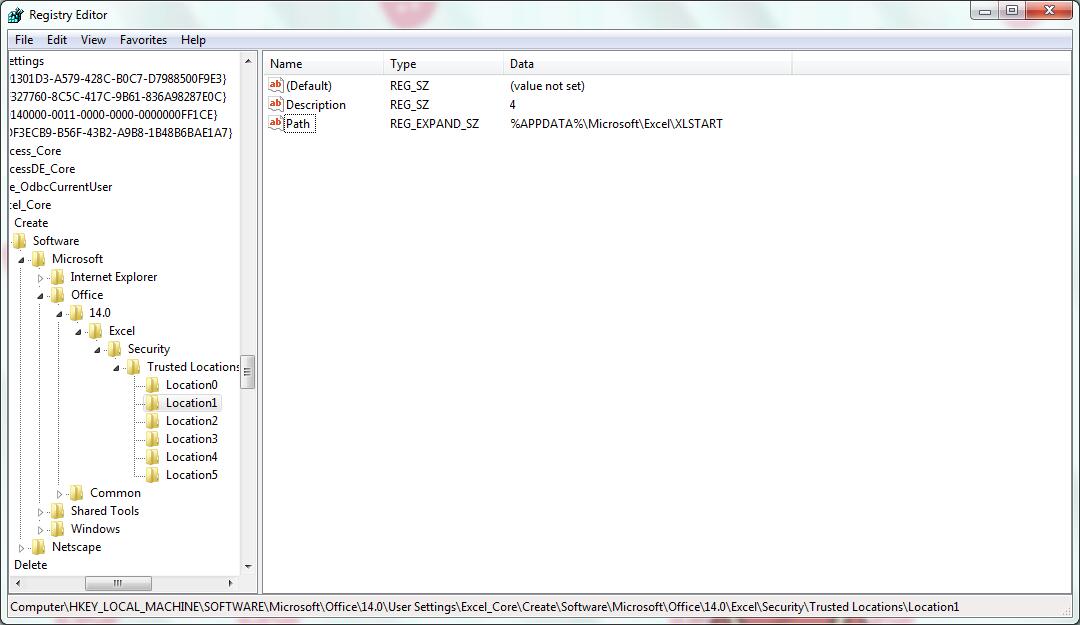 Note: It is a risky job to remove something from the Registry Editor. You can contact an expert for help or back up data to avoid vital problems caused by wrong deleting. To save time and effort, you can use Uninstallor to remove BitDefender Agent automatically.

Uninstall BitDefender Agent with Uninstallor.
Many users think it is too difficult to remove BitDefender Agent manually as they need to go through many steps and delete leftovers from registry editor. Some users wonder if it is okay if they only uninstall the software from control panel. In fact, routine uninstalling via Windows apps features does not always erase the associated files and programs completely especially when you are uninstall an antivirus program. It is a bit more complicated to completely uninstall antivirus than an ordinary app. The leftovers of antivirus can bring you many problems. Hence, we suggest you use Uninstallor to get rid of BitDefender Agent completely. It helps you uninstall software, as well as remove files and leftovers that associated with BitDefender Agent with few clicks.
First of all, download Uninstallor and run it on your PC. It will load and analyze all software you installed.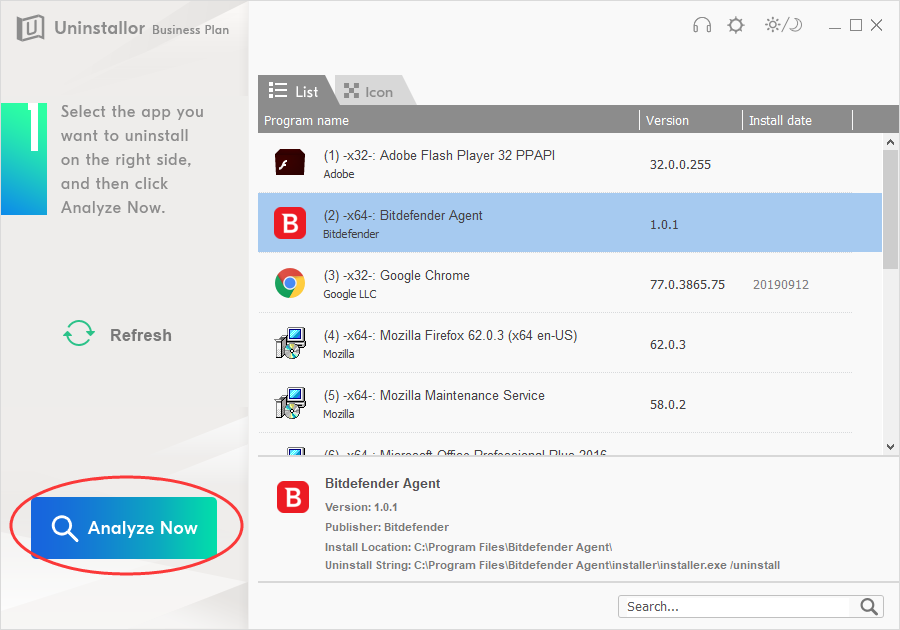 Secondly, select BitDefender Agent and click Analyze now button at the left side.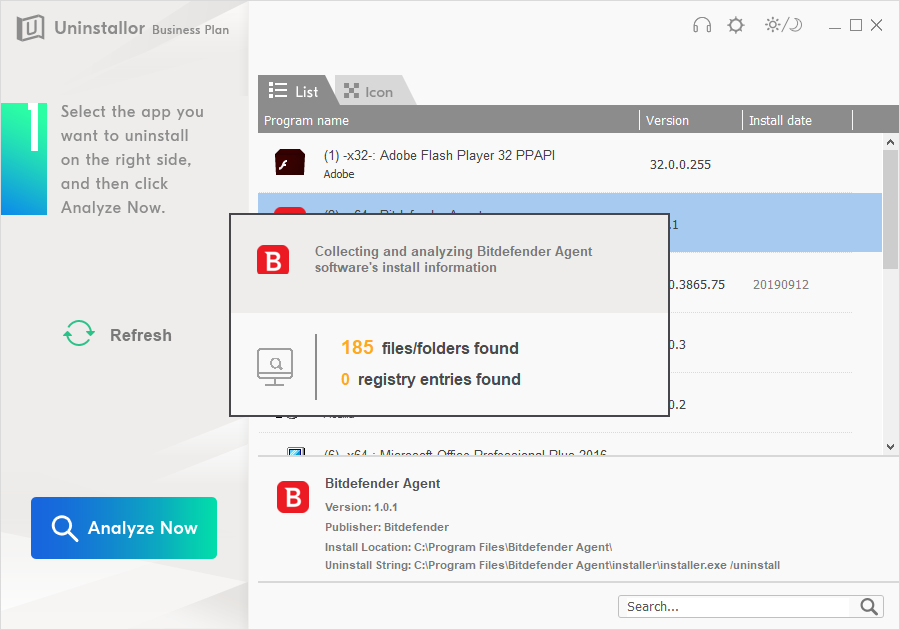 Thirdly, click Uninstall now button after it finishes analyzing. Click yes when it asks if you are sure to uninstall the software.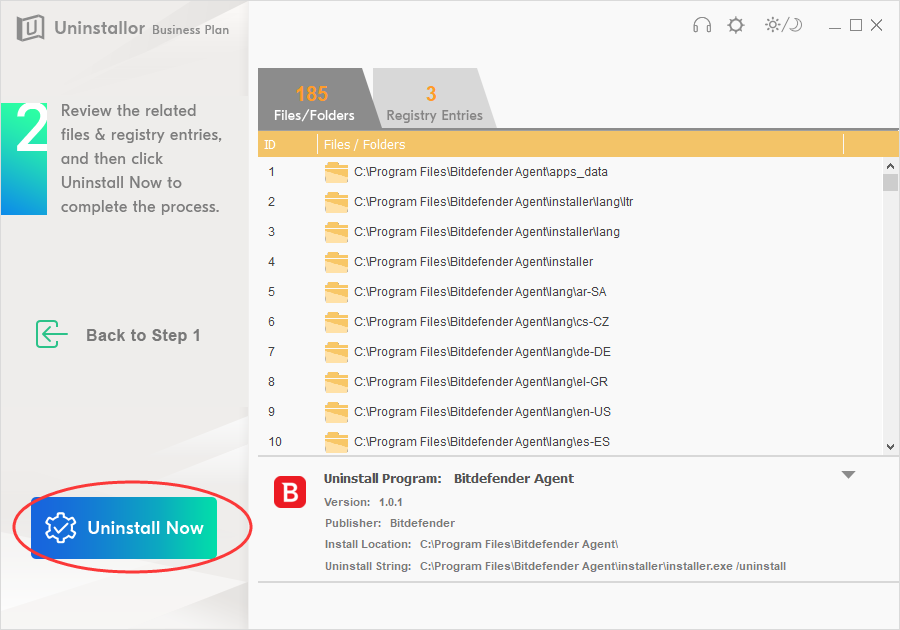 Fourthly, it detects and displays related files and registry entries of the software automatically. Simply click Remove now button to clean all leftovers immediately. There you go. You get rid of BitDefender Agent without any problem.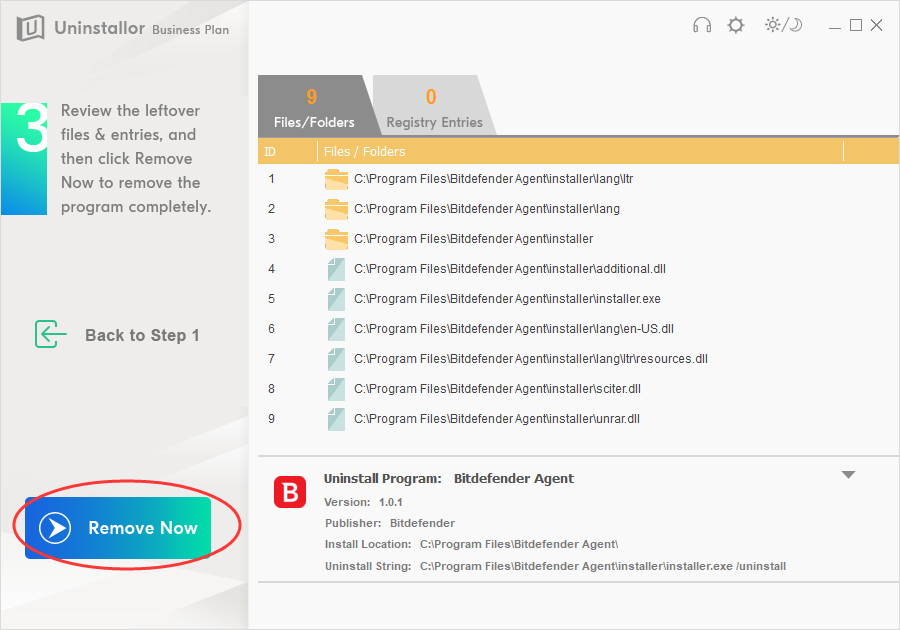 Video Guides On How to Uninstall BitDefender Agent Effectively
Conclusion (How to Remove BitDefender Agent?)
Can't delete Bitdefender Agent from PC? Some users choose to remove BitDefender Agent manually via Programs and Features. However, the leftovers will eat up the hard drive space. If you ccean leftover manually, you may delete the wrong files, causing serious problems. Using Uninstallor to perform an automatic removal is definitely the effective way to get rid of Bitdefender Agent. Uninstallor is a professional uninstall utility that helps you uninstall stubborn software, bloatware and unwanted software without leaving any leftovers on the PC. Give it a try, and you will know how useful it is.