How to Remove Segurazo Antivirus and All Its Files? (100% Working)
Can't uninstall Segurazo Antivirus from your computer? What's the effective way to fully remove this program and all its files? Lately, there have been many users who had a hard time in uninstalling Segurazo Antivirus from Windows. If you happened to be one of them, then you've come to the right place. Many people uninstall Segurazo Antivirus from Add or Remove Programs or Programs and Features list in the Control Panel, but this way doesn't work all the time. Even it works and helps you clear the program out of your system, its registry entries, files, settings and temporary files are still left behind causing system errors or slowdown issues. So, in this post, we are going to show you how to remove Segurazo Antivirus and all its files completely and safely from the system. Please perform all the steps in the correct order.
What is Segurazo Antivirus?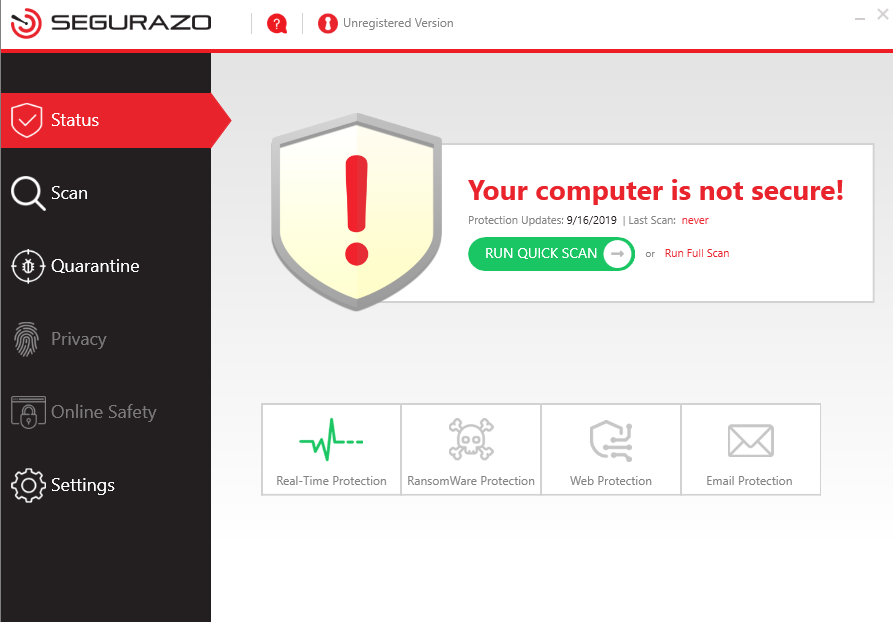 Segurazo Antivirus is advertised as a powerful security suite that protects people from all kinds of threats and malware, but what it really does is the opposite. It's actually a fake antivirus and it belongs to rogue software family. By utilizing various strategies, Segurazo Antivirus can be installed on a PC without any permission. At first glance, Segurazo Antivirus looks authentic. Its user interface or dashboard has many of the interface elements of a genuine antivirus: a status page that shows the security level of your computer, a section for your settings, a button for scanning your computer, and other security features. However, all of its functionality are not really working. The program uses false positives to convince users to buy their software. Typically, it warns the users that their computer is not secure/at risk and they have various security threats or malware present on their computer which do not exist at all, and then Segurazo Antivirus tricks the victim into making a payment for its full version. From the moment that Segurazo Antivirus is installed, you may be interrupted by many pop-ups on your window when connected to the Internet. This nasty program will continue to send these annoying and intrusive alerts until it is completely removed from your computer. Since Segurazo Antivirus is fake, having the full version will have no benefits for end users. On the other hand, Segurazo Antivirus is known to bundle with other potentially unwanted programs and malware. To keep your system clean and safe, you should remove Segurazo Antivirus once it is found.
About Segurazo Antivirus Removal
Segurazo Antivirus is recognized as a potentially unwanted program. It only provides limited or no security, generates erroneous or misleading alerts and even uses social engineering to steal your personal information, so there is no need to keep it on your system. However, compared to other regular programs, Segurazo Antivirus removal could be quite a challenge. Sometimes Segurazo Antivirus will leave unwanted traces behind, sometimes it will have gone bad and refuse to uninstall, and sometimes you can't even find it on the Add/Remove programs list. In fact, most adware, malware, PUP, and other bad programs are not removable under Windows control panel. Even you have managed to uninstall Segurazo Antivirus from there in some cases, you will find its files, registry entries, folders, shortcuts and other traces still remain in your system. To completely uninstall Segurazo Antivirus, you need to delete all its core files, otherwise the program will install itself again the next time you reboot your PC. When it comes to the removal process, there are manual removal and automatic removal. But, please note manual removal is pretty advanced stuff and only suitable for those who are comfortable working with the Windows Registry. If you're not a power user, then perhaps you should consider downloading an uninstaller. Here is our detailed guide on how to get rid of Segurazo Antivirus and its leftovers completely.
Segurazo Antivirus Manual Removal Guide (For Windows 10)
Method 1: Uninstall from the Start menu
Select the Start button and look for Segurazo Antivirus in the list shown.
Right-click on Segurazo Antivirus, then select Uninstall.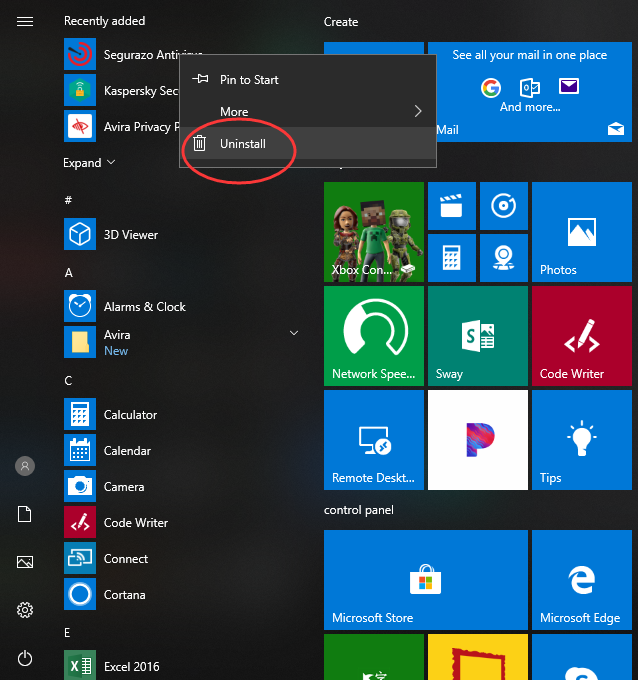 Method 2: Uninstall from the Settings page
Select the Start button, then select Settings.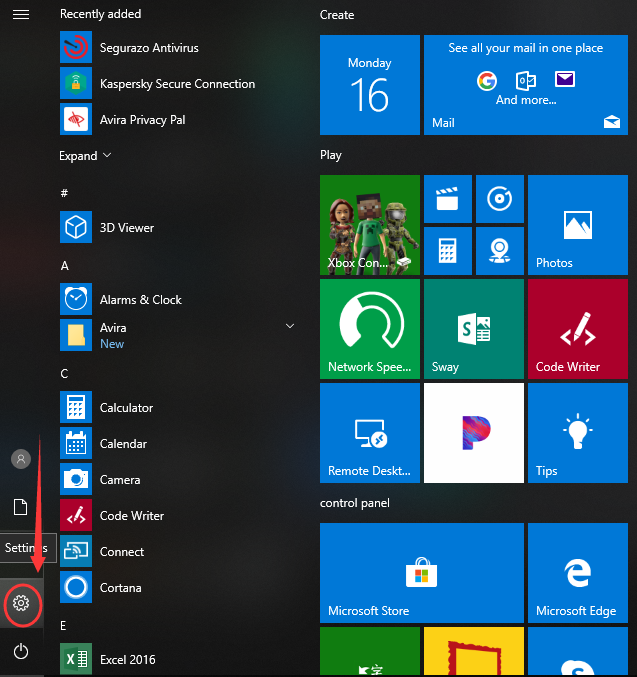 Click Apps > Apps & features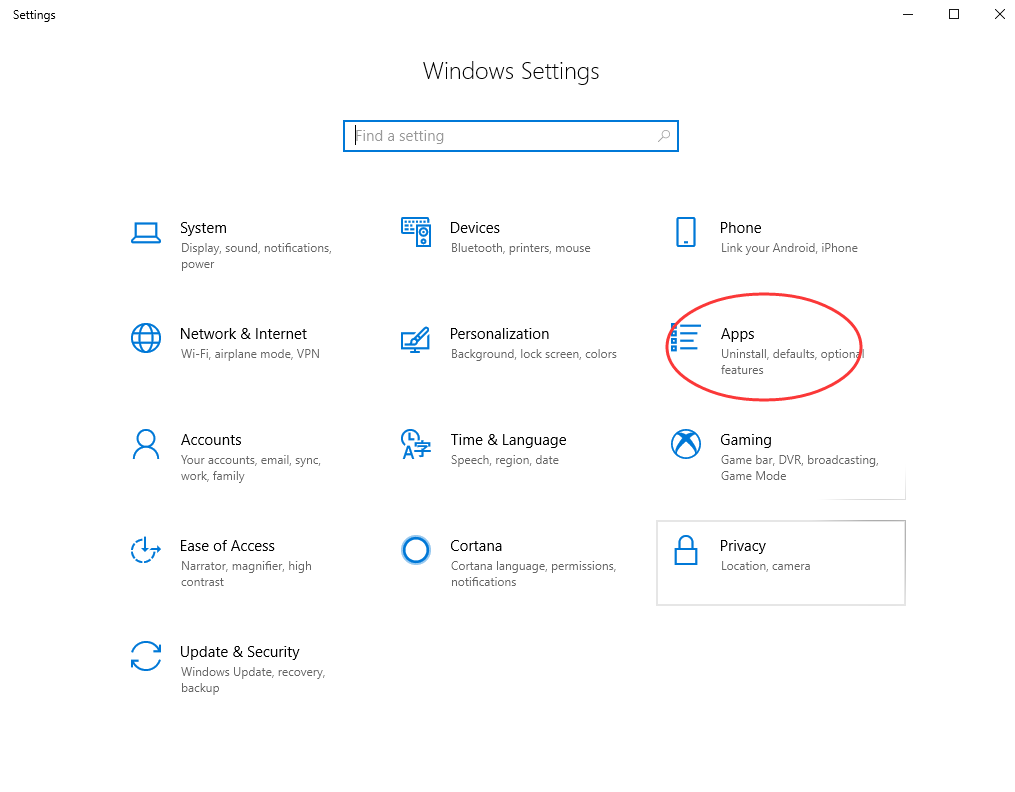 Select the app you want to remove, and then click on Uninstall option.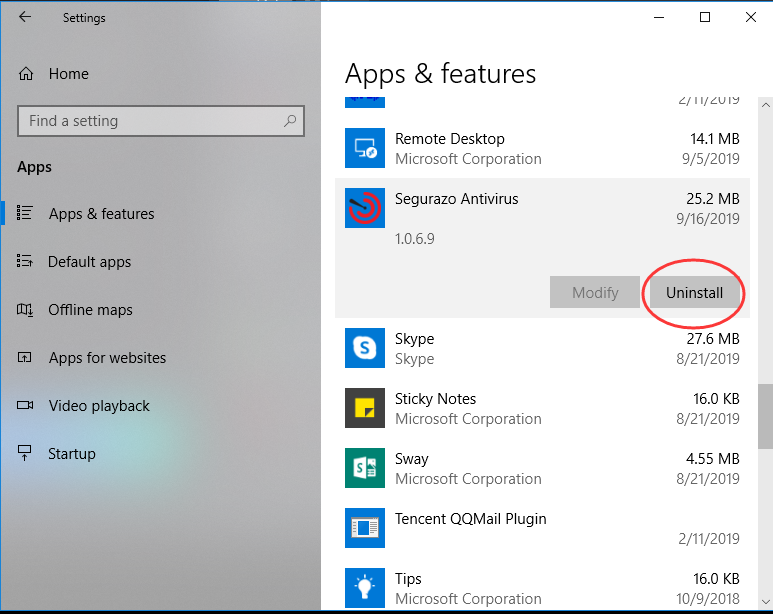 Click on Uninstall again to confirm the removal.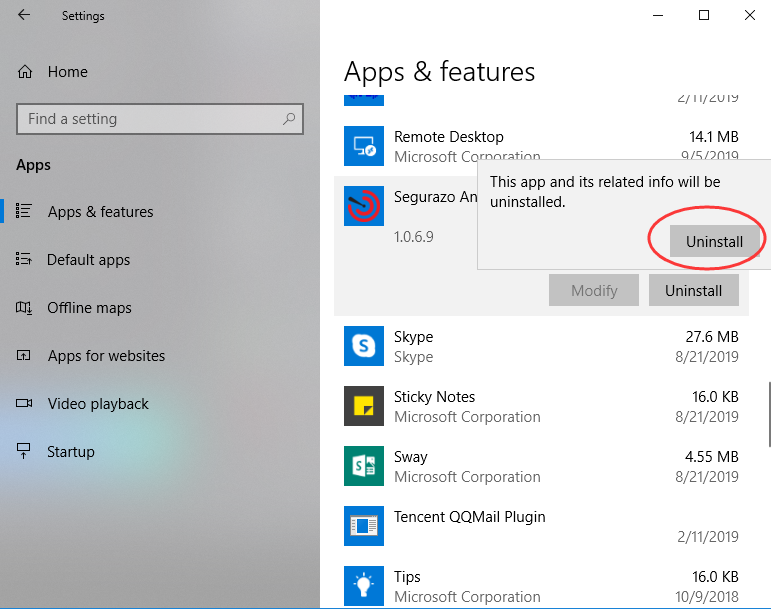 Method 3: Uninstall from the Control Panel (for programs)
Click the bottom-left Start button to open the Start Menu, go to Windows System folder and click on Control Panel to open it.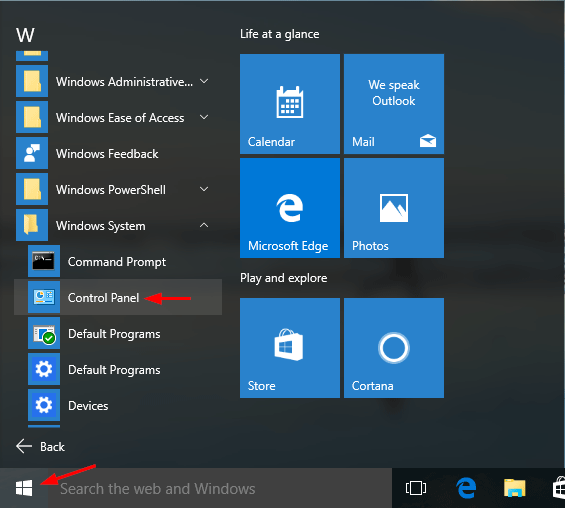 Once the Control Panel is launched, click Uninstall a program as shown in the picture below.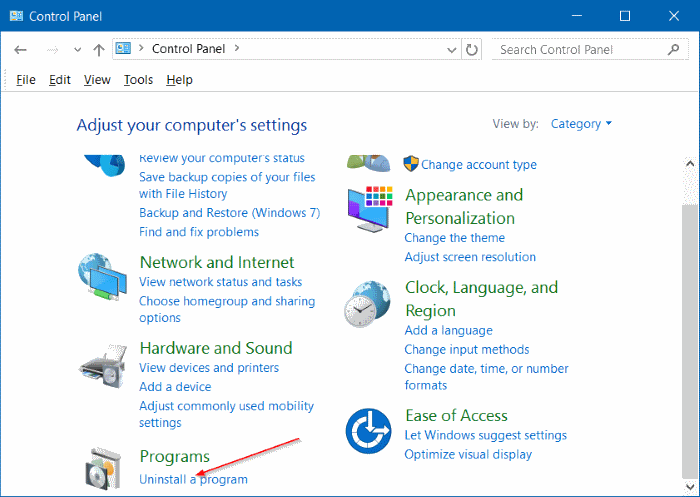 If the Control Panel is being displayed with small icons (as shown in the picture below), please click Programs and Features.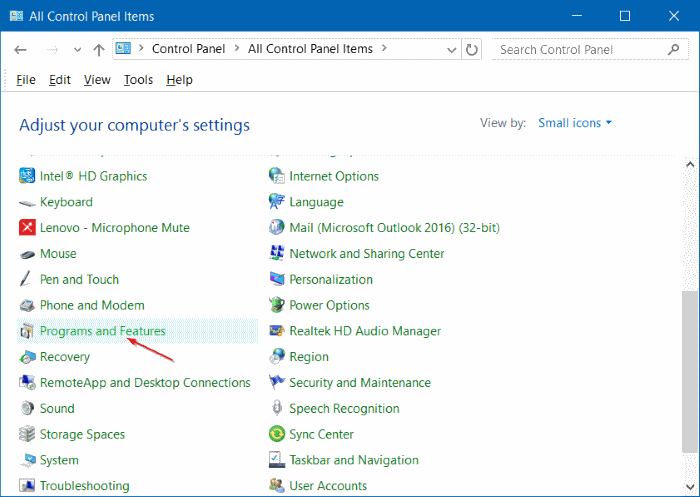 Right-click on Segurazo Antivirus and select Uninstall or Uninstall Change.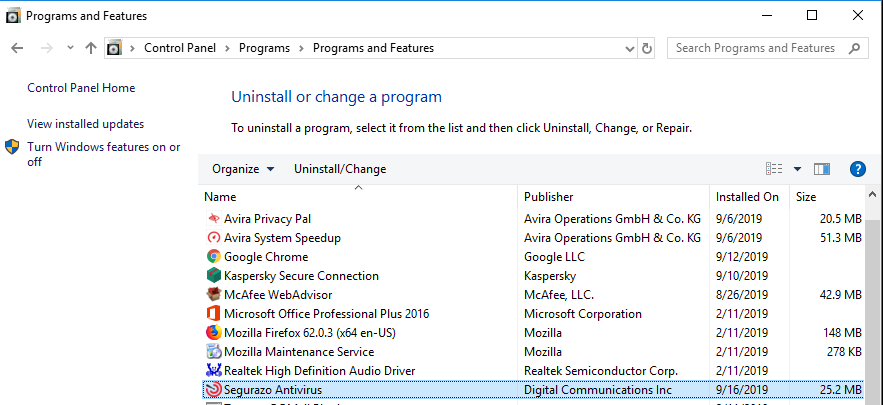 Click Yes button if you see the confirmation dialog. Once uninstalled, some programs might ask you to restart your PC. If asked, please reboot once to complete the uninstallation.
The above three methods may help you delete Segurazo Antivirus, but some files of this program might still remain in a few system folders. So, you have to manually delete leftover file system and registry items.
How to Delete Leftovers Manually?
To delete these leftovers, you'll need check following folders and delete associated files first.
C:\Program Files (x86)\Segurazo\
C:\Users\User Name\AppData\Local\Temp
C:\Users\User Name\AppData\Roaming
C:\ProgramData\Microsoft\Windows\Start Menu\
Next, you have to delete Segurazo Antivirus entries from Windows registry:
Press Windows + R, and type in regedit in RUN box, then press Enter. It'll open Registry Editor.
Locate the following keys:
HKCU\Software\Microsoft\Windows\CurrentVersion\RunOnce
HKCU\Software\Microsoft\Windows\CurrentVersion\Run
HKLM\Software\Microsoft\Windows\CurrentVersion\Run
If you can find any keys with the name of Segurazo Antivirus, just delete such keys. Make sure you've uninstalled all associated parts of Segurazo Antivirus before rebooting the computer.
Warning:
You should only attempt this manual removal guide if you are experienced at using the Windows Registry and know how to view and delete system and program files. If you are not a computer savvy and don't know where to start, we strongly recommend you use a third-party uninstaller to complete the removal job instead. There are many 3rd party software available on Internet which can list all the installed programs and components for all the users on a PC and help them remove all with just a few clicks. So, if you are serious about completely uninstalling Segurazo Antivirus from your computer, Uninstallor would be one of the options for helping remove all traces of unwanted programs. Let's see how it works.


Segurazo Antivirus Automatic Removal Guide (Recommended)
Method 4: Uninstall with a Tool

If Windows built-in uninstall can't delete the program you want, or you cannot remove Segurazo Antivirus manually by yourself, then a third-party uninstaller will be your best bet. Uninstallor is one of the popular uninstaller software on the market. It's fully compatible with 32-bit and 64-bit versions of Windows system, and it works on Mac OS as well. Compared to Windows built-in uninstaller, it does a great job in uninstalling any unwanted programs from your PC without leaving leftover like the empty and invalid registry keys, folders and system files, application shortcuts, etc. All the uninstall process can be done in just a few minutes. Wondering how to uninstall Segurazo Antivirus with Uninstallor? Here's how it works:
1. Download & Install Uninstallor on your machine. Uninstallor is quite lightweight, that means it only uses little storage and almost no system resources. There are not too many buttons or options so it's rather easy to use.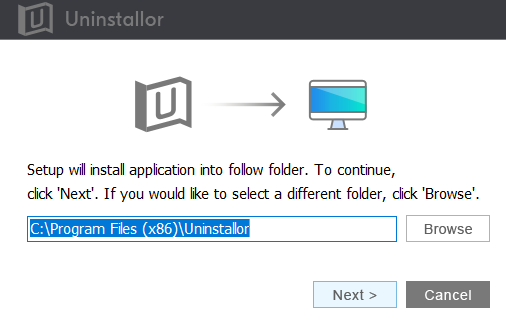 2. Launch Uninstallor. As you can see, the user interface of Uninstallor is simple, easy to use, efficient and responsive. It gets the Segurazo Antivirus removal job done quickly.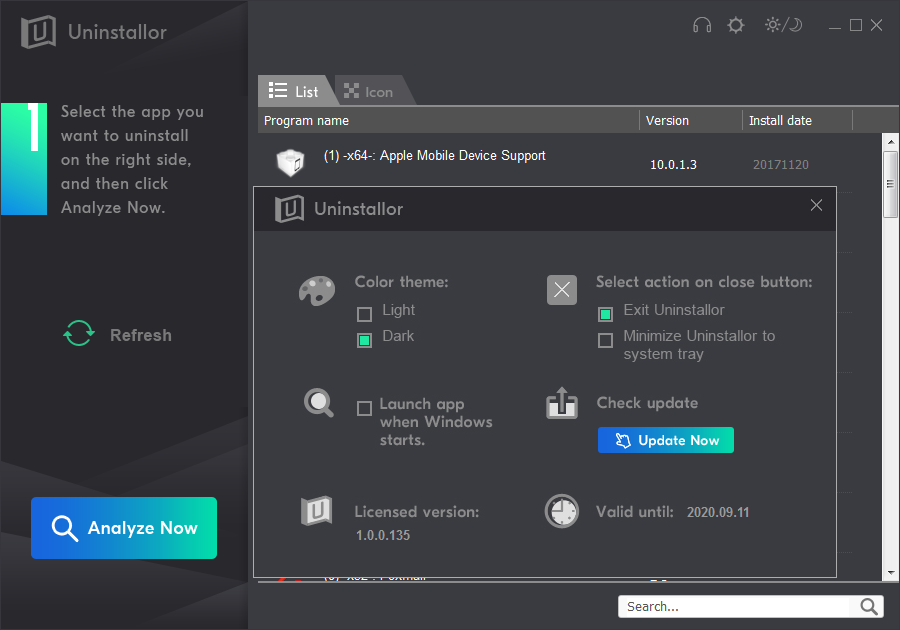 3. Search for Segurazo Antivirus components automatically. Select Segurazo Antivirus first, and click on "Analyze Now" button. It will analyze all associated files and registry entries related to the program.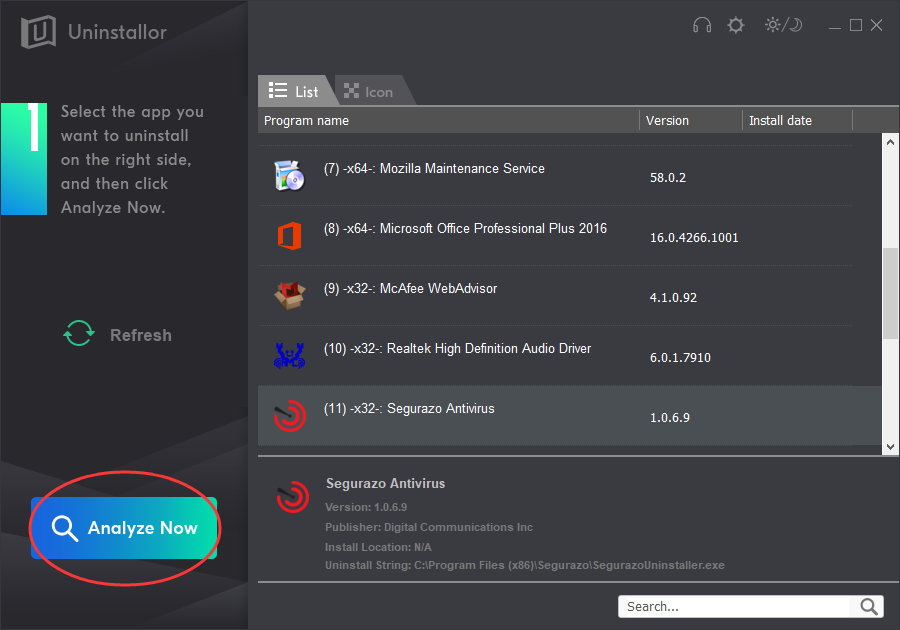 4. Perform complete removal. Click on "Uninstall Now" button to uninstall Segurazo Antivirus completely. Next, you need to click on "Yes" to confirm the removal. Please wait until the removal is finished.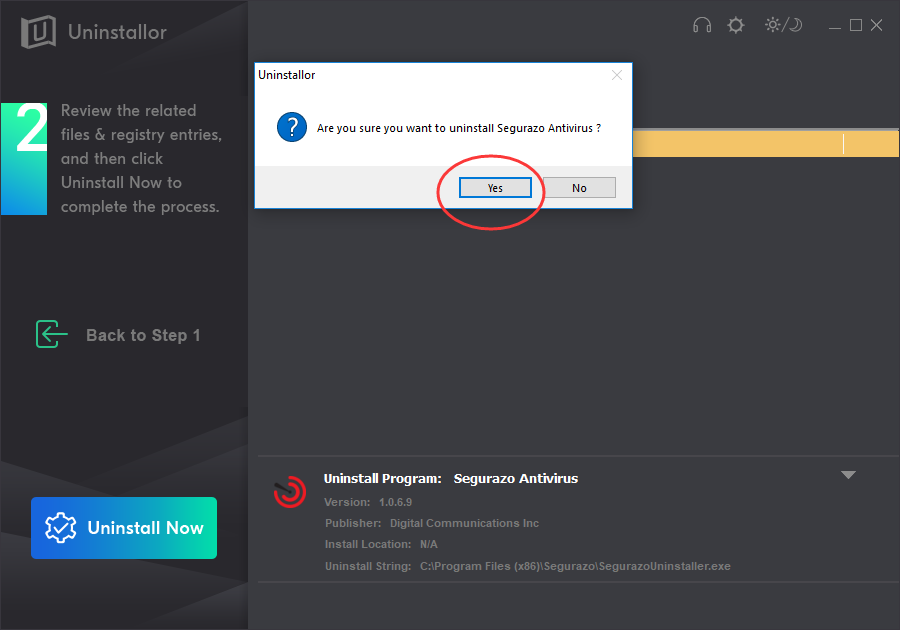 5. All done. Uninstallor will show you when Segurazo Antivirus has been completely removed. Please restart your computer to take effect.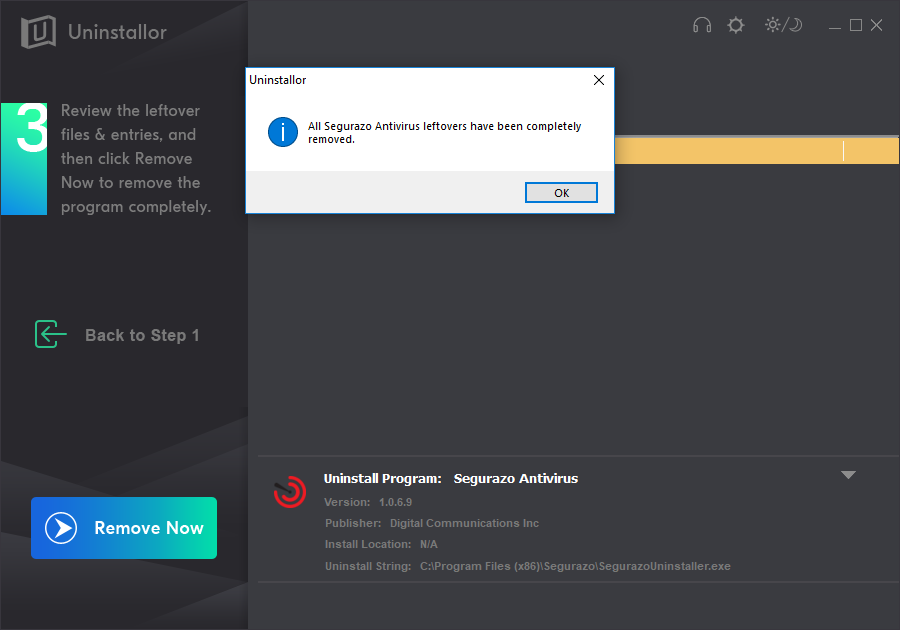 Conclusion:
Having trouble in uninstalling Segurazo Antivirus from the Start menu or from Add/Remove Programs in the Control Panel? PC users should know that nowadays Internet is flooded with various potentially unwanted applications like Segurazo Antivirus. They install together with free software or through deceptive online banner ads, and once they are installed, it is difficult to remove them completely from the system. Segurazo Antivirus, as an unwanted program, contains many files that are installed in various locations on the computer and it modifies registry entries in order to launch itself every time you boot up the computer. If you don't uninstall Segurazo Antivirus and its files fully and correct the registry entries, it's not only using up unnecessary disk space but can interfere with other programs or cause unexpected system errors. This guide offers two types of removal process to remove Segurazo Antivirus: Automatic Removal or Manual Removal. If you are comfortable with Windows Registry and if you have used Registry Editor in past, a totally manual way to 100% wipe your PC clean of any remnants of unwanted programs is fine for you. But if you are not, we suggest you use Uninstallor instead – a good third-party uninstaller that provides a quick, permanent and safe way to remove Segurazo Antivirus  and its files from your system in just a few minutes. The tool doesn't need you have any kind of special technical expertise. In case you have problem in uninstalling Segurazo Antivirus by yourself, it even provides custom fix solution and on-demand remote support for you. Now Uninstallor is available on both Windows and Macs. Download & Give it a try now!