How to Remove Spamhaus Virus – MoneyPak Ransomware blocked My Computer, Android phone
Spamhaus virus blocks your system and Android phone encrypts all your files, and displays a lock screen to make you scare and at nail-biting what to do. The Spamhaus virus is notorious ransomware, more precisely speaking, belongs the sort of MoneyPak ransomware. It is developed by hijackers or cybercriminal that informs a bogus notification pretended to be law enforcement from the international organization called Spamhaus Project  to blackmail money. In addition, the Spamhaus virus Android lock accuses of you already spreading the Malware includes Android viruses, Trojans, worms and you are breaking numerous International and USA laws. In order to avoid the cybercriminal case you have to pay a fine of $300 in form of a unique payment system of Greed Dot MoneyPak voucher. Well, all of the fake information you can see on the virus screen is just the malicious trick commonly utilized by hackers, it that first locks PCs and threaten victimized users with Spamhaus MoneyPak ransomware and then offers a way you have to pay to escape from law enforcement. However, the truth is Spamhaus virus Android lock still locks the infectious PC though you have paid the required fine.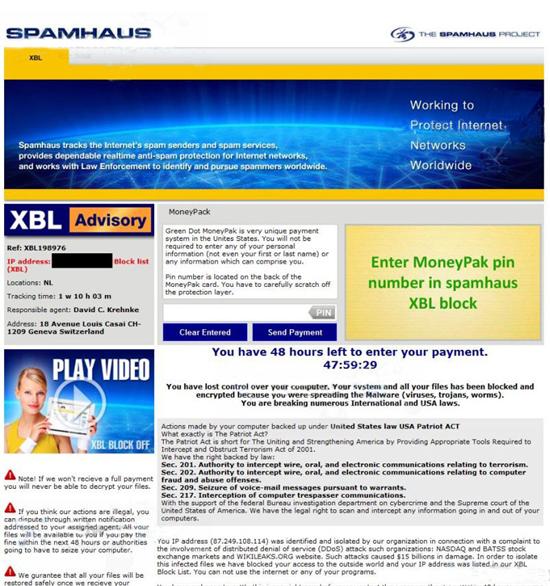 Directories of the Spamhaus MoneyPak Ransomware Content
---
First Part – What Is Spamhaus Virus (MoneyPak Ransomware)
Second Part – How Spamhaus Ransomware Damaged My Computer
Third Part – How to Remove the Spamhaus Virus Completely
Fourth Part – Remove Spamhaus Virus with System Restore
Fifth Part – Conclusion (Spamhaus MoneyPak Ransomware's Propagation and Precautions)
---
Note To fast remove the scam Spamhaus ransomware in order for averting from further damages, you can live chat with VilmaTech 24/7 Online Experts to get outstanding help.

What Is Spamhaus Virus (MoneyPak Ransomware) ?
Spamhaus MoneyPak Ransomware is an aggressive computer infection classified as drive-by ransomware or Reveton, its payload displays a warning purportedly from a high-authority enforcement agency, which leads to its nickname known as the "police Trojan." Spamhaus virus totally takes over the victimized computer with restriction, system blocked and encrypted files. It is similar to the FBI MoneyPak virus (Removal Tips). But a little difference is the encryption of the files. Thus, Spamhaus MoneyPak Ransomware can bring more immeasurable damages when it encrypts a plenty of confidential files name on the hard drive.
The detailed message on the Spamhaus virus locked screen elaborates your online activities have been illegal and the actions made by your computer backed up under United States Law USA Patriot ACT. And the scam virus also declares that the law enforcement agency has indentified your IP and isolated in connection with a complaint to the involvements of distributed Denial of service attack some organizations. In order to stops this attack, your computer should be locked. However, all of the warnings on the Spamhaus virus screen are fake, it is exploited to foolish the victimized computer users and force them into paying.
The Spamhaus virus encrypts files with .html extension. You may find that nearly all files that end with .docx, .ppt, .zip, .php, .jpg, .txt, .xlsm … extension have been renamed as .html extension. Therefore, whenever you tempt to open a file it would lead you to http:\\xblblock.com and prompt you have to pay the ransom to decrypt your files. You may suppose if you have paid the demanding fine, all your files would have been decrypted and restricted access to the computer had been granted. But in fact, paying is not wise, the hacker won't unlock the infectious computer and decrypt your files just in consideration of they have acquired money. Please, don't get trapped in when you see the Spamhaus virus locking you out from Window Operating System.
How Spamhaus Virus (MoneyPak Ransomware) Damaged My Computer
Obviously, the Spamhaus virus can locks the victimized computer and encrypt confidential files. However, quite huge invisible damages still are still ongoing underground. The Spamhaus virus never stops destroying the victimized computer since it has completely taken over. It constantly exploits system vulnerability to compromise the Internet browsers and degrade the infectious PC performance. The troubles like programs disable, Firewall enforcedly turned off, freeze down, the blue screen of death, and even the hardware corruption must happen. Besides that, the Spamhaus virus possibly brings other viruses filtrated on the victimized computer to more easily rob.
What essential information hijackers always aspires to theft. There is no doubt it is confidential data including Credit Card number, Online transaction accounts/password, trade secrets, and other sensitive information can be taken advantaged to gain malicious profits. More horrible thing is that the hacker can access in the victimized computer via backdoor. Thus, the confidential information is extremely easy to obtain. To incase of suffering from those damages, the only way is to fast remove the Spamhaus virus and secure your computer.
Note: The virus removal requires the basic of computer skills. If you're afraid of mistakenly deleting any core registries, please click a live chat with VilmaTech 24/7 Online Experts now.

How to Remove the Spamhaus Virus (Ransomware) Completely
Step A
In order to bypass the Spamhaus virus clocked screen and reach the desktop on the infected computer you need bring the victimized infectious computer to the safe mode with networking.
For Windows 7, Windows XP, Windows Vista
1. Totally shut down the infected computer. Find out F8 key on the keyboard from the infectious computer's keyboard. If the keyboard doesn't work, you may plug in an external wired one to have a try again.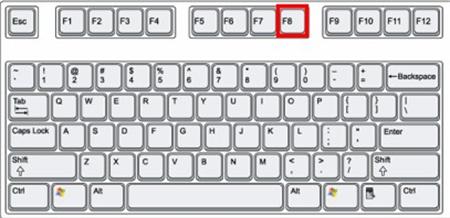 2. Press Power button to boot up the infected computer, but before Windows launches (after skipping the first interface), you have to hit F8 key to reveal out Windows Advanced Options.
3. As you can see the page that it says safe mode, safe mode with networking, safe mode with command prompt, etc. Highlight safe mode with networking by pressing Up-Down keys and hit Enter key. Wait for a moment, Windows is loading files to the desktop.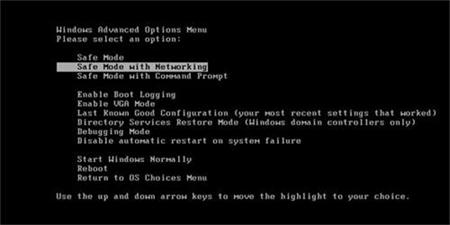 For Window 8 Users
1. Start and login the infected computer until the Spamhaus virus screen shows on.
2. Press the Ctrl+ Alt+ Del key, it will bring you to the Switch User interface.
3. Tap the "Shift" key on the keyboard by your left hand, click on "Shut down" button. Click on Restart option. In the 'Choose an Option' screen, you need select "Troubleshoot."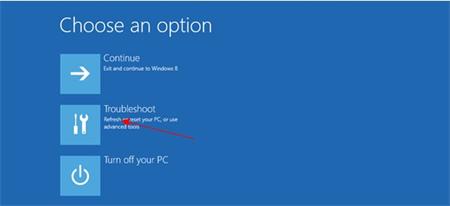 4. Click on 'Advanced Options', and in the following window you need choose "Startup setting."
5. Choose "restart." Press F5/5 key to highlight Safe Mode with networking option, hit enter key.
Step B
End the Spamhaus virus process. Press Ctrl+ Esc+ Shift (Windows7/vista) or Ctrl+ Alt+ Del (Windows XP/ Windows 8) to open Windows Task Manager. Scroll down and locate at random Spamhaus virus file and click on it. You last need click the End Process button.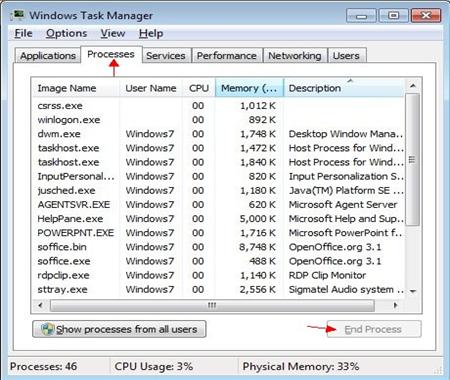 Step C
Delete Spamhaus virus files from Local disk. But you need show hidden files first.
1. Click on Start button. Click "Control Panel." And click on Appearance and Personalization.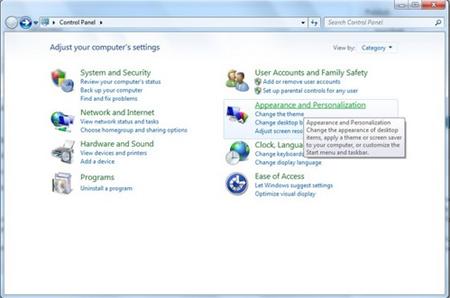 2. Double click on Files and Folder Option.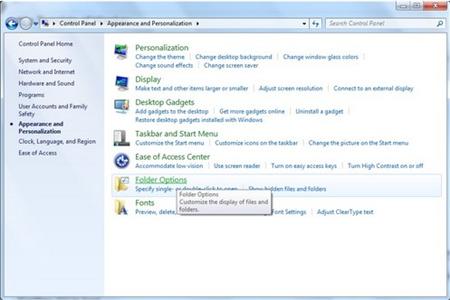 3. Select View tab. Check "Show hidden files, folders and drives." Uncheck "Hide protected operating system files (Recommended). Then click ok to finish the changes.
Step C
Open Local disk, and remove Spamhaus virus files refer to below files. You can click on Start Button and click My Computer or Computer. You then open there.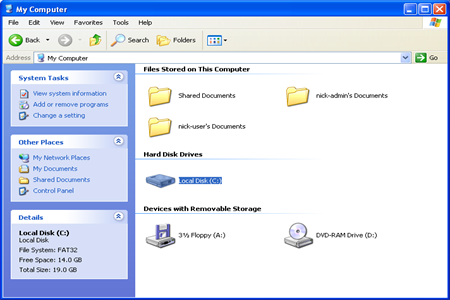 %Program Files%\ Spamhaus Virus
%AppData%\Protector-[rnd].exe
%AppData%\Inspector-[rnd].exe
Step D
Delete the Spamhaus virus registry entries.
1. Press Windows+ R key to reveal out Run box. Type regedit in Run window and click Ok.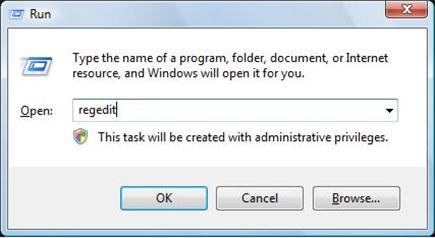 2. In the Registry Editor window, you need navigate to the below path. You then need to find out "Shell" and right click on it. Click on Modify.
3. The default value data is Explorer.exe If you see something else written in this window, remove it and type in Explorer.exe.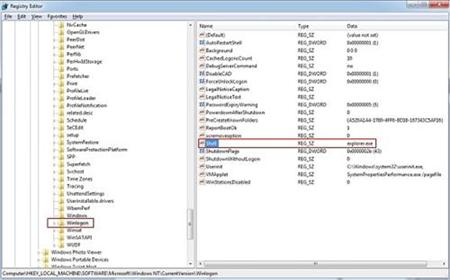 HKEY_LOCAL_MACHINE\SOFTWARE\Microsoft\Windows NT\CurrentVersion\Winlogon\
4. Besides that, you still need delete Spamhaus virus registry entries, you can refer to the below registry entries.
HKEY_CURRENT_USER\SOFTWARE\Microsoft\Windows\CurrentVersion\Run\[random].exe
HKEY_LOCAL_MACHINE\SOFTWARE\ Spamhaus virus
HKEY_CURRENT_USER \Software\Microsoft\Windows\CurrentVersion\Policies\System 'DisableRegistryTools' = 0
HKEY_LOCAL_MACHINE \SOFTWARE\Microsoft\Windows\CurrentVersion\policies\system 'EnableLUA' = 0
Step E
You need reboot the infectious computer with regular mode to active the virus removal.
Note: If you have tried the steps mentioned above but still have troubles with completely removing the Spamhaus virus files and registry entries, you may Live Chat with VilmaTech 24/7 Online Experts to get further help.

Remove Spamhaus Virus (MoneyPak Ransomware) with System Restore
For Window 8
1. To restore from a restore point you will first have to navigate to the Systems Protection tab by typing "System Restore" in the Windows 8 Search bar.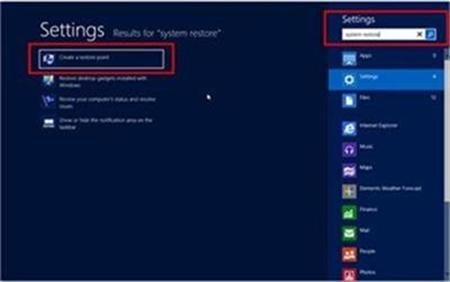 2. Open up the control panel and select "System and Security."
3. Then select "Advanced System Settings."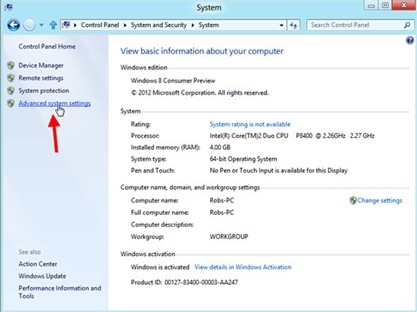 4. In the next window, click on the "System Protection Tab."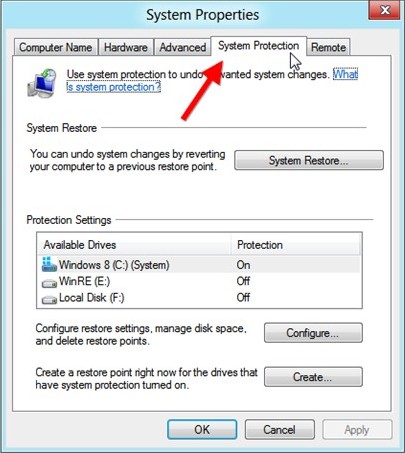 5. In the same window, click on System Restore button.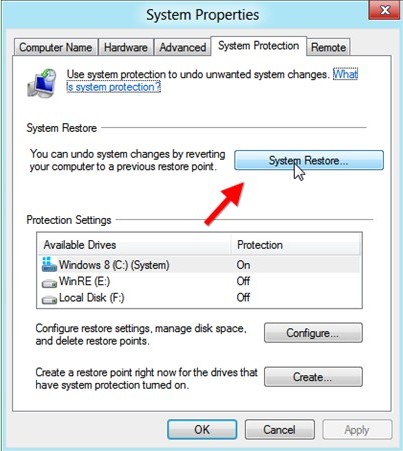 6. Next it will show you System Restore Wizard. Click on "Next" to continue. (But you need backup the existing encrypted file first-> rename the file to its original name-> right click on it and select Property-> click on Previous Versions tab → select one available previous and click on Restore button).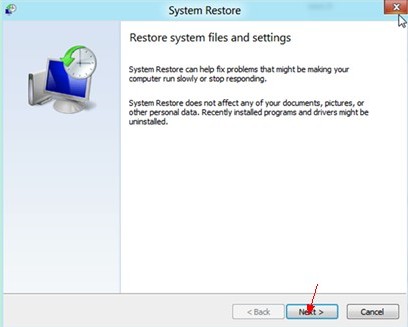 7. In the next window you will be asked that which restore point you would like to take, click on it and click Next button again. Later after that you'll find the following window asking you to confirm your choice. You have to click on Finish button and Windows will automatically complete the restore for you.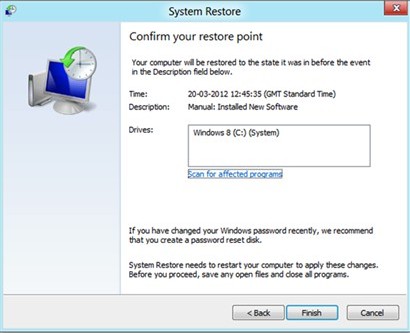 8. Restart the infected computer to effect Spamhaus virus removal.
Windows 7/Windows Vista/ Windows XP
1. You can click on the Start button and click on all programs/ Programs.
2. You then click on the Accessories and System Toll. Select System Restore there.
3. In the System Restore window where prompt you that restore your computer to the state it was in before the selected event. And the page will show you with a list of restore points, select on a restore point created just before the date the Spamhaus virus locked your computer.
4. And then click on Next button to proceed to the restore process. Wait for a minute and you need to restart your computer as the demanding of the pop-up wizard
5. Once the System Restore has been completed. It is similar to the wizard mentioned above just a few of clicks and you can be through.
Conclusion
Spamhaus virus Android lock can infect one computer with literally dozens of various ways. The most common ways exploited by such ransomware can be listed as follow. For one, accepts what he or she sees on the screen without reading the prompt or understand what it's asking. Sometimes, there are a variety of pop-ups like ads or window appears that says your computer is infected or that a unique plug-in is required. Without fully understanding what it is you're getting, you accept the prompt. Besides that, some unwary computer user gets infected with the Spamhaus virus Android lock just while is installing or updating a program, you're prompted (often checkboxes already checked) if it's ok to install additional programs that you may not want or are designed to monitor your usage of the program. Therefore, to avert from attacking by viruses you'd better decided if it can be ongoing after your total understanding.
For tow, the Spamhaus virus hides in e-mail attachments especially those are unreported or spam. It may be forwarding you an infected file. For three, if you are running a computer without anti-virus program it is highly advisable you have one installed on computer to prevent from infections in real time. And keep updating the guard tool is significantly essential. In addition, because software is often designed with security features to prevent unauthorized use of system resources, many Android viruses must exploit security bugs (security defects) in system or application software to spread. Thus, when you are downloading some freeware, shareware or other third-party program from suspicious site, the Spamhaus virus and Android malware can be capable of seize chances to lock your computer.
Note:If you still need further help to remove the Spamhaus virus or Spamhaus Android malware from the victimized computer, you can Live Chat with VilmaTech Online Experts.