Delta Search – Remove Delta Search Hijack Program
Delta Search is malicious hijacker program, has ability to tamper with compromised browser settings and then keep redirecting default search engine to the notorious one- Delta-search.com. It exactly is a member of the hijack virus, which can embed into the objective computer in the forms of plug-ins, extensions, and add-ons, and chrome toolbar like Delta Chrome Toolbar, Delta toolbar, Yontoo, BrowserProtect and Mixi.DJ. Usually these plug-ins and add-ons can disguised as or be bundled with some free Third-Party software, add-on, and attractive ads so that they acquire chances to allow themselves automatically exploiting into user's computer without any trace while the willing program installation is ongoing. The Delta Search hijack must be engaged in making numerous troubles with the Internet browsers and degrading performance on the infected computer later after that the Delta Search hijack virus has accomplishing its installation. For the obvious symptom, you can't successfully search any desired thing. For your main search engine like Firefox.com or Google.com can be replaced as Delta-search.com. No matter when you entered a URL into the search engine, it will be redirected. All things you can get are just some search items about Delta Search. For another one, this hijack program exerts itself to display ads and sponsored links in your search results. Once computer users click on any search results of them, the Delta Search maker will stealthily collect your confidential privacies by collecting your queries and tracking yourbrowsing histories.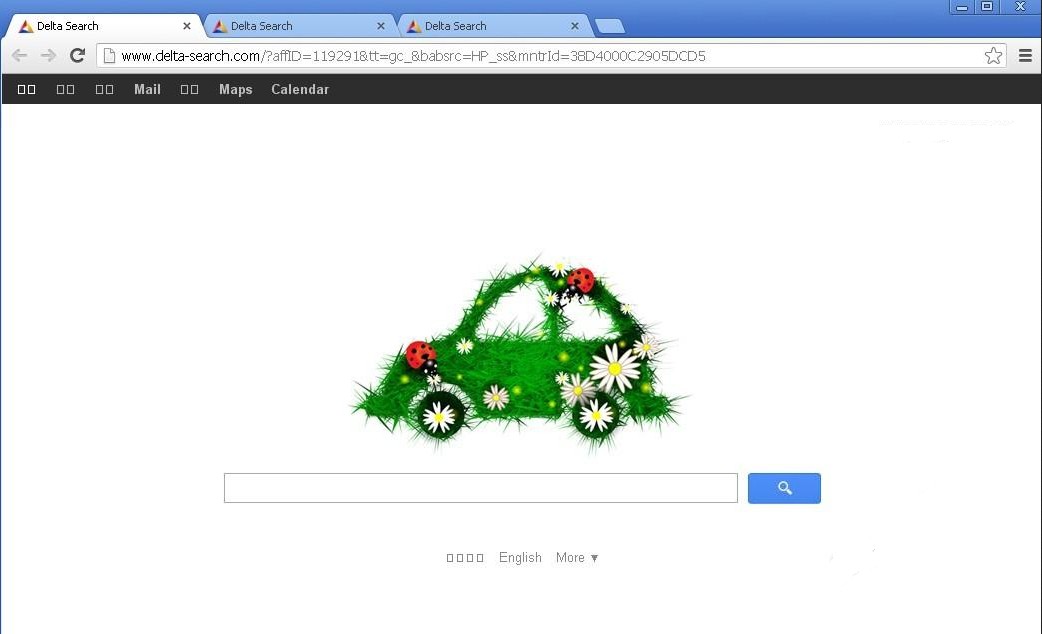 How of danger will the Delta Search be? First one, plenty of chaos can be seen on the infected computer like slowdown and freeze on both Internet speed and Computer running. Taking quite long time for searching things and times out have became common place. You can't open any online account activities (open email attachment) and constantly get disabled errors when you view video like YouTube, which all may drive PC users to be crazy if they have urgency cases needed to deal with in time. Second one, The Delta Search hijack program can bring other hijacking virus like Visualbee.delta-search.com redirect or ransomware into the infected computer as well, under this situation could it be easily for hijackers to make huge destructive damages and confidential resources exposures. The last one but not the least, the hijackers are expert in taking advantage of personal privacies for illegal commercial cases. For instance, it may offer threats to care PC users and requires a fee should be paid, which behavior just like the Mandiant USA Cyber Security scam virus does.


First Uninstall Delta Search program Including Its Toolbar and Plugin
The easy way to locate the objective malicious program is by Windows Add/Remove Programs or Uninstall a program (it is according to the Windows Operating System on your computer).
1. Click the Start button, which is the one at bottom left corner and has a Windows icon there.
2. Click on Control Panel and Click on Add/Remove Programs or Uninstall a program. See detailed picture as below: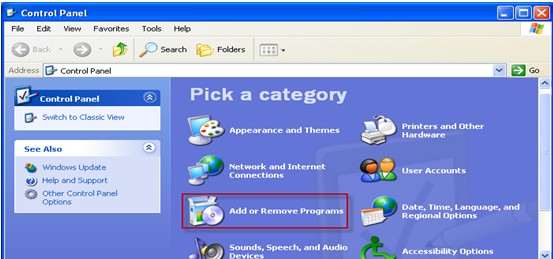 Note: For Windows 8: Sweep your mouse from right edge to the middle of light and then click Search box. Type "uninstall" in Search box and then click on Settings. And then click on Uninstall a program
3. In the Add/Remove Programs window, click on the Delta Search programs. And then click Remove/Chang.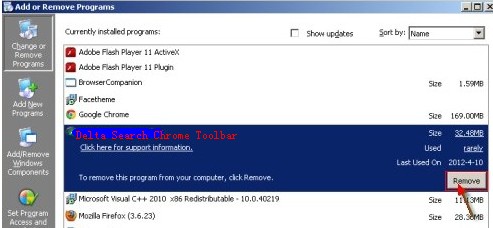 Note: The Delta Search program involves several toolbars and plugins include that Delta Chrome Toolbar, Delta toolbar, Yontoo, BrowserProtect and Mixi.DJ just like the items mentioned above.
It is essentially important to uninstall all of them one by one thereby totally clearing out the hijack program from your computer.
Next click on Click on completely remove to continue and follow he demanding of un-installation process to get the removal finished.
Secondly Remove Delta Search, Extensions, Cookies, and Restore Default Search Engine
To completely remove the Delta Search from the infected computer, the step you have to proceed to help the further cleanings been ongoing. Apart from uninstalling its malicious toolbars and plugins it also requires a total clearing out about cookies, extensions. In addition, get the default search engine from Delta-search.com.
Google Chrome
1. Open Google Chrome. Click on the Wrench next to the address bar and navigate to Tools > Extensions. Search for any suspicious extensions and remove them by clicking the trash can icon next to them.
2. Access to the Google Chrome Settings, click on Set pages in the "On Startup" area.

3. In the Startup window, click on the X button to delete http://www.delta-search.com/?… And then click ok to effect change.

4. Go to Appearance area, click "Show Home Button" and click Change. Remove the redirect search engine from the bar referred to "Open this page" at the same rwa. And then click Ok.
5. Next you need click on Manage Search Engine from the Search area. Select Google from the list and make it as default search engine.
6. At the same window, you need click X at the end line of the Delta Search to finish the removal.

Internet Explorer
1. Open Internet explorer window->Click the "Tools" button
2. Locate to "safety" and then click "delete browsing history".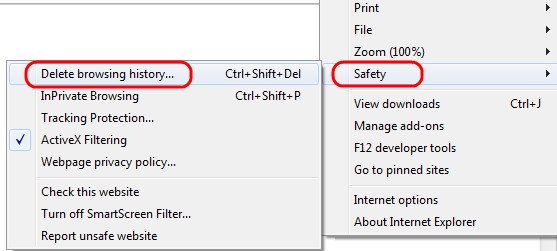 3. Uncheck the Preserve Favorite Website Data box, check the box next to Cookies, and hit Delete.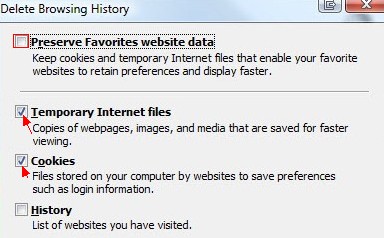 4. Restore the default Search engine from Delta Search. Click on the Start button and go to Control Panel, then click Network and Internet.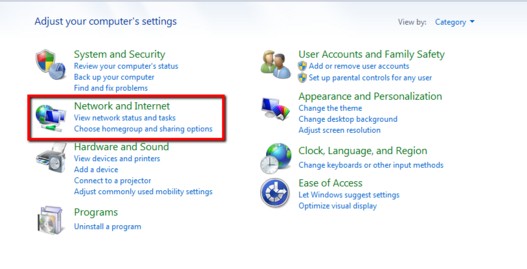 5. Once in Internet Options page, click on the Programs tab, then select Set your default programs.

6. Locate the left programs bar, select Internet Explorer, then click Set this program as default.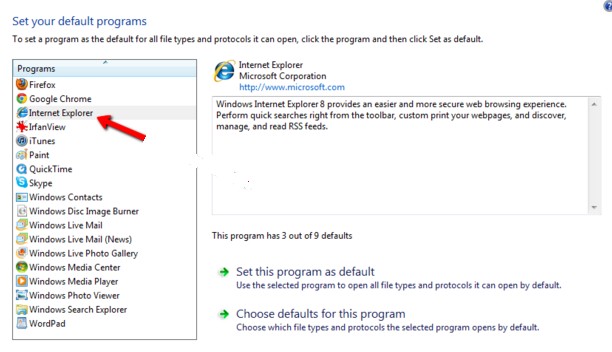 Mozilla Firefox
1. Open Firefox browser. Click on Tools, then Options, select Privacy.
2. Click "Remove individual cookies." In the Cookies panel, click on "Show Cookies." To remove all cookies click on the "Remove All Cookies button."
3. At the top of the Firefox window, you need to click the Firefox button, locate to the Help sub-menu (click the Help menu at the top of the Firefox window for PCs with Windows XP,) and select Troubleshooting Information.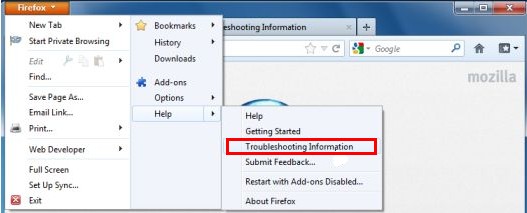 4. Click the Reset Firefox button at the upper-right corner of the Troubleshooting Information window.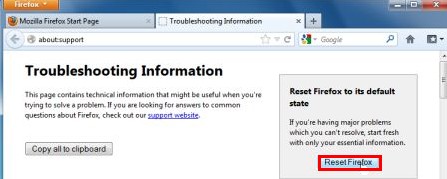 5. Click on Reset Firefox button. Please wait for a few minutes to get the reset finished.
Thirdly Remove the Delta Search Virus Files and Registry Entries
1. Show hidden files first and then delete hijack program files from local disk.
%AllUsersProfile%\random.exe
%Appdata%\roaming\Microsoft\Windows\Templates\random.exe
2. Delete the virus registry entries. Press Windows + R keys and enter regedit in Run window, click Ok.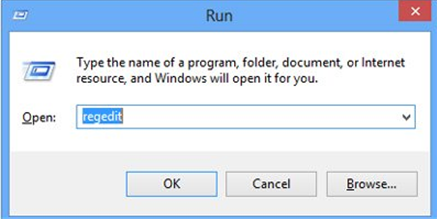 3. In Registry Editor window, delete the below registry entries about the Delta Search hijack virus.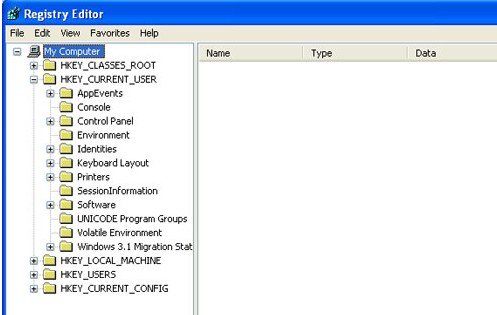 HKEY_CURRENT_USER\Software\Microsoft\Windows\CurrentVersion\Run ".exe"
HKEY_CURRENT_USER\Software\Microsoft\Windows\CurrentVersion\Policies\Explorer\ru
Last Note about Delta Search Hijack
Delta Search hijack virus must be removed from the infected computer ASAP. As you acknowledged above, it is a quite malicious virus does hardly invade into user computer alone. Together with other viruses, huge damages inevitably happen on the infected computer. Taking the removal guides into perspective, you must have a clear idea on how best to deal with each step mentioned above particularly registry entries deletion for the virus is changing very itme and no particular files. If you still want to consult more suggestions with experts accordingly to your troubles while the Delta Search removal is under way, you can Contact with VilmaTech Online Support.