ALOT Toolbar – How to Uninstall ALOT Toolbar
ALOT Toolbar can be categorized as a browser hijacker. Exactly, has ability to hides itself in the installation package of other free software to infiltrate your computer with malicious traits, so that it can install on computer without any consent when users are downloading some free software. The ALOT Toolbar, disguised as a genuine toolbar blaming that it allows you to secure your connection while surfing WiFi hotspots and to access sites. It can distort main Internet Browsers and redirect searching site to its established malicious page. Besides that, it displays an attractive interface with various features to make users believe it to be true. As you can see on the A LOT Toolbar screenshot, it shows you itself with a brief and clear introduction with color contrast banding buttons like Search, Celebrity Search, Entertainment News, Entertainment Center. And it reveals a few of additional functional buttons to express how useful the ALOT Toolbar it is. Therefore, it is quite natural that a plenty of computer users suppose that ALOT Toolbar is really perfect toolbar and never doubt that it is a hijack virus made by cybercriminals to cheat their money until some troubles with Internet browsers happen or economic loss occur. Typically, a part of computer users are easily lured by those tricked products that they are interested in at first sight. Unluckily, at last it has high possibilities of those people becoming the victims of the ALOT Toolbar  or other hijack viruses for the truth usually recovers. Thus, it had better be cautious when you install some toolbars, and it is highly recommended you uninstall ALOT Toolbar only when you find it on your computer.

First Uninstall ALOT Toolbar with Uninstall a Program
You can install ALOT Toolbar from your computer with Uninstall a Program no matter it is Window 7, Window 8, windows Vista. In a similar way, you can uninstall the hijack toolbar with Add/Remove Programs on Windows XP.
1. Click on the start button and click on Control Panel. If you are using Windows 8 you need move your mouse cursor or swipe to the exact lower left corner until the Desktop shortcuts menu appears, you then click on Control Panel.
2. In Control Panel page, click on Uninstall a Program. (If you are using Windows XP, you need click on Add/Remove Programs).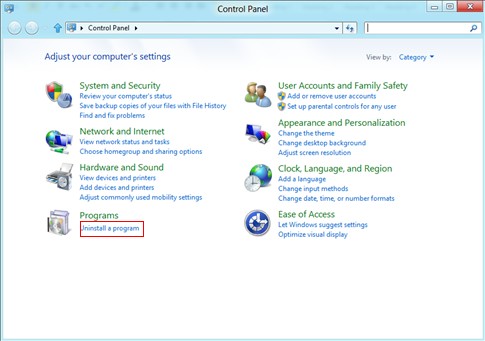 3. Click on ALOT Toolbar. Click Uninstall/Change-> Continue->If it necessary type in the required admin password.
4. The next steps are nothing out of ordinary just a few of clicks by the setup wizard and you can be through.
5. Open Local disk to delete the hijack toolbar file. Here first thing you need to do is to show hidden files first. Click on the Start button->Control Panel-> Double click on Folder Options-> Click View tab-> Check "Show hidden files, folders and drives"->Uncheck "Hide protected operating system files (Recommended)-> Click on Ok to effect all changes. Seond thing is you need come back local disk, find the %userprofile%\appdata\local\temp and %AllUsersProfile%\Application Data\.dll, you then delete them.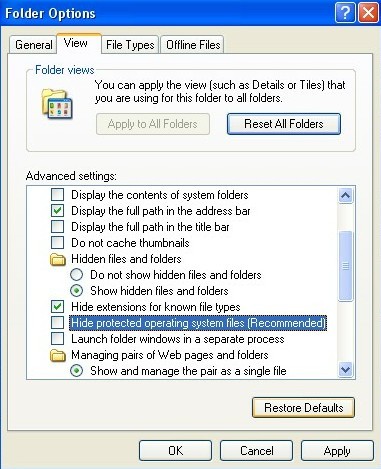 6. Open Registry Editor by typing Run in search box (click run from start menu for Windows XP). Enter regedit in the Run window and click ok to display the nest window. In the Registry Editor Window, you need below ALOT Toolbar registry entries.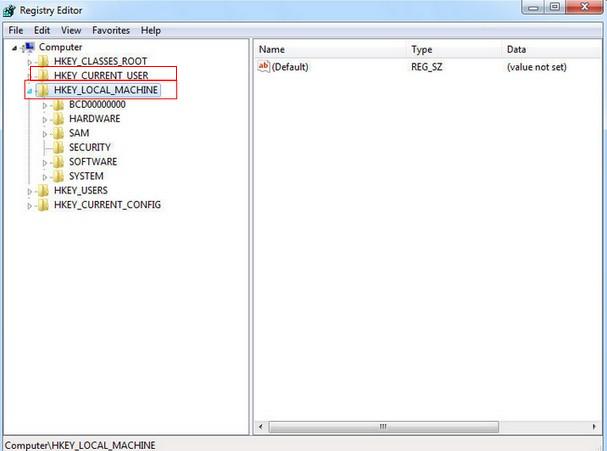 HKEY_CURRENT_USER\Software\Microsoft\Windows\CurrentVersion\Run"[ALOT Toolbar].exe"
HKEY_CURRENT_USER\Software\Microsoft\Windows\CurrentVersion\Settings "net
Second Clear out All Add-ons, Cookies and Plugins of ALOT Toolbar
The cybercriminal can seize any chances to exploit ALOT Toolbar to illegally collect users personal confidential data for profit, so that they must track your browsing histories, cookies, remembered data, and searching interests. Therefore, to uninstall ALOT Toolbar form your computer completely you still need to clear all things mentioned above to secure your online activities.
For Mozilla Firefox
1. Open Firefox browser. Click on Tools, then Options, select Privacy.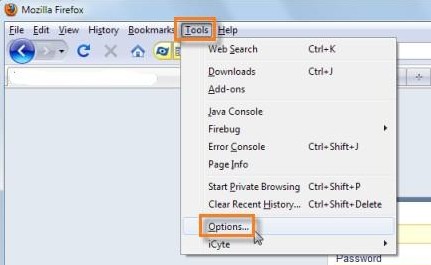 2. Click "Remove individual cookies."
3. In the Cookies panel, click on "Show Cookies." Remove a single cookie click on the entry in the list and click on the "Remove Cookie button."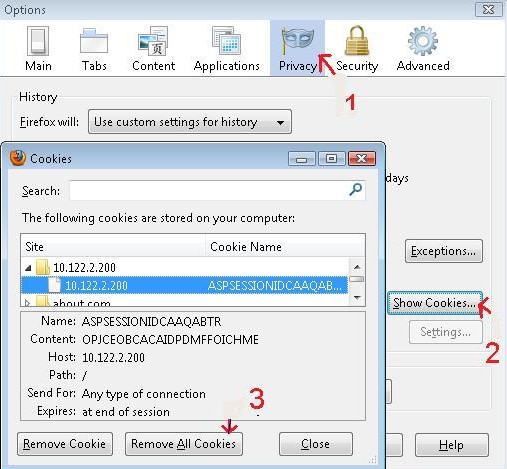 4. To remove all cookies click on the "Remove All Cookies button."
5. Click Tools and select Add-ons. (Ctrl+ Shift+ A)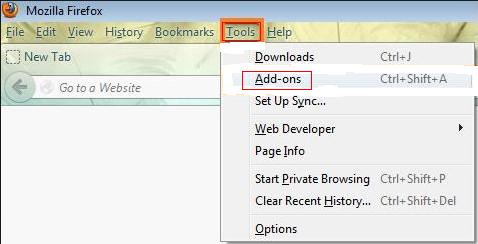 6. On the Extensions and Plugin tabs search for any suspicious add-ons and remove them.
7. Come back Tools again, this time you need click on "Clear Recent History" and you need clear all recent history.
Internet Explorer
1. Open Internet explorer window-> Click Tools and select Manage add-ons. On the Toolbars and Extensions tab search for any suspicious add-ons about ALOT Toolbar and remove them.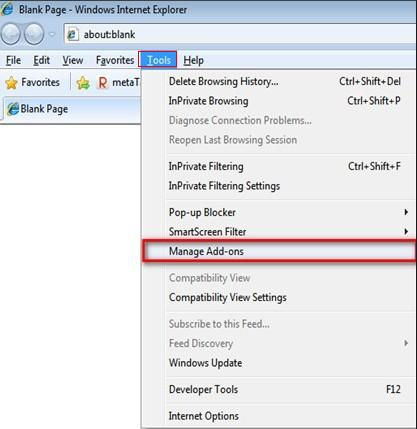 2. Click the "Tools" button again, locate to "safety" and then click "delete browsing history."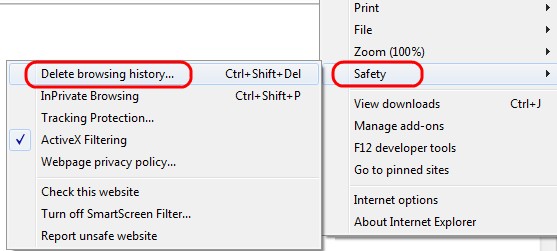 3. To delete all cookies, uncheck the Preserve Favorite Website Data box, check the box next to Cookies, and hit Delete.
4. Delete the malicious ALOT Toolbar. Click on the Gear on the top right corner of the page. And then click on Internet Options.
Google Chrome
1. Open Google Chrome. Click on the Wrench next to the address bar and navigate to Tools > Extensions. Search for any suspicious extensions about ALOT Toolbar and remove them by clicking the trash can icon next to them.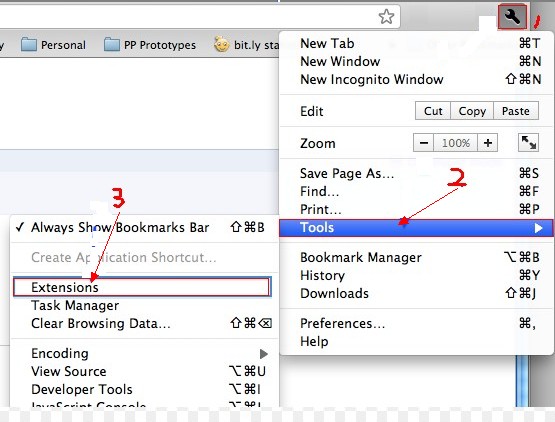 2. Click the Chrome menu on the browser toolbar. Select Settings. Click Show advanced settings.
3. In the "Privacy" section, click the Content settings button.
4. In the "Cookies" section, you can change the following cookies settings. Click all cookies and site data to open the Cookies and Other Data dialog
5. To delete all cookies, click Remove all cookies at the bottom of the dialog.
Last Fix ALOT Toolbar by Restoring Default Homepage
1. Click on the Start menu go to Control Panel, then click Network and Internet.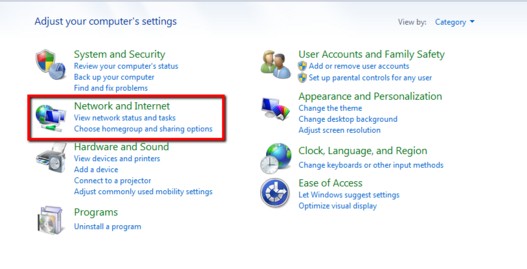 2. Once in Internet Options page, click on the Programs tab, then select Set your default programs.

3. Locate the left programs bar, select Internet Explorer, then click Set this program as default. (If you want to set Mozilla Firefox or Google Chrome, you can select either of them).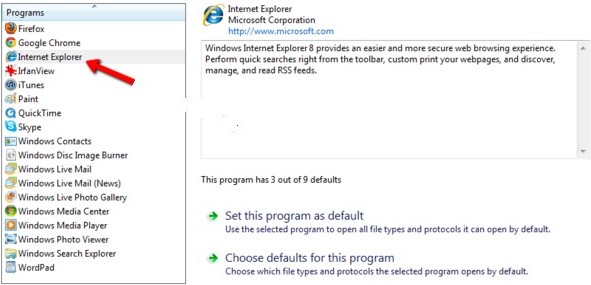 4. In the Internet Options window, click the Programs tab, next go to the place where it says "Internet Explorer is not currently the default web browser," click Make default.

5. When all process finishes, you need restart the infected computer to effect uninstall ALOT Toolbar effect.
Conclusion
You see, ALOT Toolbar is always planning to invade into objective computers by exploiting malicious traits. Of course, the first thing you have to deal with when you see the hijack virus on your computer is to totally find out the hijack virus files including all its leftovers including add-ons , cookies, or plugins and remove them. Yeah. If everything is good after the removal, then we need consider arranging a real-time protection to defend our computer from such hijack toolbar again, so a high-authority free anti-virus program is at lest needed to be installed on your computer. Exactly, the innocent victims of the ALOT Toolbar should be aware and bear in mind that such redirect virus or other malicious rogue program like Adware, Spyware, or Trojan virus can automatically install on computer when users are downloading video/clicking ads or ,spam email or coupons/free programs, thus it is better that avoid doing such things on unsafe website, you can get free programs from official website. At last, If you still face some troubles with uninstalling ALOT Toolbar, you can contact with VilmaTech Online Support for suggestions.