FoxWebber Brief Introduction
FoxWebber is regarded as a kind of perilous pop-up adds called malware or malicious adware, taken advantage by hijacker or cybercriminal gangs to lure online users into being trapped and strives to steal money or sensitive information form them. As Americans great holiday shopping season is having a preseason sale and huge holiday discounts and promotions by the worldwide supplier are under way over the Internet. While, the FoxWebber malicious adware by hijacker remains high, always efforts to trick online computer users into clicking its a series of pop-up ads, coupons, and deals and simultaneously drop down malicious codes to the targeted web browser, just such as Internet Explorer, Google Chrome, Mozzila Firefox, and a lot of others. As a major attach against web browsers, many online computer users are still vulnerable to such FoxWebber malicious adware and are likely to be taken over by hijackers for stealing confidential information.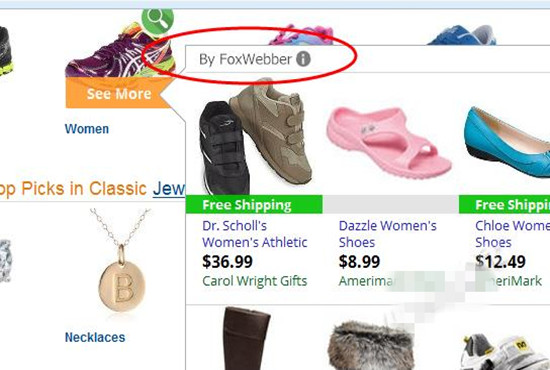 Published on November 26, 2014
Windows AntiBreach Module has been confirmed to be a fake protection software making a fool of a mass of computer users and causing them irreparable damages in the infected computer. Windows AntiBreach Module could get installed into the targeted system with a variety of tricks that the users could not debunk in the first place. Windows AntiBreach Module just took advantage of this occasion to infiltrate into the computer system so as to carry on its evil plan. To be the default but fake protection software for the computer, Windows AntiBreach Module secretly disabled the original antivirus and protection tools without users' permission then forcibly added its startups in the system background. In this way, as long as the computer was stared, Windows AntiBreach Module will be able to run automatically without being detected.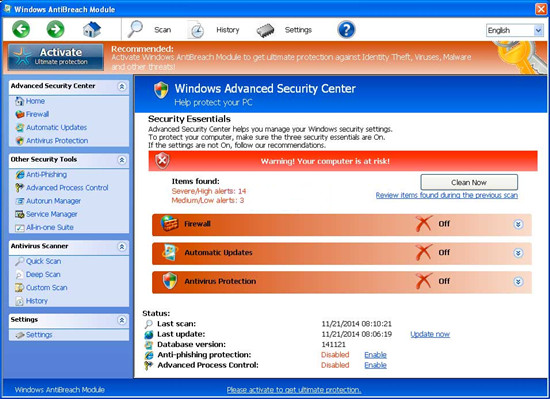 Published on November 24, 2014
When holidays coming up one after another and discount goes crazy, so does browser hijackers. Among which, Safesear.ch is one that becomes active until recently. Offering a list of the most commonly visit channels, Safesear.ch does attract many PC users to use it as browser homepage without bothering asking where it comes from and how it installs. Safesear.ch endangers identity, property and information security without causing scenes due to the application of some computing techniques. Therefore, VilmaTech Online Support would love to bring it to light and offer corresponding solution.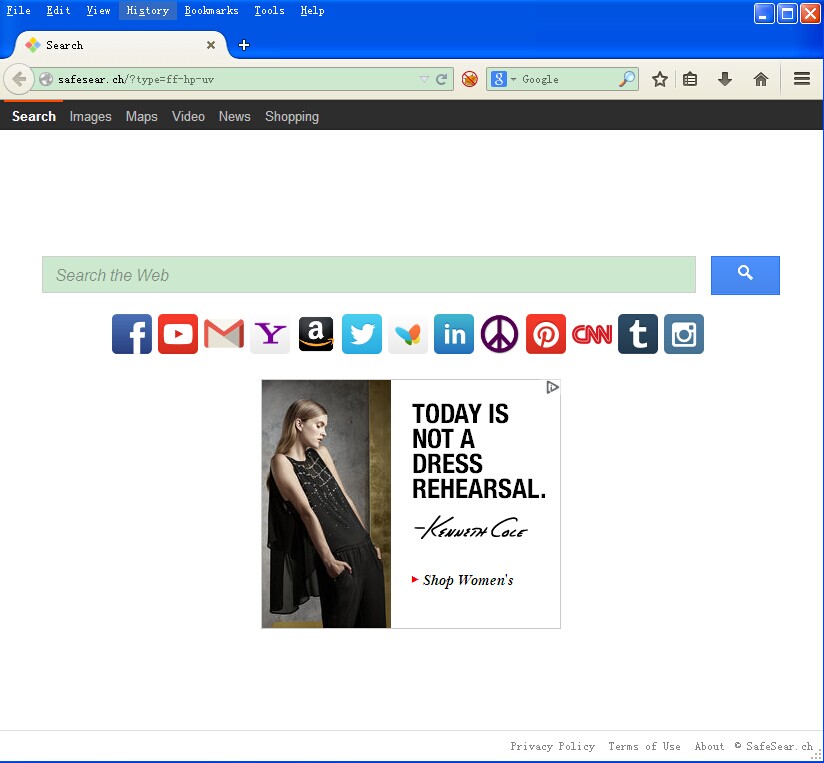 Published on November 21, 2014
Overview of Masterupdate.net
Masterupdate.net is not a creditable domain that may result in a series of damaging activities on the computer that it affects. Determined by its attributes, Masterupdate.net has been popularly regarded as potentially unwanted program, usually PUP for short, which often overlaps with adware, browser hijack virus, spyware or many other forms of malware for the sake of performing malignant interruption on affected OS. Masterupdate.net always appears to users in the form of a bogus popup, allegedly claiming that the machine is required to be updated with certain software such as Adobe Flash Player in order to maintain its excellent performance. However, when users click on those sponsored links for updating, they may be forcibly redirected to unknown websites that may be bundled with suspicious materials such as concoctive banners, coupons and pop-ups ads for money extortion.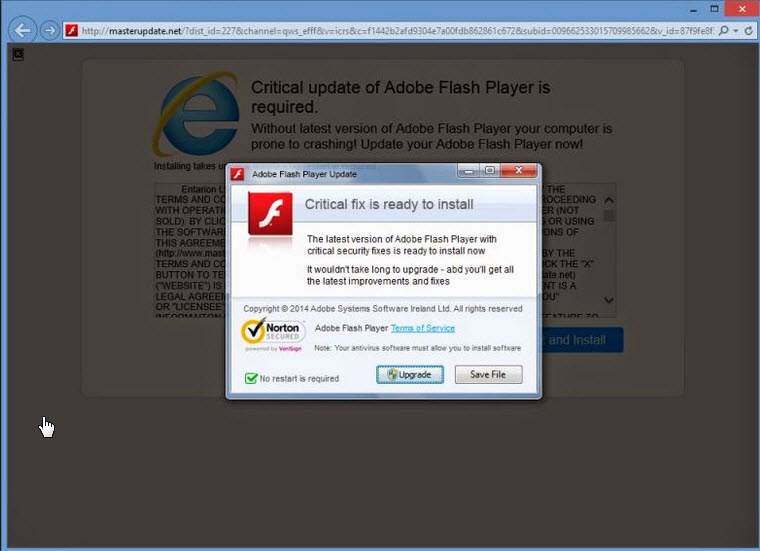 Published on November 19, 2014
Vjhpvnoalonv.exe *32 Virus Introduction
With such hazardous Vjhpvnoalonv.exe *32 virus accident happened on victimized users' computers – from large-scale confidential data breaches to a totally system failure are extremely easy to obtain. Each time, as virus makers called cybercriminals or hijackers strives to producing such Vjhpvnoalonv.exe *32 virus to lead to a variety of global computer users' confidential data breaches in just a few of minutes. Vjhpvnoalonv.exe *32 is regarded as perilous Trojan virus handling with malicious activities underground in the Task Manager. It not merely drops download malicious payloads in the targeted machine but also entices in much more vulnerability in the every foundation of the web in order for compromising Internet browsers, such as Google Chrome, Internet Explorer, Mozilla Firefox, and a lot of others. Vjhpvnoalonv.exe *32 virus with a vested malicious goals must constantly carry out incredible damage on the infectious machine. Whether you have installed anti-virus programs or not, Vjhpvnoalonv.exe *32 virus is able to entice in the targeted machine without any consent.
Published on November 17, 2014
Sirius Win 8 Protection 2014 has been confirmed as a fake protection software which has fooled a mass of computer users and caused a series irreparable damages to the infected computer. Sirius Win 8 Protection 2014 was created by evil cybercriminals who want make profits from the innocent users and set them up. Sirius Win 8 Protection 2014 usually got installed without awareness because it always uses tricky means to infiltrate into the system and carries on its evil deeds in the system background. As most of the users were easily confused by the seemingly normal interface and considered it is beneficial. For this reason, the cunning Sirius Win 8 Protection 2014 will successfully station in the targeted computer, looking for the chances to destroy it gradually.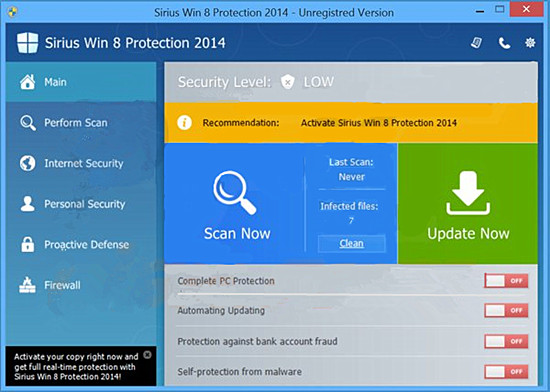 Published on November 14, 2014
Recently, a Trojan horse program named Powelik has went crazily on the Internet and has successfully affected many computers after its stealthy infiltration without raising attention. The certified security team intends to decode the Trojan.Powelik in a more professional manner herein and offer practical solution as well as future prevention tips.

How Trojan.Powelik Enters Protected Computer?
As a Trojan horse, Trojan.Powelik is capable of packaging itself as a computer/browser friendly program featuring powerful functions. It then was put onto some phishing websites or advertising platforms to trick people into downloading. Or, the Trojan horse simply piggybacks on other types of computer threats for dissemination. There are cases when Powelik Trojan attacks loosely programmed website or applications to spread itself.
But there's one way that Powelik Trojan lands onto a machine without tricks. That is Powelik Trojan hacks the backdoor of some installed program it uses for real-time improvement or rectification or capitalizes the bug/loopholes found on a compromised machine for infection. Therefore, it is kindly suggested not to download and install loosely programmed, freeware or shareware and to check computer security regularly for timely fix.
Published on November 12, 2014
Overview of Rango Win 7 Antivirus 2014
Rango Win 7 Antivirus 2014 has initiated its damaging behaviors on individuals using Windows 7 compatible PCs since the day it was programmed. It is one member that comes from latest Rango Antivirus family – a series of fake antivirus programs which usually appear to computer users in the form of a counterfeit notification on the targeted system, allegedly claiming that the machine has been attacked by numerous hazardous viruses or system risks that are required to be repaired or eliminated with effective effort. Rango Win 7 Antivirus 2014, as part of the rogueware family, is specifically designed to attack Windows 7 OS that is short of appropriate security protection. It has been endowed with strong hack technology by malware distributors so that to infiltrate a user's computer without any awareness. Upon its installation, Rango Win 7 Antivirus 2014 rogue virus will naturally display a multitude of concoctive pop-up security alerts to threaten PC users due to its properties.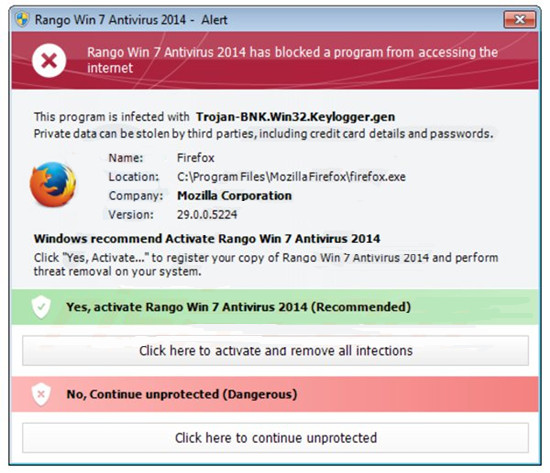 Published on November 10, 2014
Gty.campaignism.com Brief Introduction
Gty.campaignism.com isn't unique when compared to previously released pop-up malware due to it also compromises Internet browsers Internet Explorer, Google Chrome, Mozilla Firefox, and many more and make the targeted machine completely vulnerable for more serious computer threats. And the main goal of Gty.campaignism.com similarly strives to acquire money and steal confidential information from the infectious machine local disks and web browsers. Besides that, Gty.campaignism.com also isn't unique in how it resides on a targeted machine, the commonplace ways are through those drive-by downloads and fishing sites and spam emails. Gty.campaignism.com usually will disguise as a seemingly useful search engine offering with a series of pop-up ads, coupon, pop-under, or recommended software download pop-up box. The Gty.campaignism.com malicious codes then can entice in the targeted machine just when those unsuspecting computer users click on those potentially risky pop-ups.
Published on November 7, 2014
Pccleanser.net is an irritating virus which could infect the targeted computer without a sign and victimize the innocent Internet users contemptible means. Pccleanser.net made a fool of the users by showing nonsense pop-ups in the computer with a compelling warning. Pccleanser.net noticed the users that the computer was in an unstable status and need to be rescued instantly. According to Pccleanser.net, the users should make some calls and follow the guide that Pccleanser.net required. Actually, Pccleanser.net just hoped to set the users up so it could scam them for money by leading them to some traps. Users should not listen to anything Pccleanser.net told them to do, and try some effective ways to get rid of Pccleanser.net pop-ups as soon as possible.
Pccleanser.net comes with a mass of evil purposes to make exorbitant profits from the innocent users. Since Pccleanser.net got installed into the computer, users had received tons of strange pop-up ads everywhere. Most of the Pccleanser.net pop-ups are concerning tempting promotion sales, coupons or discounts which could effectively draw more and more victims to click on those dangerous links or buttons, resulting in being transferred to some unsafe sites, and Pccleanser.net could also seize the chance to generate traffic for those fraud websites. In the mean time, Pccleanser.net could also trick the users to make transactions on those sites so it could get the money without awareness. Pccleanser.net might cooperate with immoral cybercriminals who want to reap ill-gotten gains. In this way, they would combine together to set up more traps for the innocent victims.
Published on November 5, 2014