Windows Expert Console Virus – How to Remove Fake Anti-spyware Virus
Windows Expert Console, produced by cyber crooks, has been recognized as a rogue anti-spyware application adopting stealthy techniques to convince users that numerous hazardous malware or threats existed on computer allegedly on the basis of its scan. PC users who are suffering from Windows Expert Console virus generally may be encouraged to purchase its "licensed" software in order for the eradication of malware threats. Served as the real parasitifer of fabricated threats and security risks, Windows Expert Console virus should be terminated without any doubts to end up its deception. Belongs to the category of Rogue.FakeVimes family, the main purpose of Windows Expert Console is to swindle victims out of their money, through constantly making up imaginary malware and restricting the access to affected computer forcibly.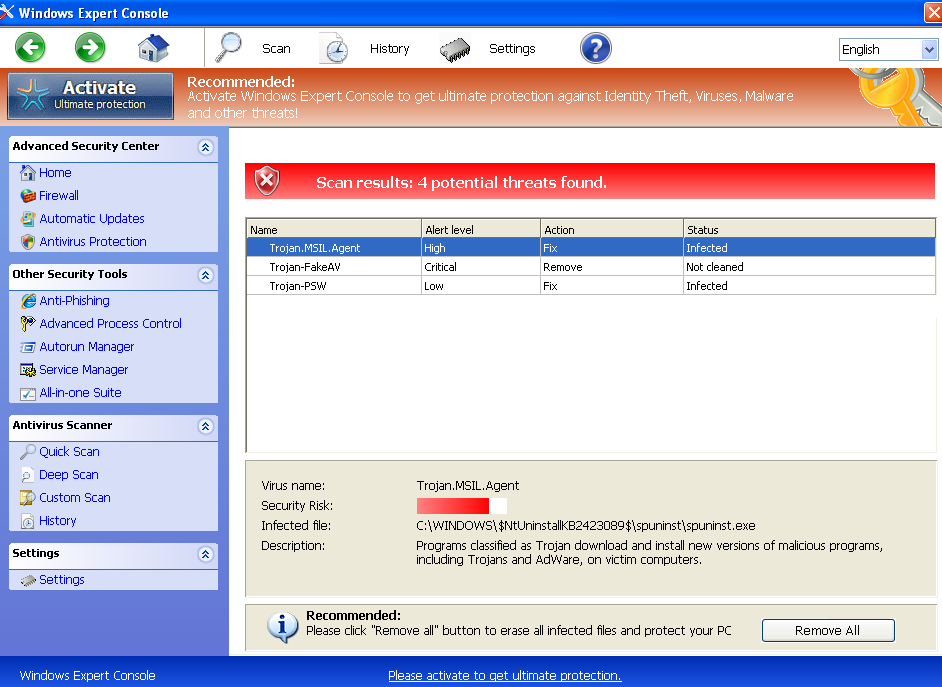 More Knowledge of Windows Expert Console
Upon its installation, the Windows Expert Console normally replicates its copies so that to make chaos in kernel system, while typically modifying the work of Windows boot sector which has the responsible for system boot. Thereupon, Windows Expert Console can be loaded and executed automatically whenever users start system. Once the Windows Expert Console runs on compromised machine, it performs bogus system scans and reports high-risk dangers which may contain Trojans, Worms or system loopholes on computer. And then, the so-called full version of Windows Expert Console is strongly recommended for users. For the purpose of flattering its practicability, Windows Expert Console claims that the it's full version is endowed with the feature about Windows Advanced Security Center, which can help users manage Windows security settings to prevent from unexpected potential threats.
The counterfactual condition is, Windows Expert Console is not able to help users to safeguard computer but make worse results on system instead. Without removing Windows Expert Console timely, it may prevent computer users from accessing Windows desktop while blocking the legitimate applications to avoid auto removal. Furthermore, the Windows Expert Console is always bundled with plentiful malware and other potential threats which can make worse damage on affected computer. Computer users may encounter the slow performance of computer, annoying commercial advertisements on browsers (eg. Internet Exploer, Mozilla Firefox and Google Chrome), computer freeze and even a blue screen of death.
Note: The following Windows Expert Console removal requires computer expertise, any mistake may make worse results Can't uninstall Windows Expert Console yourself? Please click on VilmaTech 24/7 Online Computer Experts for help, you problem will be fixed immediately.

Basic Symptoms of Windows Expert Console
Windows Expert Console keeps scanning affected system and reports bogus message for users. Victims cannot connect to security websites regardless of browsers that are using. Google search keeps redirecting to sites with irrelevant content when you try to click on search results.
Windows Expert Console may disable the operation of firewall and antivirus software, in order to escape the auto removal and default system protection.
Windows Expert Console may affect and modify compromised computers' important system files, and slow down or shut down affected computer every a second, by occupying large amounts of system resource.
Windows Expert Console may exploit system vulnerabilities and install additional malware on computer to do further harm. This may contain Trojan, worms, browser hijack virus and ransomware.
What's the Effective Way to Remove Windows Expert Console
To uninstall Windows Expert Console rogue virus, many computer users may have tried lots of trusted antivirus programs without avail. It is true that a legit antivirus can protect your computer from virus sometime. However, tricky as Windows Expert Console is, it is endowed with advanced techniques so that to block the operation of anti-malware tools. In reality, none of antivirus software or anti-spyware program can remove this latest infection alone because it seems that the virus creators has learn all kinds of security software well and they know how to make the virus infections escape the dumb pre-defined security software obviously. In this case, it is strongly suggested to remove Windows Expert Console with practical manual removal.
Note: Manual removal of Windows Expert Console is known as the most effective way. Anyway, it refers to key parts of computer system, and is recommended only for advanced users. If you have not sufficient expertise on doing that, you may face risk of damaging the computer. In this circumstance, asking help from VilmaTech 24/7 Online Computer Experts to manually remove the virus for you will be a wise choice.

Manually Remove Windows Expert Console
Method one: Add / Remove Program
1. Click on the "Start Menu" and find and click on "Control Panel".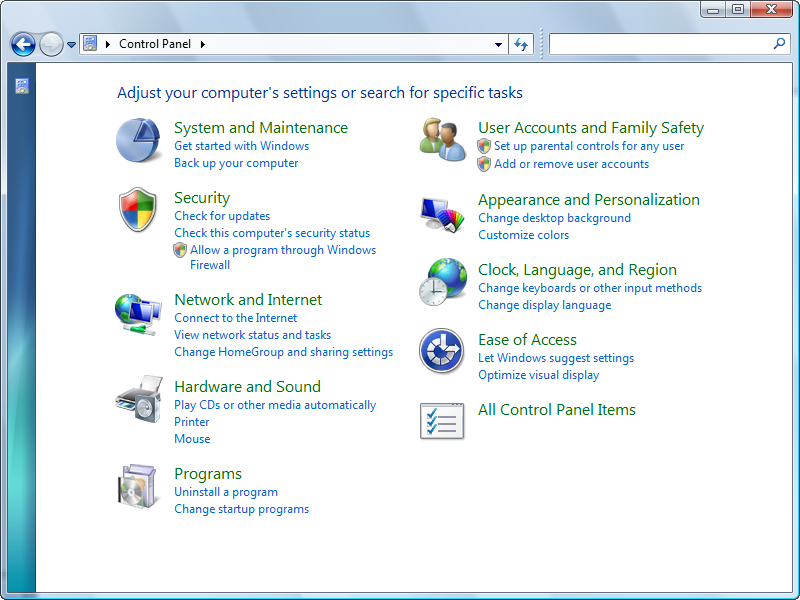 2. When you are in the "Control Panel", find the "Add / Remove Programs" tab and click on it.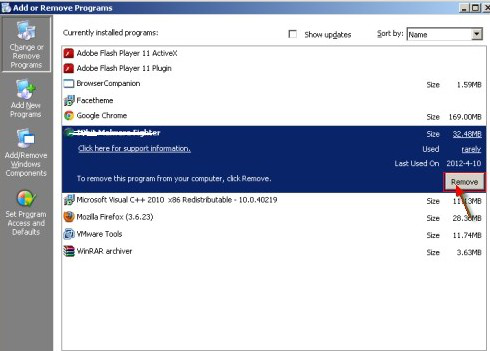 3. Now you'll see a huge list with programs, applications and software programs. Now you've got to find the Windows Expert Console and select it.
4. Once you've found it, hit the uninstall button and confirm that you want to uninstall the program.
5. Now the uninstall process will start. When it is done, restart your PC.
Method two: Regular Manual Removal
1.    Restart your infected PC to Safe Mode with Networking.
For Windows 7, XP & Vista
To do this, restart the computer and before the Windows logo appears, tap the F8 key, a menu will appear, choose Safe Mode with Networking and press the Enter key on the keyboard.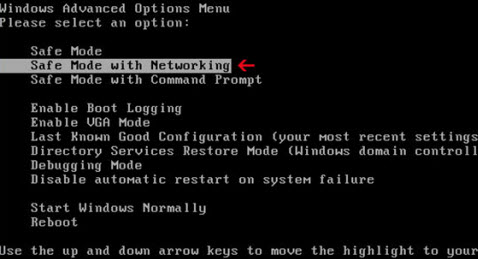 For Windows 8
a. Restart your computer. As your computer restarts but before Windows launches, hold down the Shift key and repeatedly hit the F8 key (Shift+F8), this will sometimes boot you into the new advanced "recovery mode", where you can choose to see advanced repair options. Please click on See advanced repair options Button to go ahead.

b. You will get this Choose an option Screen after you clicked on See advanced repair options. Now you will need to click on the Troubleshoot option to continue.

c. When you get on this Troubleshoot Screen, you can see there are three options listed, please click on or select the Advanced Options.
d. Now you are at the Windows Startup Settings option, by the looks of things we were never meant to find Safe Mode With Networking, you are required to click on Restart Button to continue.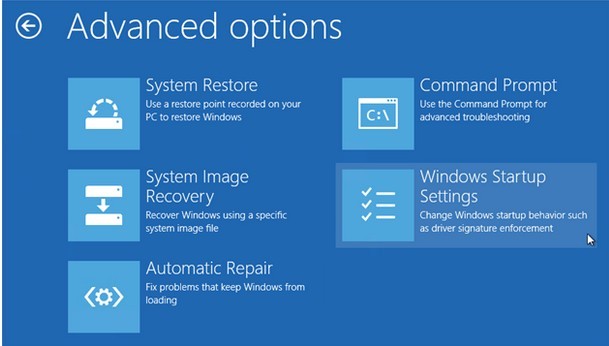 e. When you are at the Advanced Boot Options, use the arrow keys to highlight the "Safe Mode with Networking" option, and then press ENTER.
Tips: If you meet any trouble, please feel free to contact VilmaTech certified professionals 24/7 online here for the further help.

2.    Show Hidden files of Windows Expert Console
Open Folder Options by clicking the Start button, clicking Control Panel, clicking Appearance and Personalization, and then clicking Folder Options. Click the View tab.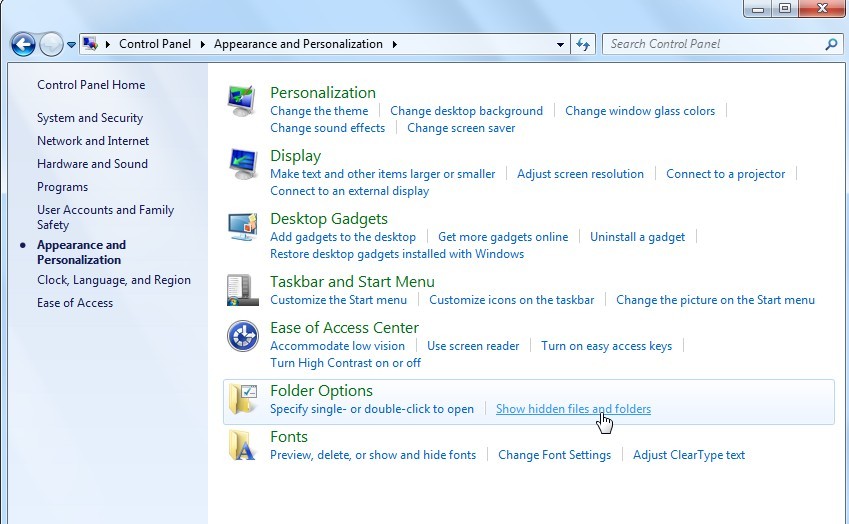 Under Advanced settings, click Show hidden files and folders, uncheck Hide protected operating system files (Recommended) and then click OK.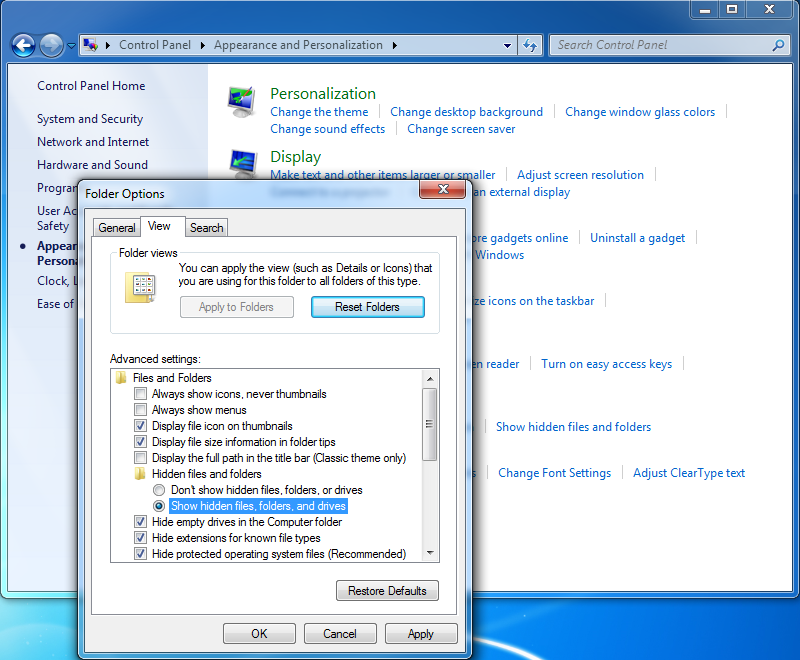 3.    The associated files to be removed in folders on Local Disk (note: new files are still created each month so far):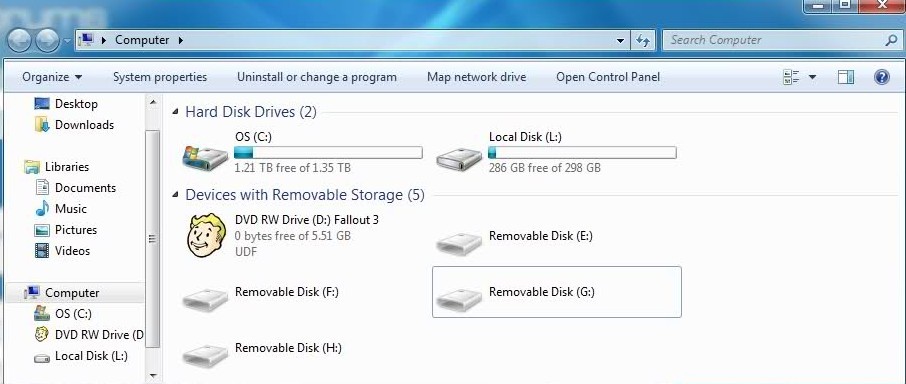 %system%\[random characters].dll
%Documents and Settings%\[User name]\Desktop\[random name].exe
C:\Users\Stuart\AppData\Local\Temp\[random names].exe
4.    Open your Registry Editor and then find out the registry entries of Windows Expert Console virus to remove them (note: new registry entries are still made every month so far):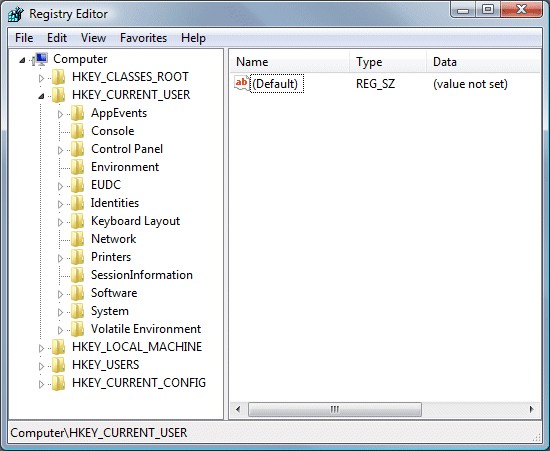 HKEY_CLASSES_ROOT\CLSID\[random numbers]
HKEY_LOCAL_MACHINE\SOFTWARE\Microsoft\Windows NT\CurrentVersion\Winlogon\"Shell" = "[SET OF RANDOM CHARACTERS].exe"
HKEY_LOCAL_MACHINE \ Software \ Microsoft \ Shared Tools \ MSConfig \startupfolder\[random names]
HKEY_LOCAL_MACHINE \ Software \ Microsoft \ Shared Tools \ MSConfig \ startupreg\[random names]
Conclusion:
The Windows Expert Console is a typical fake anti-spyware program, which is designed by cyber criminals for the purpose of deceiving victims for money. No matter how legitimate or practical it looks, computer users should never spend the needless money for the bogus "licensed" software. It is indispensable to uninstall Windows Expert Console timely to prevent from worse damage; otherwise, the Windows Expert Console could drop and execute additional dangerous malware on affected computer without any permission and expectation. Unluckily, the antivirus programs may be blocked to uninstall Windows Expert Console effectively, and then users may consider the helpful manual removal to erase Windows Expert Console permanently.
Please be note that manual removal refers to key parts of computer system. If you haven't sufficient expertise in dealing with program files, processes, .dll files and registry entries, it may lead to mistakes damaging your system permanently after you delete crucial computer files by mistake. If you need any help during the operation, VilmaTech 24/7 Online Computer Experts will help you to resolve your problem completely and promptly.

You Also Can Submit Windows Expert Console to https://www.virustotal.com/