VyprVPN Free Trial 2021: Get 30 Days Risk-Free Account
Have you been looking ways to access the Internet anonymously and bypass the Great Firewall of China to unblock your favorite content? Right now, you've got a chance to get Internet freedom at no cost. You don't have to pay extra for access to your favorite streaming movies, shows, sports and music. And neither your ISP, nor anyone else, can snoop on what you do on the internet. How? Get VyprVPN Free Trial – The World's #1 VPN Now! VyprVPN is offering all the new members a 30 days risk-free trial to test their popular VPN service. You can create your free account to get Internet privavy and security today. You can decide if keep the service or give up during the 30 days risk-free trial period. The VyprVPN team is kindly offering a 80% discount on their popular VPN service. The discount drops the price to only $2.50/month. All their service plans are covered by their 30-day money back guarantee.

Get VyprVPN 30 Days Risk-Free Trial Now
What is VyprVPN?
VyprVPN is a Swiss-based Virtual Private Network owned by Golden Frog, a company founded in 2010 that caters the need of every netizen by offering both VPN and DNS services. VyprVPN markets itself as "The World's #1 VPN" that offers users stong protection, secure privacy, anonymity, and the ability to unblock millions of websites and services throughout the world. By accessing 700 servers in 70+ locations, VyprVPN allows you to hide your location, encrypt Internet traffic, and keep your data private when using your mobile or desktop devices. You can also use VyprVPN to bypass blocked websites and content, maintaining access to an unrestricted Internet. If you are looking for a top-notch VPN service that takes your privacy seriously, VyprVPN is your best option.
VyprVPN offers apps for a large number of devices. You can use it on your Windows, Mac, Android, iOS, Blackphone, Apple& Android TV, QNAP, Anonabox and router etc. In addition to multi-platform support, VyprVPN also provides multiple protocols with various encryption options. It supports PPTP, L2TP/IPsec, and OpenVPN at both pricing tiers. With the premium subscription you will get up to five connections while the basic subscription comes with 3 connections. Besides, you'll enjoy a 256-bit AES encryption private and secure connection, a strict zero logs policy, unlimited data usage as well as a proprietary Chameleon technology, which is great for VPN users being blocked in countries such as China, Russia, Iran, Thailand and Syria, or in multiple countries worldwide where users are experiencing speed issues related to bandwidth throttling. Chameleon can shield VPN traffic so that the connection will not be detected as a VPN and blocked. With VyprVPN, one can get access to region-restricted sites, save himself from hacking risks while using public Wi-Fi, prevent ISP from tracking and selling their web browsing history to advertisers or even bypass government's internet censorship. VyprVPN also allows P2P/BitTorrent connections via all of their servers, in all 70+ countries where they have servers. Thanks to its exclusive features, you will get an extra layer of security for your Internet connection.
VyprVPN keeps all your online activity and communications secure, along with your identity making it a must-have for anyone that is concerned about hackers, snooping or their privacy online. Now Golden Frog offers all new VyprVPN members a 30-day money back guarantee. If you haven't got a VyprVPN account yet, get a 30 days risk-free account so you can test their service without being locked into any commitments. You'll have nothing to risk when you join. If you are satisfied with VyprVPN after 30 days on yearly plan, just keep it for your long-term protection; or you cancel it within 14 days on the monthly plan. They don't offer pro or premium subscription, instead, there are 3 plans available for all users.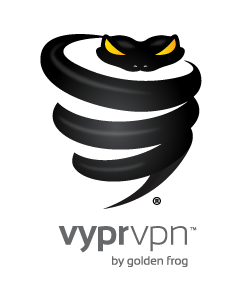 VyprVPN Pricing Plans & Special Offer (Get Your VyprVPN Free Trial)
Formerly, VyprVPN is offering 2 pricing tiers, one called VyprVPN and the other is VyprVPN Premium, now they change them to 3 service plans. Here are the details: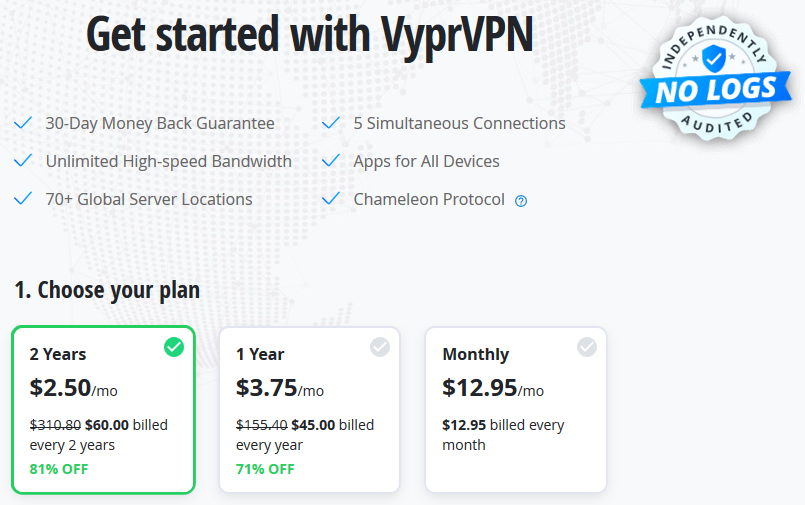 VyprVPN Monthly: $12.95 per month (Billed $12.95 every month, save 0%)
VyprVPN 1-Year Plan: $3.75 per month (Billed $45.00 every year, save 71%)
VyprVPN 2-Year Plan: $2.50 per month (Billed $60.00 every 2 years, save 80%)
Both of the yearly plans contain unlimited data usage and 30-day risk-free trial and the monthly plan with 14-day risk-free trial. All VyprVPN plans give you 5 simultaneous connections, VyprVPN Cloud and Chameleon protocol. Weeks ago, you are allowed to connect 3 connections if you sign up for monthly plan and 5 devices simultaneously if you sign up for VyprVPN Premium. 2 years plan is the most popular plan because you will have full access to their network, software, all protocols, and NAT firewall. You are welcome to make full use of their network and custom software to ensure 100% anonymity.
Free Trial: Currently, VyprVPN is not offering an actual free trial, instead, it is offering risk-free trial to its users. Anyone who wants to test their service can create a 30 days risk-free account. However, the risk-free account only allows 14 days test on monthly plan. You can access to all the protocols used by VyprVPN, including the proprietary Chameleon protocol, plus the secure DNS and the NAT firewall. It's basically a tour of all the service's best features. The catch is that its free account is limited to just 1 GB of data. After that, you have to choose one of the paid tiers to continue using VyprVPN. If you decide that you do not want to become a paying user of the Golden Frog service, prior to the end of the 30 Days risk-free trial period you must terminate the service.
Special Offer: In addition to a 30-day free trial, VyprVPN is offering an exclusive discount so you can save as much as possible. The current VyprVPN special includes 71% off 1 year plan and 80% off the 2 years plan. For example, if you are going to pay for VyprVPN 2-year plan for long-term online privacy, you will be charged only $60.00 for 2 years. The price is down to $2.50 per month, and you can get the special offer up to 80% off. Both plans are covered by 30 days money back guarantee which is plenty of time to test the service.
Currently, VyprVPN accepts the following payment methods:
Visa/Visa Debit
American Express
Discover
PayPal
MasterCard/MasterCard Debit
JCB
ALIPAY (China's leading independent third-party payment platform)
So, what are you waiting for? You don't even need a promo code or coupon code to take advantage of the VyprVPN special discount. Simply click the below button to access the promotion from our site. The discount will be applied automatically. Hurry up! Limited-Time Offer!
Get VyprVPN Special Offer Now!
Why Choose VyprVPN?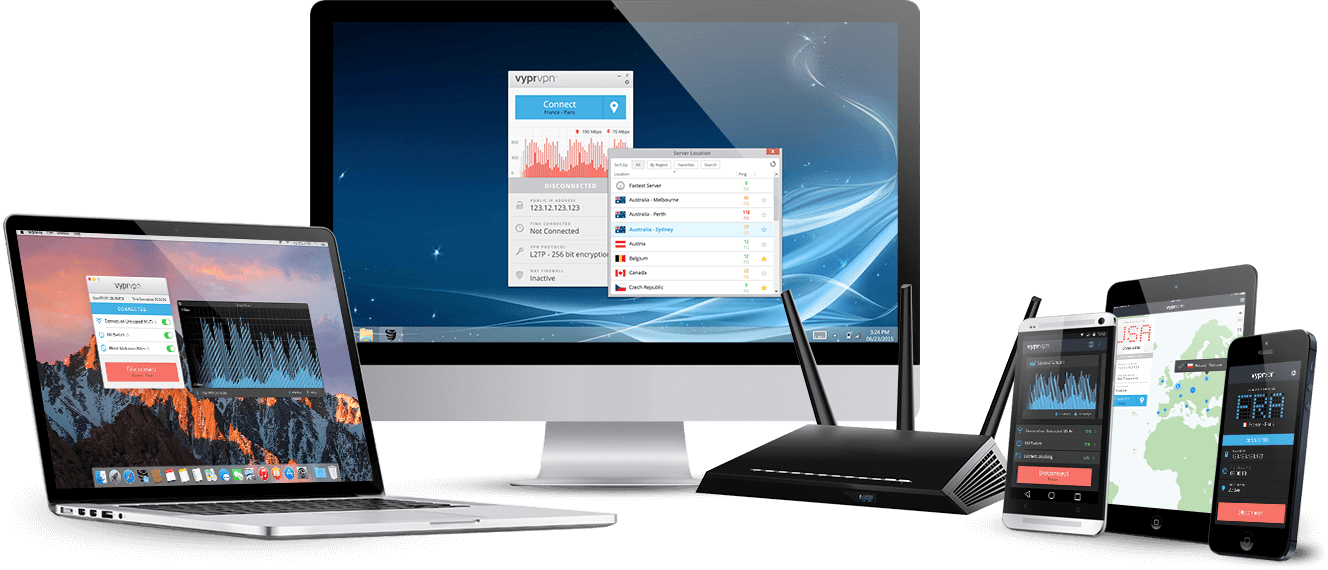 Today people's online privacy is becoming more and more dangerous. The government or the ISP may spy on our activities, tracking every website that we've been visiting, and selling the information to third-parties without our knowledge. Plus, cyber criminals didn't stop using malicious methods to steal our personal information – they distributed nasty viruses, worms, Trojans and Ransomware everywhere on the Internet. Surfing on the web is not safe anymore, especially when you are using an unsecured Wi-Fi network. Therefore, using a VPN to protect yourself is more important than ever.
VyprVPN is owned and operated by a parent company named Golden Frog, which has its roots in a development team formed back in 1994. It is based in Switzerland, a country with privacy friendly laws, meaning that they are not required to maintain customer's data. VyprVPN has server locations in North America, South America, Europe, Asia, Africa or Oceania so you can experience the Internet without restrictions. For people who want to bypass web-restrictions, secure Internet connection on a public Wi-Fi and avoid government surveillance, cybercrime, and ISP throttling, VyprVPN is a good choice. When you sign up their service, here is what you can get in your subscription:
700+ high-speed servers across 70+ locations
Unlimited traffic bandwidth & Unlimited data usage
Great proprietary technology
 Up to 5 devices per account
24/7 customer support
Kill Switch
NAT Firewall
AES-256 encryption
Support Netflix
30 days money-back guarantee
Unlike other VPNs, VyprVPN doesn't use 3rd-Party DNS servers which may expose their users to monitoring, logging and manipulation. Instead, the company own and manage 100% of their servers, DNS, hardware and network to ensure the highest levels of security and privacy. In addition, Golden Frog's engineers have developed a remarkable new, proprietary VPN technology called Chameleon, which is very helpful for people to get around bandwidth throttling and government censorship. VyprVPN goes above and beyond standard security practices with its Chameleon technology. Furthermore, it provides secure server connections using industry-standard protocols including PPTP, L2TP/IPsec, and OpenVPN. With VyprVPN, you can protect your privacy, download torrents safely and say goodbye to any restriction on the Internet. You can browse, stream, download or torrent as much as you would want thanks to its unlimited data usage feature. Still not convinced? Get a 30 days risk-free account now to experience all the great features of VyprVPN at no cost!
Get VyprVPN 30 Days Risk-Free Trial Now
VyprVPN – The Fastest and Most Secure VPN for China
As we all know, the Great Firewall of China, officially known the Golden Shield project, employs a variety of tricks to censor China's Internet and block access to various foreign websites. If you are looking for a best VPN that helps you evade the Great Firewall and allows you to access blocked sites and apps like Facebook, Google, Gmail, Youtube, WhatsApp, Skype and others, you should take VyprVPN – a tool that allows users in China to tunnel into the Internet via a different country.
VyprVPN is one of few VPNs that still works in China that used by millions of people to encrypt traffic, circumvent censorship and experience the Internet freedom. VyprVPN comes with a huge range of VPN server locations, excellent and consistent speeds, allows 5 simultaneous connections, and offers 24/7 customer support. In addition, its proprietary VPN technology called Chameleon is specifically designed to defeat the tactics used to block VPN access in China. It masks VPN traffic to make it less susceptible to the Great Firewall's deep packet inspection technology. Besides, VyprVPN uses 256-bit encryption to keep you safe from hackers and snoops on unsecured networks, including public Wi-Fi hotspots in China. Residents of China will be happy to know that VyprVPN accepts payment through AliPay – China's leading third-party online payment solution. VyprVPN operates at a higher price point than most other VPNs but its 24/7 customer support, unlimited data usage and 30-day trial period makes it more than worth it. Not to mention the service is offering an exclusive 80% OFF for the 2 years plan and it gives you 30 days to test its service. Start your free trial today!

Video Guides on How to Get VyprVPN Risk-Free Trial
Top 5 Best VPN Services In The World
| VPN Provider | Servers | Country | # of Connections | Price(USD) | Website |
| --- | --- | --- | --- | --- | --- |
| | 3000+ VPN servers in 94 countries. | British Virgin Islands | 5 Connections | $6.67/Month (Save 49%) | 1 View Deals |
| | 5450+ servers in 62+ countries. | Panama | 6 Connections | $3.49/Month (Save 80%) | 2 View Deals |
| | 200+ servers in 70 countries. | Bulgaria | 6 Connections | $4.18/Month (Save 50%) | 3 View Deals |
| | Premium VPN-servers in 23 countries. | Switzerland | Unlimited | €8.95/Month (Save 31%) | 4 View Deals |
| | 1,300+ VPN servers in 75+ countries. | USA | 10 Connections | $6.49/Month (Save 46%) | 5 View Deals |
Conclusion:
VyprVPN is a reliable VPN that encrypts and secures your Internet connection, allows you to access your favorite social media sites from anywhere in the world, and prevents the government, hackers and third-party snoops from viewing your online activity and personal communications data. It offers easy-to-use apps for Windows, Mac, Linux, Android, and iOS and even supports TV and Router so you can secure your desktop and mobile devices in seconds. VyprVPN has over 700+ servers spread across more than 70 different countries and over 200,000 IP addresses for you to choose from. It manages its own software, hardware, and networks instead of delegating it out to a third party. Having VyprVPN on your device enhances the level of your security to a very high level. The service offers fast connections, comprehensive global server coverage, optimal privacy protections, wide device support, responsive customer support and many great features such as 256-bit encryption, kill switch and a NAT Firewall for extra protection against malware. Achieve the best online experience in safety with VyprVPN.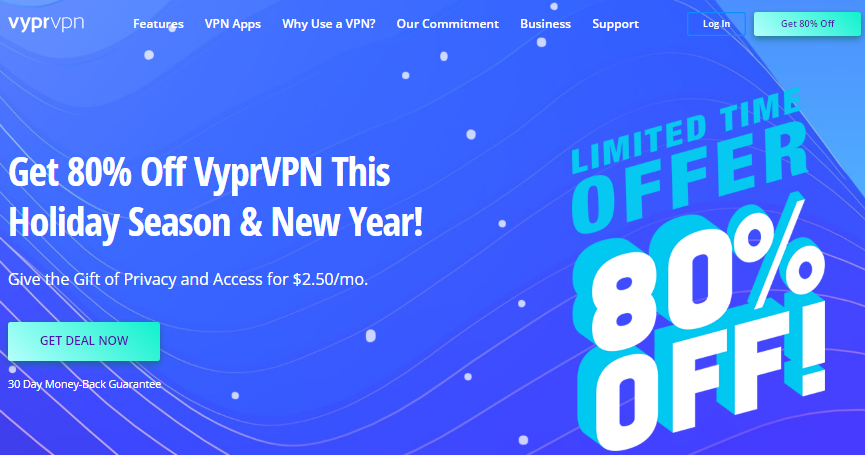 Now VyprVPN is offering a 30 days risk-free trial that you have complete money back guarantee. During this timeframe, you can test the service, use various features, and evaluate if the VPN is suitable for you or not. If you are satisfied with the service, you can get up to 80% discount on their popular VPN service, making a month of the service is down to $2.50/month. Register your 30 days risk-free account now!
Get this Deal Now