Remove Virus:DOS/Rovnix.gen!A, Detailed Information and Solution
Evil Deeds of DOS/Rovnix.gen!A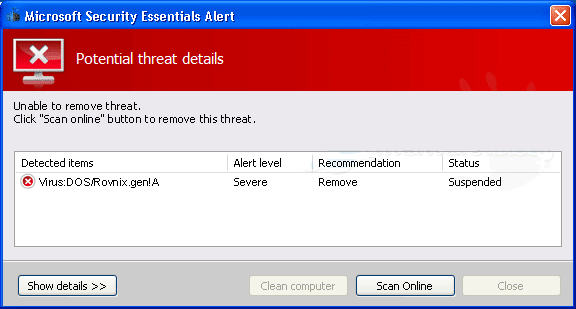 DOS/Rovnix.gen!A is categorized as Trojan horse. It possesses some basic features of a Trojan horse; but being a member of Rovnix family, the Trojan is capable of affecting volume boot record so as to load unsigned kernel-mode drivers on a target machine. Since boot record does not belong to any disk, DOS/Rovnix.gen!A manages to stay on a machine without being removed even when the victims try disk format.
When its settlement is fixed, the Trojan horse would then have a chance to write its own data to the end of a physical drive in an attempt to execute its copies in pivotal sections, such as startup and security service. With the modified driver, DOS/Rovnix.gen!A will be able to add self-made values and keys into Database. By doing so, the random modifications will not be rectified back easily and automatically by the system.
The last but not least, the files generated by DOS/Rovnix.gen!A have the System (S) and Hidden (H) attributes present in attempt to hide the file in Windows Explorer; as soon as the entire installation is finished, the DOS Trojan would delete its original executable file. With the two methods combined, DOS/Rovnix.gen!A manages to control the machine to the greatest extent without being caught and removed.

Conclusion of the Harms of DOS/Rovnix.gen!A
The system mechanism will be utilized by the DOS Trojan to control the targeted machine.
Additional infections could be detected before long and browser mass could happen.
More unknown processes and items emerge in the system to cause freezes and snail-like PC performance.
Being a Trojan horse, DOS/Rovnix.gen!A is created and capable of stealing confidential information to result in information theft and money loss.
DOS/Rovnix.gen!A downloads and executes additional modules from the C&C server.
The situation allows of no delay. Below is the manual instruction offered by experts. Should you have difficulties in understanding the steps or carrying out the instruction, please do feel free to contact VilmaTech Online Support and get exclusive help according to your concrete situation.

Instruction to Help Remove DOS/Rovnix.gen!A
A
Change the partitions.
Access Control Panel from Start menu (for Windows8 users, it is from the "Unpin" menu on the left-hand corner of the Start Screen).
Choose System and Security.

Please then select Administrative Tools to double-click on Computer Management.
Locate Storage in the left pane and access Disk Management.

Right-click the volume you want to shrink before selecting Shrink Volume.
Follow on-screen instructions to finish the re-partition.


B
Implement hard disk low level format to remove Virus:DOS/Rovnix.A.
Connect the old disk to your machine and await disk identification.
Execute dd command against the device affected by Virus:DOS/Rovnix.A.

A long while will be required to to finish the low-level formatting due to churning CPU.


C.
remove the items generated by Virus:DOS/Rovnix.A when the Trojan was firstly found.
Before navigating to the below listed directories to remove Virus:DOS/Rovnix.A, one should unveil all the hidden files. Steps are as follows.
Windows 7/XP/Vista
Enter into Control Panel to double click on 'Folder Options'.

Hit on View tab to tick 'Show hidden files and folders' and non-tick 'Hide protected operating system files (Recommended)'.
Press on OK button will show all hidden items.

Windows 8
Click open Windows Explorer to hit on its View tab.
Tick 'File name extensions' and 'Hidden items' options.
Press on OK button will show all hidden items.

%Program Files%\Common Files\
C:\Windows
C:\Windows\System32
C:\Users\[your username]\Documents\
C:\users\user\appdata\local\
C:\Program Files\

To remove the items generated on the day when Virus:DOS/Rovnix.A attacked the machine, please:

Right click on the space of the window that's under inspection.
Hover mouse over "Arrange by" to select "Day".
Scroll down to the bottom of the window to remove the related items.
Removal Tips
Low level formatting must be executed with extreme caution as any wrong choice on which storage device to zero would lead to total, absolute, irrecoverable destruction of your critical data. Therefore, one should locate the place of Virus:DOS/Rovnix.A in the first place.
There is fat chance that additional infections will be detected along with Virus:DOS/Rovnix.A. In such case, a complete removal is required so that the DOS Trojan will not re-affect the target machine.
Depending on the Operating System installed, the images, directories displayed in this article might differ from what you observe when following the above offered instructions on your computer. This is why certain level of computer skills and knowledge is required to carry out the above offered steps. Any help request will be gladly answered if one starts a live chat window here.

Create A Restore Point
It is highly recommended to create a restore point after removing Virus:DOS/Rovnix.A. Though the restore point will not help removing virus all the time; it at least would eliminate many more mechanical issues that could hinder quick removal which is required to stop further harms. Here's the video to show how to create a restore point.
The Purpose of DOS/Rovnix.gen!A
Damaging computer is not what DOS/Rovnix.gen!A aims at. As a matter of fact, Virus:DOS/Rovnix.A provides a botnet for rent, which is the major way that Virus:DOS/Rovnix.A earns money (the ultimate goal). There are other ways to help its maker to get additional income:
Record the in-put confidential information and resell such information to other operators in need.
Open up a backdoor to alleviate the installation of infections, Trojan horse particularly.
Access the vicious URL to help load down web applications.