Remove PC Speed Maximizer – Malware Removal
PC Speed Maximizer Review
Its name indicates its specialty in speeding up PC speed and overall performance. PC Speed Maximizer offers services such as fixing registry problems, removing privacy risks, removing programs from startup, creating Registry backup and system restore point, etc.. Thus, it has attracted many PC users to download it willingly. There are many cases that, according to the response against PC Speed Maximizer, the maximizer installs itself somehow without appearance in Control Panel. The survey shows that wide range of PC users want to remove PC Speed Maximizer only because of the endless popup messages telling them it has detected a long list of errors in a ridiculous number.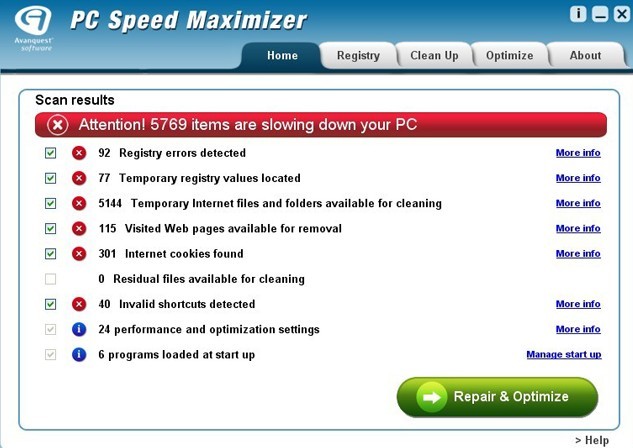 It can be difficult to remove PC Speed Maximizer as it is set up in a way that makes it totally impossible to figure out how to remove it, or even contact customer service to remove it. PC Speed Maximizer has been considered as a malware not only because it is hard to be removed, but also it cannot truly help fix error problems and speed up PC performance; instead, PC Speed Maximizer would ask PC users to purchase a licensed version which claims to be more powerful to fight against deep-rooted errors. All the features fit malware well.
How PC Speed Maximizer Installs Automatically
Many PC users have reported that PC Speed Maximizer would install automatically without notification and would like to know the way to avoid such installation. Programs like PC Speed Maximizer are seen commonly to piggyback on freeware and shareware. In addition, it manages to install without permission by exploiting vulnerability on web apps and installed programs. Therefore, to avoid such automatic installation, one should pay extra attention when installing programs, giving priority to customized installation as far as possible; update programs as well as Windows on a regular basis; seldom employ freeware and shareware.

PC Speed Maximizer Should be Removed
PC Speed Maximizer manages to survive from traditional removal by accessing Control Panel and security utilities as it inserts its registry entries into database of the target system. When the sections like startup, running process and memory are finally compromised by PC Speed Maximizer, it is capable of popping up error messages frequently without being stopped. To stop its endless pop ups and remove PC Speed Maximizer, one should rectify settings of several sections deep in the target system where the malware has modified without victim's knowledge. Vulnerability on the system can be the consequence thereafter, which can be dangerous as it is known to all that deadly virus as well as tracking cookies are good at taking advantage of vulnerability. When in, information stored in memory and browser (e.g. IE, Mozilla Firefox, Google Chrome) will be collected. Should one start to see other commercial pop ups when surfing the Internet, one should be alerted because it indicates that confidential information has already been resold to other spammers by the maker behind PC Speed Maximizer for large sum of commission. Therefore, to truly speed up overall computer speed and avoid potential damage to the computer and threat to the information security, one should always give priority to remove PC Speed Maximizer upon its installation.

Steps to Remove PC Speed Maximizer
Step One. We have to terminate PC Speed Maximizer's process before we take any further step so as to escape from disturbance of error message telling failure is met because certain file is used at the moment.
Start screen > type 'Task' or 'Task Manager' > hit Process tab > find and select items related to the malware > press 'End Process' to help remove PC Speed Maximizer.
Hold Ctrl, Alt and Delete combination key together > hit Process tab > find and select items related to the malware > press 'End' to help remove PC Speed Maximizer.
Step Two. Remove PC Speed Maximizer from Control Panel if one gets the luck to pinpoint it there.
Move mouse to bottom-right corner of your desktop -> choose 'Control Panel' in the pop-up sidebar-> "Programs and Features" -> remove PC Speed Maximizer there.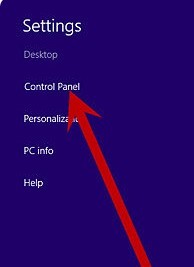 Start menu > select Control Panel > choose 'Uninstall a program' > remove PC Speed Maximizer there.
Step Three. Show hidden files so that one will not miss any vicious item hidden by PC Speed Maximizer and move a step forward to successfully remove PC Speed Maximizer.
1. click on Windows Explorer application from Start Screen.
2. Select View tab will leads to numbers of options.
3. Tick 'File name extensions' and 'Hidden items' options.

1. Open 'Control Panel' from Start menu and search for 'Folder Options'.
2. Under View tab, tick 'Show hidden files and folders and non-tick Hide protected operating system files (Recommended)' -> click 'OK'.
Step Four. Reset browser you use to make sure that you will not be plagued by its affiliates on the Internet.
1. Open Internet Explorer.
2. Click on the Tools menu -> select Internet Options.
3. In the Internet Options window, click on the Advanced tab -> click on the Restore Defaults button -> press OK.
1. Click on the Firefox button -> Help -> Troubleshooting information.
2. Locate the box on the left uppers corner of the web page -> click on 'Reset Firefox' button there.
3. A box pops up for confirmation, please click 'Reset Firefox'
1. Choose 'Customize and Control Google Chrome' menu.
2. Select 'Options'.
3. Click 'Under the Hood' tab.
4. Click 'Reset to Defaults' button.
Step Five. Rectify database to remove PC Speed Maximizer.
Move your mouse over lower right screen -> charms bar appears -> click Search charm -> type 'regedit'/'regedit.exe' -> hit Enter key -> delete entries related to PC Speed Maximizer.

Click Start Menu -> select 'Run' ->Type 'regedit' (without quptation) in Run box -> access Registry Editor -> delete entries related to PC Speed Maximizer.
Conclusion:
Since PC Speed Maximizer manages to help form vulnerability on a target machine, it can help contribute to additional virus attack. One should know that there should always be immediacy in removing PC Speed Maximizer; if not, the above provided user guide will not be going to help any more as more virus are getting in to make the situation much more complex beyond imagination. No connivance should be thrown over PC Speed Maximizer's automatic installation as it is capable of messing around in the database; and don't waste time on continuously trying with computer health care programs as PC Speed Maximizer masquerades as a user friendly application without being labeled with typical virus items. Always user caution when follow the steps above; otherwise, any slight deviation can impose damages overtime. If you are not that technically sound and are afraid to make things wrong, you are welcome to remove PC Speed Maximizer under the step-by-step guidance here.