How to Remove Isearch.omiga-plus.com Virus, Remove Browser Hijacker
Isearch.omiga-plus.com Review
Isearch.omiga-plus.com virus is considered as malicious redirect virus and browser hijacker which need to be removed when founded. This nasty browser hijacker is created by cyber crooks who utilized hack technology to detect current system and then start to modify browser settings regardless of any browsers. Common browsers including Internet Explorer, Google Chrome and Mozilla Firefox are likely to be attacked by Isearch.omiga-plus.com virus. Some users may be confused when they open homepage with Isearch.omiga-plus.com domain and don't know how to deal with it for it always redirect users to the search page, and users can't simply remove it by resetting browser. Some users may be forced to use Isearch.omiga-plus.com as default home page due to it shows no malicious trait on its domain and victims also can enter favorite or popular website through the quick enter buttons.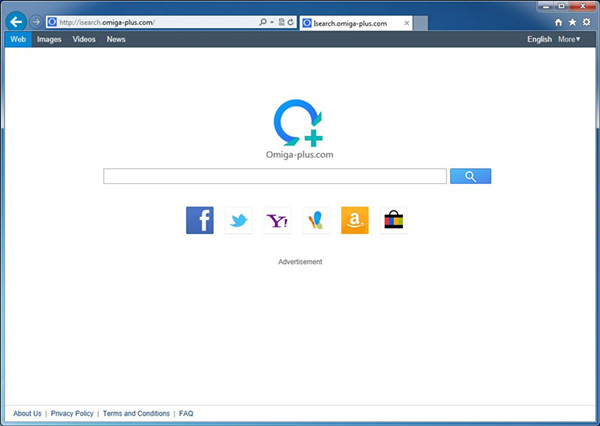 Nevertheless, users should know that it is risky and dangerous to keep Isearch.omiga-plus.com hijack virus in computer, for it may lead to damage of your browser security and have bad effect on computer performance. Isearch.omiga-plus.com hijack virus tries to take over browser by modify browser shortcut, homepage, search engine, DNS settings and more. Users are tricked to click on disguised shortcut, which results in redirection to Isearch.omiga-plus.com domain every time users launch browser and unwanted websites when users open new tabs. Isearch.omiga-plus.com virus take advantage of redirection to generate traffic and show annoying pop-up pages to earn money. Not only home page but also search engine is changed to suspicious one. However, it is risky to be infected with spyware since Isearch.omiga-plus.com virus is probably to contain unethical hack tools like exploit kits and tracing cookies which can access to running system and steal users' important data including browsing history, search query, bookmarks, accounts and passwords.

Remove Isearch.omoga-plus.com Hijack Virus Manually
Step One: Modify Browser Shortcut
Right click on the icons of browser on the desktop and choose properties. And then choose Shortcut, and delete "Isearch.omoga-plus.com".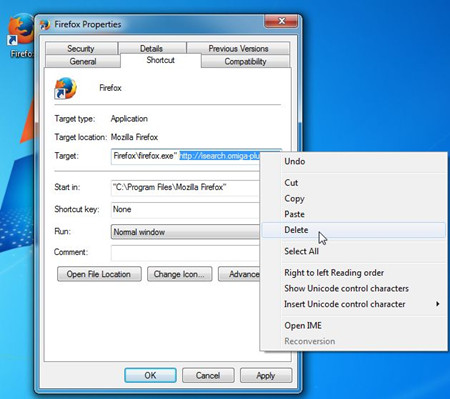 Step Two: Reset Browser
IE:
Click on gear icon and choose Internet Options. Choose Reset button and then click on Reset in pop-up window.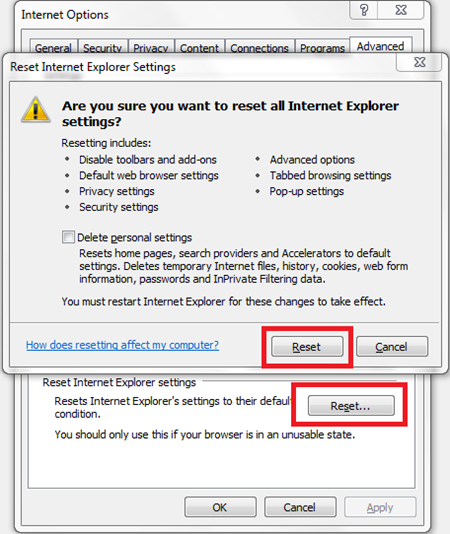 Firefox:
Open Firefox menu and choose Help and then Troubleshooting Information. Click on Reset Firefox and Reset Firefox again in next window.Then click Finish after resetting.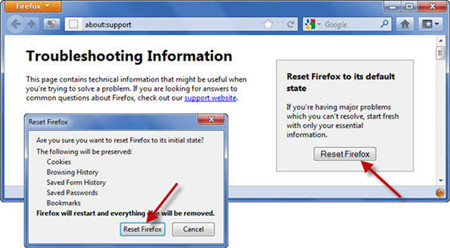 Chrome:
Open Chrome menu and choose Settings and then click on "show advanced settings". Choose Reset Browser button and check the items in next window. Click Reset button to start to reset.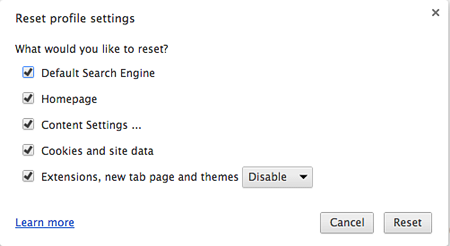 Step Three: Remove Leftovers
Access to Control Panel and then choose Appearance and Personalization. Choose Folder Options and click on View tab. And then highlight "show hidden files and folder" item and click on OK button. Go to local disk and delete all files related to Isearch.omoga-plus.com.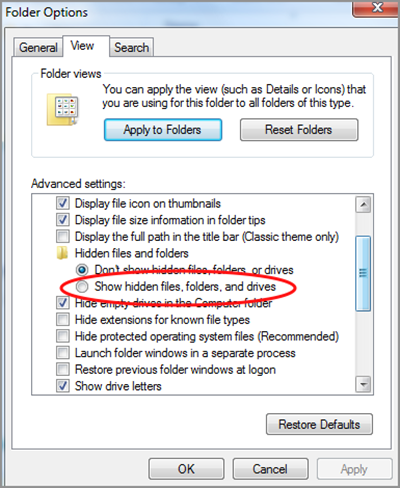 Open Run Command Box and type in "regedit" to enter Registry Editor. Navigate HKEY and delete keys and values belong to Isearch.omoga-plus.com.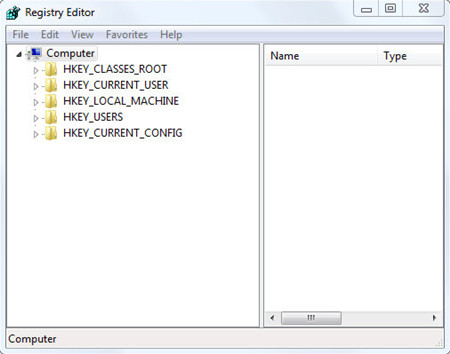 Distribution of Isearch.omoga-plus.com Virus
However, few victims have a clear recognition about Isearch.omiga-plus.com's infiltration. Isearch.omiga-plus.com virus can be bundled with free applications from third party and shareware users can download easily from forum and program websites. However, those potential unwanted programs and software under poor protection are likely to be utilized by cyber crooks to inject malware. Besides, Isearch.omiga-plus.com hijack virus can be distributed by other malware in illegal sites, fake online scan and program recommendation. Since the virus enters computer, it will create its code in related folder and modify files and registries so that system will run its processes automatically without users' knowledge. Thus, users need to pay more attention on the possible infiltration ways and take related precaution and be more cautious on web surfing.
Conclusion
Isearch.omoga-plus.com is not a safety site which is identified as redirect virus and browser hijacker. It is able to attack most of browser and modify browser settings without any authority. Isearch.omoga-plus.com virus can modify homepage and search engine. Though causing redirection, Isearch.omoga-plus.com virus will force victims to use enter its domain and use its suspicious search provider. Even if users find it malicious, it is not easy to remove it completely. Follow the manual removal guide above from VilmaTech Online Experts or chat with our professional technicians at any time if you have difficulty in removal process.