Remove Cyber Command of Arizona Virus (Android Malware Removal)
Cyber Command of Arizona virus is classified ad malicious Ransomware and Android malware, especially to attack those unsuspected computer users who are located in the U.S. state of Arizona. The cybercriminals disguise the malicious scam PC and Android virus image with the insignial similar to the U.S Cyber Crime Investigations in order for making innocent computer users believe it to be truly attributed by high-authority enforce agency (As seen the below Cyber Command of Arizona virus locked screenshot). To make the virus alarm screen looked more sacred and infrangible, the cybercriminals also display relevant law article you have been violation and term of the imprisonment you may suffer from in soon future. However, all of the message you have seen is just the common deceptive trick frequently utilized by cybercriminal to get their target victims ( PC users and Android phone users) trapped in.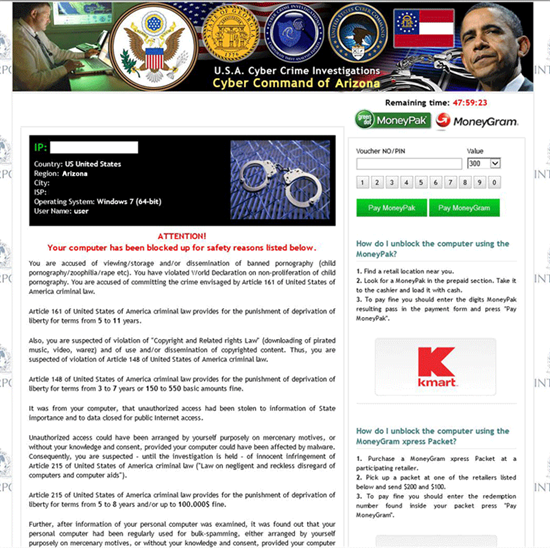 Abstract of Cyber Command of Arizona Virus
The Cyber Command of Arizona virus is known as drive-by ransomware and it can slip into user's computer without any consent. If the malicious virus has compromised your computer by constantly exploiting system vulnerability, it would have disable most of programs on the infected computer including anti-virus program. So that it can not be identified by antivirus program until it self allows. The Cyber Command of Arizona virus accuses of you violating laws due to illegal online activity, and you must pay a required $300 fine in the form of a MoneyPak voucher.
You can't bypass the Cyber Command of Arizona virus provided that the ransmoware still left on the infected computer. The virus locked screen can pop-up all the time just when Windows starts. Even more, the malicious Cyber Command of Arizona malicious virus can result of blue screen of death error. Under such situation, your infectious computer has increasingly possibility of total corruption.
More importantly, the goal of the Cyber Command of Arizona virus is to get money. One thing the hacker can get the desired money by threatening and forcing those innocent victims into paying, on another whole thing is the hijacker can steal confidential data underground to attribute to getting illegal profit. Especially to some trade secrets, online transaction data, or Credit Card number/ password must be at high-risk of exposure.
Note: Want to quickly remove the Cyber Command of Arizona virus without any mistaken operation in case of further damages, you can ask VilmaTech 24/7 Online Experts for help.

How to Remove Cyber Command Virus from Infectious Computer
To bypass the Cyber Command of Arizona virus locked screen, you should reboot the infectious computer with safe mode with networking. Read on.
Step A
Bring the victimized infectious computer to the safe mode with networking to active some programs disabled by the Cyber Command of Arizona virus.
For Windows 7, Windows XP, Windows Vista
Totally shut down the infected computer.
Find out F8 key on the keyboard from the infectious computer's keyboard. If the keyboard doesn't work, you may plug in an external wired one to have a try again.

Press Power button to boot up the infected computer but before Windows launches (after skipping the first interface), you have to hit F8 key to reveal out Windows Advanced Options.
As you can see the page that it says safe mode, safe mode with networking, safe mode with command prompt, etc. Highlight safe mode with networking by pressing Up-Down keys and hit Enter key. Wait for a moment, Windows is loading files to the desktop.

For Window 8 Users
Start and login the infected computer until the virus screen shows on.
Press the Ctrl+ Alt+ Del key, it will bring you to the Switch User interface.
Tap the "Shift" key on the keyboard by your left hand, click on "Shut down" button. Click on Restart option.
In the 'Choose an Option' screen, you need select "Troubleshoot."

Click on 'Advanced Options', and in the following window you need choose "Startup setting."
Choose "restart." Press F5/5 key to highlight Safe Mode with networking option, hit enter key.
Step B
End the Cyber Command of Arizona virus process. Press Ctrl+ Esc+ Shift (Windows7/vista) or Ctrl+ Alt+ Del (Windows XP/ Windows 8) to open Windows Task Manager. Scroll down and locate at random virus file and click on it. You last need click the End Process button.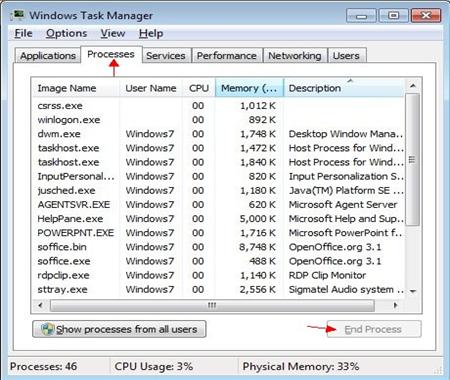 Step C
Delete Cyber Command of Arizona virus files from Local disk. But you need show hidden files first.
Click on Start button. Click "Control Panel." And click on Appearance and Personalization.

Double click on Files and Folder Option.

Select View tab. Check "Show hidden files, folders and drives."
Uncheck "Hide protected operating system files (Recommended). Then click ok to finish the changes.
Open Local disk, and remove Cyber Command of Arizona virus files refer to below files. You can click on Start Button and click My Computer or Computer. You then open there.

%Program Files%\ Cyber Command of Arizona Virus
%AppData%\Protector-[rnd].exe
%AppData%\Inspector-[rnd].exe
%AppData%\vsdsrv32.exe
Step D
Delete the scam virus registry entries.
Press Windows+ R key to reveal out Run box. Type regedit in Run window and click Ok.

In the Registry Editor window, you need navigate to the below path. You then need to find out "Shell" and right click on it. Click on Modify.
The default value data is Explorer.exe If you see something else written in this window, remove it and type in Explorer.exe.

HKEY_LOCAL_MACHINE\SOFTWARE\Microsoft\Windows NT\CurrentVersion\Winlogon\
Besides that, you still need delete Cyber Command of Arizona virus registry entries, you can refer to the below registry entries.
HKEY_CURRENT_USER\SOFTWARE\Microsoft\Windows\CurrentVersion\Run\[random].exe
HKEY_LOCAL_MACHINE\SOFTWARE\ Cyber Command of Arizona virus
HKEY_CURRENT_USER \Software\Microsoft\Windows\CurrentVersion\Policies\System 'DisableRegistryTools' = 0
HKEY_LOCAL_MACHINE \SOFTWARE\Microsoft\Windows\CurrentVersion\policies\system 'EnableLUA' = 0
Step E
Reboot the infected computer with regular mode to apply the malicious Cyber Command of Arizona ransomware removal.
Conclusion
Cyber Command of Arizona virus Android malware has the similar destructiveness to Cyber Command of Hawaii virus. You should be aware that the longer the malicious Android malware un-removed on the infectious computer the more damages it will be. The saying "Your Computer Has Been Blocked up for safety reasons" definitely is fake alert to scare those innocent victimized computer users. And the saying "To unlock your computer or Android phone and to avoid other illegal consequence you are obligated to pay a release fine of $300" is more ridiculous for us due to we really don't do any illegal online activities. If you face such troubles, don't believe it, you can ask help with VilmaTech 24/7 Online Experts to remove the Cyber Command of Arizona virus Android malware fast from the victimized computer.