How to Remove Chimera Ransomware, New Encrypted Virus Removal
Chimera Ransomware Brief Introduction
Chimera Ransomware is a new version of encrypted virus that has been released over the cyber world for malicious benefit-making. Over the past weeks, the Chimera Ransomware tries every possible ways to attack online users PCs and encrypt their personal files for blackmailing ransom. The Chimera Ransomware declares it can reveal victims' data online and take advantage of this message to scare them and convince them into paying large amounts of money. Though, now you have to have a real recognition of the Chimera Ransomware, the virus actually doesn't have the capacity of revealing your confidential information and files anywhere. The scary warnings popped-up on the Chimera Ransomware interface is just carefully crafted by attackers in order for ricking victims to complete a payment. And this time, the Chimera Ransomware is a little bit different, which exploits the BItmessage P2P communication protocol to send encrypted messages instead of the distribution of decryption keys. There is not any TOR site to inform victimized users on how to manage payments and download the decryption key. The main approach is through Itmessage P2P application to communicate with and send decryption key to paid victims.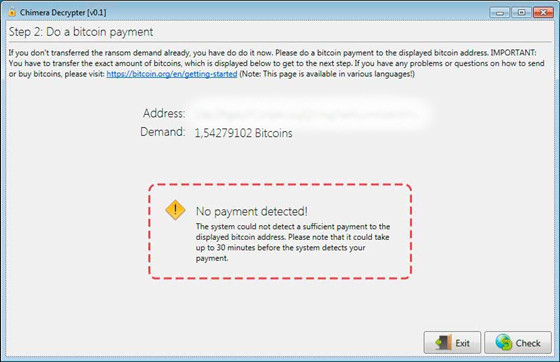 In most cases, just siilar to the An Garda Síochána. Ireland's National Police on PC and Android Phone, attackers can attack a targeting PC through drive-by downloads, including freeware, shareware, web plugins, and a lot of other potentially unwanted programs by third-party Windows stores. But this time the Chimera Ransomware exploits a new way to finish a tricky attack. The attackers can communicate with victimized users though an embeded PyBitmessage application, which is able to collect targeting users' personal information and send them to attackers, just such as user's private key, hardware ID, and payment bicoin address, etc. Besides that, the Chimera Ransomware also allows attackers find and encrypt any data files on a connected drives, files ended with the .jpg, .jpeg, .text, .xsl, . Cmf, . Vbs, .accdb, .conf, .mdv, and a lot of others can be the targets. Once those personal data files are encrypted, the Chimera Ransomware will display a ransom note to inform victimized users and scare them into paying a required ransom. In this case, the best way is to remove the Chimera Ransomware from the infectious PC in case of further damage rather than pay a fine to attackers.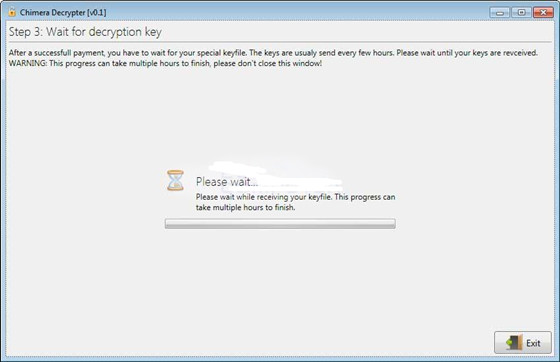 Note: It is highly recommended of you removing the Chimera Ransomware as qucik as possible. If need professional help to remove the virus, you can ask for professional help by Live Chat with VilmaTech 24/7 Online Services.

How to Remove Chimera Ransomware Completely and Quickly
Unlock Chimera Ransomware Warning Page
1. To reach the desktops and bypass the Chimera Ransomware pop-up warnings, the infectious machine should be booted into safe mode with networking.
Press the Ctrl+ Alt+ Del combination key
The Switch User interface will pop-up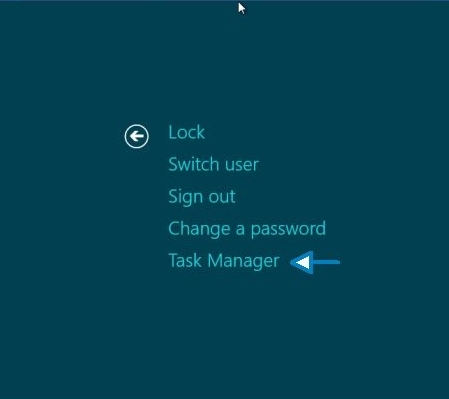 Always press the "Shift" key, at the same time click on "Shut down" button
From the pop-up three options choose Restart option.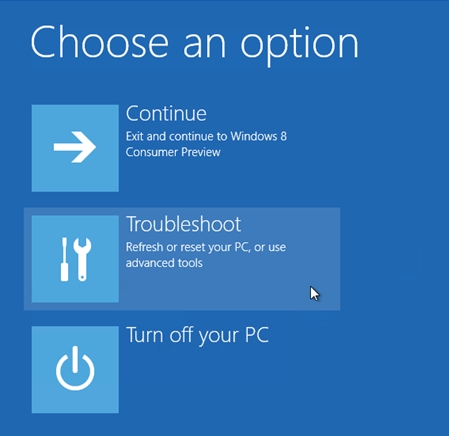 Next just need choose "Troubleshoot."
Select 'Advanced Options'
Choose the Choose 'restart,' under Startup Settings.
Press F5/5 key to choose Safe Mode with Networking.
For other versions of Windows operating systems, such as Windows 7, or Windows Vista, you can follow the below guides.
Shut down the infected computer.
Once done, reboot it again but before windows launches on, always press F8 key.
You then can see Windows Advanced Options.
Press up-down keys to choose Safe Mode with Networking Option.
End Chimera Ransomware Malicious Process
Reach the desktop, press Ctrl+ Esc+ Shift or Ctrl+ Alt+ Del
Locate at the Process tab on Windows Task Manager
Scroll down and choose malicious process related with Chimera Ransomware,
Click End Process button.
Delete Chimera Ransomware Left Files
Open control panel, click Appearance and Personalization link.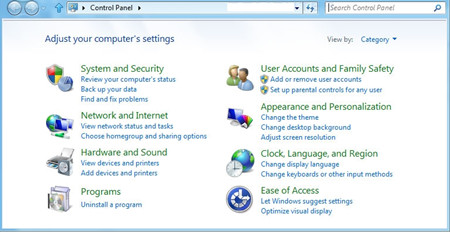 Double click on Files and Folder Option.
Reach the next page.
Choose Folder Options category.
Choose Show hidden files and folders option.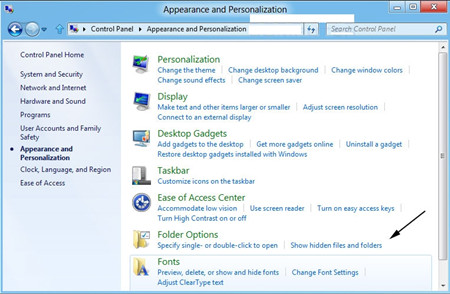 Select the "View" tab. Check "Show hidden files, folders and drives."
Uncheck "Hide protected operating system files. Click Ok..
Got to local disks and delete malicious files about the Chimera Ransomware.
Delete virus entries
Press Windows + R.
Type regedit in Run box and press Ok.
Reach the Registry Editor.
Search Chimera Ransomware entries and delete them.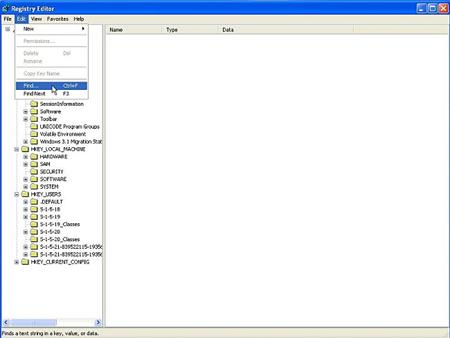 Reboot the infected system.
Still need more helps to handle with the Chimera Ransomware files and registry entries? You can Live Chat with VilmaTech Online Experts now.

Remove Chimera Ransomware with System Restore (Windows 8)
1. Reboot the computer and simultaneously hold down the Shift key on the keyboard until the Windows Recovery Environment option pops-up.
2. If you are on the desktop now, you can navigate the mouse around on the Start screen to reveal settings charm. Go to general settings and click on advanced start up and restart. See the reference screenshot.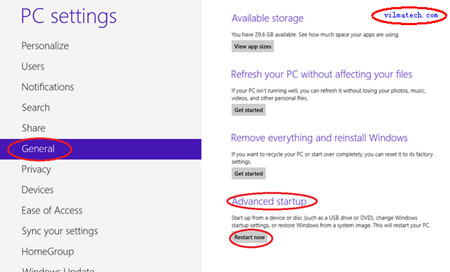 3. Next page is referred to the Choose an option. You need click on troubleshooting option there.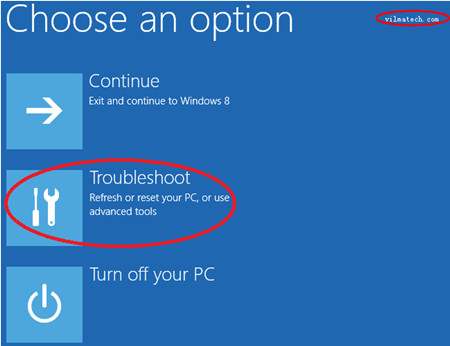 4. Go to Advanced Option from the next pop-up window.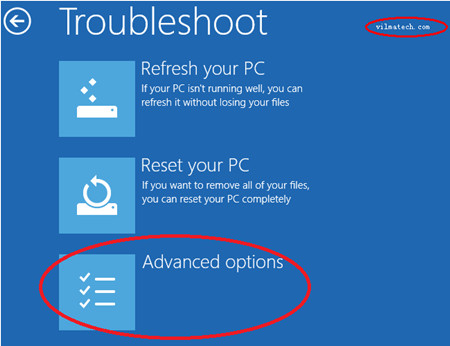 5. Click on System Restore.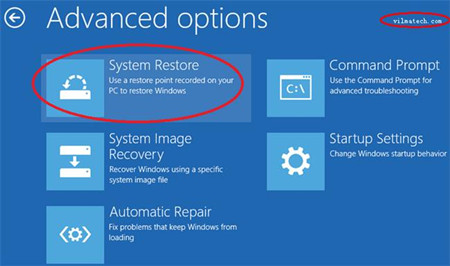 6. It will bring you to the Preparing system restore page. See as following.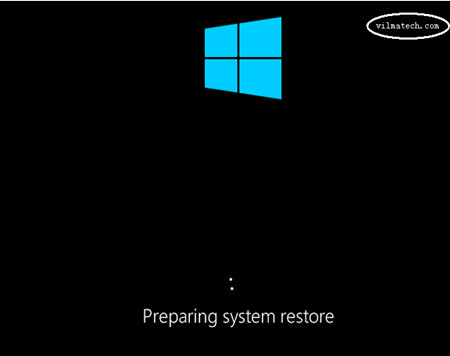 7. Next you will have to choose your user account and provide the password… (This authentication is to prevent unauthorized persons restoring your PC without your knowledge), If it is required, you need type in the demanding admin password to continue.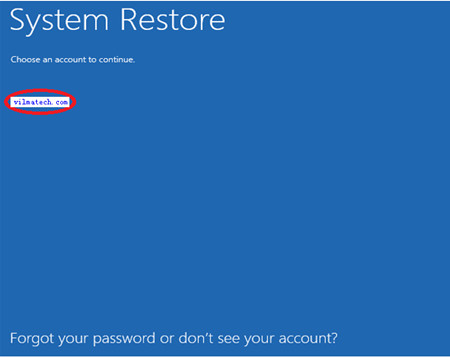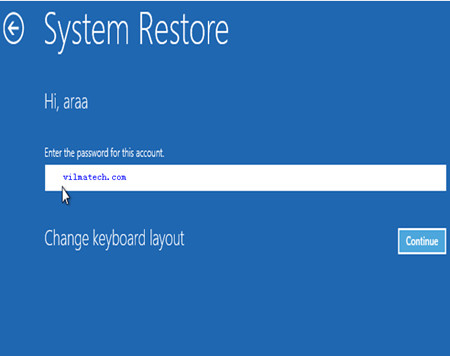 8. You then get the screen of System Restore reads Restore system files and settings.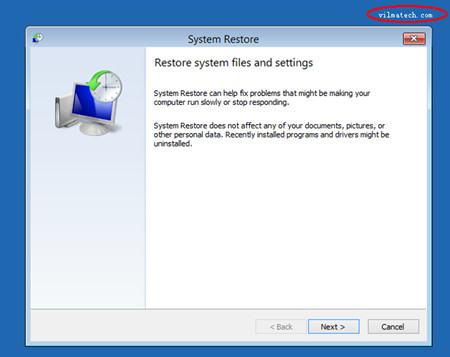 9. You need click the "Next" Button there, and click "Yes" option.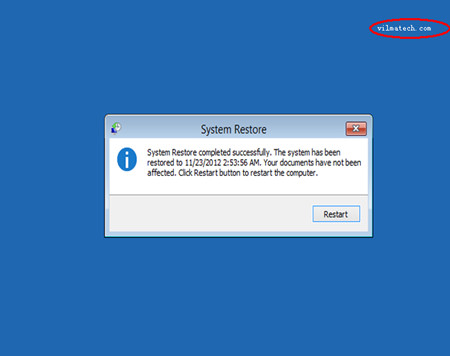 10. Now click on "Close" to get it done.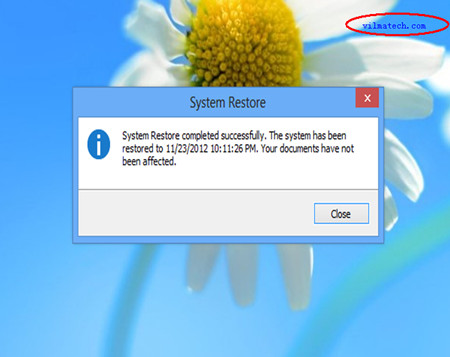 11. Refer to the video as below to create a restore point. The restore point must be the date before Chimera Ransomware attacking your computer.
Conclusion
The newly released encrypted virus called Chimera Ransomware has been a big trouble for weeks, which comes designed with ability to attack targeting PC without any consent. Once Internet users become attacked, the Chimera Ransomware will quickly compromise the infectious system and handle it with some malicious activities. Once of the most serious damage made by such Chimera Ransomware is the personal data files encryption. Chimera Ransomware is capable of encrypting all personal files on the infectious machine, as doing so can it blackmail money from those unsuspecting victims. However, one of the novel thing is the Chimera Ransomware uses the Bitmessage P2P communications application to proceed with a communicate between victims and virus developer, it can be said is a new and successful way probably exploited by attackers in the future malware. As you can experience int he Chimera Ransomware, the decryption key is useless, the fast and effective to reduce file damage to the minimum is to fix the Chimera Ransomware completely. Till now, if you still need further help to remove the Chimera Ransomware, you can live chat with VilmaTech 24/7 Online Experts