LogmeOnce Coupon Codes & 100% Guaranteed Deals 2019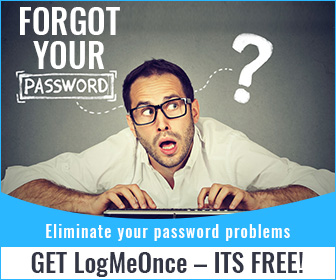 Are you looking for verified LogmeOnce promo codes & deals now? You've come to the right place. Get LogMeOnce discount here to save money on your purchase. LogMeOnce is offering the biggest savings of the year.
Today you can get:
15% off Professional Edition for $0.85/month

15% off Ultimate Edition for $2.76/month

15% off Mugshot for $2.54/month

25% off Ultimate Edition+Mugshot for $4.68/month

$10 Voice & SMS Credits
The LogmeOnce Coupon Codes & 100% Guaranteed Deals are only available for a specified number of days. If you haven't gotten around to using a password manager yet, or you are ready to use LogmeOnce, it's the best time to get LogmeOnce now. Let LogmeOnce turn your digital life to be better and more secure.
Get LogmeOnce Promo Codes & Deals
What's LogmeOnce?

LogmeOnce is one of the most powerful password managers on the market that comes with the ability to keep track of complex passwords across countless accounts for you, while also protect and encrypt all passwords, logins, and other personal information like your PINs and credit card numbers securely. This password manager is very easy-to-use and user-friendly, and it is compatible with all the major operating systems, like Windows, Mac, Android and iOS. Once you got LogmeOnce, you can automatically log in your password on multiple websites and platforms, saving you time, money, and increasing security. You also can use an automatic password changer to change and manage your passwords with one click. And the LogmeOnce MugShot technology can track unsuccessful log in attempts on your account, then take a photo of the "hacker," log their IP address, GPS location, and add a timestamp before emailing all of this over to you without the intruder knowing.
In today's digital age, all of our most valuable and private information, such as our passwords can easily be compromised. LogmeOnce provides with the best security measures. With it, you don't have to reuse your password on different accounts or worry about keyloggers taking advantage of weak or duplicate passwords. LogmeOnce can create secure and unique passwords for you, putting maximum security in the palm of your hands. In an effort to boost security, LogmeOnce even offers a comprehensive number of login options with automatic 2FA. You will always get the extra security layer of 2FA without the hassle of typing yet another password, SMS code, or a 2FA token. Plus, you can select Photologin, Fingerprint, Pin Code and Password to log in LogMeOnce whenever you need it. Also LogmeOnce provides a feature for sharing the passwords with some other user as well, and it is upto you if you want the other user to view your actual password or not.
Having LogmeOnce means that you will never have to worry about somebody cracking your login information. Additionally you can keep hundreds of your strong passwords without the need of remembering them. The only password that you'll have to remember is the master password so that you can log in to Logmeonce password manager. Logmeonce protects your email, bank account and even physical devices like laptops, cell phones and computers. It helps generate, preserve, and recover all your passwords in whenever you want. Protect your passwords and IDs with military-grade encryption technology at LogmeOnce now. Try it for free!

LogMeOnce Pricing Plans
LogMeOnce For Consumer: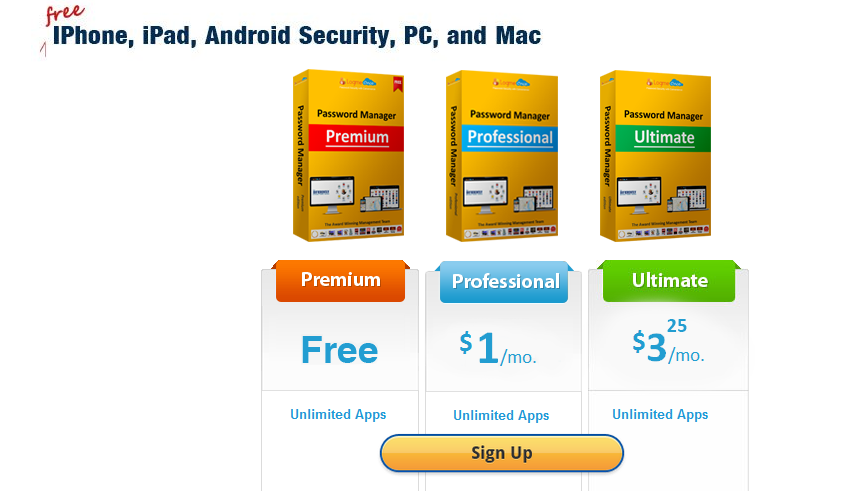 At present, LogMeOnce offers 3 pricing plans: Free (Premium), $1/month (Professional), and $3.25/month (Ultimate).
LogMeOnce Password Management Suite Premium is this product's free edition. It covers most features you'd expect from a password manager. If you need advanced features, then LogMeOnce Professional or LogMeOnce Ultimate is good for you. What's the difference? For example, users of the free edition can securely share five passwords, Professional users can share 30, and those using Ultimate have no limit. LogMeOnce Ultimate allows users to freeze access to their account but the other two have no such option in their plans. If you purchase the paid version, LogMeOnce provides no hassle 30-days Money-Back Guarantee. Protect Your Password with LogMeOnce Best Password Manager Now!
LogMeOnce For Business: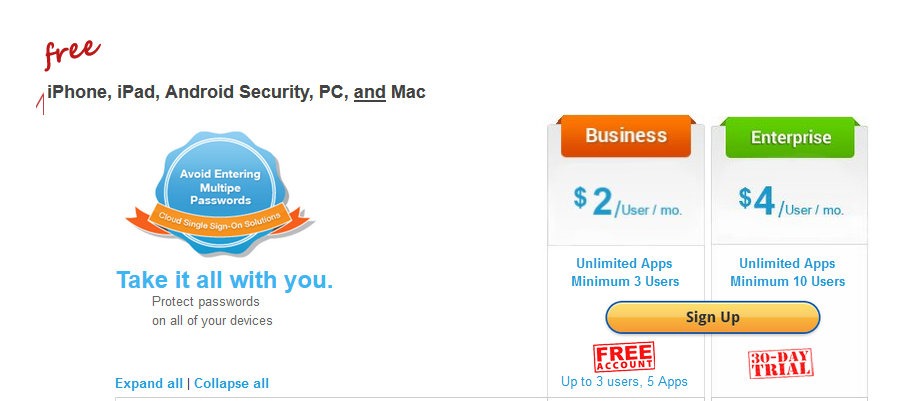 LogMeOnce also offers an identity management application for businesses. There are Business Plan & Enterprise Plan for you to choose from. The Business Plan ($2.00/user/mo) allows minimum 3 users while The Enterprise Plan ($4.00/user/mo) allows minimum 10 users. This version allows an administrator to view charts, locations, unauthorized attempts, user trends, devices, and potential threats to that company. It also offers the same photo login feature as the consumer version, but allows the administrator to verify identification, as well as grant specific access and permissions. It also allows employees to create two, distinct, encrypted vaults — one for personal use and one for business use — allowing them to safely use their own device for business.
LogMeOnce Special Offers & Deals: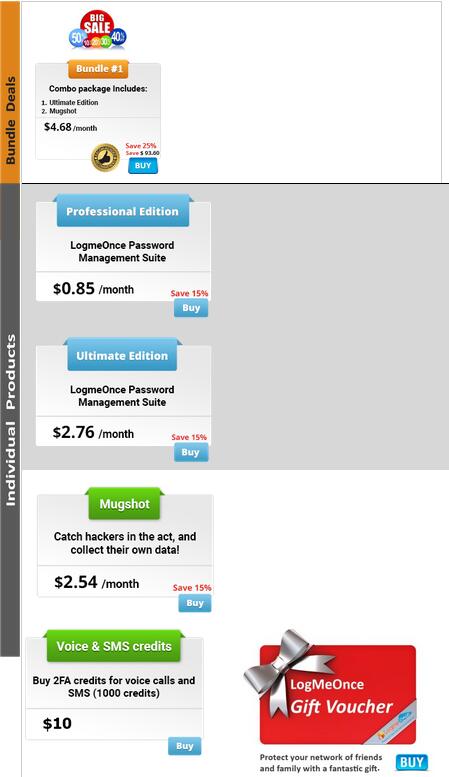 LogMeOnce presents the best online password manager with two-factor authentication and adds a second layer protection to your device. Grab today' s top offers from LogMeOnce:
15% off Professional Edition for $0.85/month

15% off Ultimate Edition for $2.76/month

15% off Mugshot for $2.54/month

25% off Ultimate Edition+Mugshot for $4.68/month

$10 Voice & SMS Credits
The above LogmeOnce Coupon Codes & 100% Guaranteed Deals can help you save a lot in the upcoming 2019. With multiple accounts and passwords to keep track of, LogMeOnce Password Manager makes accessing your accounts incredibly simple. So never miss the exclusive deals that LogmeOnce offers. Save big on LogmeOnce's premium service or try LogmeOnce free version now!
Why Use LogmeOnce? How it Works?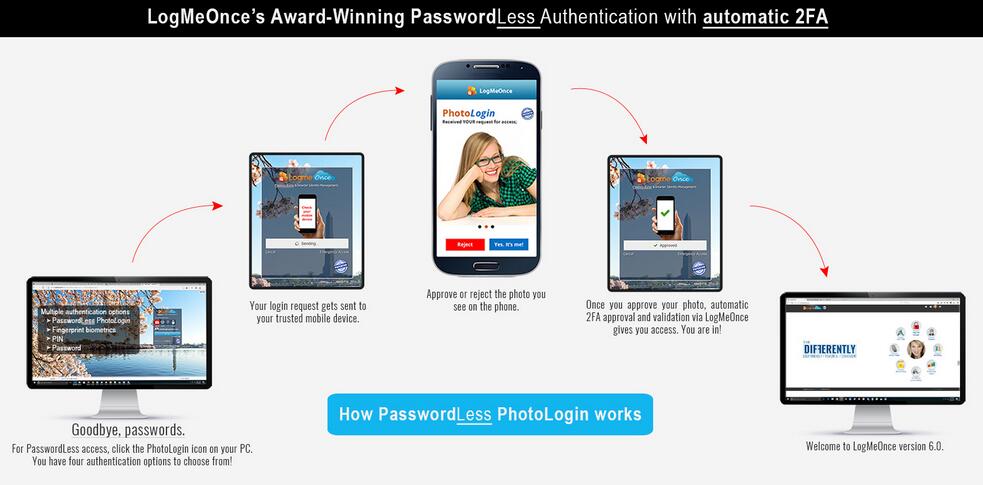 With the constant security breaches in the headlines, most of us have already realized that it's necessary to strengthen our passwords. But even if we know how to make strong passwords, it's a pain to keep track of them all between every bank account, retailer and app demanding its own unique log-in. Some websites or accounts require you to have a password more than eight characters, some require special characters, some restrict passwords to alphanumeric characters, and some only give you like two tries to get back into your account before locking you out. So, how to generate strong passwords and keep track of your passwords without going insane? How to log in different accounts without remembering multiple passwords? Sure, you could save all your passwords in an encrypted spreadsheet or document, or write them out on a paper record in a locked file cabinet, and look up each password every time you need it. But frankly, that's so impractical as to be laughable, even if you never left your office desk. All you need is a password manager.
LogmeOnce is a leading provider of password management tool that gives you much more conveniences when you handle a lot of long and complex passwords. It will randomly generate strong passwords for your accounts and then remember those crazy things for you in their vaults. To access your various passwords as you surf, all you have to do is click on a handy button on your browser and choose which account you need to fill in your information. LogmeOnce saves you the bother of looking up, remembering, typing, or even copying and pasting your passwords when you need them. It remembers each password for you, strengthening your security and minimizing your risk. All your passwords will be stored in an encrypted form to protect the confidential data from hackers with physical access to your PC or mobile device. This encrypted file is accessible only through a master password. So, all you need to do is remember just one master password to open your password manager or vault and unlock all your other passwords. Make your master password strong and keep it private because no one else knows what it is, even the LogmeOnce's employees and servers don't have access to your credentials. If you forget the master password, there's no way to recover. Good News! LogmeOnce is releasing from 15% to 25% OFF  coupon code, promo code and special deals for you! If you haven't used a password manager yet, it is the best time to get one from LogmeOnce.

 LogmeOnce Top Features: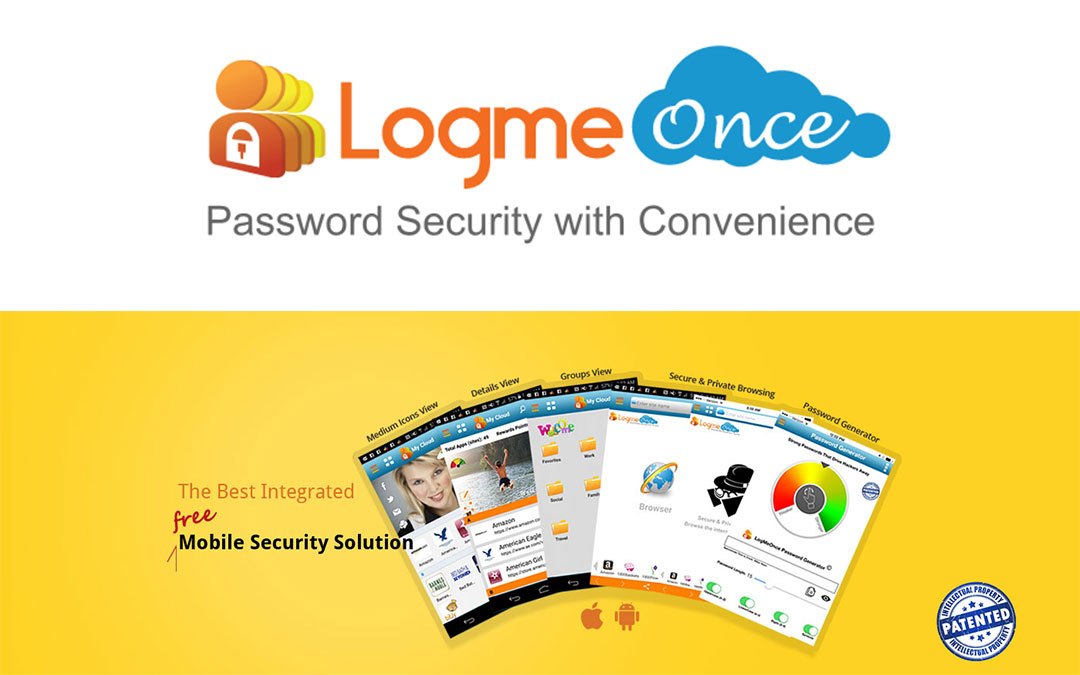 LogmeOnce can sync across Windows, macOS, Linux, iOS, and Android.
A comprehensive number of login options are offered with automatic 2FA, including PhotoLogin, Fingerprint, PIN Code and Password.
You can enable Selfie-2FA in order to keep your account safer and lower the number of cases of identity theft on the Internet.
LogmeOnce uses AES 256-bit encryption to protect against dictionary, brute force, or other attacks.
You can enable an emergency access feature that allows someone you trust to log into your database.
LogmeOnce removes all your hurdles by Autofilling the information in just a single click. No need to copy/paste the login details again and again.
Its password calculator can generate a strong password for you. By default, it creates 15-character passwords using all character types.
LogMeOnce's Anti-Theft feature helps delete all LogMeOnce data if your device is lost or stolen. You also can remotely lock your device by forcing a password, getting the phone to ring at top volume for an easy find, and remotely log out from your device or even locate it. Also you can display a message so that the finder can get it back to you. (Note: this is only for the "ultimate" version of LogMeOnce, which isn't free.)
LogMeOnce lets you save credit card details in its Secure Wallet. LogMeOnce Secure wallet is password protected requiring double-authentication to gain access to credit cards and other payment methods.
LogMeOnce Mugshot helps secure your account if someone else gets hold of your device. On a failed login attempt, this feature snaps photos with the front and rear cameras and transmits that information to your account, along with the device's location and IP address.
To sum up, once you've got LogMeOnce up and running you'll never have to worry about weak passwords again. It distances itself from the competition by having the most well-rounded feature packages for security. LogMeOnce also can import passwords from LastPass, Dashlane, Roboform, and more than a dozen others. It can also import passwords stored in Chrome, Firefox, Internet Explorer, and Safari. Get LogMeOnce Now & Say goodbye to lost password anxiety!

Tips For Keeping Your Password Safe:
From email to banking, shopping, email to social media, we have so many accounts for various sites so we need to remember multiple usernames and passwords in our daily life. So, making sure your passwords are secure is very necessary. No one would like to get their logins and passwords, credit cards, identities and bank accounts into the wrong hands. Here are some tips on making your passwords more secure:
1. Always use a unique password for each account you create. Don't reuse passwords on multiple websites.
2. Don't use easy-to-guess passwords, such as your name, age, birth date, child's name, pet's name, or street addresses etc.
3. The longer your password, the harder it is to crack. Make sure your passwords are at least 12 characters long and contain upper and lowercase letters, punctuation, and numbers.
4. Don't write your passwords down in case the information is stolen or lost.
5. Change your passwords periodically.
6. Use a password manager. A good password manager, like LogmeOnce, creates strong, unique passwords for all of your accounts. That means that if one of your passwords does get caught up in a data breach, criminals won't have the keys to the rest of your online services.
7. Never share your passwords via email or text message. The secure way to share is with a tool like LogmeOnce that gives you the ability to share a hidden password and even revoke access when the time comes.
Conclusion:
LogMeOnce is one of the most popular password managers recommended by many people because it's free as long as you don't mind getting by without the full suite of premium features. It works as a browser extension, and can be used across Windows and Mac, as well as iOS and Android. LogMeOnce stands out from the competitors not only because of security, this password manager allows a comprehensive number of login options. As the other password manager, LogMeOnce can ask you for a master password to login, but it actually has password-less login set by default. Instead of typing in a password, you need to pair your account with your smartphone. When you try to login through a web browser, you'll receive a prompt on your mobile device asking you to verify your identity. LogMeOnce will either ask you for a PIN code, a fingerprint scan or PhotoLogin, which shows you a photo on your device, taken by the webcam on your computer. If you see a picture of yourself, just confirm it's you and you can login. LogMeOnce makes auto-login much easier. LogMeOnce also gives you the ability to access hundreds of strong, unique, unbreakable passwords without having to memorize them. It even comes with a password calculator that can generate passwords with 15 characters by default, and can tell you approximately how long a password you choose yourself could take to decipher. Furthermore, if you happen to lose your mobile device and someone else tries to login on it, LogMeOnce will automatically take a photo using both the front and rear cameras and send them to your online dashboard. You can then view the photos to see who has your phone, along with their GPS location and IP address. There are many more other features that LogMeOnce offers for people to protect their online privacy and strengthen password security.



With over 30 million monthly brute force attacks, it's crucial to use a password manager to protect safe. There are three tiers available: Premium which is free, while Professional is $12/year and Ultimate costs $39/year, covered by 30 days money back guarantee. Test all features and experience benefits of LogMeOnce password manager now. You will get LogmeOnce Coupon Codes & 100% Guaranteed Deals from here to save up to 25% off your purchase!
Get this Deal Now