KeePass 2.42 Password Manager is Released with New Features, Improvements and Bugfixes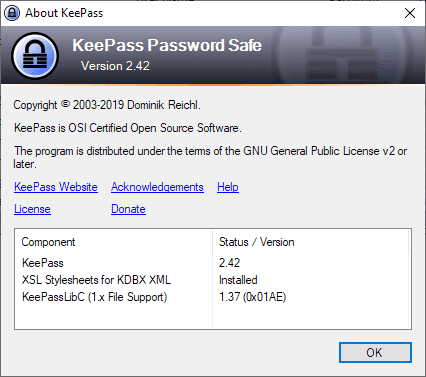 KeePass is an open source and easy-to-use password manager that helps you to manage your passwords in a secure way. On May 1, 2019, KeePass 2.42, a new version of the KeePass password manager was released with a major update. Compared to KeePass 2.41 which was released in January 2019, KeePass 2.42 introduces many new features, makes improvements across the board, and fixes several crashes as well.

KeePass 2.42 Highlights:
Added 'Group', 'Entry' and 'Find' to main menu, and removed 'Edit'.
Added support for a System-wide hot key (Ctrl+Alt+Shift+A) to auto-type only the password of a matching entry.
Shift+double clicking URL copy link to clipboard.
Added quick edit commands 'Expires: Now' and 'Expires: Never'.
Added support for importing Steganos Password Manager 20 CSV files.
Added support for importing Bitwarden 1.12 JSON files.
Added support for importing tags and keywords for Mozilla Bookmarks JSON import
Two commands for copying a whole entry to the clipboard: 'Copy Entry (Encrypted)' and 'Copy Entry (Unencrypted)'.
Added Ctrl+Shift+P shortcut for printing the currently selected group.
When compiling a PLGX plugin, KeePass now defines a 'KP_V_*_*_*' symbol, where the asterisks specify the KeePass version (for example, 'KP_V_2_42_0' for version 2.42).
Added workarounds for .NET Caps Lock warning tooltip bug, Mono grid view default color bug and OneDrive bug on Windows 1809.
Added several new command line parameters:
-cancel forces all other KeePass instances to abort opening or saving databases.

-auto-type-password which forces other running KeePass instances to only type the password of matching entries when using auto-type.

-e1 does the same as -e but for just one instance. It appears to be used by plugins only to deal with Events.
Fixed a crash that could occur when trying to import certain Mozilla Bookmarks JSON files and certain files with very deeply nested groups.
Fixed handling of paths with folder/file names containing quotes (which can occur on Unix-like systems only).
Make various improvements, like accelerator key improvements, better compatibility with VirtualBox 6 and VMWare Player, improved JSON parser, improved sending of auto-type characters with AltGr characters and more.