How to Remove AVG Secure Browser Completely?
You're probably on this page because you can't uninstall AVG Secure Browser by yourself. AVG Secure Browser may be a good web browser for some people, but if you prefer other browsers or you just accidentally downloaded AVG Secure Browser on your machine, you may need to get rid of it from your system. However, uninstalling a program isn't always easy; sometimes the application may leave unwanted traces behind, sometimes it will have gone bad and refuse to uninstall, and sometimes you just see it's active on your machine but you can't find it from the program list in control panel. This article is going to show you how to remove AVG Secure Browser completely without leaving any remaining registry entries, files and folders.
What's AVG Secure Browser? Is it Legit?


AVG is a trusted name in computer security. The company focuses on the digital protection and privacy for its customers ad it is dedicated to making people around the world safe. AVG Secure Browser, claiming to be a fast, secure and more private browser, was released by AVG last year. It's available for Windows PC's and is designed first and foremost to improve the security and privacy of users. AVG Secure Browser is based on Chromium – the world's most popular browser open-source project, leveraging the latest web technologies to give you the most seamless browsing experience. Compared to other browsers, AVG Secure Browser has its own advantages. For example, the browser has an ad-blocker that stops annoying advertisements and pop-ups from loading on the websites you visit, which improves the speed and safety of your browsing sessions. It also contains anti-phishing and anti-tracking features to ensure your safety and privacy. AVG Secure Browser even has a bank mode that prevents hackers from seeing what you type. With this great feature, nobody can steal your passwords, credit card numbers, and other personal data.
In theory, AVG Secure Browser is usually offered when you install AVG's antivirus programs and since it is a free offering and it should be welcome for users. But most people said they have AVG Secure Browser installed without their permission and AVG Secure Browser even replaced their default web browser and was behaving as malware. They believe AVG is using an aggressive method to promote their new product, so they need help in removing AVG Secure Browser completely from their machine. Can't uninstall AVG Secure Browser by yourself? Follow the removal instruction below.
About AVG Secure Browser Removal
"Today my AVG free antivirus got updated and all of a sudden, AVG Secure Browser became the default browser, without any permission. I even had a problem in changing the default back to chrome, as the settings window crashed twice before I managed to remove it. It also made pdf docs open in this app and v ery hard to manipulate. What should I do? How do I get AVG Secure Browser completely off my system and change my settings back?"

AVG Secure Browser is installed without my consent. I have seen many complaints about it in the comment box and I've spending a whole day in uninstalling it from my system. I tried to Open task manager -> more details -> startup tab -> disable that application. It didn't work at all!!! The application was still there. Although it is not on the list of 'Apps & Features' but the icon is still there and the browser is active. Can you please immediately remove it !! Thank you!
It must be upsetting if you found AVG Secure Browser installing on your machine but it is not actually what you are asking for. AVG Secure Browser removal process may not go well sometimes. For example, when you attempt to delete it from the start up process, nothing happens when you click on "disable", but you still can disable other processes from start up, just not AVG Secure Browser. In other cases, when you followed all the instructions to uninstall AVG Secure Browser, it just comes back again after restart, and installed itself automatically. Sometimes AVG Secure Browser even refuses to uninstall by giving you errors or it just doesn't show up on remove/uninstall list in control panel.
When AVG Secure Browser is installed, it often brings its files and other components on the computer. So, if you need to uninstall AVG Secure Browser completely, you should also delete all the leftover files of this software. Otherwise, the remnants and registry entries of AVG Secure Browser remained on your hard drive will make your PC slow, unresponsive, and even vulnerable to multiple threats. Here is our detailed guide on how to delete AVG Secure Browser and its leftovers completely.
AVG Secure Browser Manual Removal Guide (For Windows 10)
Method 1: Uninstall from the Start menu
Select the Start button and look for AVG Secure Browser in the list shown.
Right-click on AVG Secure Browser, then select Uninstall.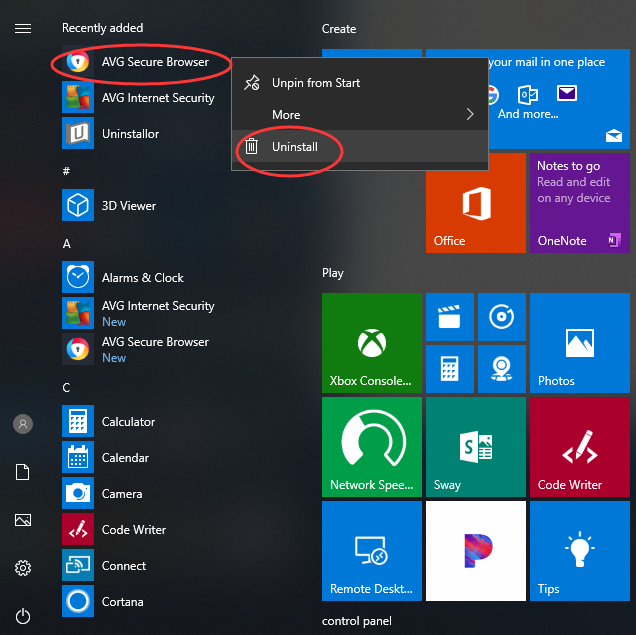 Method 2: Uninstall from the Settings page
Select the Start button, then select Settings.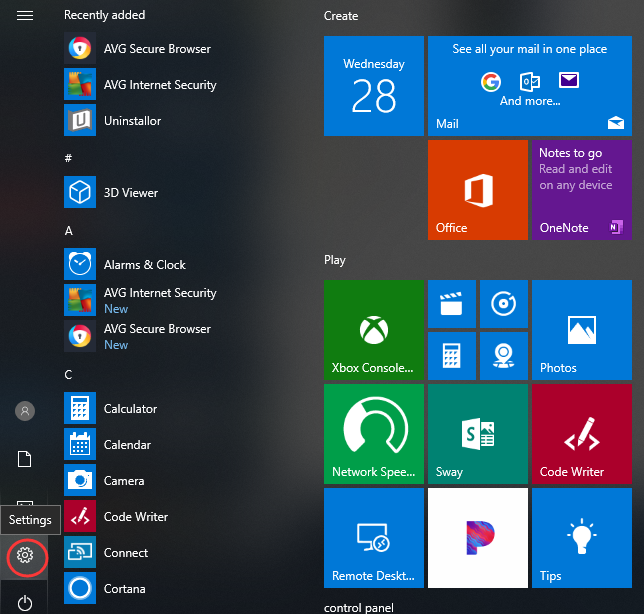 Click Apps > Apps & features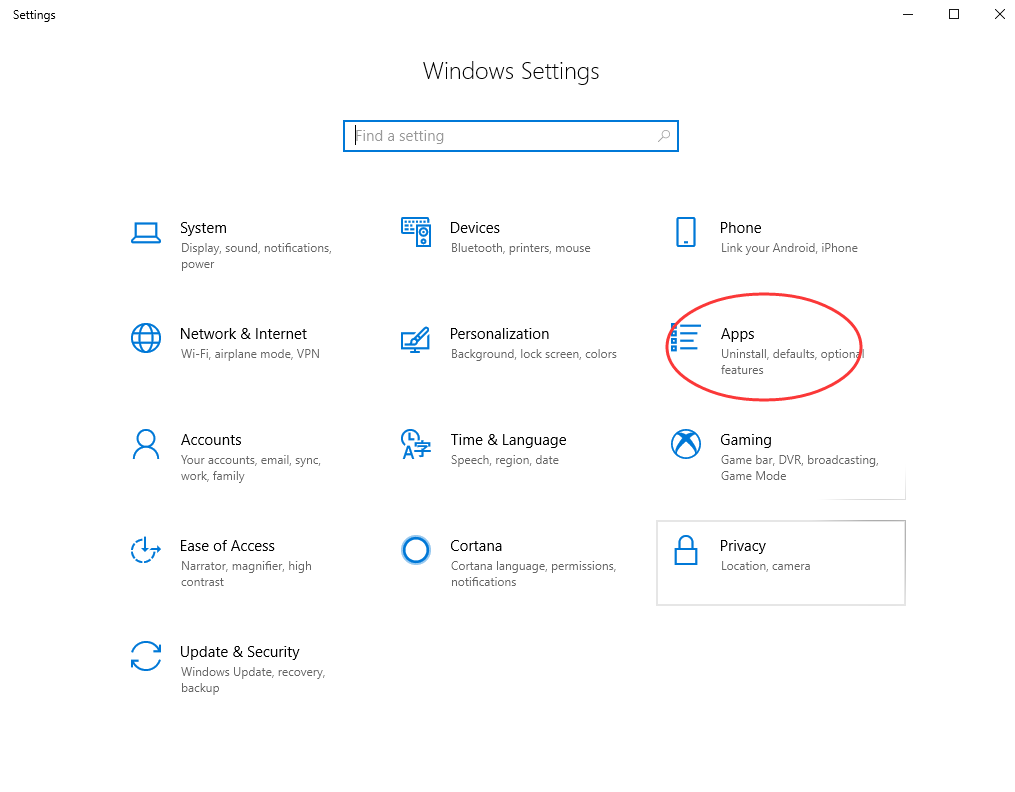 Select the app you want to remove, and then click on Uninstall option.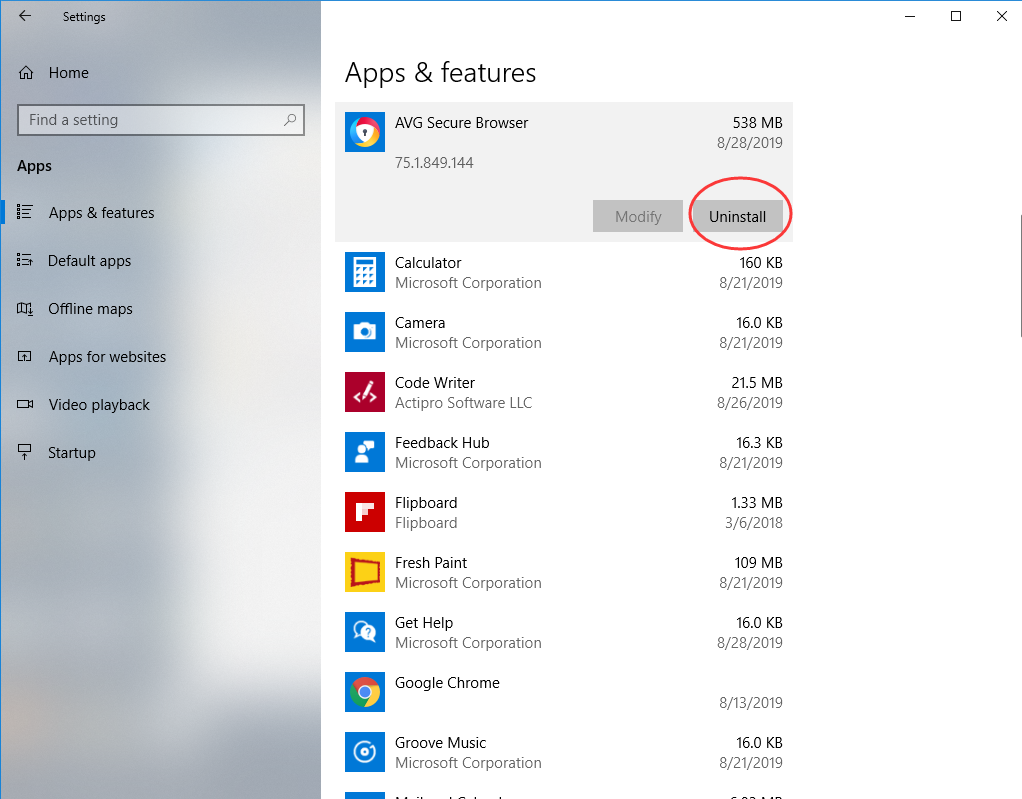 Click on Uninstall again to confirm the removal.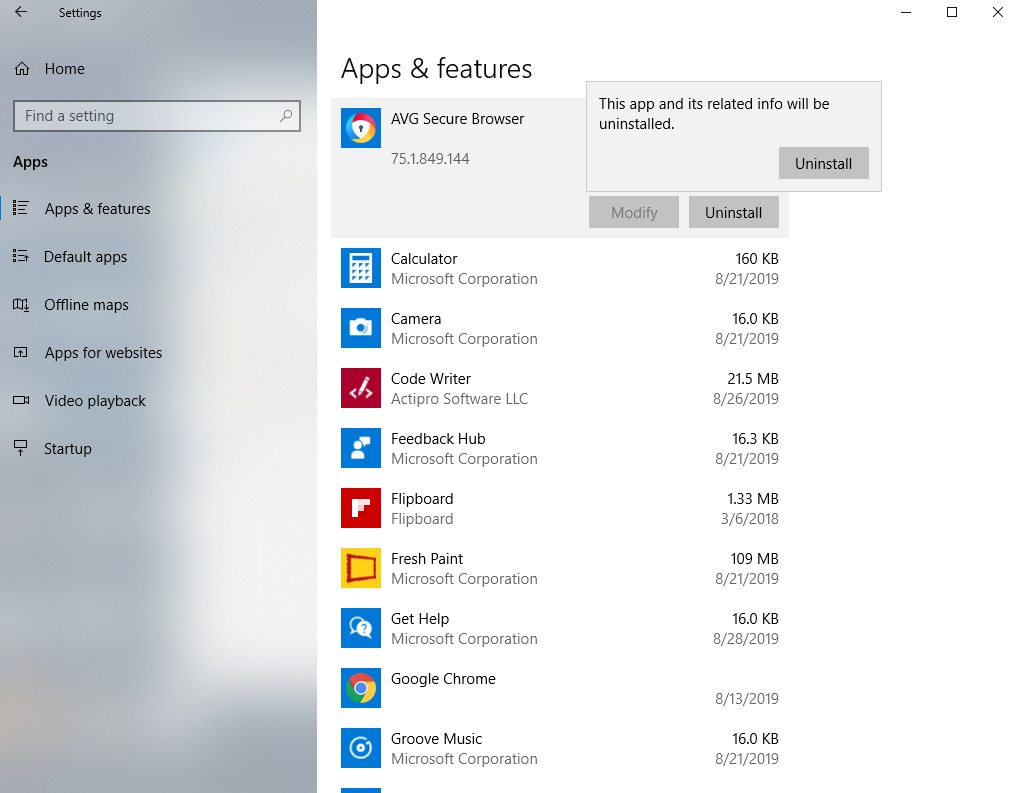 Method 3:Uninstall from the Control Panel (for programs)
Click the bottom-left Start button to open the Start Menu, go to Windows System folder and click on Control Panel to open it.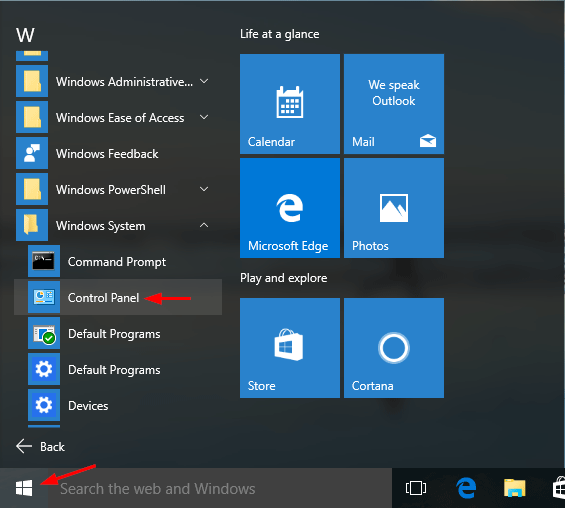 Once the Control Panel is launched, click Uninstall a program as shown in the picture below.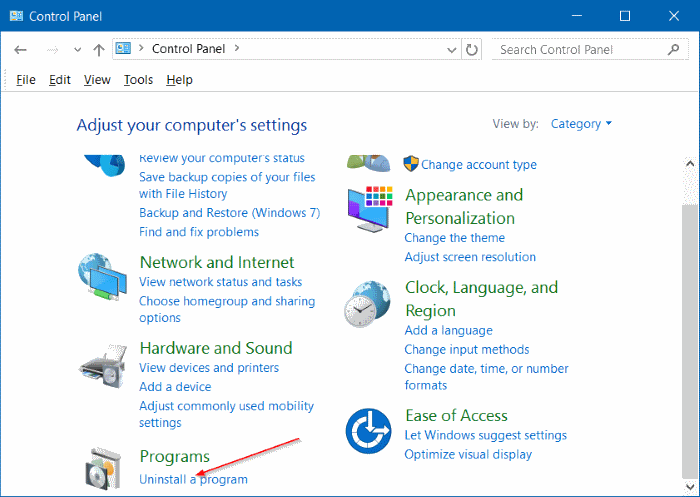 If the Control Panel is being displayed with small icons (as shown in the picture below), please click Programs and Features.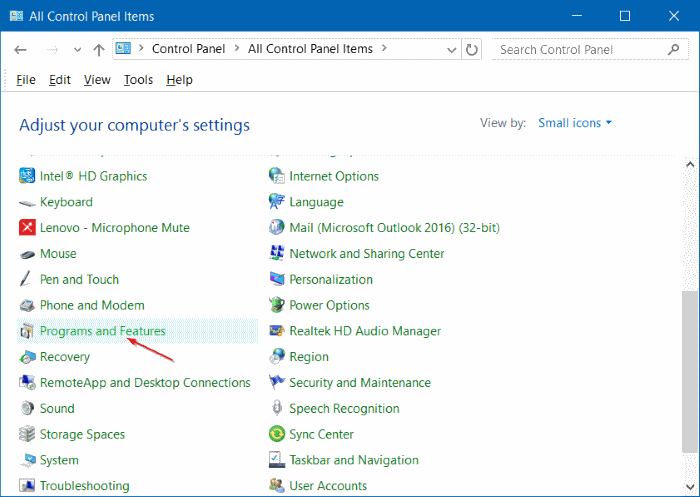 Right-click on AVG Secure Browser and select Uninstall or Uninstall Change.
Click Yes button if you see the confirmation dialog. Once uninstalled, some programs might ask you to restart your PC. If asked, please reboot once to complete the uninstallation.
The above three methods may help you get rid of AVG Web Browser, but some files of this program might still remain in a few system folders. So, you have to manually delete leftover file system and registry items.
How to Delete Leftovers Manually?
To delete these leftovers, you'll need check following folders and delete associated files first.
%programfiles%
%programfiles(x86)%
%appdata%
Next, you have to delete AVG Secure Browser entries from Windows registry:
Press Windows + R, and type in regedit in RUN box, then press Enter. It'll open Registry Editor.
Locate the following keys:
HKEY_CURRENT_USER\Software
HKEY_LOCAL_MACHINE\SOFTWARE
HKEY_USERS\.DEFAULT\Software
HKEY_LOCAL_MACHINE\SOFTWARE\Wow6432Node (64-bit system users will also need to check this extra key)
If you can find any keys with the name of AVG Secure Browser, just delete such keys.
Please keep in mind that you should be very careful when modifying your registry and deleting files, since one false move is enough to cause your system to crash down. If you are not a computer savvy or you have never used the Registry Editor in the past, we recommend you choose a third-party uninstaller to complete the job instead. There are many 3rd party software available on Internet which claim to completely uninstall software without leaving any trace of the program. Uninstallor is one of them that helps you get rid of all files, folders, and registry entries/keys that associated with AVG Secure browser with only a few clicks. Let's see how it works.


AVG Secure Browser Automatic Removal Guide (Recommended)
Method 4: Uninstall with a Tool

If Windows built-in uninstall can't delete the program you want, or you cannot remove AVG Secure Browser manually by yourself, then a third-party uninstaller will be your best bet. Uninstallor is a third-party uninstaller that fully compatible with 32-bit and 64-bit versions of Windows system, and it also works for Mac OS. The program can deeply scan your system to find any leftovers. With a few clicks on your mouse, Uninstallor can remove AVG Secure Browser and all its registry entries and files from your PC permanently. Here's how it works:
1. Download & Install Uninstallor on your machine. Uninstallor is quite lightweight, that means it only uses little storage and almost no system resources. That's why Uninstallor doesn't affect computer performance.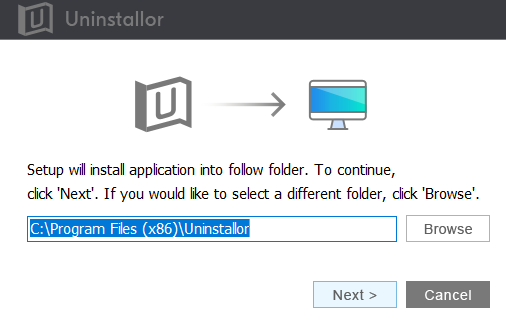 2. Launch Uninstallor. As you can see, the user interface of Uninstallor is simple, easy to use, efficient and responsive. It gets the AVG Secure Browser removal job done quickly.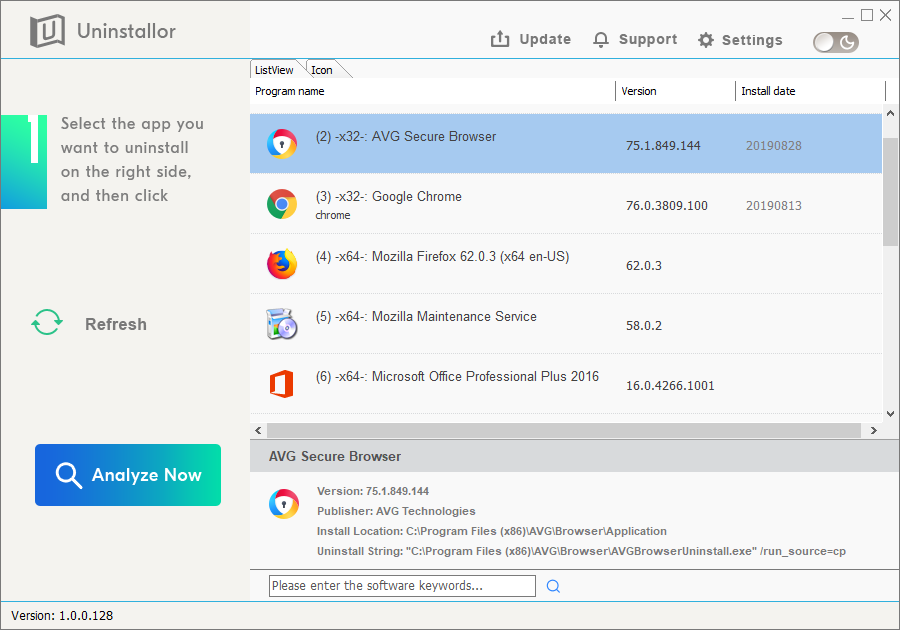 3. Search for AVG Secure Browser components automatically. Select AVG Secure Browser first, and click on "Analyze Now" button. It will analyze all associated files and registry entries related to the program.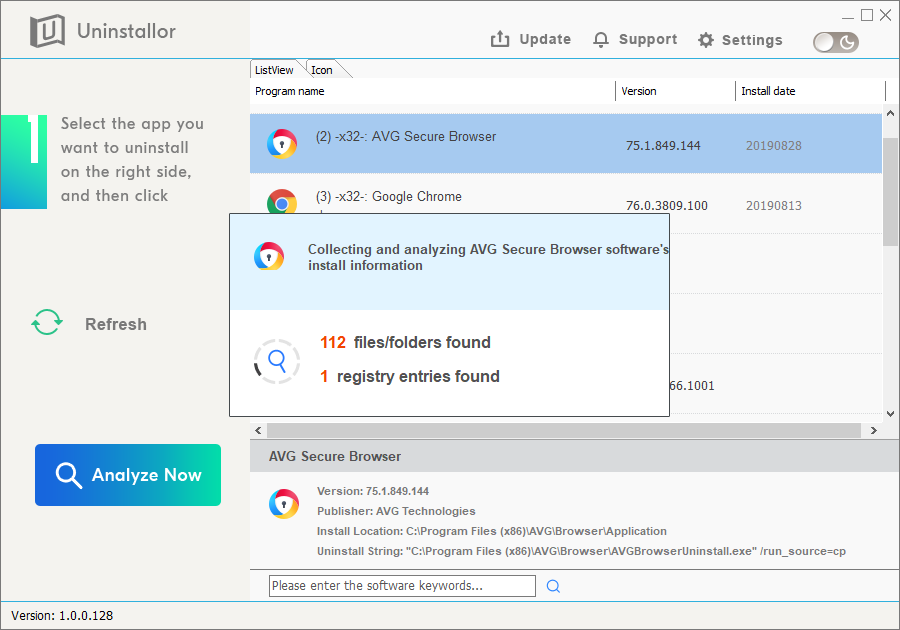 4. Perform complete removal. Click on "Uninstall Now" button to uninstall AVG Secure Browser completely. Next, you need to click on "Yes" to confirm the removal.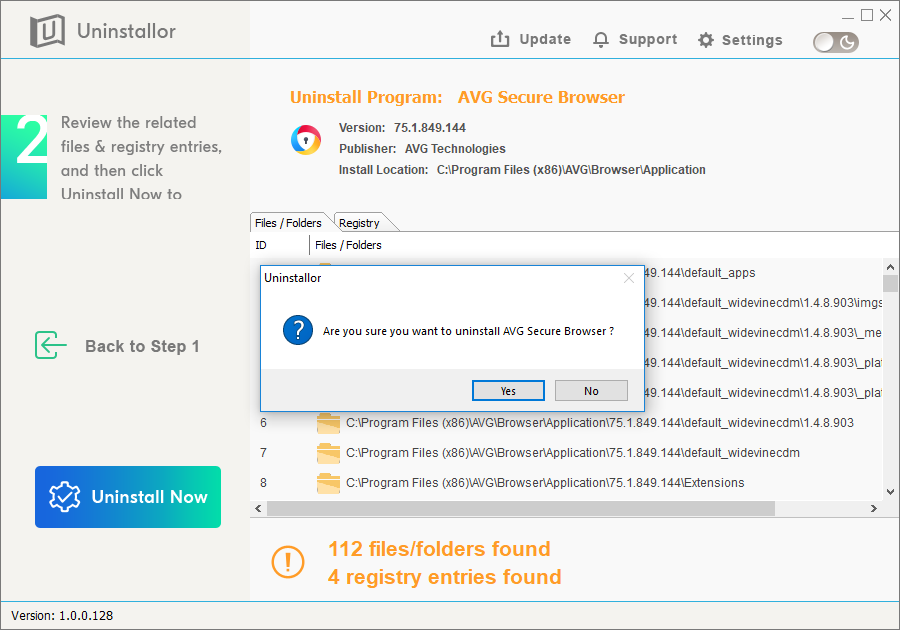 5. Wait for Uninstallor to finish uninstallation. The whole process usually takes some time. Please wait until AVG Secure Browser is finished uninstalling.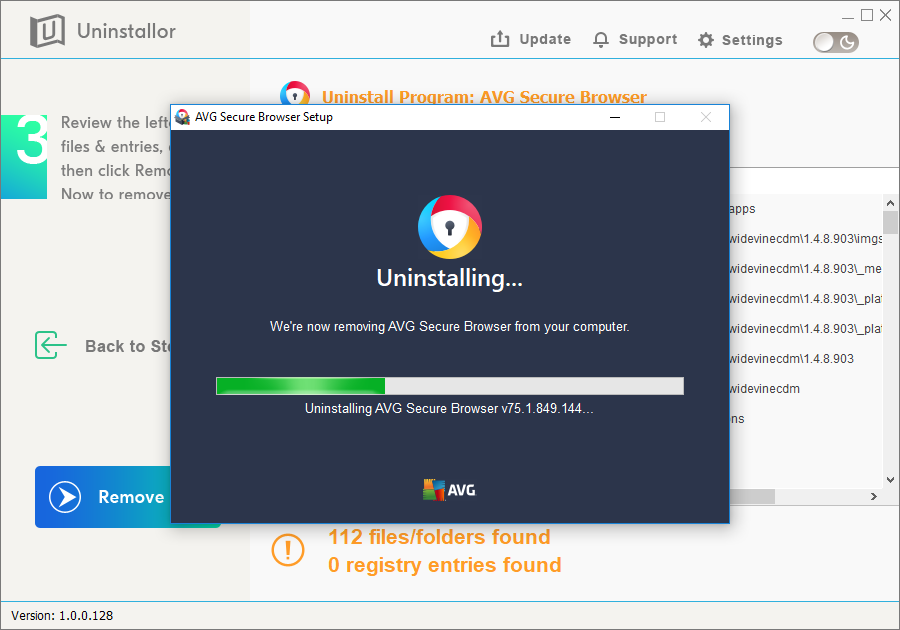 6. All done. Restart your computer to take effect.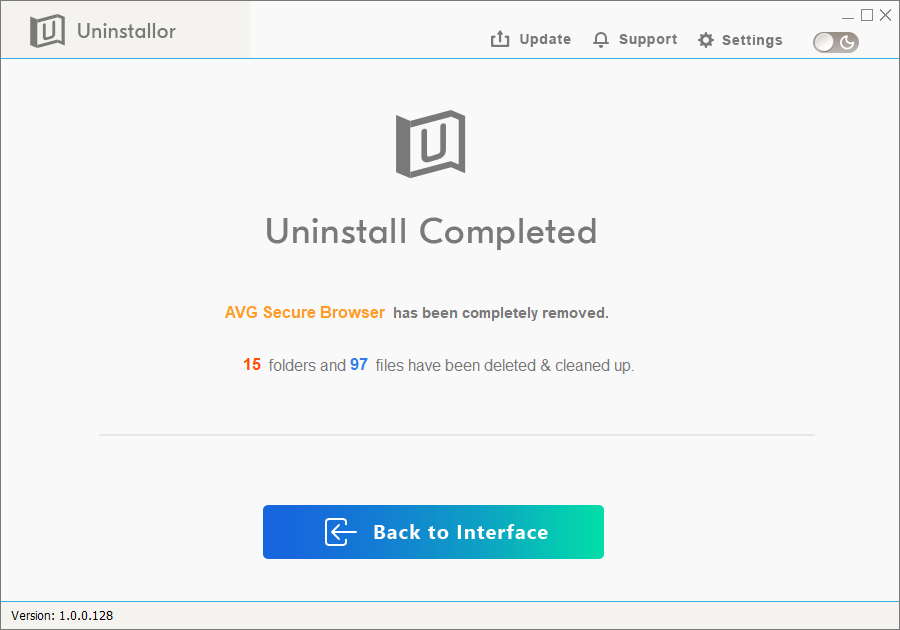 Video Guides On How to Uninstall AVG Secure Browser Easily
Conclusion:
Using the traditional method of Apps & features in Windows 10 or Programs and Features (Add/Remove Programs) in Control Panel often results in incomplete removal. If you're trying to uninstall AVG Secure Browser manually but you don't know how to get it started, or you are experiencing some difficulty doing so, the best solution is to use Uninstallor to get rid of the program automatically. Uninstallor attempts to exercise control over the uninstall process, removing what the official uninstaller misses. It can clean up all the leftover registry entries, program drivers left behand, and fix install/uninstall errors thoroughly for you. Besides, Uninstallor provides custom fix solution and on-demand remote support in case users have problem in uninstalling the software by themselves. Uninstallor is better at handling the uninstallation process and deleting residual files that Windows' built-in uninstaller always leaves. You should give it a try.